Your Feedback and Our Response




| | | |
| --- | --- | --- |
| Last Updated | Your Feedback | Our Response |
| 11:00 BST - May 27th | The changes to Guardians of the Rift to which mentioned streamlining the process of creating Guardians have not been implemented. These changes included allowing multiple Guardians to spawn at the same time from a single pile, as well as reducing their creation time. | This change didn't manage to go into this week's update and it was updated in the newspost incorrectly. We will ensure to get the change out for the next game update which is planned for the 8th June. In the meantime, we have removed the above change from this week's newspost. |
We're launching a bunch of improvements to Group Ironman Mode!

Unranked Group Ironman Mode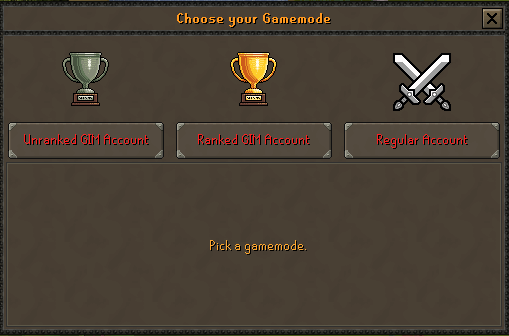 This week we're following up on the promise we made in here – making Group Ironman more chill for you and your mates!
Unranked Group Ironman (or UGIM) is a sub-category of Group Ironman. It allows you to invite and accept group invitations from other UGIM and grants greater flexibility when swapping between teams.
Should you find yourself wanting to join a new group on an existing GIM account, or hoping to invite a new player to your group, you can now seamlessly convert your GIM status to 'Unranked'.
In return for this additional flexibility, Unranked Group Ironman groups are removed from the GIM HiScores – although you'll all appear individually on the regular ones!
Be warned: once this change is made, you will not be able to revert your account back to Ranked Group Ironman. It's a one-way street!
So, under these new rules…
A group that invites an experienced player will:
Become an Unranked group.
Lose Prestige status (if applicable).
Lose any trade restrictions within the group.
Lose Hardcore status (if applicable).
Be removed from the Group Ironman HiScores, along with every other member of their group. Players will still be able to see their individual HiScores as if they were a main account.
If you're looking to form a new unranked group:
You'll be able to invite any type of GIM, provided they are willing to become an Unranked player.
The group will be set as Unranked from the start...
... and will not show up in the GIM HiScores. At all.
Unranked groups cannot have Prestige or Hardcore status.
If you leave an existing group, you may also choose to adopt Unranked status:
You can become Unranked via a third option found in the group leaving interface (pictured above).
This decision is non-reversible. You cannot become a Ranked Group Ironman again once you're Unranked.
The option will remove you from the GIM HiScores. However, your progress will still be visible on the regular HiScores.
The process does NOT remove your items.
There are no trade restrictions or killcount requirements for Unranked groups.
We'll give you sufficient warnings if you're about to join an Unranked group, or if your group is about to become one. Keep an eye out for these if you decide to invite new players in!

Further Group Ironman Improvements and Addressing Player Feedback
We ran a player survey to gather your feedback on the above changes. Let's address your main concerns:
Tradeable Untradeables
Trading untradeable items between GIM members proved to be a very popular quality of life update.
We've discussed how to make this happen and what potential issues could arise if we did enact this rule.
One big consideration was that allowing GIM players to trade powerful items like the Bow of Faerdhinen could make it more convenient to be a GIM than a regular player. Is that healthy for the game?
We also considered whether we could replicate this behaviour on main accounts, and how that might work. Untradeable items are not available on the Grand Exchange and we can't display charge status in the Trade screen, so this change would make scamming much more prevalent. We'd have to undertake considerable work to fix this.
In addition, making certain items with quest requirements tradeable presents issues with the system we use to run checks on items. We'd have to rework our whole system to accommodate the change.
We also thought about the implications for PvP players. Existing untradeable items could be disproportionately strong in this framework, seriously affecting PK metas. Is that fair?
Lastly, we had to consider the potential future development costs. We'd have to carefully consider every new item in the game to decide whether it should be untradeable but tradeable for GIM, just tradeable, or just untradeable. Over time, that adds to our development hours.
We really want to improve quality of life where we can – but hopefully you can see that the team has some serious reservations about this particular change. We can't treat it like any other QoL update – we need to put a great deal of thought and planning into making it work. We've tried a couple of solutions with 'lower-value' items already, and while we can see why this update is so desired, the potential ramifications are too much to handle just yet.
However, we may revisit this concept in the future, when we have a clearer idea of how to resolve the issues inherent in its design.
GIM HiScores
HiScores requests are naturally a lot of work, as they involve multiple teams and are often more technically complex than they seem on the surface.
However, with today's update, Group Prestige should now be visible on the HiScores, where you'll also be able to see if a hardcore group has run out of lives. Please note, this won't take effect until players have logged in.
Prestiged groups are marked with a star on the HiScores. Losing Prestige by any means will make the star disappear.
Group KC is another popular HiScores request. Unfortunately, it's too complicated for us to tackle right now. We've explored our 'hackier' options, and there's just no way to do it without relying on engine work – a much bigger undertaking than it seems! Unless significant progress is made, we'll be setting this one aside for the foreseeable.
Separate Icon for UGIM
We understand that some players would like their UGIM status to be represented with a different icon. We didn't offer this in our original plan in case it left UGIM feeling alienated – but we can apply it retroactively, and it's likely to happen soon. We think it's important to ensure that GIM can show off their achievements and status appropriately.
Converting Ironmen to UGIM
You also asked us to consider allowing regular Ironmen to become Unranked Group Ironmen. We generally feel this is acceptable, because GIM is an easier approach to the Ironman experience. We'll be working on this option in the coming weeks. Please note that this decision, when implemented, will be irreversible – we will never allow UGIM to convert to regular Ironman.

Group Boss Bash Raffle
Now, ready to win some prizes? Welcome to our first-ever Group Boss Bash!
This two-week competition is especially for Group Ironmen and begins today on May 26th. Gather your buddies, take down various bosses, and earn raffle tickets that'll help you win awesome prizes.
Take a look at the table below to see which activities will net you those tickets, and whether they'll apply to everyone in the group or just individual players:
Boss
Ticket Score
Single Player
Ticket Award Conditions
Tempoross
1
N
A successful Tempoross kill, as long as the player has achieved the Reward Permit threshold.
Wintertodt
1
N
A successful Wintertodt subdue, as long as the player has achieved the minimum score to receive a Reward Crate.
Zalcano
3
N
A successful Zalcano kill. Tickets go to any player who participated enough to receive loot.
Barbarian Assault
10
N
Defeating the Penance Queen on wave 10. Any player who participated in the wave is eligible.
Sarachnis
1
Y
A single player who receives loot.
King Black Dragon
1
Y
A single player who receives loot.
Dagannoth Kings
1
Y
A single player who receives loot. Includes Dagannoth Prime, Supreme and Rex.
Kalphite Queen
2
Y
A single player who receives loot.
God Wars Dungeon Bosses
5
Y
A single player who receives loot.
The Nightmare
2
N
Any player who receives loot.
Nex
2
N
Any player who receives loot.
Corporeal Beast
5
Y
A single player who receives loot.
Chambers of Xeric
Normal Mode:10
Challenge Mode: 20
N
Any player who receives loot.
Theatre of Blood
Normal: 15
Story Mode: 3
Hard Mode: 20
N
Any player who receives loot.
These tickets have no in-game value, cannot be traded, and are only available for the duration of the raffle.
Two weeks from now we'll randomly choose 10 lucky groups and award them with Membership! As it's a raffle, the more points you accumulate, the more likely you are to win – so get bashing those bosses!
Signing Up for the Raffle
In order to participate, you'll need to register your group for the challenge.
Registration is very simple and happens in-game.
GIM will now see a new interface on the GIM settings menu which shows information about raffles. If you don't feel like joining in, the 'leave' button will exempt your group from the draw and prevent them from joining it again.
Please note that we'll need to temporarily disable certain group features, such as leaving a group and changing the group name, during the raffle. If you want to re-enable these features, you'll need to leave early!
Additionally, you may only register for this raffle once per group, so make sure that the team you register is the one you intend to stick with!
Prizes
You'll accumulate points on your account that are visible from your UI. After the 2-week raffle, we'll pick 10 winning groups!
Each individual in the group will be granted one year of membership, and one of these lucky groups will be granted lifetime membership for all their members!
We'll contact winners in-game to arrange prize giving and ensure the membership they've won is applied to their desired account. Unless otherwise specified by the winners, we'll apply the membership to the account used to register in the raffle.
A summary of the Group Boss Bash Terms and Conditions can be found here.
The full Group Boss Bash Terms and Conditions can be found here.

Guardians of the Rift Improvements
We've heard some of you say that the most frustrating element of Guardians of the Rift is getting into the minigame! Obviously we don't want that to be the case, so with today's game update we're increasing the player cap per game to 200. The Great Guardian's HP will scale appropriately.
We've also allowed players to lock their game and prevent other players from entering mid-way through the fight: perfect for small groups who want to play together! If that sounds like your thing, have a word with Tamara to sort it out. After you've enabled this option once, you'll be able to use a right-click quick option to do it faster.
Here's how locking works:
Locking prevents players from entering during Phase 1.
Locking cannot be done on GoTR themed worlds.
The game can be unlocked by talking to Tamara again.
Your locked status is not remembered from game-to-game. You need to speak to Tamara to reactivate it again.
The endgame will now be delayed when the Great Guardian reaches 100% power. He is unable to take damage during this time. This change allows players to access altars and hand in their Guardian Stones before the game ends.
Finally, barriers now display their HP bars at all times, unless they're at full HP. The HP bars are now half the size, and the 'Inspect' option has been removed.

Other Changes
Minor tweaks to the GIM Tutor's dialogue:
Removed the 'Leave' option from the Tutor. It is now accessed exclusively through the interface.
Removed all other functions that were duplicated on both the Tutor and the interface.
Other Changes
Corrected typo in description of Group Storage chests.
The Player Owned House Costume Room can now accepted the locked (l) version of the Shattered Relics Void Equipment.
Added an option to the Settings menu to enable entering and exiting Full Screen Mode more conveniently.
The Fremennik Elite reward teleport from Lunar Isle back to Relekka is now significantly faster.
The special attack animation of Arclight & Darklight no longer disrupts player movement so badly.
Players at the start of the Ratcatchers quest can once again obtain kittens from Gertrude.
Steam Changes
Full screen mode is now implemented!
Android Open Beta Changes
One tap login should now work as expected
iOS TestFlight Beta Changes
Using special characters on the keyboard should no longer open side panels
Text will no longer be added to the chat box when using the arrow keys on an external keyboard
Game Center logins should now work as expected
Holding backspace will now work as expected when using an external keyboard
Pulling down the notifications bar will no longer pause all application activity
Soft keyboard will now respect the colour theme selected for the device
Improved floating keyboard support for iPads
Steam and Mobile Beta Changes
Overhead text in quests will now display in the correct location
Clan side panel will now order members alphabetically

You can also discuss this update on our official forums, on the 2007Scape subreddit, the Steam forums, or the community-led OSRS Discord in the #gameupdate channel. For more info on the above content, check out the official Old School Wiki.
Mods Arcane, Archie, Argo, Ash, Ayiza, Banjo, Boko, Brow, Bruno, Curse, Daizong, Ditto, Dylan, Ed, Elena, Errol, Fed, Gecko, Goblin, Grub, Halo, Havik, Hornet, Husky, Jalo, John C, Kandosii, Katies, Kamon, Kieren, Kirby, Kurotou, Lenny, Light, Lottie, Mack, Matheus, Maylea, Markos, Meat, Morty, Nasty, Nin, Nylu, Oasis, Peppers, Regent, Redfield, Roq, Ry, Sarnie, Sigma, Skylark, Soffan, Sova, Squid, Steve W, Tide, Torrance, Veda, Vegard, West & Wolfy
The Old School Team.