A demonic in-game event, new benefits from your Runespan training and some awesome additions to the Arc – it's a feast of RuneScape joy in this week's update.
---
Agents of Fury
The Avernic general Nymora has sent two vengeful envoys to Gielinor's surface. Help them gather trophies of fallen foes and reap the rewards.
Speak to Miithrius or Zymanthria on Daemonheim Peninsula to get started.
From now until 23:59 UTC on 2nd April, you can collect Zamorakian emblems through regular skilling and combat training activities.
Hand in up to 1000 emblems per day to unlock rewards, including the Furies Agent outfit, complete with devilishly fetching horns and wings.
If you fancy speeding things up, or if you miss out a few days and need to catch up, you can increase your daily cap on emblems by spending RuneCoins in the reward shop.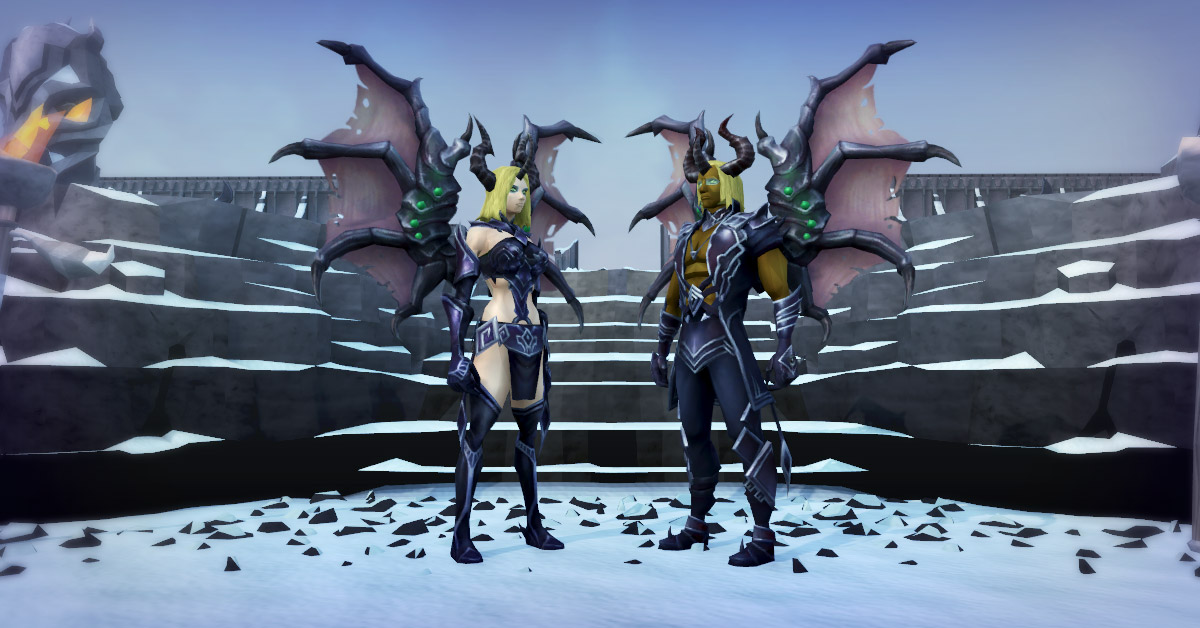 ---
Runespan Rewards
A new apprentice wizard has arrived outside the Runespan, with a reward store of his very own. In exchange for your hard-won Runespan points, he can offer the following:
Portal redirect – One time purchase. Allows the apprentice to redirect the portal between the mid and high floors.
Runesphere teleport tablet – Teleports you directly to the runesphere when it's active, even across floors. You must be in the Runespan to use this.
Yellow wizard teleport tablet – Teleports you directly to a yellow wizard when they want your attention. You must be in the Runespan to use this.
Unstable essence – Stackable essence that can be used on an altar to gain XP but no runes. Used 10 at a time, at a fast rate.
Master runecrafter's robes – Now available from the Runespan!
Altar teleport tablets – Consumable items that take you to specific altars.
---
Arc Improvements
We've also brought you a bunch of improvements to the Arc, fresh from the Game Jam we held over the last Double XP Weekend.
The High Armour of Hanto, Winds of Waiko, Thalassia's Revenge and Rage of Hyu-Ji can now be obtained with chimes and taijitu.
Any Alaea crablets that you start mining will be renamed 'Relaxed Alaea Crablet' and a timer bar will appear.
Tortle traps now have even fewer restrictions on where they can be placed.
The Arc Journal now keeps track of rare resources on your claimed island.
There is now Quick Chat and a prestige count for the Aminishi Slayer creatures.
The Uncharted Islands system has been updated to ensure that all things that should spawn do so, and no longer spawn on each other.
---
Enjoy!
Have an excellent week exploring this week's new content. See you in game!
The RuneScape Team
---
In Other News
See the patch notes for further details of today's updates.
---
Live Streams this Week
View our live streams over on Twitch. You can find a full streaming schedule on the channel, too.
Friday 24th March | 21:00 Game Time | Community update with Mod Shauny
Join Mod Shauny for a sneak-peek of some of next Monday's updates.
Sunday 26th March | 19:00 Game Time | PvM with Mod Lee
Get your weekly dose of PvM goodness with Mod Lee – don't miss it!