You want to know what's coming out in October? Did you mean Arctober?
Yes, me hearties, this month is all about the Eastern Lands! Four new islands to visit, a bevy of rewards and even birds to spot, all in the glorious name of completing the Arc region.
For the rest of the month, we stray into other waters. Have your timbers thoroughly shivered by our Halloween event. Swash your buckles with the final, definite, cross-my-heart-and-hope-to-die launch of Bounty Hunter. And keep your hoard safe in Customer Support Week.
---
The Arc – Chapter Two
So, let's start with the Arc island chain, and a glorious thing it is, squarely answering your feedback on the Arc Chapter One. It's full of fun training, killer rewards, and more stuff than you can shake a Yaktwee stick at.
Here's the whistlestop tour:
Four new islands in the form of Tuai Leit, Goshima, the cyclops island of Cyclosis, and the sullen Islands that Once Were Turtles
Several miniquests, during which you'll scuttle the fabled zombie ship, the Harbinger
High-level Divination and Farming training methods, with Divination offering best-in-skill XP rates
An Arc journal with pages of birds and impling-like kami to tick off
Updated contracts from Sojobo, with more skills covered and better loot from NPC marks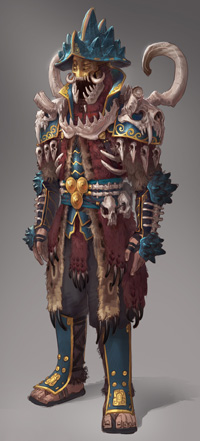 Most importantly, there are the improved and expanded rewards that you've been demanding since the first visit to the Arc:
A bone picker upgrade for your bonecrusher
Tier 85 boots and gloves that will supplement Ports armour with a set effect
New divination scrimshaws
A crystal tool siphon
A particularly awesome-looking Hunter outfit, giving +6% to Hunter XP and stacking with the Yaktwee stick
This is all coming into port on the 10th of October, and we'll be celebrating with some permanent changes: a free ticket to large islands as a drop outside of the Arc, free supplies on your first visit, free flags, reduced costs for the better Uncharted Isles and rarer resources on those same islands. That's some of the best rates of XP.
---
Halloween
But, if you're a little sick of colour and daylight, then close the curtains, let the darkness in, and enjoy this year's Halloween event. We'll be chucking you through a dimensional rift so you can re-enter the twisted world of Dimension of Disaster. Here, you will find Dr Fenkenstrain, who is taking the Invention skill to pretty disgraceful lengths. If you've got the stomach(s) for it, disassemble dead people and bring horrific animated creatures to life!
The event will run for two weeks, giving plenty of time to collect its macabre rewards, including a pet and a flashy lightning rod conductor hat.
This little treat won't actually require Invention, and will be available to all - so free players and members alike will be able to create their own zombie monstrosity.
---
Bounty Hunter Worlds
But where might you get an influx of bodies from? How about Bounty Hunter? After being delayed from September, it's coming in October!
If you're unaware of what Bounty Hunter is, it's a hardcore PvP minigame where you're assigned another participating player as a bounty target and asked to hunt them down - but it makes you their target too.
The new Bounty Hunter aims to make PvP a viable, endgame moneymaking method. We also plan to knock you out with the range of rewards on offer – brawling gloves, patches to upgrade your ancient gear to tier 88, Crucible weapons with tier 87 stats and brutal special attacks...and much more.
---
Customer Support Week
To be confident that you can enjoy everything in October, we'll be giving you incentives to make your account rock-solid during Customer Support Week.
During this week, you'll encounter Count Check, a vampyre who vets your account for correct setup of security measures, and rewards you with lamps – giving you yet another reason to ensure you're protected.
He's got a couple of events to get involved with: a special edition of The Drop focused on security, and a free clue scroll every day for both free players and members. Level up your account security now, because it all kicks off soon with additional free Treasure Hunter Keys every day for people who have secure accounts.
---
Solomon's Store and Treasure Hunter
To round out October, we will be bringing an elite skilling outfit to Treasure Hunter. There's a running theme with this outfit: get 7% additional Dungeoneering XP, 7% extra XP on all skill nodes, 7% damage boost in dungeons and 7% discount at the Dungeoneering shop, to name a few.
Plus, there's the Walk Like a Zombie event, which rewards ghoulish tasks around the world with rotten zombie outfits. My favourite part? You can use the outfit to bite other players and infect them so they, too, stumble about like a zombie.
Finally, for those of you who buy certain RuneCoin packages on Solomon's Store, we will be offering you a spider-related outfit and a pet as a cheeky little extra.
---
Enjoy!
There should be enough meat on October's bone to keep any zombie enthusiast happy. And make sure you take a trip to the Eastern Lands this month – there hasn't been a better time to embark on the Arc.
Mod Osborne
Lead Designer – RuneScape
---
In Other News
Today is your last chance to take part in our Summer Sweepstake for a chance to win a trip to Jagex, among other awesome goodies.
Members (including Ironmen) can claim a ticket by clicking on the sun icon in game, then clicking 'claim ticket'. Then, visit Balthazar and hand in your ticket for an XP lamp, and your chance to win.
This ends at 23:59 UTC (game time) tonight. We'll be announcing the winners next week. Good luck!
---
What is a Behind the Scenes article?
Behind the Scenes is a sneak peek at the planned game updates that we hope to launch in the coming month.
This, however, is only a plan - not a promise - that a particular update will be released in a particular way or at a particular time. To get you the highest quality updates as quickly as possible, we usually keep on tweaking and testing right up until the moment before release, so sometimes things change or take a bit longer than expected. We aren't afraid to change our plan if necessary, as we will never launch an update before it is ready.