Team up with Vannaka in this week's RuneLabs inspired quest, Beneath Cursed Tides, to uncover the mysteries surrounding the long lost lands of Tutorial Island. Complete the new quest to unlock some great rewards including Vannaka's sword and new monthly D&Ds!
The Pinch who Stole Christmas continues this week with Episode 3 – Licence to Chill where you can build extra snowmen for Construction and Combat XP as well as unlocking the new Ring of Snow.
Please note - availability of the Festive Pet of Seasons has been delayed slightly until 00:00 UTC (game time) on the 15th of December.
Read on to find out more about the quest and all of the Christmas festivities that we have planned for the week ahead.
---
Beneath Cursed Tides | Free-to-Play Quest
How To Start
Speak to Wizard Myrtle north of the Wizards' Tower.
Requirements
30 Woodcutting
30 Smithing
30 Firemaking
30 Attack
30 Cooking
30 Strength
30 Mining
30 Magic
Head down memory lane and rediscover Tutorial Island, inspired by Guitar Girl's RuneLabs suggestion!
Remnants of the island have recently been spotted just north of the Wizards' Tower by hydromancer Wizard Myrtle, who has asked for your assistance. Help her rediscover the sunken island and explore the underwater area to uncover the dark mystery of why the island vanished.
Complete the quest to unlock access to the island, Vannaka's steel sword, featuring a huge blade which can be wielded in one hand.
Members also get access to a new monthly farming and fishing D&D. Use the new D&Ds to grow seaweed and catch sea cucumbers, then feed it to the hungry oyster to gain a reward from the clue scroll drop table!
---
Licence to Chill | Christmas Quest – Part 3
With the Snow Queen, Jack Frost and the snow imps freed and now on your side, it's time to seek revenge on those evil perpetrators! Build your army and take on their greatest weapon of them all – Snowverload! Once defeated, a harder version of Snowverload will continue to appear on the iceberg every few hours which you can take down in teams for a reward lamp.
By completing this week's part of the Christmas quest, you will unlock the Ring of Snow and the ability to build extra snowmen for Construction and Combat XP.
If you haven't had a chance to play the Christmas quest yet, just jump in-game and speak to a snow imp at the Prifddinas, Burthorpe or Lumbridge lodestones. Catch up with the story and unlock all of the latest Christmas activities!
---
Enjoy!
Enjoy and get stuck in on all of our winter festivities and our new tutorial quest! As always, let us know your thoughts on this week's update over on the forums.
The RuneScape Team
---
This Week's Streams and Podcasts
Each week we stream developer Q&As, in-game events and more. Watch our streams and find our full streaming schedule over on our Twitch channel.
Developer Q&A: 2015 – A year in review | 17:00 UTC, Tuesday 15th December
In this stream – we'll be looking back at some of our (and your) favourite updates in 2015 – it's been an amazing year; with Raids, our 200th quest, Lord of Vampyrium, the biggest RuneFest ever, Tuska, the Aquarium, and loads, loads more.
Don't miss out!
This week's line up will include our host Mod Osborne, as well as some of the mods behind our biggest content of the year.
Join us from 17:00 Game Time on Tuesday 15th of December on Twitch!
Good Morning Gielinor | 09:30 UTC, Tuesday 16th December
Good Morning Gielinor is back for a festive special! We'll be looking at the best content from the RS community, pitting another willing JMod against QBD in our JMod vs Boss challenge, and recapping our favourite stuff from November and December. And we may even have some eggnog. Don't miss out!
Podcast
Join Mod Matthe and the Community Team in this week's podcast as they wish you all a very Merry Christmas and get excited about what 2016 holds for RuneScape!
---
Extra Festivities!
Pet of Seasons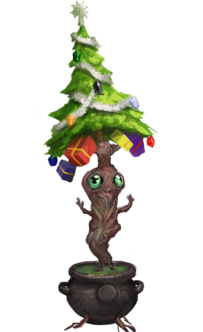 Douglas is our new festive companion pet, built with his own special attack, attack and defence animations. Find out more about Douglas or grab him from 00:00 UTC (game time)on 15th December from Solomon's Store for just 217 RuneCoins, or 195 for members – equivalent to only one Bond.
Be quick though, Douglas will only be available over the Christmas period so make sure you catch him before he's gone!
But hang on - Did you know that you might be eligible to get him for FREE? Yes, you heard correctly. If you have unlocked the Pet of Seasons character before today, you will get Douglas for no extra charge, once he's available.
Advent Calendar
Don't forget to check back daily to open your Advent Calendar. Each day you will receive a useful – and sometimes rare – items so keep coming back for your free gifts.
Don't stop, give us more! Coming right up. Want more of that item from your advent calendar? Head to the Treasure Hunter interface for an increased chance of getting more like it. But hurry! The promotion only lasts for that day so make sure you don't miss out!
Winter Weekends
We hope you had a great weekend enjoying the bossing and Slayer Winter Weekend bonuses! Missed it? Never fear! Jump in game this weekend on the 19th & 20th December to benefit from bonus minigame points!
If you would like to know more details about each of the six weekends, head in game and find out more using the Winter Weekends tab on the Christmas interface.
This Week's JMod Events
Each week the Community team will host a number of in-game events. Be sure to check them out and say hi to the team!
Check out all of the latest Christmas events over on our RuneScape forums for more information.
This Week's JMod Events
We have a competition for almost every RuneScape channel, so we have something for you no matter which channel you prefer! Read on to find out what awesome goodies you could win and how you can enter.
---
In Other News
You can now renew the duration of portables by using using them on already-deployed portables of the same kind. The duration can stack up to an hour, and you can use portables on those originally placed by other players.
Read the Patch Notes for further details of today's updates.