Issues and Hotfixes (May 19th)




| | |
| --- | --- |
| Issues Raised | Current Progress |
| (12:00 BST) PvP World are currently all Free-to-play. | (13:08 BST) [FIXED] All PvP worlds should now work as intended. |
| (12:25 BST) We are currently investigating into a potential issue with attacking the Kraken, Cerberus and the Abyssal Sire. | (18:00 BST) [FIXED] This issue has now been resolved with today's coldfix. |



We're so excited for the release of Clans next week, we're positively shaking with Clan-ticipation! We've got some new information about the chat system and hierarchies this week, so read on to find out more. We also look ahead to A Kingdom Divided with another competition, and announce the winners of the Jad Challenge. Let's get into itů

CLANS: SOFT LAUNCH
It's just one more week to go before the arrival of Clans! We're so looking forward to the release of the highly anticipated system. It's not only a great new way to play in its own right, but will also establish the fundamental groundwork we need to build the upcoming Group Ironman. Exciting times!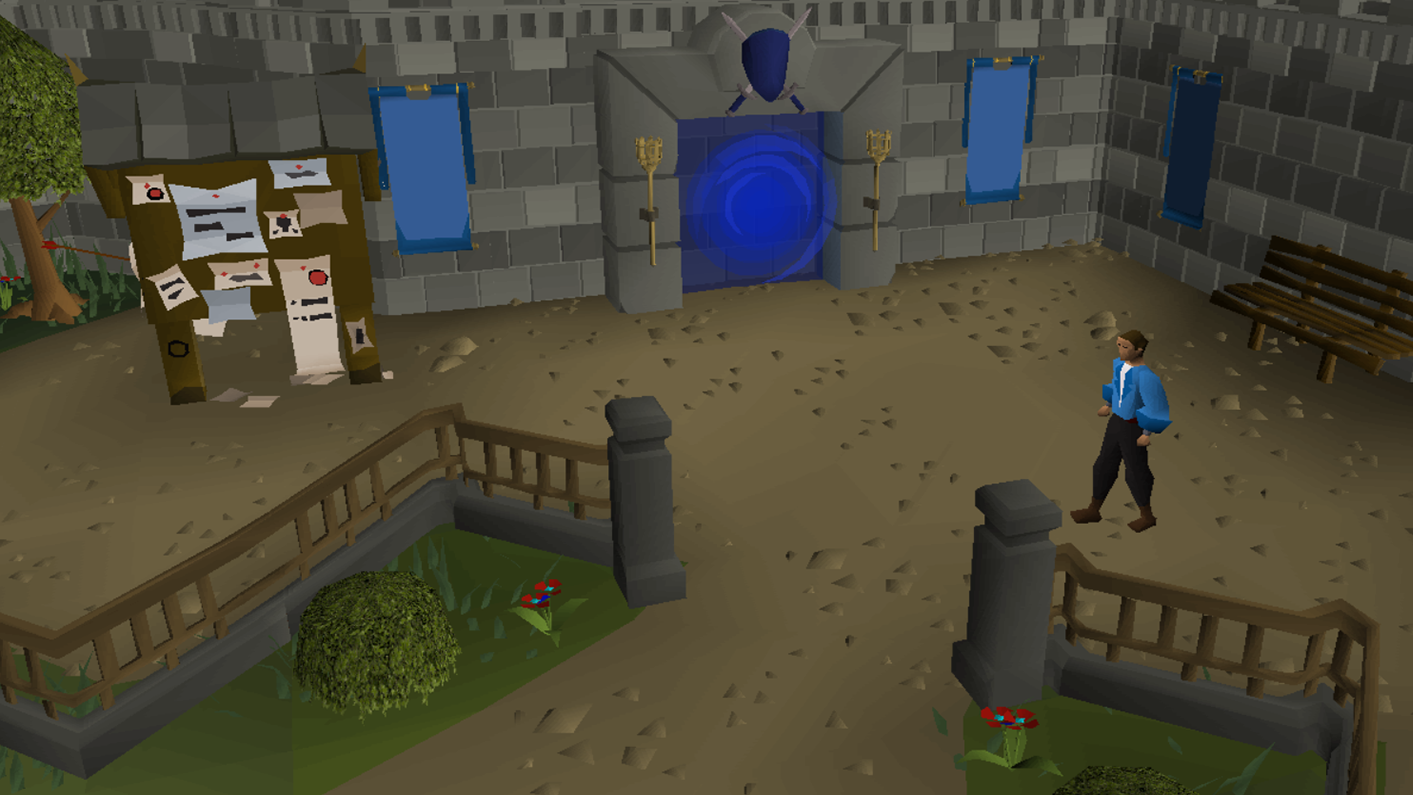 The Clans Hub in the Grand Exchange.
We also know that you're eager to set up your Clan hierarchies, so we've worked with the fantastic Old School Wiki Team to bring you the full list of ranks and titles you can assign to your clanmates.
Clan Name Pre-Registration
If you applied to secure a Clan name for the upcoming release, we'll be sending out confirmation messages this week. For those of you who have made it to the next stage of the process, your message will include an invite to a Discord server, and the Discord tag of the staff member who will be helping you. You'll need to jump on the server and arrange a time to meet with us in-game and receive your name. Please keep an eye on your player inbox and don't accept any links from Discord tags other than the one named in the message. If you missed it, check out last week's newspost for more details.
Chats
Communication is key with Clans! To keep on top of your Clan chat, we've offering a new option to change the colour of each different chat type, so your Clan confabulations can be a different colour from your other conversations. You'll find some new options on the 'Chat' tab within the Settings menu.
Additionally, the legacy chat channel that was known as 'Friends Chat' has been renamed. The old text will now appear in the 'Channel' tab of the Chatbox, freeing up the 'Clan' tab for next week.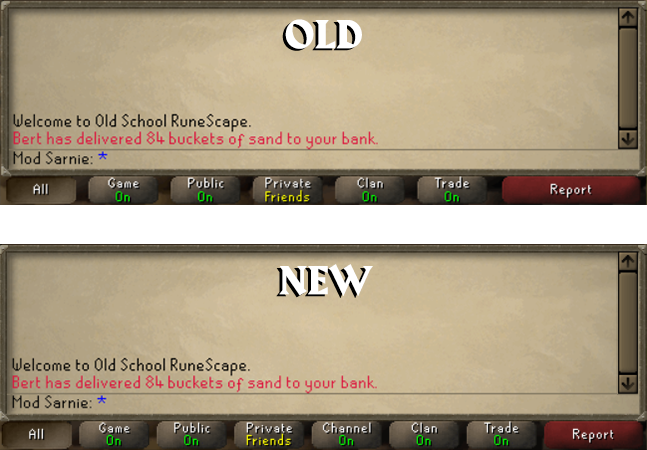 Anything To Report?
This week's update will mainly focus on behind-the-scenes changes in preparation for next week's release. So, if anything is not performing as expected, please use the in-game bug report form. You'll find it by right-clicking the red REPORT button at the bottom of the text box, and selecting the 'Report game bug' option. Here's a short guide if you're stuck.

That's it for the soft launch. The Clans system will be fully accessible with next week's game update on May 26th. See you there!

A KINGDOM DIVIDED
You might notice a new quest on your list in this update. A Kingdom Divided is just around the corner, so we wanted to make it easy for players to check if they meet the quest's requirements before the big launch in June. Take a look and see if you're ready to take on this enthralling new adventure!
Today also marks the start of the A Kingdom Divided 'The Story So Far' Video Competition. Remember that as of today's update, all players will have access to the Oculus Orb, a device that gives you total control over the camera, making it easier to capture gameplay within Gielinor! Want to try it out? Head on over to Draynor Village and speak to Diango to claim yours today.

JAD CHALLENGE WINNERS
Tzhaar Ket Rak's challenges have concluded. With our verifications complete and all prizewinners contacted, it's time to announce the winners!
Fastest Times
1st Place: RITA ORA (4 minutes 12 seconds)
2nd Place: Jacobs (4 minutes 18 seconds)
3rd Place: rank2curse (4 minutes 24 seconds)
Raffle
Winner: AlwayzJarvin
Most Unique Kill
This was a tricky decision to make. You're an innovative bunch! We've decided to award a couple of special mentions who will receive three months of membership alongside the overall winner and their prize of six months of membership.
WINNER: Unpredictbie
Special Mention #1: Woox
Special Mention #2: MolgoatKirby
Congratulations to all of our winners. Please keep an eye out in your player inbox for news about your prizes!

OTHER NEWS
PvP World Rota
As promised last week, we are switching the world rota to a new system. Worlds will no longer be changing from PvP activity worlds to regular worlds and back. Instead, the regular worlds will be available full time, while the worlds that are for PvP/LMS will be turned on and off depending on the week.
This means players who had used the current worlds when they were not intended for PvP/activities will now have them full time, while PvPers/those who want to play LMS will need to use the new worlds on the rota.
This week sees the rota switch to period B and the worlds are as follows:
560 - (UK) - PvP World
579 - (US) - High-Risk PvP World
561 - (UK) - Free-to-Play PvP World
580 - (US) - LMS Competitive
Those with a keen eye will notice that the LMS casual worlds are no longer in the rotation. These will remain active in both regions from now on.
Next week, when we've switched to period A, we will use the following worlds:
539 - (US) - PvP World
548 - (Germany) - High-Risk PvP World
577 - (US) - Free-to-Play PvP World
559 - (UK) - LMS Competitive
Extra Tweaks:
Dragon and Infernal Harpoons can now be decorated using the Trailblazer Ornament Kit. Previously the Harpoons had to be used on the Ornament Kit, not the other way round.
A misplaced bit of wall has been removed from Hosidius.
A sound effect has been added to Cerberus' lava pools attack.
The Prayer level-up messages for Dragonbone and Bonecrusher necklaces have been corrected.
Players who are battling it out in a board game will now be able to chat to the opposing player in the trade chat, similar to when you trade a player. Why not strike up a chat with your board buddy?
All crystals collected during the Watchtower quest can be re-obtained, right up until the quest has been completed.
The Armadylian Guard NPC is now the Armadylean Guard (the one that sometimes spawns when following Elite clues).
The spelling of 'Misthalanian' in the book The Sleeping Seven has been corrected to 'Misthalinian.'
That's everything for this week's game update! We'd love to hear your feedback so please let us know what you think via our official forums, on the 2007Scape Reddit, or the community-led OSRS Discord in the #gameupdate channel.

Mods Acorn, Arcane, Archie, Argo, Ash, Ayiza, Banjo, Boko, Bonsai, Brow, Bruno, Curse, Daizong, Deagle, Dibber, Ditto, Dylan, Ed, Elena, Errol, Fed, Flippy, Gecko, Grub, Halo, Husky, Jndr, John C, Kandosii, Katies, Kieren, Kirby, Lenny, Light, Lottie, Mack, Maylea, MikeD, Morty, Nasty, Nin, Oasis, Roq, Ry, Sarnie, Squid, Steve W, Sween, Tide, Vegard, West, Wolfy & Zuko
The Old School Team