From new PvP opportunities with awesome rewards to a miniquest in search of Nomad lore and a repeatable hard-mode boss fight, this week's update is truly action-packed.
Read on for info on a great new addition to your inventory, the currency pouch, as well as the chance to get your hands on Fae weapon sets.
---
Deathmatch – safe PvP with awesome rewards
The Crucible is now closed, so travel to Edgeville and enter the new Deathmatch Arena (it's in the same place) for revitalised safe-death PvP. Deathmatch is the perfect way to learn the ropes of PvP in RuneScape while earning awesome rewards - new and old.
Battle opponents, earn points for your kills and assists and - most importantly - have fun!
How to Play
Join a match via the Deathmatch sign-up board in the new Deathmatch Arena and pick which tier you wish to fight at. The queue will also divide people based on whether they play Evolution of Combat or Legacy mode.
The winner of a match is the first to PK their way to 50 kills, or to the player who has the most kills within the 10-minute time limit. In order to be credited with a kill you must have taken at least 60% of the lifepoints of a player who dies. You will be credited with an assist if you did a lesser but still considerable amount of damage to that killed player.
If you die, you will respawn in a safe part of the arena. When you re-enter, you will be temporarily immune to damage. The safe zones have bank facilities to restock, bandage tables to sew yourself together and an altar for you to recharge.
Check around the arena during a match for the glowing power ups and super power ups, including powerful temporary armour, cabbage time and the self-explanatory chicken army that will help you edge your opponents.
Supreme Hunter
In particularly big matches of at least 20 players, the Supreme Hunter mechanic will come into effect, bringing an extra twist to Deathmatch. Look out for the notification that the Essence of Death has spawned in the arena.
When you enter the proximity of the Essence of Death, a new bar will appear above your head that fills up as you remain nearby. The first player to fill the bar will become the Supreme Hunter. As everyone's bar is displayed, you should do your best to prevent the leader from becoming Supreme Hunter. Better still, if you kill someone who is standing near the Essence, you'll get half of their bar.
Becoming Supreme Hunter is a real honour and you will receive suitable weapons and appearance for the role. Your name will be broadcast in the arena. , and you will be powerful enough to fend off the waves of players who will doubtless try and take you out.
Utilise the special attack on your Supreme Hunter weapons to fend opponents off. This summons 10 souls to fight for you. For each soul that is alive you will receive 10% damage reduction, meaning that the Supreme Hunter has 100% damage reduction while all souls are alive. Bear this in mind when taking them out!
Reward System
Based on your personal performance in matches, you will earn points that can be spent in the Reward Shop. Up for grabs include useful things like the ability to create ancient teletabs, a cosmetic Supreme Hunter helmet, as well as loads of useful goodies that will help out with the upcoming PvP content – Bounty Hunter. These range from tier 65 power armour sets to food rewards which can keep down those pesky PvP costs and give you a jump start when that content drops.
The old rewards from The Crucible will also still be available in this Reward Shop – so don't fear if you wish to pick those up.
But for now, enjoy getting stuck in to Deathmatch!
---
Tales of Nomad
Find out the story of the elusive Nomad in a brand-new miniquest. Solve clues and locate memories that piece together the history of one of your most famous nemeses.
Requirements
Membership
Nomad's Elegy
How to start
Got to the River Noumenon Bridge in the Underworld. This area is now accessible post-Nomad's Elegy. A brand new NPC in this area will leave the first clue.
Rewards
Tales of Nomad is now required for the Master Quest Cape and Trimmed Completionist Cape and will reward you with 3 XP lamps on completion.
---
Nomad's Elegy Quest Boss - Hard Mode + New Reward Capes
At the end of the reopened Noumenon Bridge area you can also now repeat the Nomad boss fight from Nomad's Elegy – only harder and as many times as you want. This is now a requirement for the Trimmed Completionist Cape too.
Loot from this fight is reset on a weekly timer – reset tokens can be used here too.
There are 6 different coloured Soul Capes available for defeating him in the quickest times:
< 20 minutes - cyan
< 16 minutes - green
< 14 minutes - white
< 12 minutes - purple
< 10 minutes - black
< 8 minutes - red
---
Currency Pouch
A currency pouch has been added to your inventory that will help you keep track of all the different currencies you acquire while saving space in your bank.
You can access the new currency interface by expanding the currency pouch button at the bottom of your backpack.
The currency pouch will hold:
Thaler
RuneCrafting Guild token
Mobilising Armies Investment points
Soul War Zeal
Jadinko Favour
Sliskelion Pieces
Teci
Mobilising Armies Reward points
Slayer Points
Tuska Event - Reward Points
Tokkul
Reaper Points
Mage Training Arena Telekinetic Pizazz points
Co-op Slayer Points
Fist of Guthix Tokens
Pieces of eight
Penguin Points
Mage Training Arena Alchemist Pizazz points
Runespan Points
Dungeoneering Tokens
Chimes
Barbarian Assault Attack Points
Mage Training Arena Enchantment Pizazz points
Warriors Guild Strength
Cabbage Face Punch Bonanza Renown
Taijitu
Barbarian Assault Defence Points/td>
Mage Training Arena Graveyard Pizazz points
Warriors Guild Defence
Heist Points
Agility Ticket
Barbarian Assault Collector Points
Livid Points
Warriors Guild Attack
Clan Orts
Castle Wars Gold Ticket
Barbarian Assault Healer Points
Stealing Creation Points
Warriors Guild Combat
Castle Wars Silver Ticket
Fishing Tokens
Vinesweeper Points
Warriors Guild Balance
Ecto-token
Brian Points
Void Knight commendations
Hanky Points
---
Solomon's Store - Fae Weapons
Fairy-inspired fae weaponry is now in Solomon's Store for you to pick up. Don't take their namesake lightly though – these are as fierce as they are fae!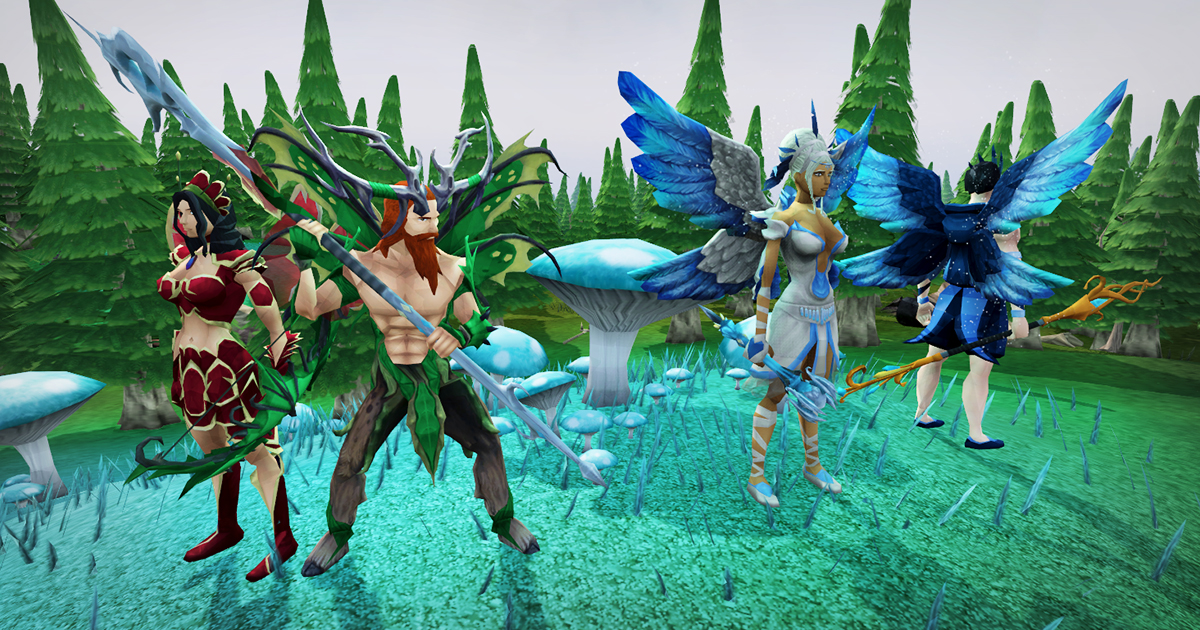 ---
Patch Notes
For all this week's patch note, see the forum thread.
---
This Week's Live Streams
Watch streams and find a full streaming schedule over on the Twitch channel. Check the YouTube channel, too, for videos you may have missed.
This week, you'll get a first look at the second batch of the Arc – read on to find out more!
Tuesday, September 27th| 16:00 Game Time | The Arc: Batch 2 Q&A
The second batch of the Arc will be upon us in October. So we thought we'd give you a sneak-peek of what you can expect from the next set of islands you can discover in the region.
Post any questions you have about the Arc on the forums, on Reddit, or by using the #RSQA hashtag on Twitter.
Friday, September 29th | 20:00 Game Time | Update preview with Mod Shauny
Find out what you can expect from Monday's patches and more with Mod Shauny this Friday night.
Sunday, October 2nd| 19:00 Game Time | PvM with Mod Lee!
Mod Lee will be hosting the usual Community PvM goodness live on Twitch.
---
In Other News
RuneFest Highlights – on YouTube
Main Stage and some of the Second Stage highlights from RuneFest 2016 are now live on our YouTube channel. Please note that due to some unfortunate audio issues we are unable to share all of the Second Stage highlights from the event.
---
Have a great week!
The RuneScape Team