Hello, and welcome to Dev Diaries, the blog where you get to take a peek behind the curtain and see how RuneScape is made. Today we're donning our finest berets, stripy shirts, and twiddly moustaches to drop in on the art team!
Q: First things first, please introduce yourselves and tell us what you do!
Mod Stead: Hi, Iím Mod Stead, Art Director and long-time member of the RuneScape team. My journey started back in 2007, when I joined the art team, who at the time were producing what we now refer to as RuneScape HD. Since then I've modelled characters and created environments, later having the opportunity to lead the environment team and eventually the art team. This year will be my 15th Jagexversary, which is an achievement I'm especially proud of, and humbled by, as I work alongside a truly dedicated and passionate team. My current role is to provide direction and support for our artists, help guide quality with our art leads, and collaborate with our development and production teams to create exciting new content for our awesome players to enjoy!
Mod Ante: Hi, I am Mod Ante, the Lead Character Artist on RuneScape. I have been working on RuneScape for over 12 years in various character art positions and I'm currently heading up the character team, serving as the quality holder for character art produced for RuneScape. I work alongside the other discipline leads, their teams, and our art director Mod Stead.
Mod Paul B: Hi there. Iím Mod Paul B, Lead Animator on RuneScape at Jagex. I head up our animation team which consists of three very talented internal animators: Mod_Wing, Mod Hing and Mod Haku, and three equally talented external animators. Iíve been at Jagex for 16 years and itís been a real journey. Iíve been Lead Animator for 14 of those years and every day/week/year is a challenge, with so many things going on. New characters and creatures come in needing to be rigged and animated. Feedback must be given on the teamís current animation work both internal and external - technical trouble shooting, line management duties, and everything in-between. Itís a clichť that every day is different but itís most definitely true for me, and it's one of the many things I love about my work on RuneScape. Over the last few years, weíve made a lot of changes to our tech and tools, and as I'm sure you've noticed this has allowed animation to improve no end. With further improvements to come, I look forward to what weíre able to create for you in the future.
Mod Chilly: Hi, Iím Mod Chilly, the Lead Environment Artist on RuneScape. I have been working on RuneScape for the best part of 15 years, over that time taking on several different environment art roles. My role mostly consists of working with the amazing environment art team, providing support with production, and assisting best practices and standards for the art we produce.
Q: How is the art team organised, and what roles do they perform?
Mod Stead - Our art team consists of 23 talented professionals spread across several art disciplines, many of whom are embedded within our feature teams, who collaborate with our other game developers (producers, designers, scripters, writers, QA, etc) to produce new content.
The feature teams are:
Episodic - responsible for quests, skills, Ninja Strikes, and more!
LiveOps - responsible for our in-game store, Yak Track, Treasure Hunter, Holiday Events and more.
Most of the development team now works remotely across the UK, and collaborate via video calls, with some choosing to work onsite in our studio.
The art team is comprised of the following disciplines:
Concept Artists: Typically involved in the early stages of a project, they help provide visual solutions for the teams' ideas and gameplay requirements. Concept artists achieve this through exploration, which usually involves gathering reference material, mood boarding, and sketching. We call this the ideation process. The end result is 2D artwork that solves the initial problem, inspires the team and informs our 3D artists what to make.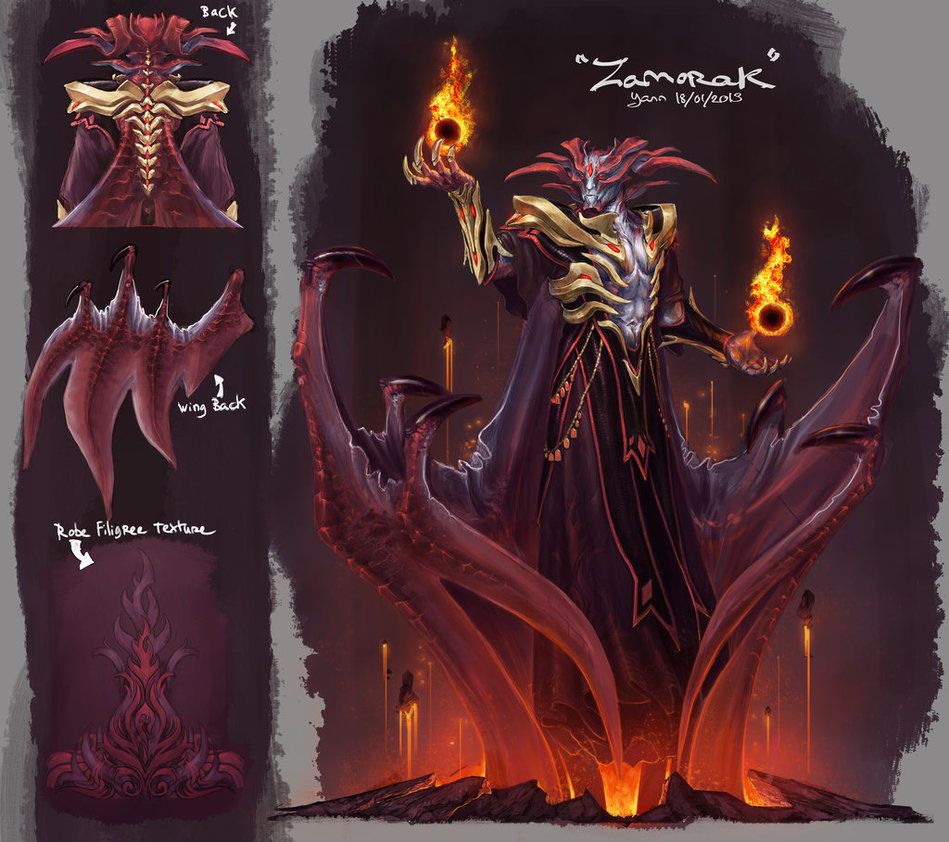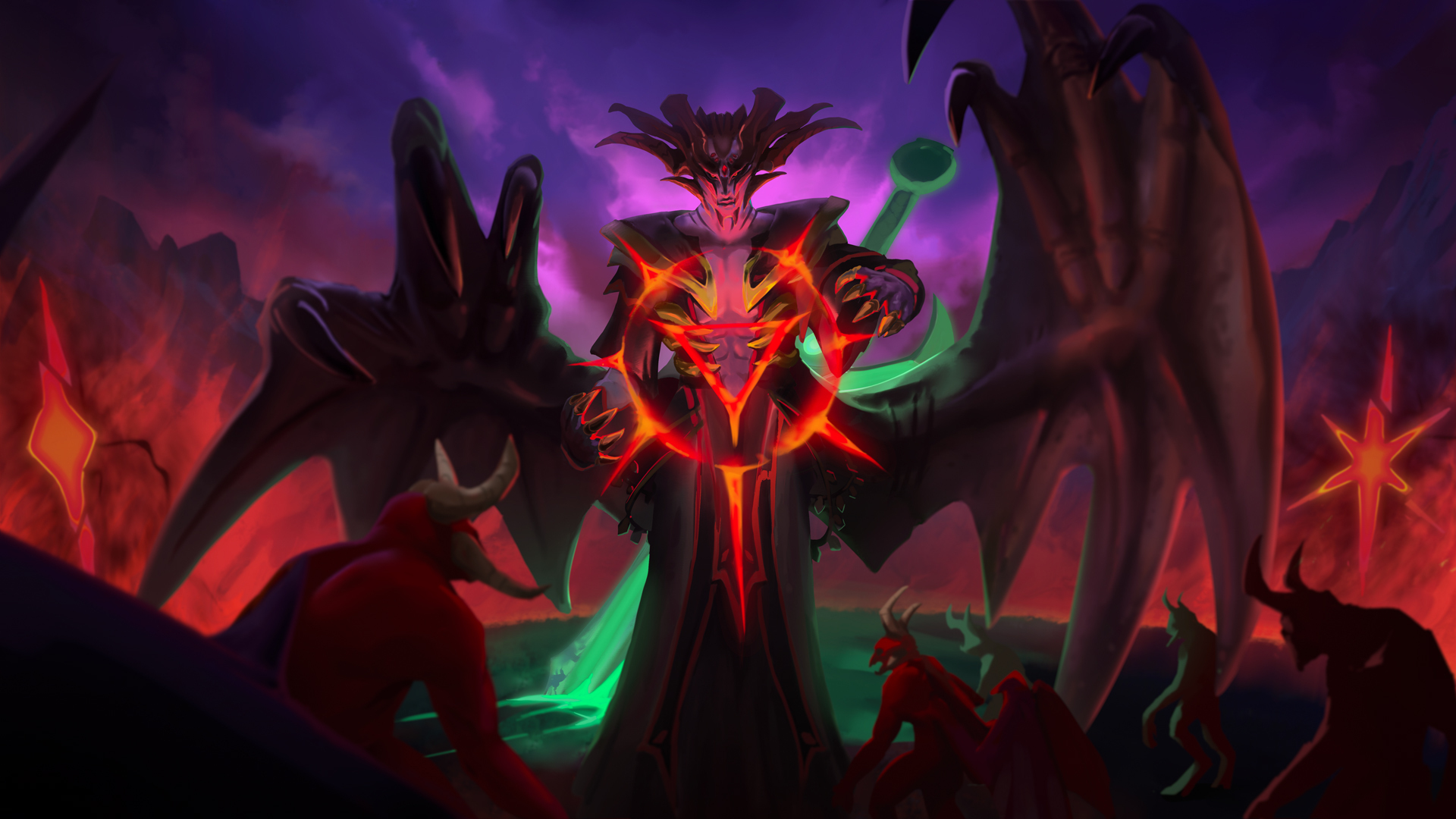 Character Artists - They're masters of anatomy and know how to make the most appealing looking NPC's, creatures, weapons, and armour sets you all covet. They typically start with a 2D concept and interpret and enhance it into the 3D game ready assets you'll see on screen. Getting to that point involves many stages, including sculpting that provides the details, modelling which optimizes the highly detailed sculpt to a usable game ready base, and texturing that adds the final lick of paint.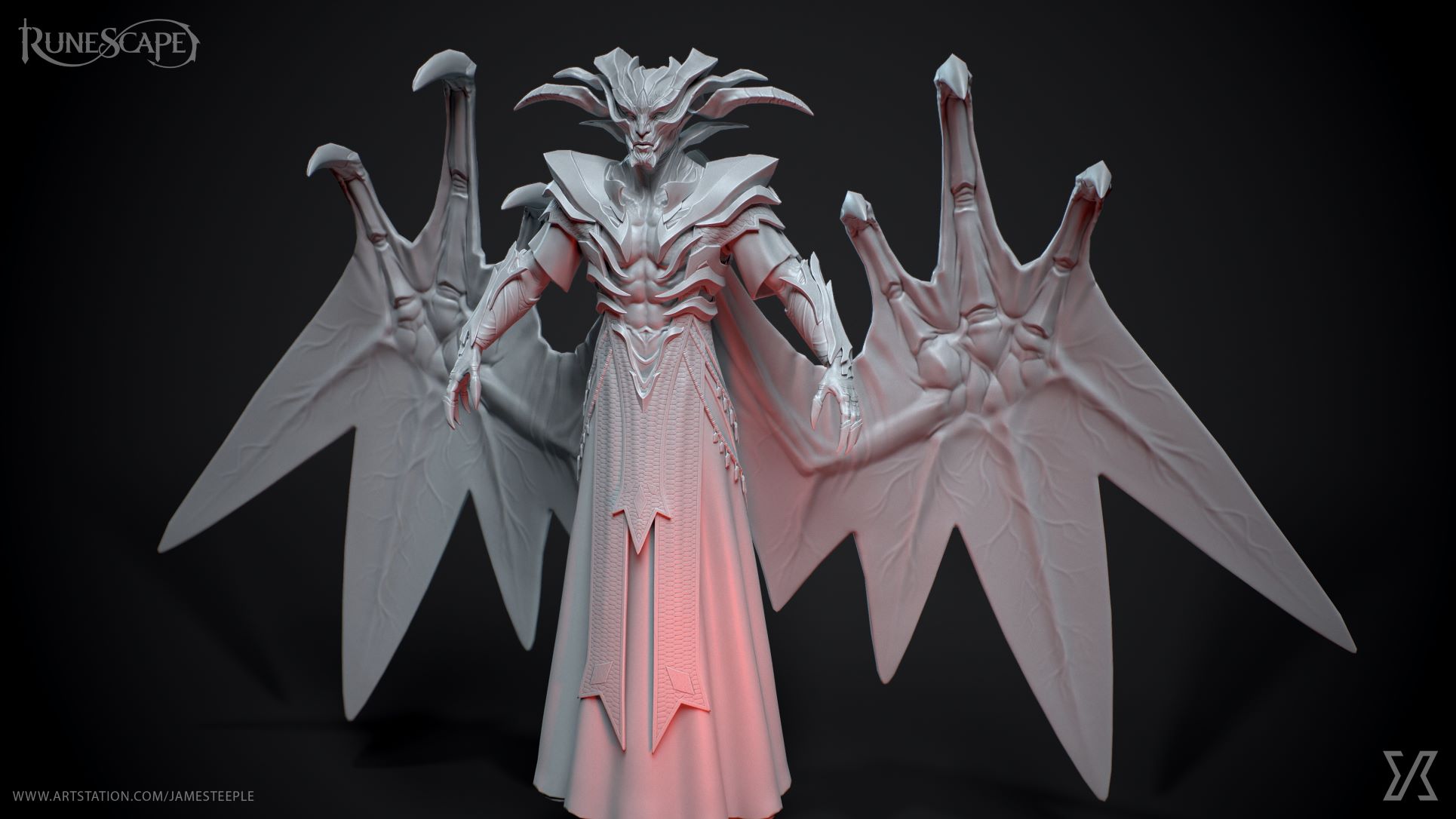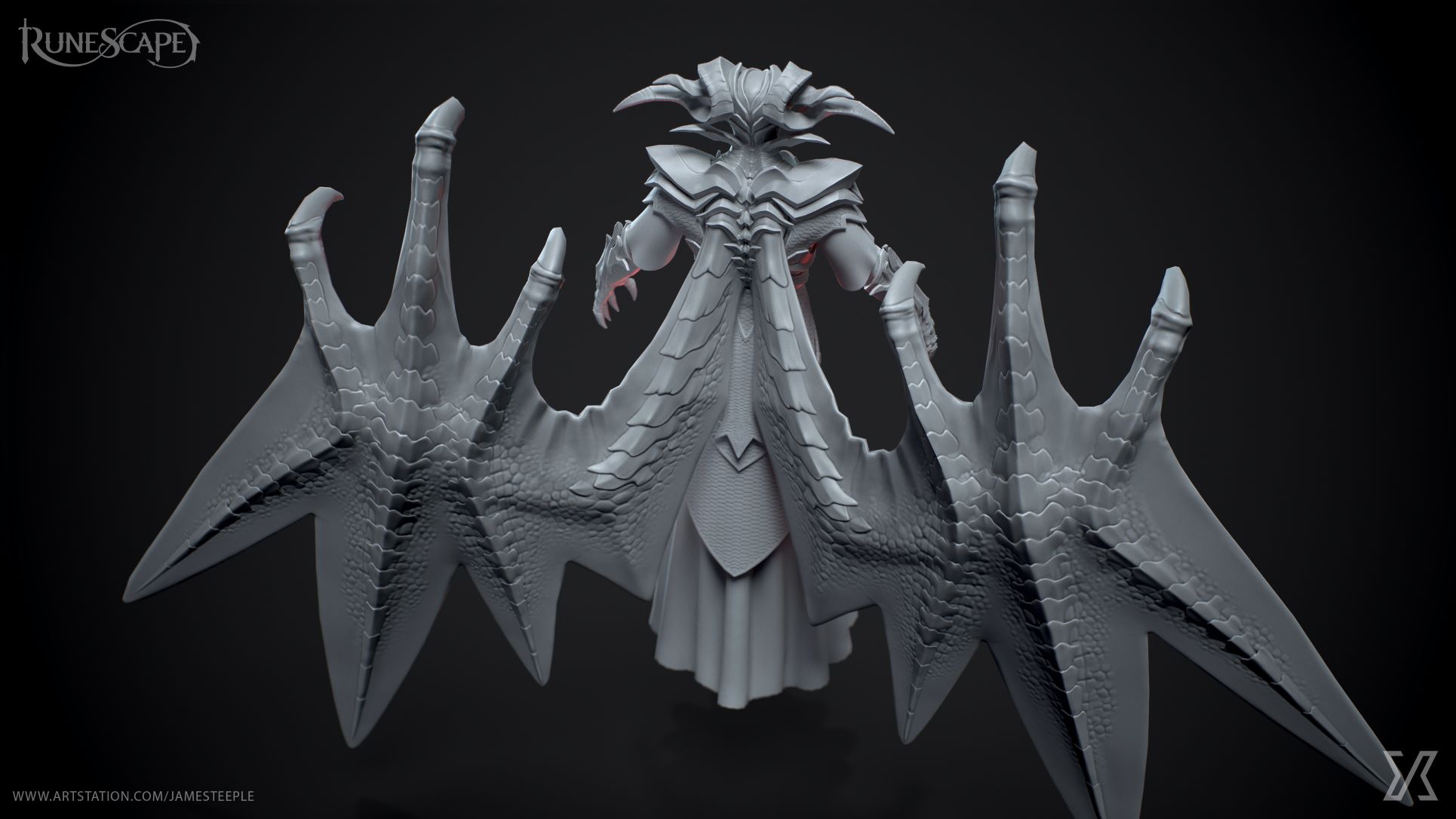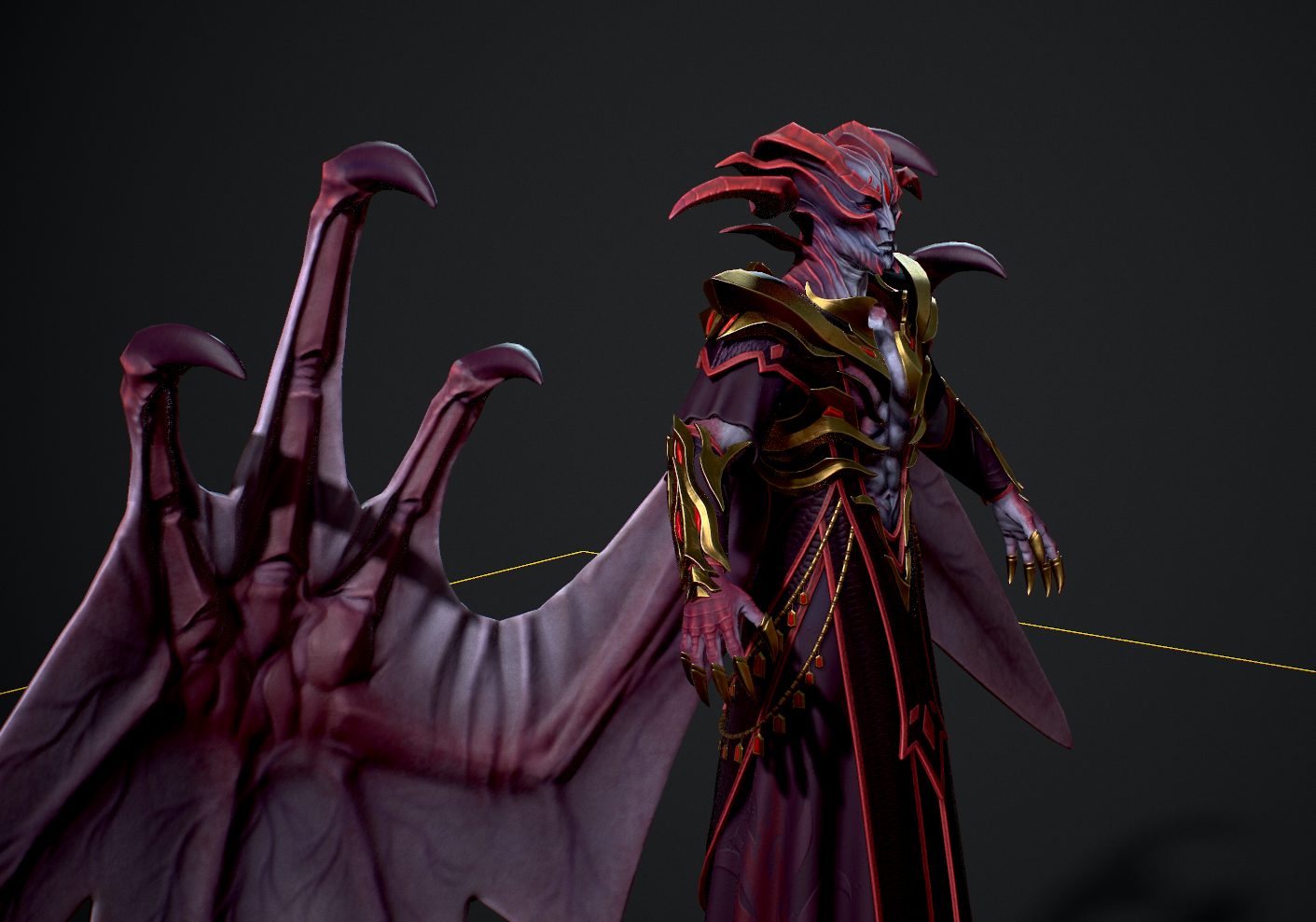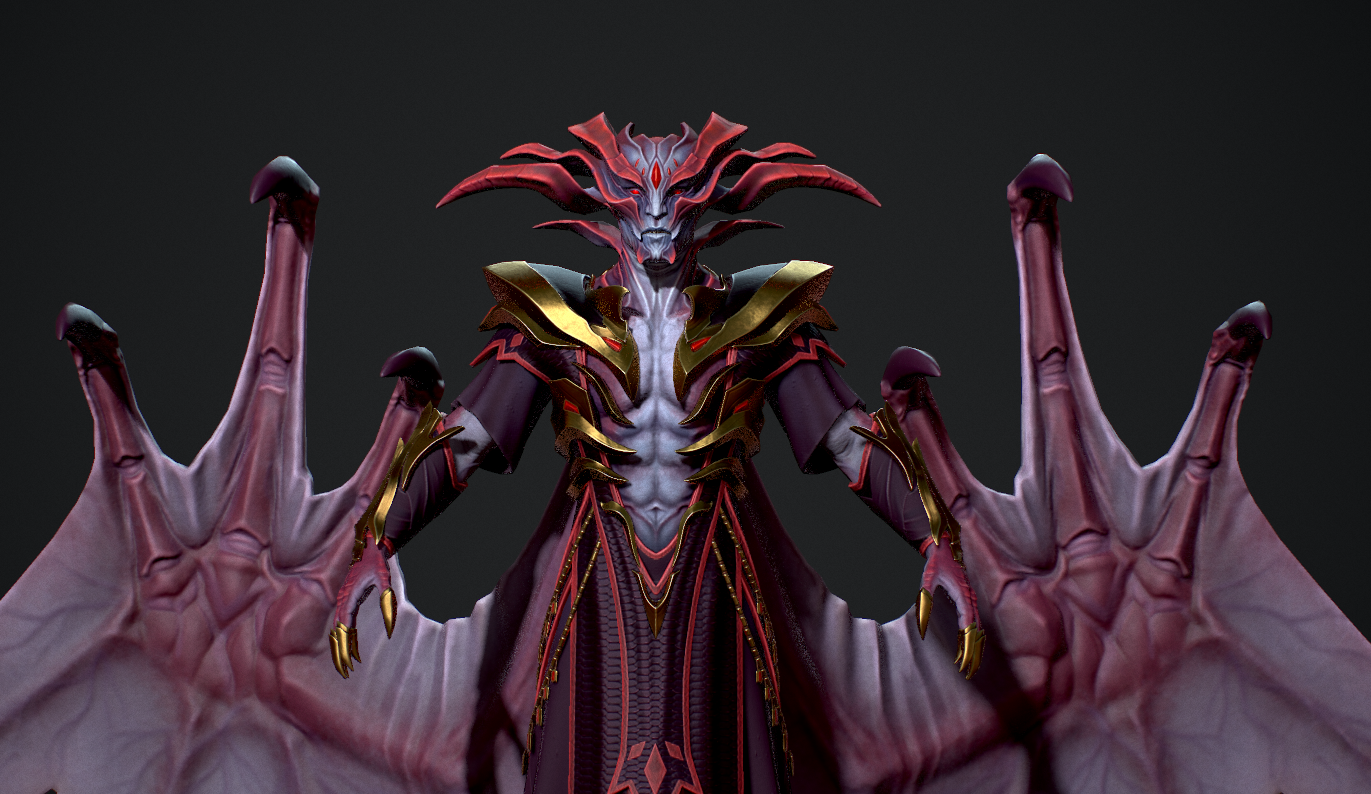 Animators - Are masters of making things move. They give our characters personality and bring our creatures to life. They work closely with our character artists to ensure the models are structured to allow them to move appropriately for the performance. Unsurprisingly, this is another complex process, involving research into how a thing should move or act, and rigging to provide the skeleton inside the model, allowing articulation of limbs and features. Skinning describes how the surfaces move in relation to the skeleton or rig as we typically refer to it, and animating, which is where all the magic happens, providing the final performance you see in game.
Environment Artists: This lot build the worlds our characters, creatures and players reside in. They work closely with our designers and concept artists, considering level design, gameplay requirements, theme, mood and visual narrative, which culminates in a beautiful and immersive environment. There are many elements an environment artist juggles in the production of an area, the most frequent being the layout and composition of the game space, sculpting, modelling, texturing, and set dressing. Finally, the lighting and post-processing effects tie it all together.
UI Artists: The job of a UI Artist is to translate lots of gameplay information into intuitive and elegant user interfaces, creating effective interactions that allow you to effectively navigate and play our game. They work closely with our designers to balance layouts, visual hierarchy, and legibility of interfaces all across the game. UI is broken into many components, including background illustrations, containers, buttons, progress bars, and icons to name but a few. Essentially, anything visual that you interact with or use to play the game likely flowed through their hands.
Tech Artists: They help grease the gears of the art machine, furnishing our artists with solutions that enable them to work more efficiently. As you probably gathered from above, producing game art is a complex process and involves the use of many different software packages. Tech Artists help us streamline production by building all manner of custom tools, plugins, importers, exporters and so on. They also help simplify complex, repetitive tasks that artists hate doing by automating them programmatically, in turn speeding up artists workflows and generally keeping artists happy and creative. This really only scratches the surface of what tech artists provide, who're fondly described as being the ultimate swiss army knives of the art disciplines.
Q: There are tonnes of different locales and Characters in RuneScape, what are some of your favourites?
Mod Ante - I think one of my favourite environments from the more recent releases is definitely the Duel Arena. The Concept and the Environment teams did an amazing job hitting the perfect visual notes for this area. The theme, the vibrant colours, the contrast between the desert and the oasis captured in the environment is just beautiful. The colours sing, and you can almost feel the sand under your feet, the sun on your skin while exploring the zone. The NPCs are also great support for the atmosphere in the area, and I can only praise the animation team for their efforts bringing life to the desert trough animation.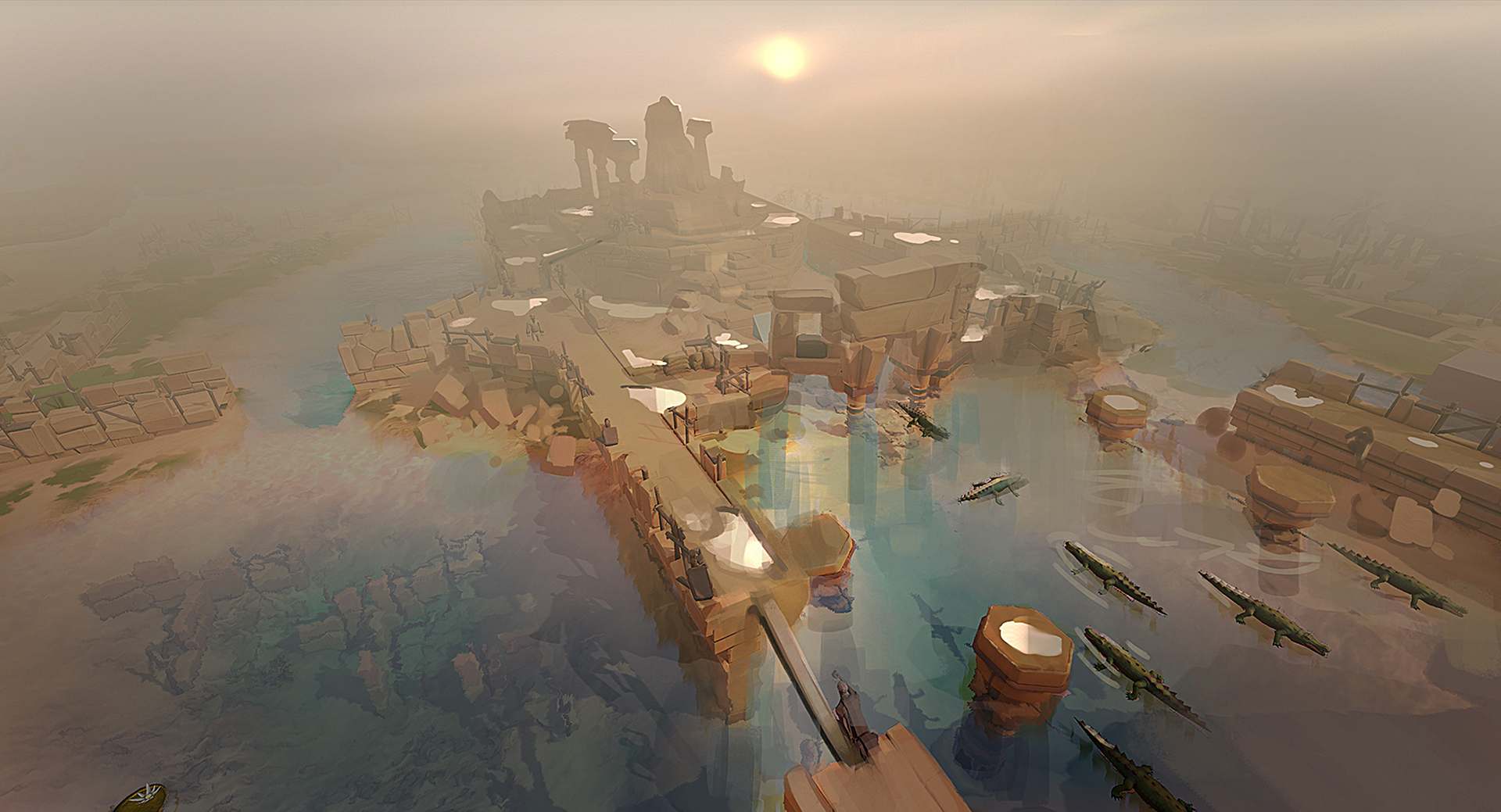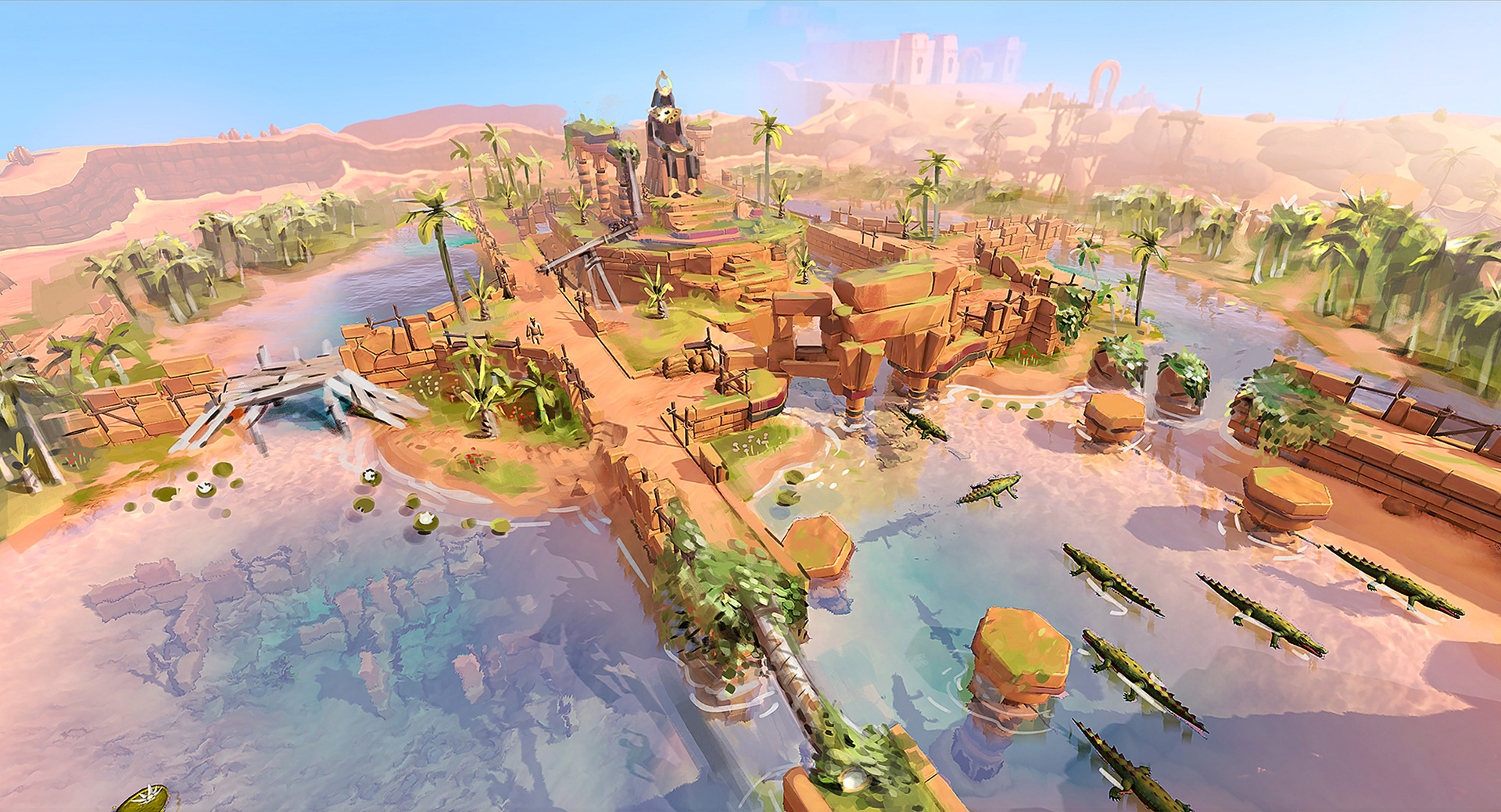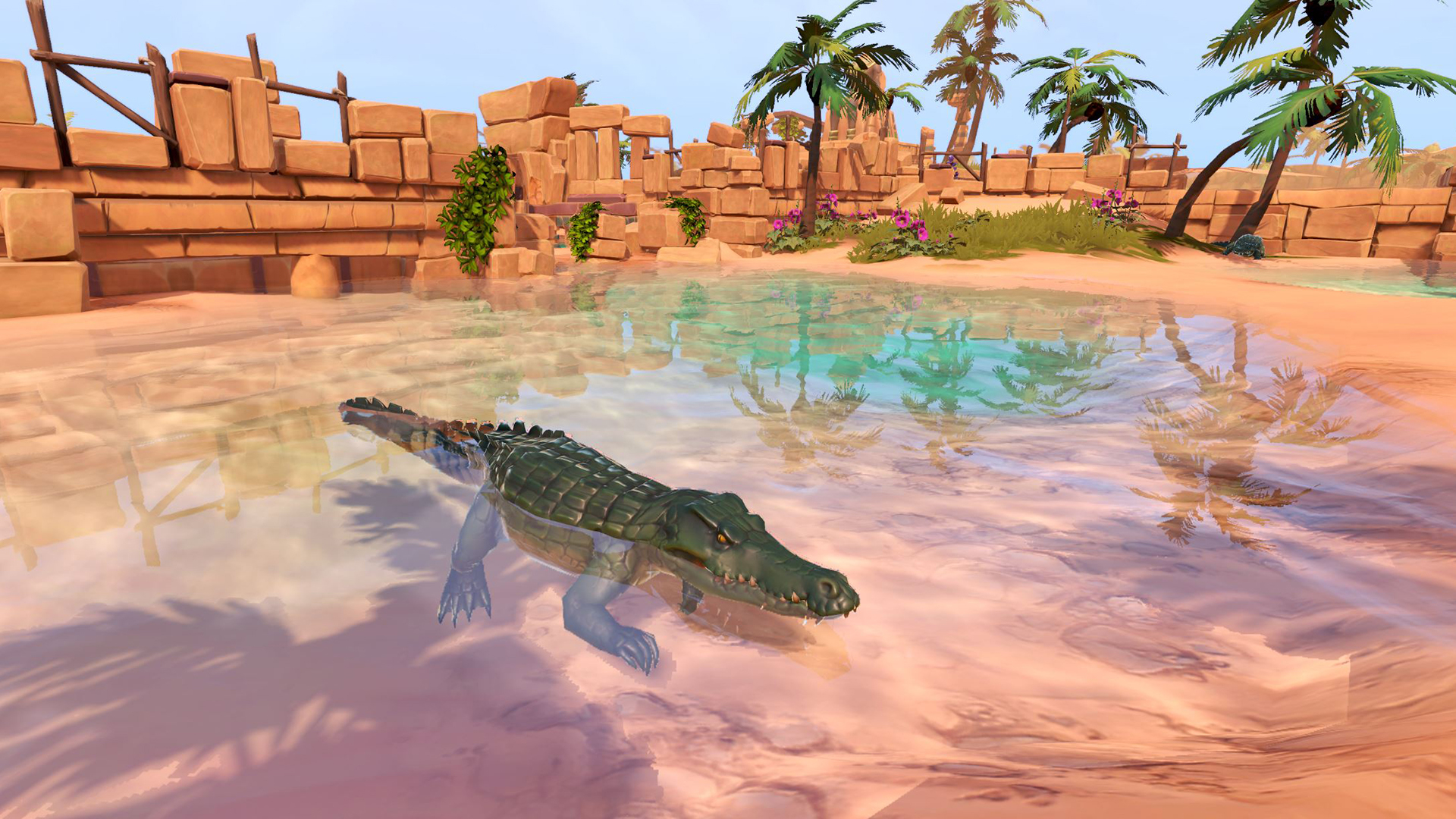 Mod Stead - Environment art is where it all began for me, so there's always a soft spot in my heart for a great area. Over the years we've made so many pieces of artwork that have impressed that choosing just one is a real challenge, though most recently I was blown away by the Stormguard Citadel introduced as part of the Archeology skill. We'd explored Aviansie architecture and technology in the past for a world event, but this time we we're designing a huge multi-level area with a destroyed floating Aviansie fortress and workshop, held together by a gravitational core. That in itself is exciting, but then we added magi-tec inventions that you use to get around into the mix, and the end result was a truly epic area.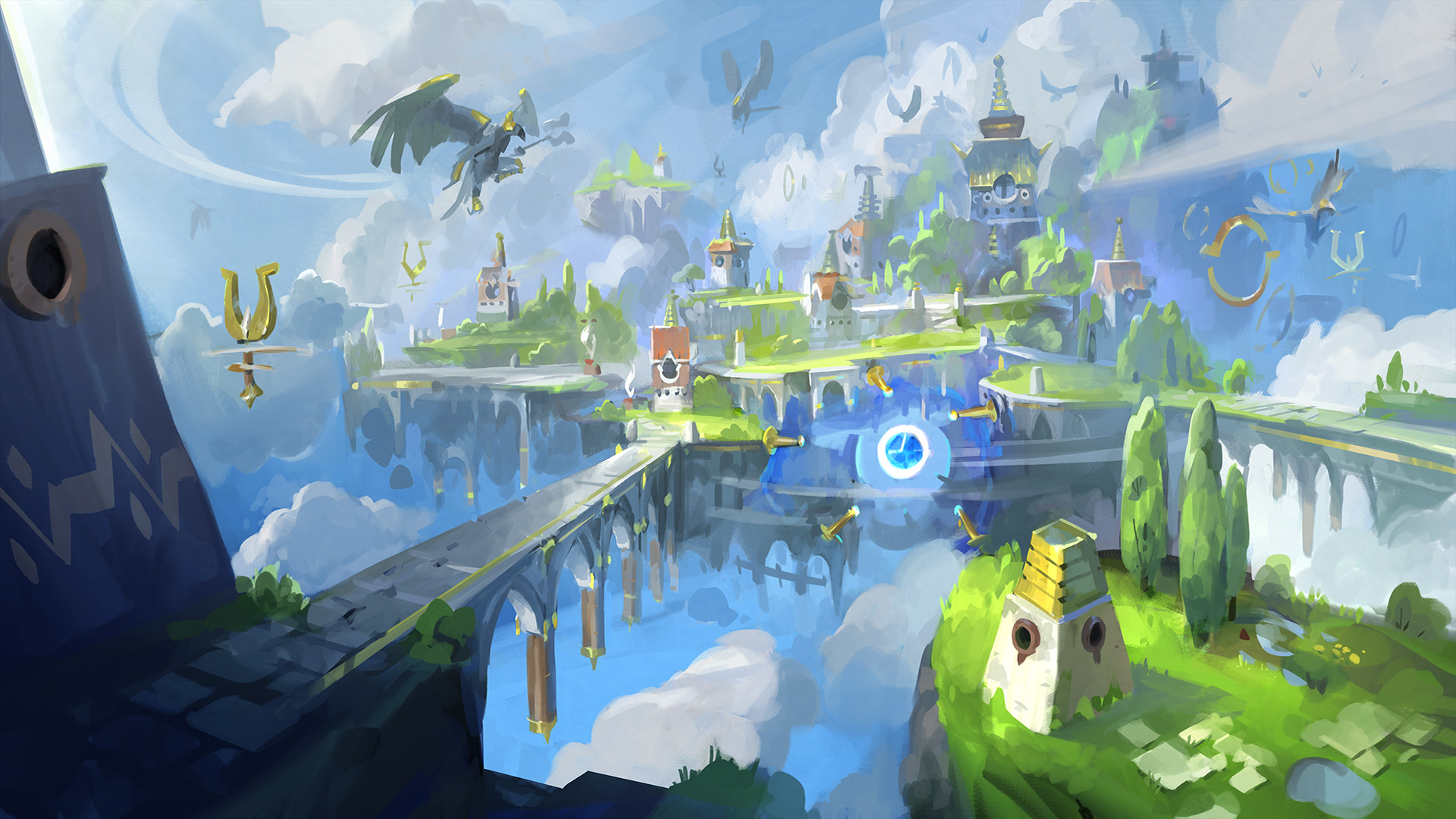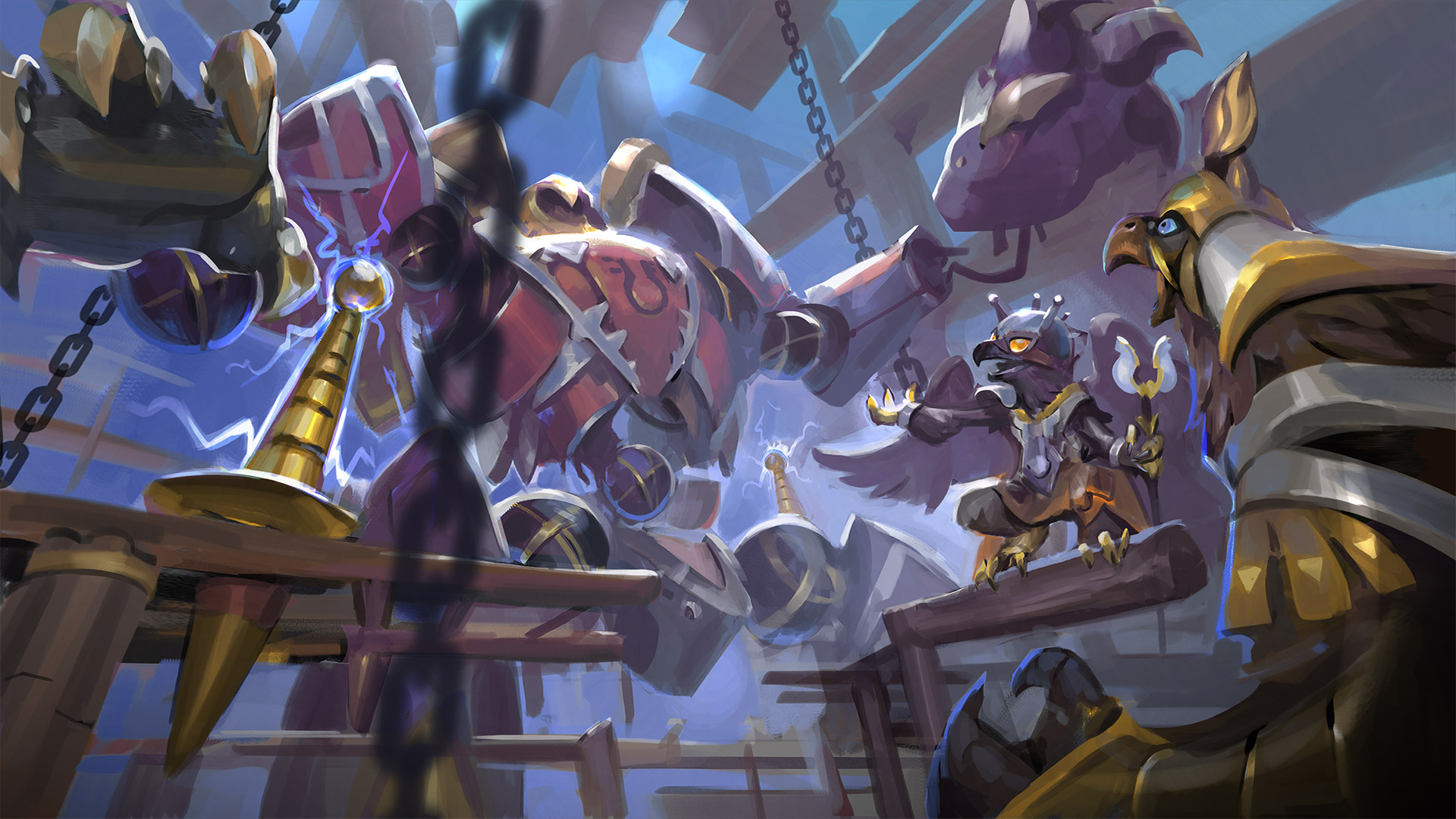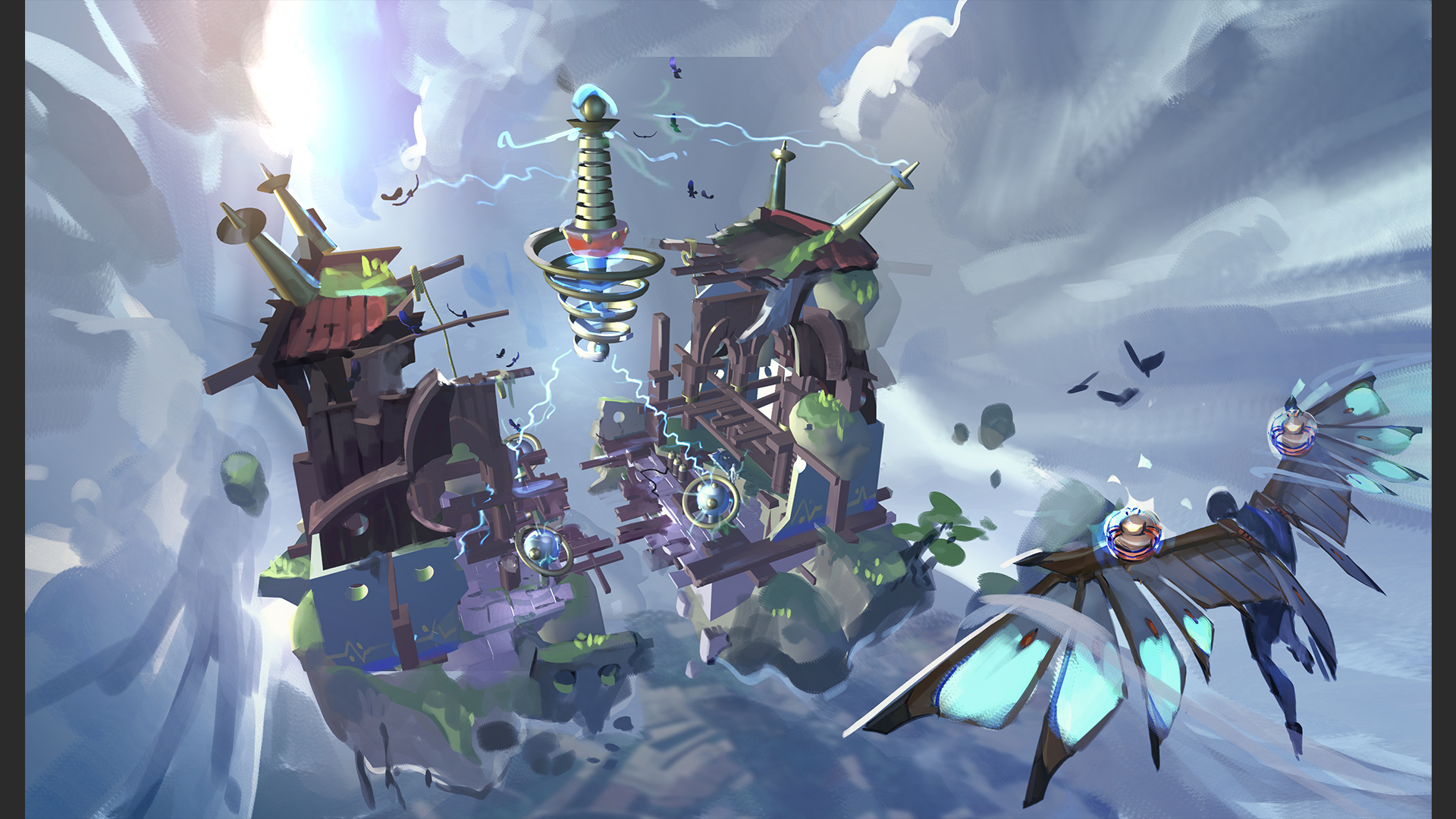 Mod Paul B: Working on the Crocodiles for the Duel Arena was a lot of fun. We used some new techniques for their tail animation. The majority of the tail is made with a kind of chain simulation, with only some cleanup required to polish the motion. Then, the main control can be animated with the tail auto solving to match the motion. Itís a fair amount of work to set up, but a lot of fun to animate once itís all working.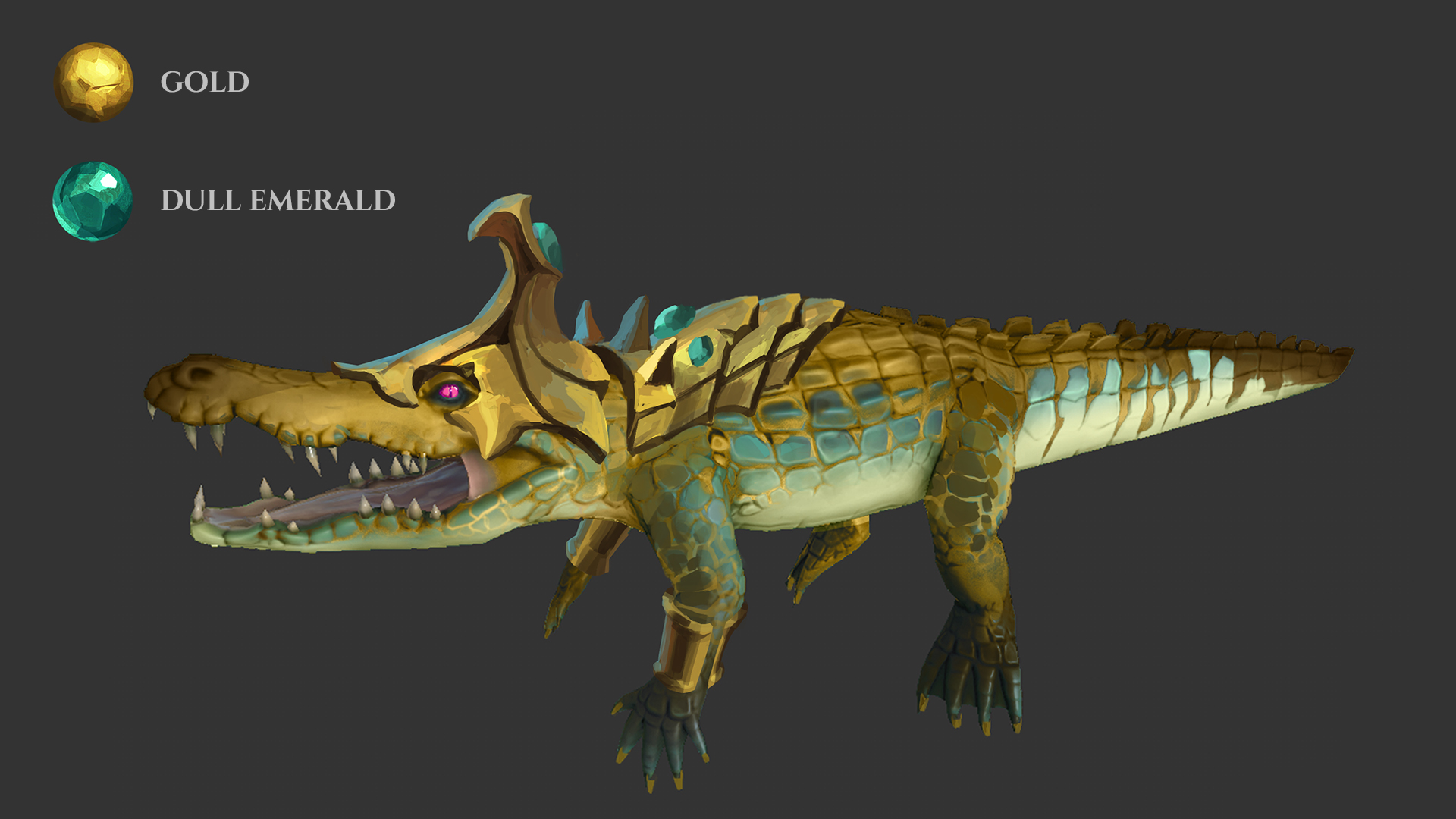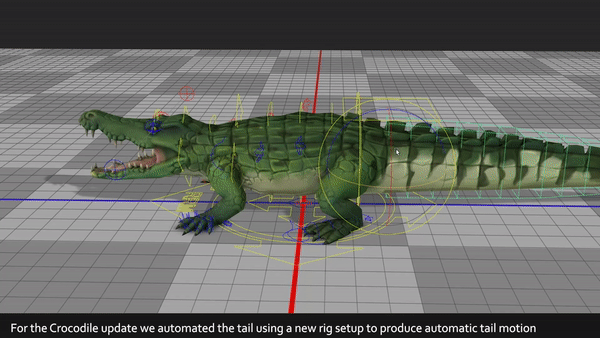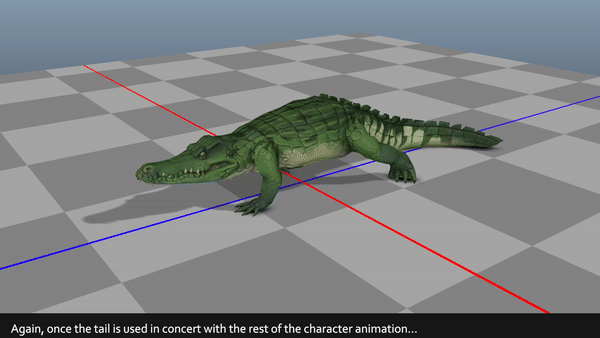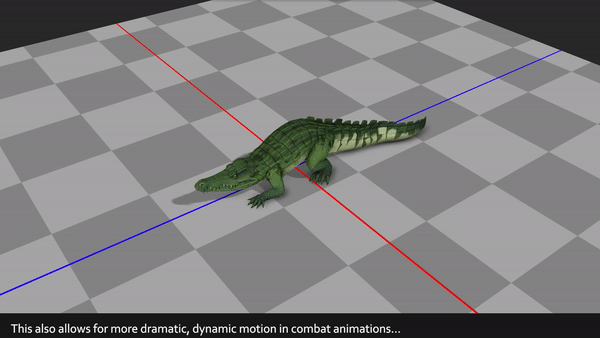 Mod Paul B: These big guys required both land-based animations and a set for when theyíre in the water. They also required some blending setup to go from water to land and vice versa whenever they played fetch with the player! There were quite a few techniques we hadnít tackled before, but I think they turned out really well and the player to croc interaction is pretty seamless.
Mod Paul B - Meowsketeer and Sameowrai are two of my favourite creatures in RS. These two pets have a complex set of animations with great personality. We spent a lot of time discussing the animation design to nail down the attitude and personality for each of them, making them appropriate to not only the type of character they are but also the weapon type and style of sword play for each.
Needless to say, there was a lot of reference from Zorro, Puss in Boots and samurai films/game used in these discussions. Along with some jumping around in the office, acting out some of their moves!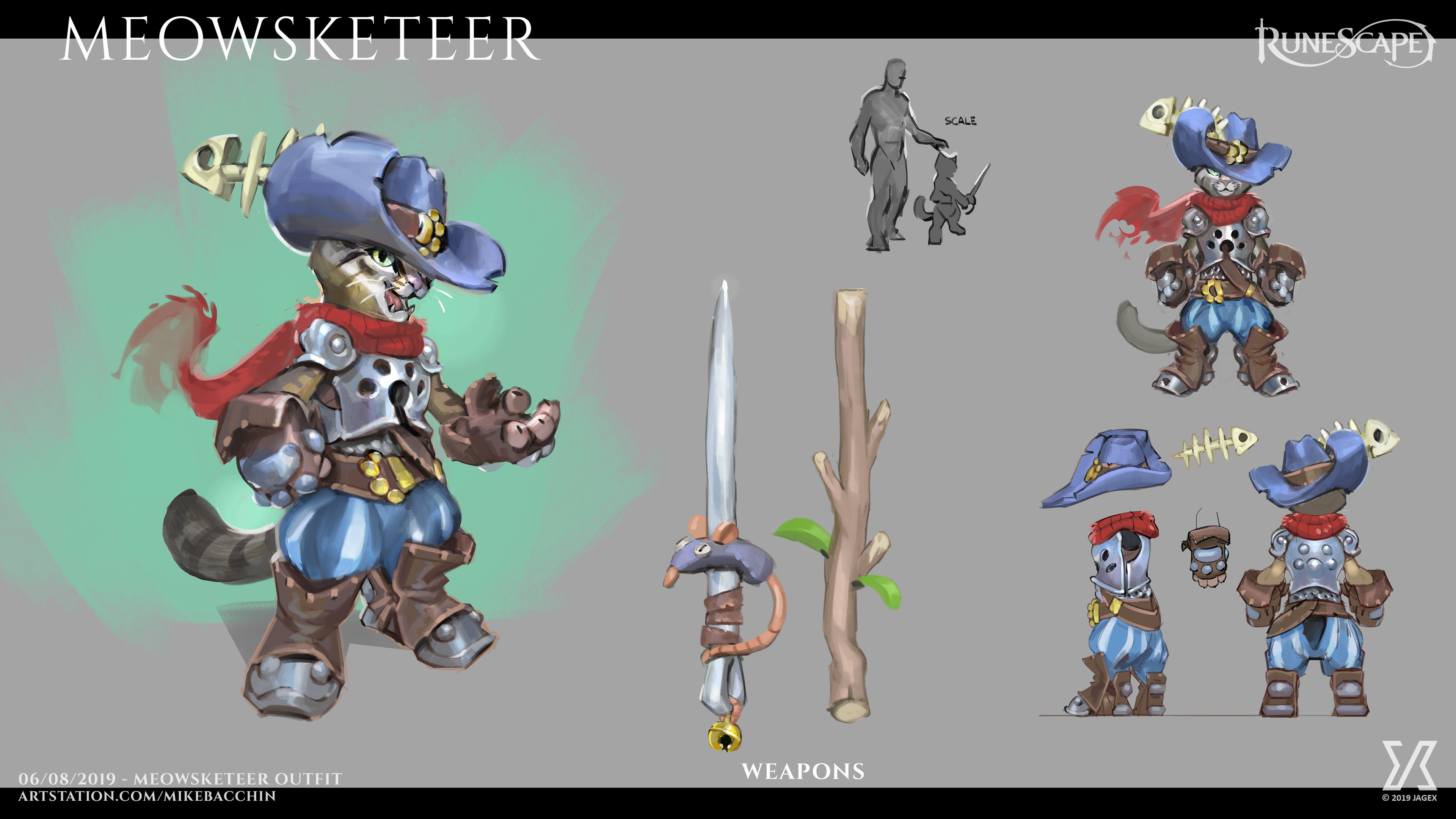 Mod Chilly: The Senntisten Asylum is one of my favourite areas in RuneScape. Its always fun to work on something dark and terrifying and I think the Asylum does a great job of selling those emotions. It was one of the first times we got to use our new point light tech. Between lights that cast long, ominous shadows and subtle mood lighting details, we were able to sell the dangerous nature of the area in a convincing way.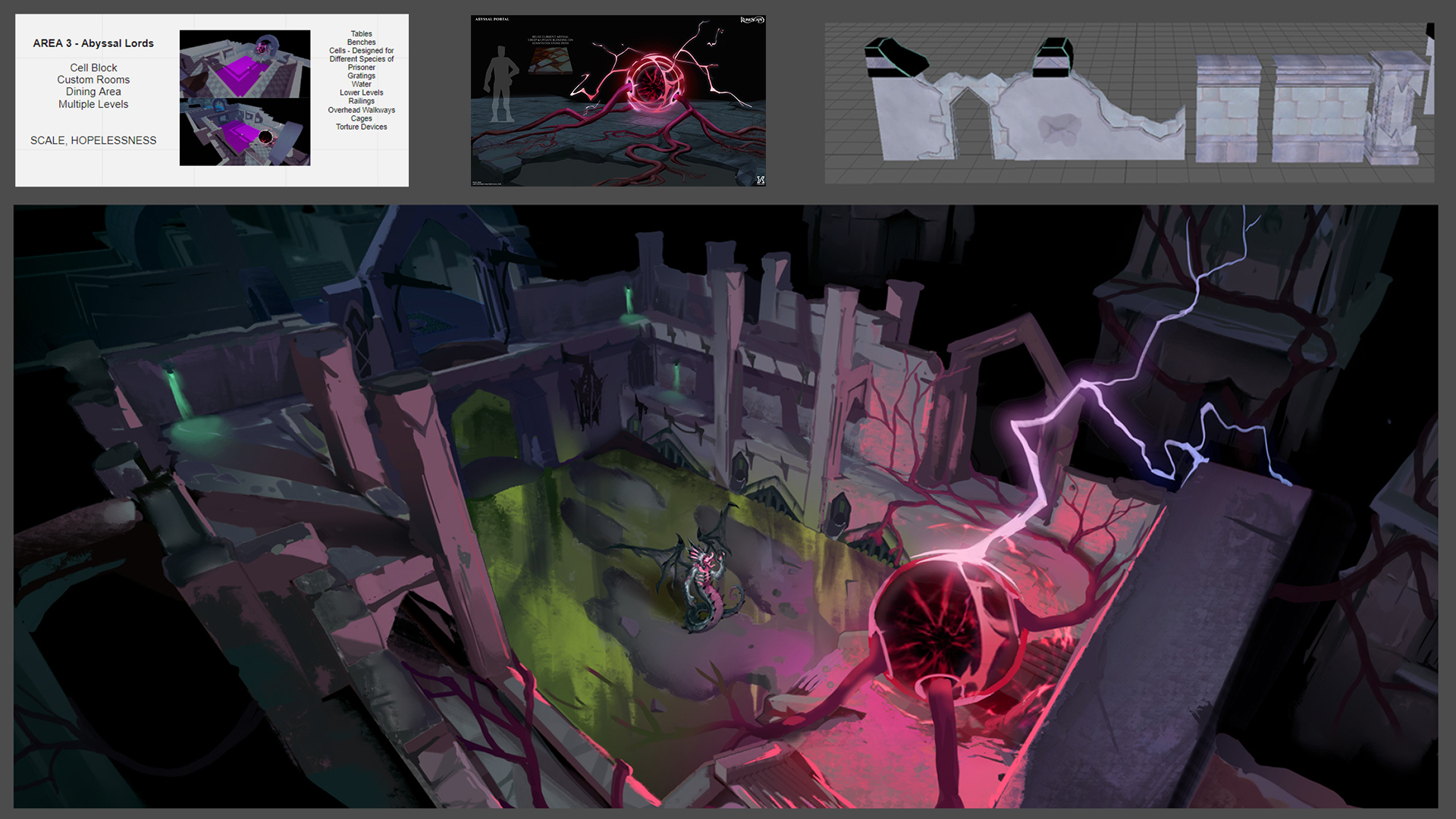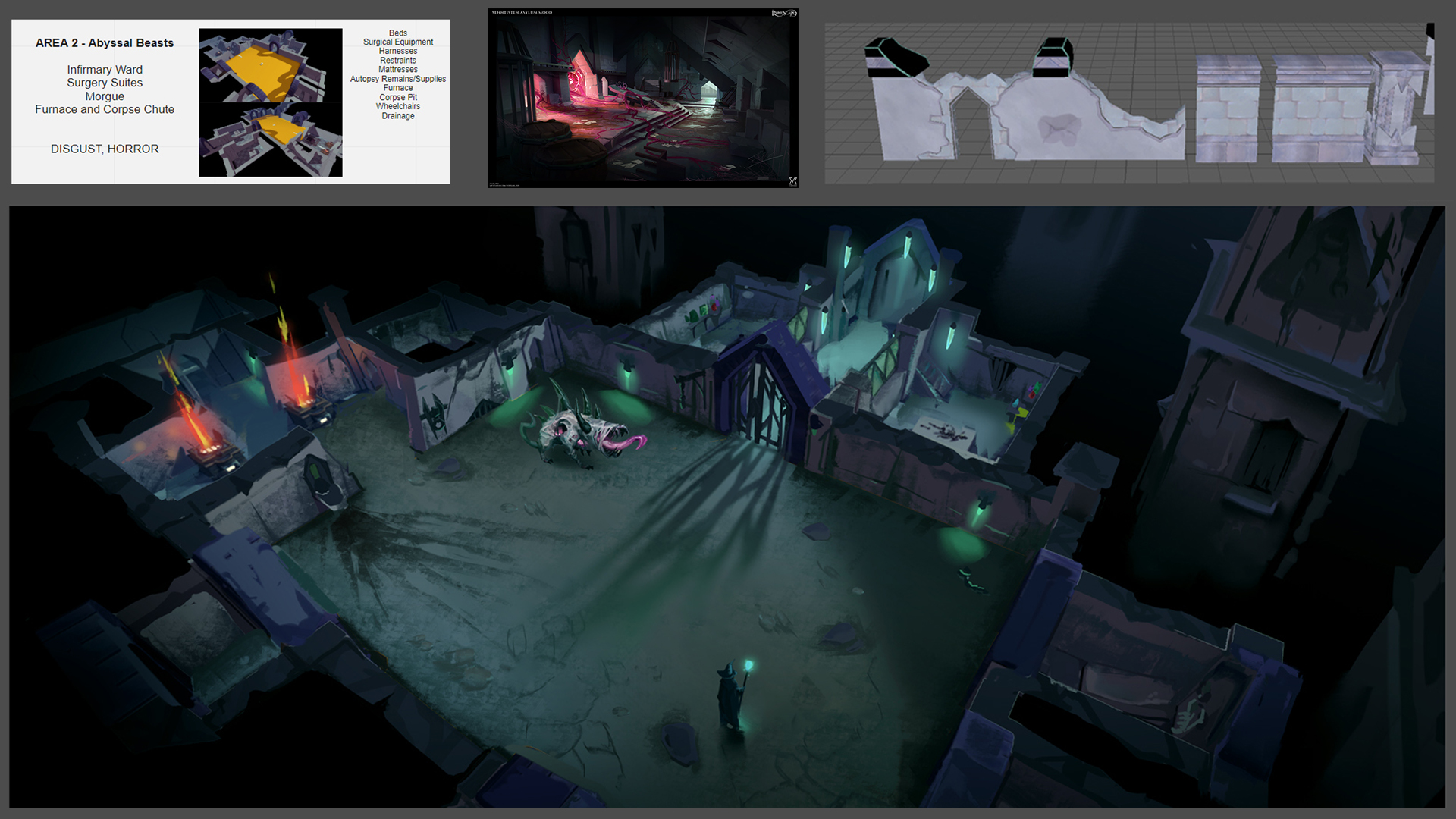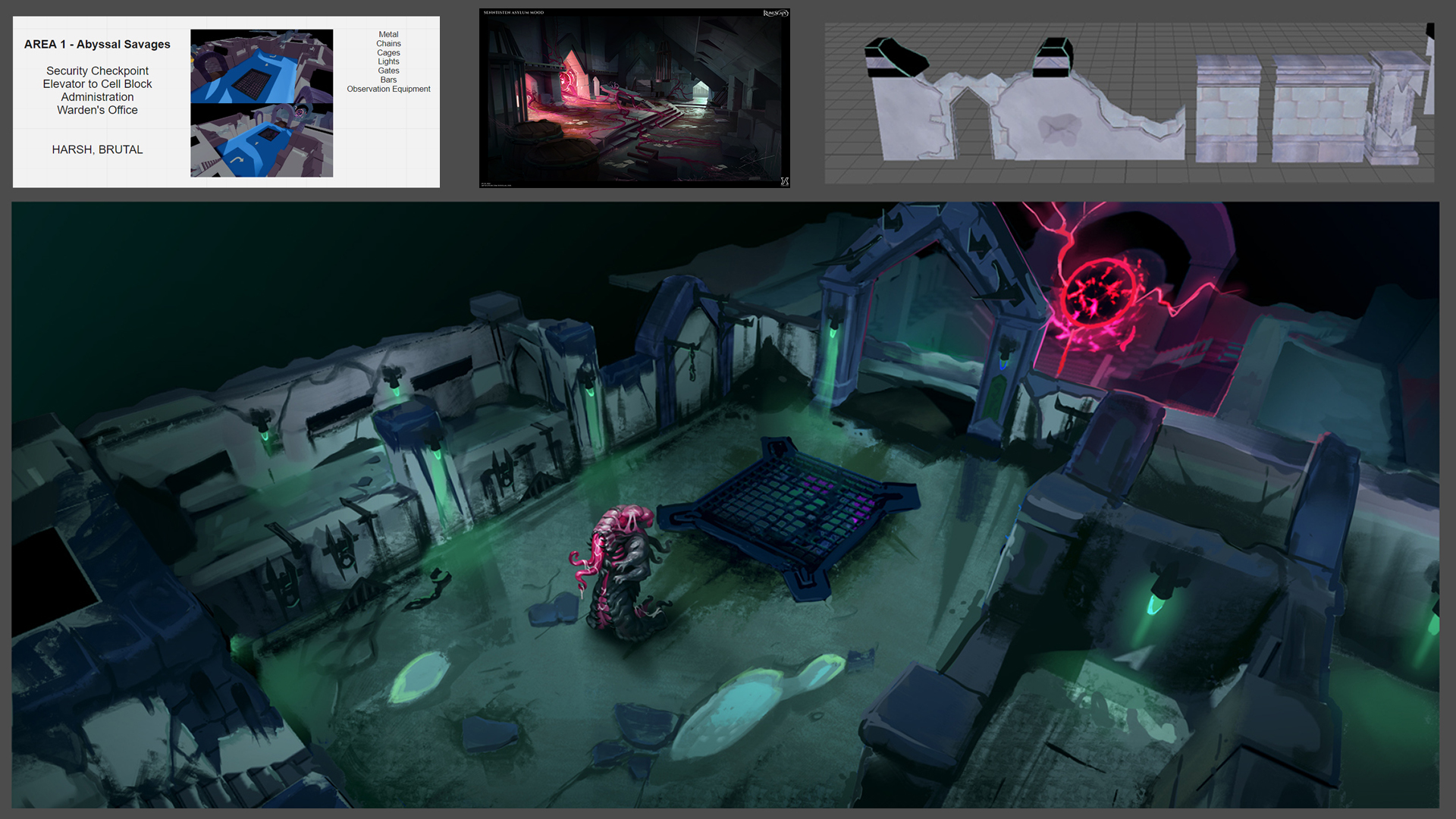 Q: Have you ever been influenced by a fan design and if so, have you included it in official artwork?
Mod Stead - With out a doubt, yes. We have an engaged player base, who love to share their ideas, designs, and artwork, and we keep an eye out for the ones that resonate and inspire us. On top of that we've also run a number of official 'player designed' events. These in particular are exciting, as there's always loads of brilliant ideas, and translating these into in game artwork we know you'll love is super rewarding for us. Most notable for us were the Player Design Pets. We had hundreds of entries, which made shortlisting a real challenge, but it was great to poll the players for the winning entries which were then produced.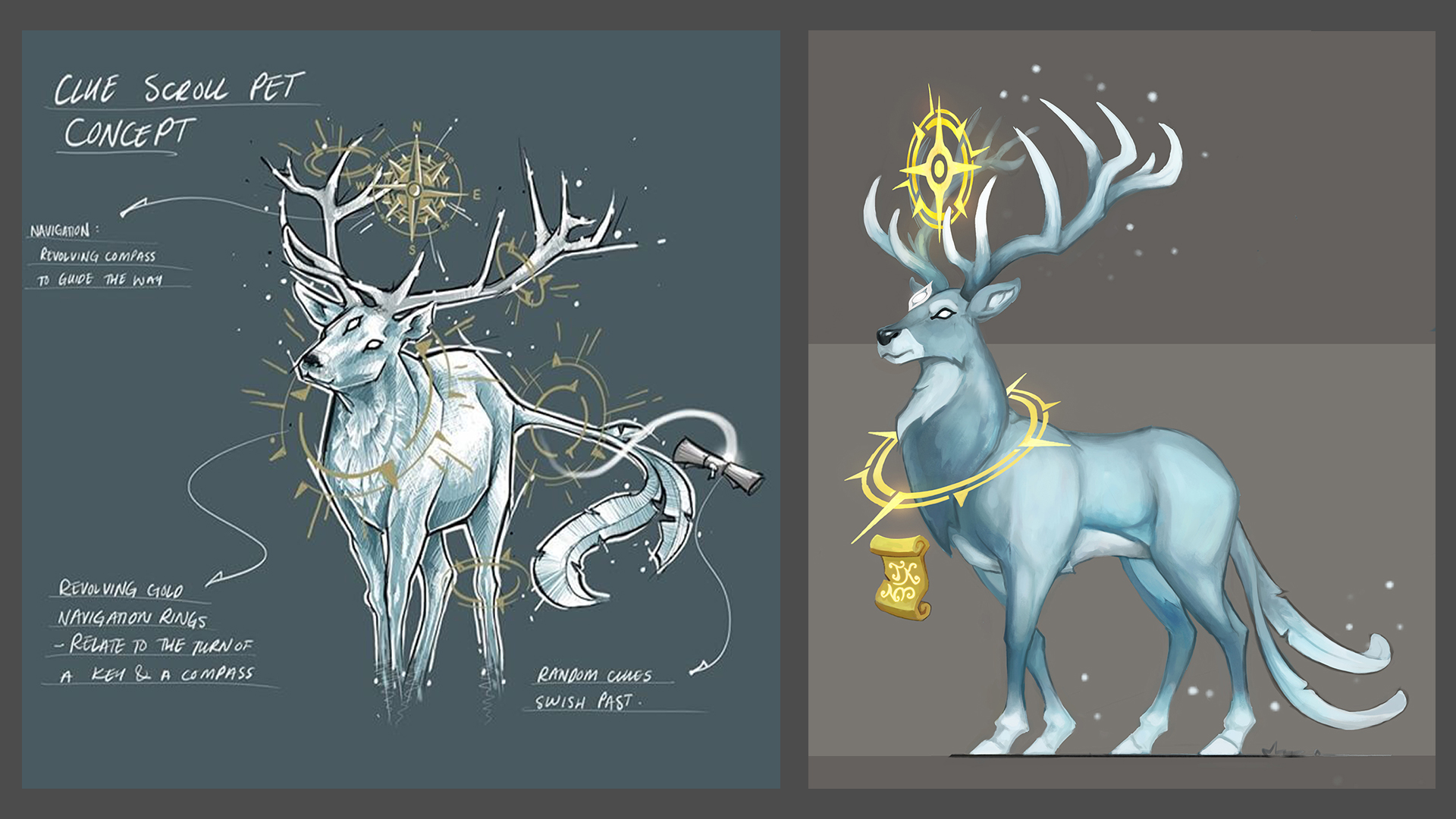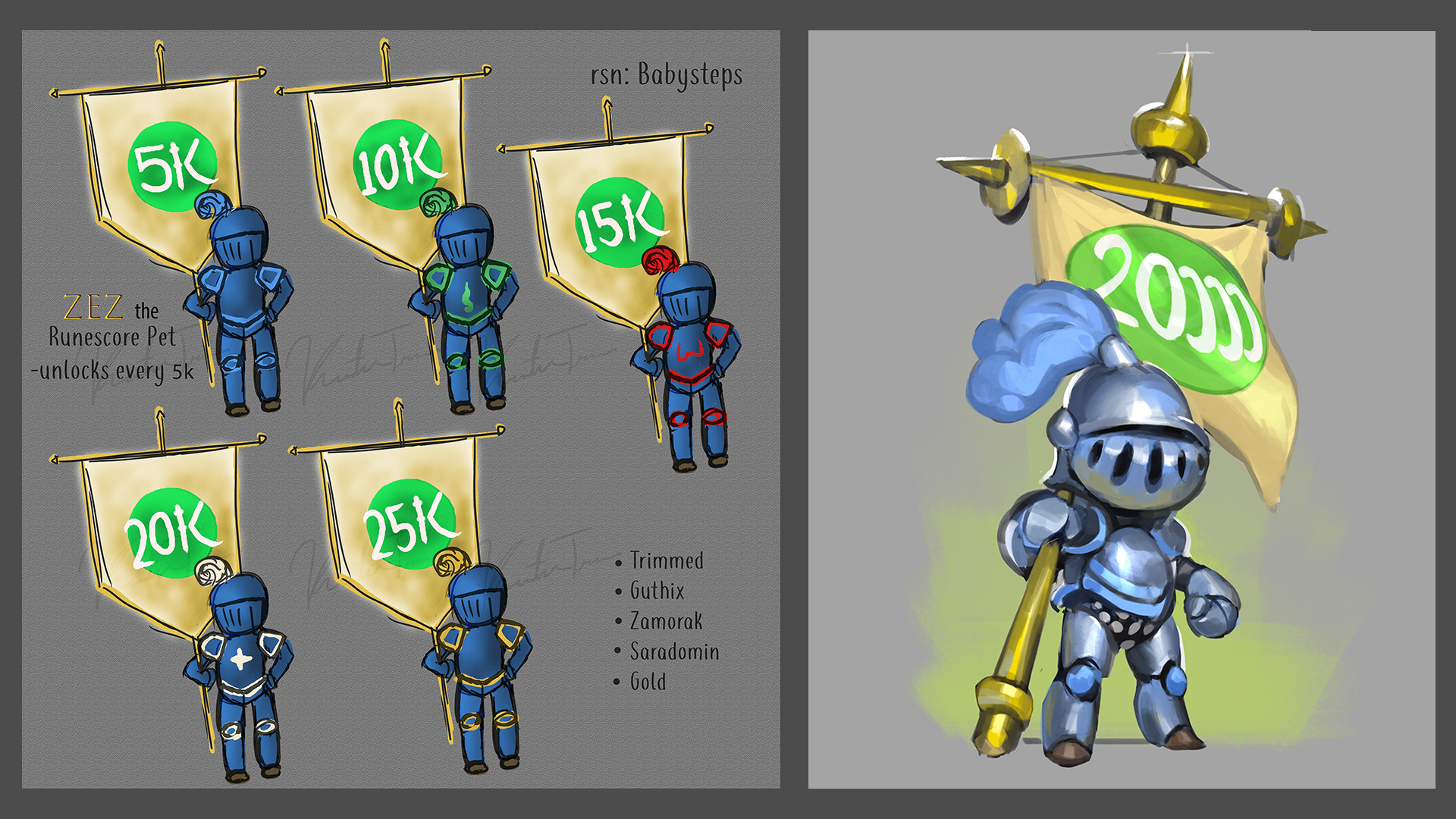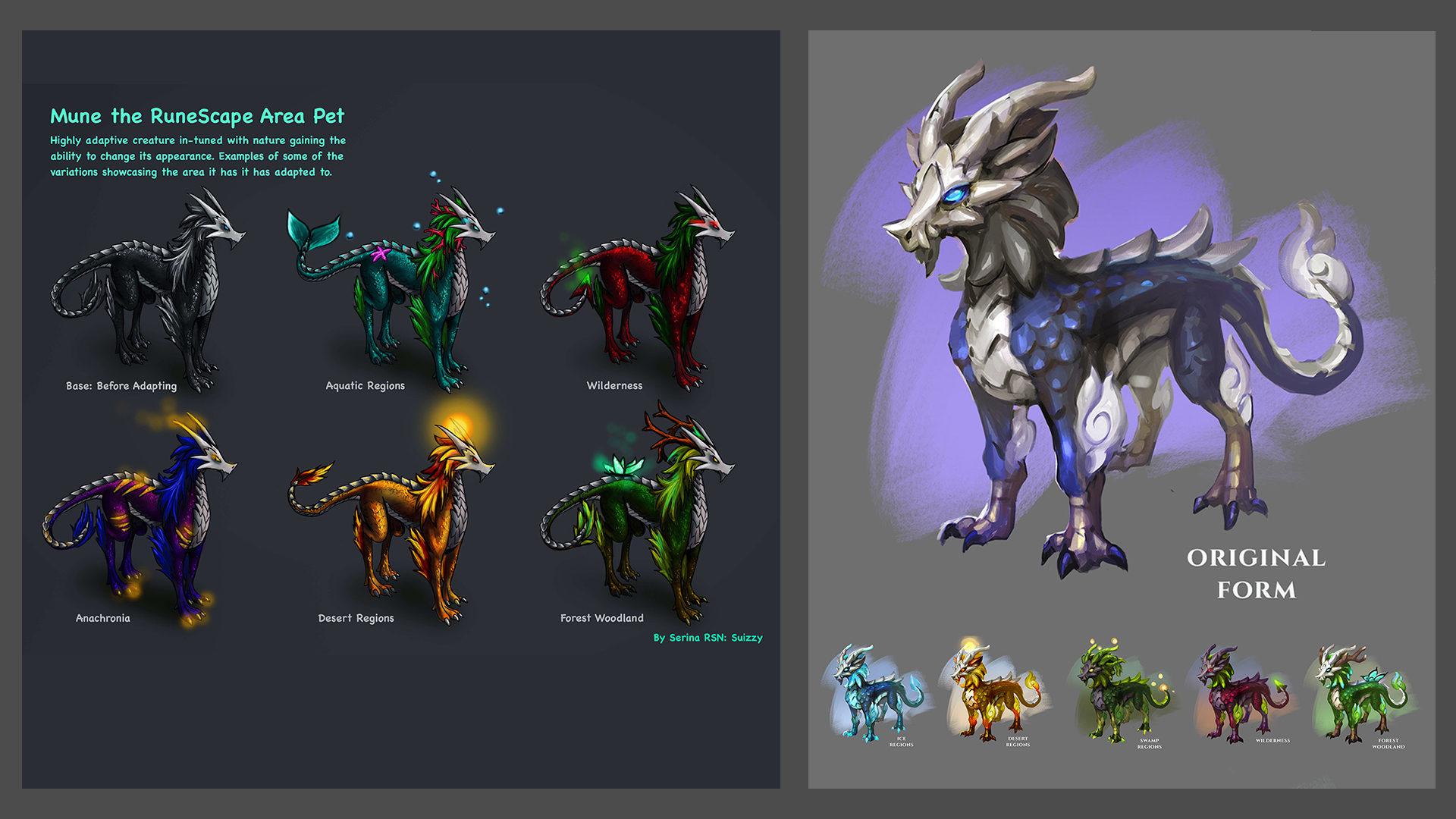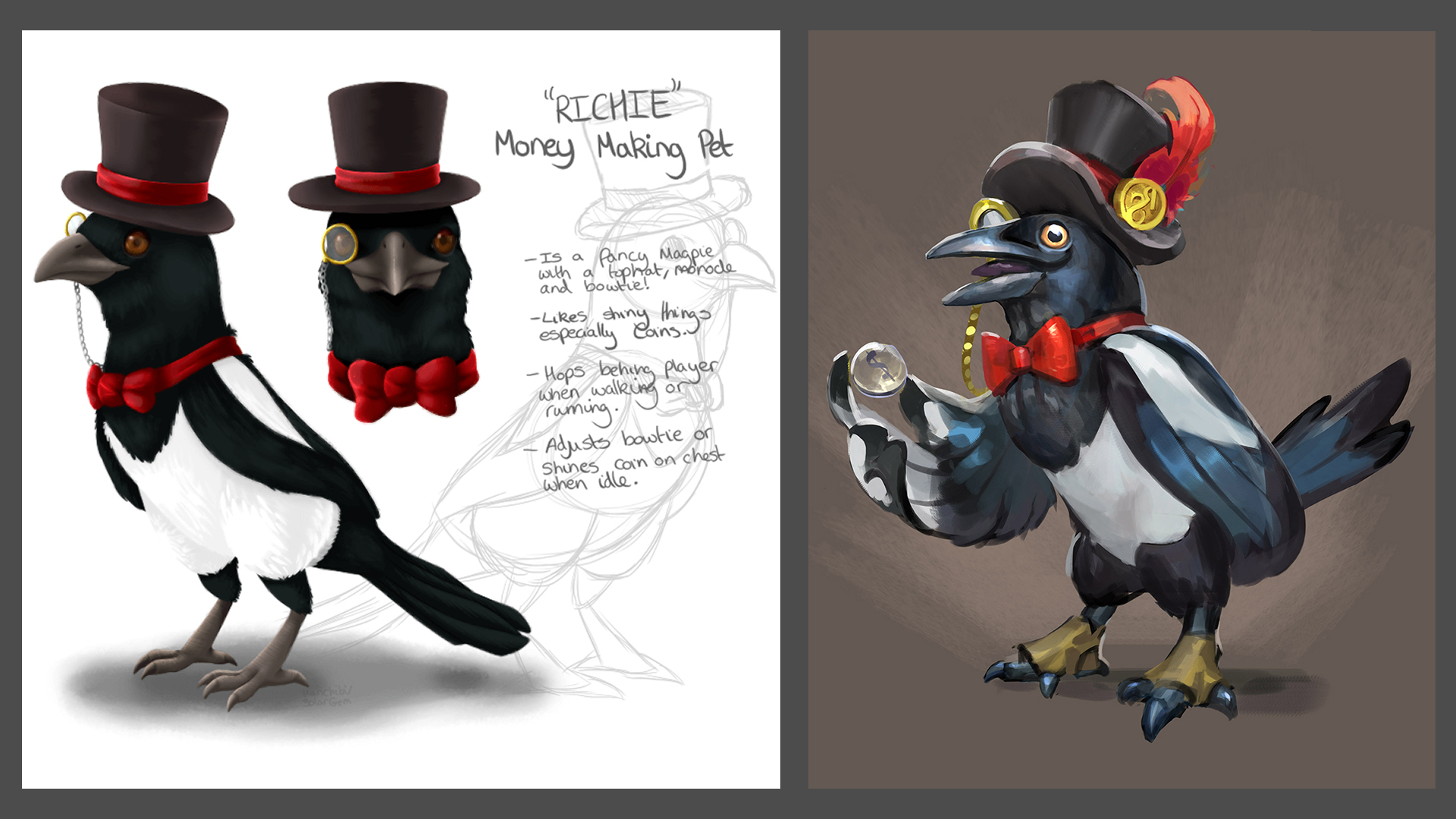 Mod Paul B - We stuck to the player designs as closely as we could while translating them to game assets, this involved running them through our typical concept, modelling, rigging and animation process.
My personal favourite of these was the Artemis pet. An elegant and magical Stag based character. I really like this elegant animation set and plan to reuse some of the animations to get some Deer and Stag ncps roaming around in the game too.
Mod Stead: Whenever we create something new we look for opportunities to refresh existing artwork, and that's exactly how we approached the Artemis pet. It's where our new deer base asset originated, so any future deer-like creatures will use Artemis as a base. Reusing assets like this allows us to produce a wider range of artwork faster while maintaining quality. Working this way means we get more bang for our buck! (see what I did there?)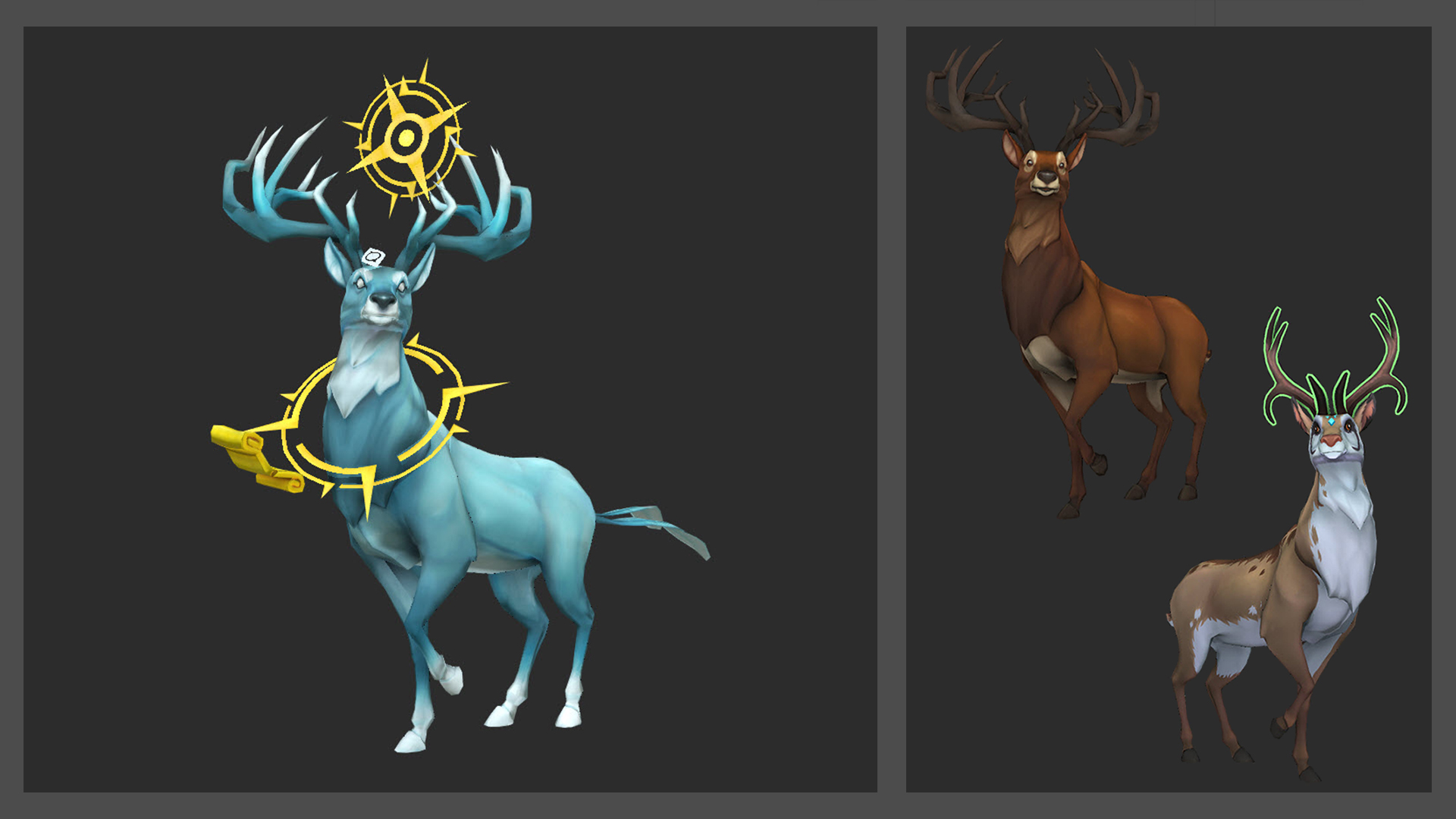 Standard Deer and Cadarn - Based on Artemis model and rig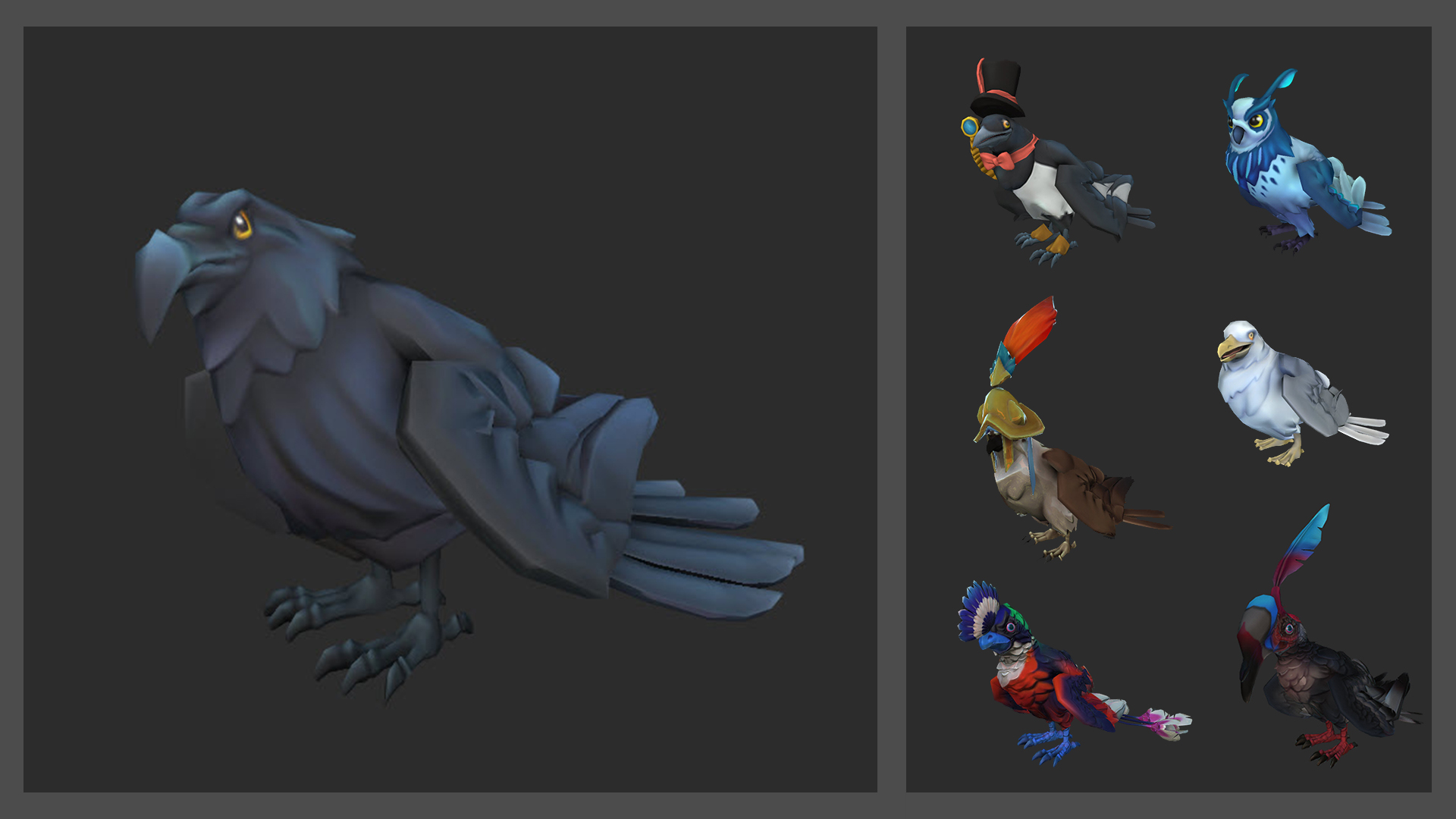 Ritchie, Seagull, Ozzie, Iaia birds (2) and Owl - Based on Raven model and rig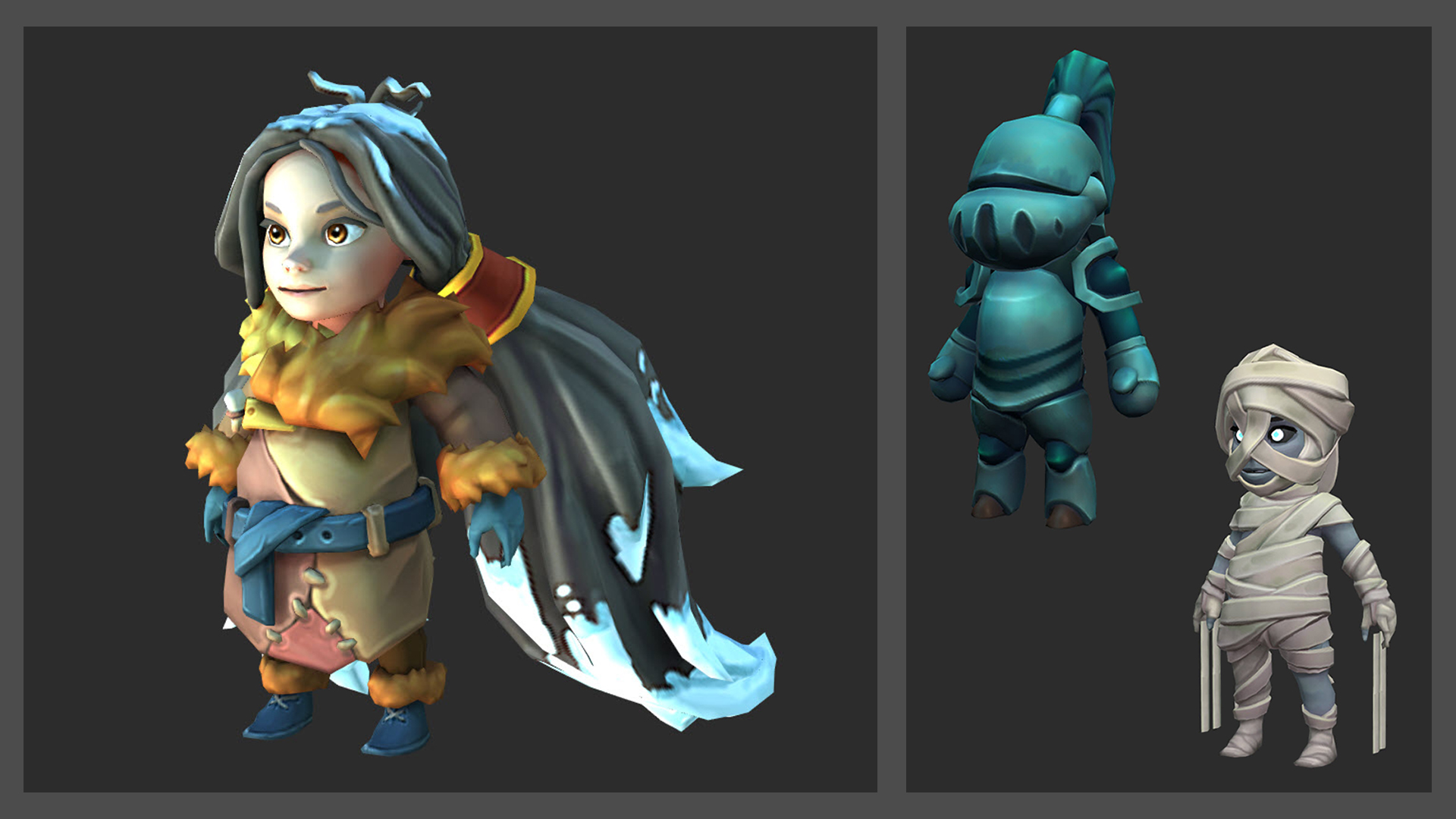 Zez, base Child and Archie - Based on Violet model and rig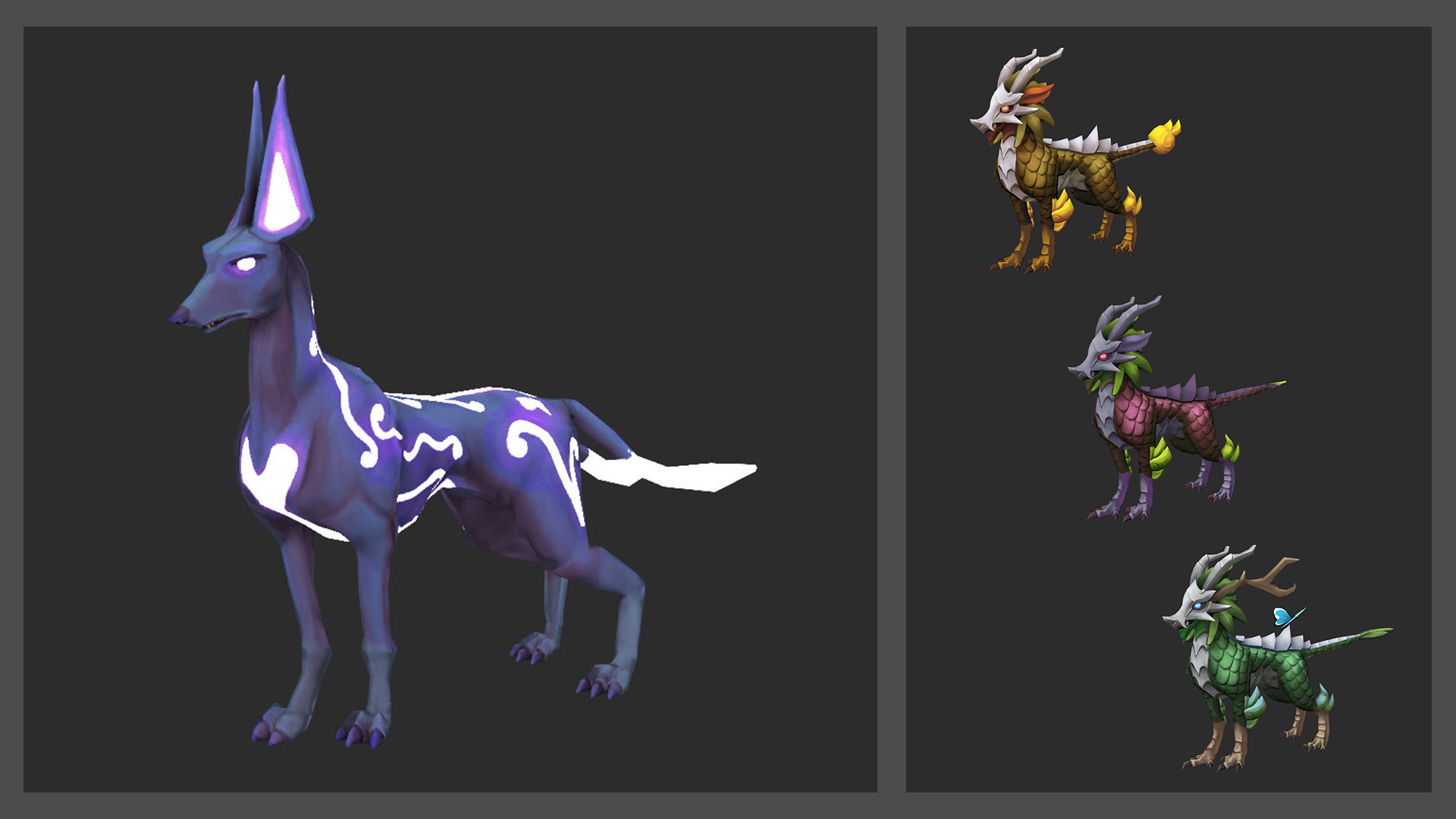 Mune - Based on Salawa model and rig
Exciting stuff! Next time, we'll be back to learn more about the processes and projects our artists are currently working on. Stay tuned!
---
- The RuneScape Team