Get into the RuneScape Christmas spirit early with the first of our three Festive Cheer events.
Deliver presents, help pull the giant cracker and round up rogue Christmas decorations to earn ice-cool cosmetic overrides, an emote and XP.
Read on for further details!
---
Present Delivery & Giant Cracker
Free players and members
Speak to Santa in the Lumbridge Crater to get a sack of presents. Click on this to open an interface, where - once per day - you can select an NPC to be the recipient of a Christmas gift.
Click 'set for delivery' when you've chosen, then head over to the lucky individual and speak to them with the sack of presents in your inventory.
When they've opened their gift, you'll get cheer points to spend in the rewards store (accessible by clicking the sack of presents) plus a piece of festive paper. Return this to Santa and you'll earn an XP lamp.
After 250,000 pieces of paper have been brought to Santa (counted across all worlds) the giant cracker nearby will be ready to pull! A global chat box message will display when this happens.
When you see the message, head to Lumbridge to help pull the cracker. When the cracker's health hits zero, you'll be able to loot a chest containing an XP lamp and an appropriately hilarious joke - plus, you'll unlock a Cracker Pull emote the first time you open it.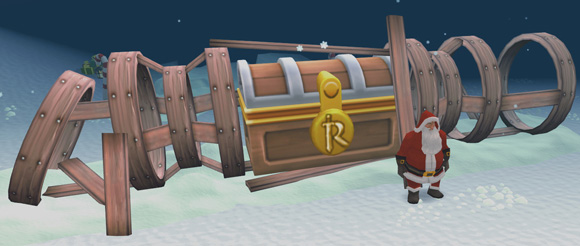 Tinsel Snake Hunt
Members only
In Varrock, you'll find a Christmas tree at the centre of the market square. Every three hours, an event starts where you can gather up runaway tinsel snakes and return them to the tree.
An announcement will go out when the event's active. Then, just head to Varrock and click the tree to join in.
Click on the tinsel snakes to form a train of up to 10 before leading them back to the tree. They aren't fussy about whom they follow, though, so watch out for other players trying to pinch your tinsel train!
Return the tinsel snakes to the tree to earn cheer points, plus Summoning XP. You'll get more of both the longer your tinsel snake train is.
Rewards
In addition to the rewards above, you'll be able to spend your cheer points in the rewards store. Click on the sack of presents and spend them on some festive cosmetic overrides:
Ice sickle: a main-hand melee weapon override.
Snowman outfit: a four-piece override set, including head, body, legs and a snow generator for the cape slot.
---
Merry Christmas!
There's more festive fun yet to come. First up, join the Community Team for a series of Festive Cheer event live streams. The first starts at 3pm GMT today over on Twitch.
Battle the Snowverload boss next week, and go snowboarding when the Queen of Snow returns the week after that. Cheer points will be available in all events, so there's plenty of time and many different ways to earn your rewards.
There'll be themed Winter Weekends too, starting this Friday with Skiller Weekend, and loads of fun events and competitions in the RuneScape Community Advent-ure.
We hope you have an amazing holiday season - see you in game!
The RuneScape Team
---
In Other News
The Festive Aura can now be used throughout December - giving you +50% XP for half an hour per day - up to 50,000 additional XP. Get one from one of the friendly snow imps around the world if you don't have one already!
Find the oddly familiar Thorvar Crittersmash near certain lodestones and donate Bonds to our Oxfam Charity Drive.
Listen to the latest RuneScape podcast on Podbean. Hear more about the development of Heart of Stone from Mod Moltare and Mod Raven.
Read the patch notes for other updates released today.