While there are some wizards who wish it could be Christmas every day, Sedridor isnít one of them. Heís been tasked with organising this yearís Wizardsí Christmas Banquet: an annual gathering of RuneScape magic-users usually hosted by the Magic Guild.
Not to be outdone, Sedridor and the tower wizards have an ambitious plan to create an extra-dimensional tower dedicated solely to seasonal cheer. Itís been an administrative nightmare, though: the imps, conjured to act as waiters, are missing; animated decorations are running amok; and the eccentric goblin and troll chef duo are taking a scarily explosive approach to Christmas catering.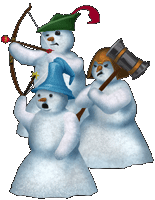 Lend a helping hand to decorate the tower, organise the staff and whip up a feast to challenge even the most rotund of robed bellies. As well as a chance to meet plenty of old friends from the wizarding world, thereís also a new emote to be unlocked, a wand to spread festive goodwill to other players, and a tinsel snake pet for members. Youíll also unlock a minigame, only available over the Christmas period, where you can pit parties of battle-ready snowmen against each-other in stone-cold thaumaturgical throw-downs!
To start A Towering Feast:
Speak to Wizard Sinterklaas, outside of the Wizardsí Tower, south of Draynor Village.
Requirements
There are no level requirements, and the event may be completed by both members and free players.
Members will receive a tinsel snake pet, in addition to the other rewards.
Mod Pi
In Other News...
It seems that some of the frosty creations from the Wizardsí Christmas Banquet have escaped and are roaming through the world of Gielinor. Lend the wizards a further helping hand by bringing these unruly creations under control! They may appear anywhere, at any time, so keep an eye out; they may also have some snowy surprises hidden on them!
Miners will notice some extra sheen on rocks containing ore. As well as being a shiny visual improvement in itself, this will make it easier to spot rocks that are ready to be mined.
Donít forget: During the period of 25th of December to the 5th of January youíll receive 500 bonus loyalty points for each day you log in!
Nex has had the following changes made, in line with player feedback:

Nex no longer attacks while performing a "siphon" attack.
The landslide loses its "climb down" option after you have descended.
The spirit cape's message about cheaper Summoning specials has been added to the spam filter.
The click area on Nex has been doubled.