Spring has sprung, and so too has a most eggciting Easter event! In other news, we've got some Archaeology hotfixes and a little something we showed off at RuneFest last year. Let's hop to it!
Archaeology
First of all, how are you enjoying Archaeology? Have you been soaring to the heights of Stormguard Citadel? Have you had a go at the Dominion Games? Has anyone discovered the super-secret thing at the heart of – no? Well we won't say anything, then.
What we can say is that we've been paying careful attention to your feedback and have already acted upon some of it. You can read all about it in this week's Patch Notes, but here's a sneak peek at what we've been up to.
Players may now use either a Harlequin cow, or one each of a Vanilla, Strawberry and Chocolate cow during the relevant Archaeology mystery.
A tick has been added to Artefact information to show if you have previously completed any associated collections.
Inspecting a damaged or restored artefact and filling or inspecting a soil box will no longer interrupt your current action, allowing you to continue excavating uninterrupted.
If you've got more feedback about RuneScape's newest skill, you can let us know on Twitter, Facebook, Reddit, Discord or over on our Forums..
The Race to 99
On your marks… get set… DIG! We're one week in to Archaeology, and the leaderboards have never been so exciting to watch!
Congratulations to le me on becoming the first player to reach level 99 in Archaeology! One can only imagine the wonders they must have uncovered along the way!
Before we explore the current standings, let's remind ourselves of the exciting race to level 99 with a bar chart race made by fan Happery.
le me might have won the race to level 99, but who's topping the scoreboards right now?
Still in first place, with 28,950,691 XP at level 107 is le me – but can they hold on to the title?
Coming up close behind is Maikeru, with 27,616,349 XP at level 106.
Also in the running are Roskat, L33, Omid, Wai, Legacy of KG, Veggie, E and iTrolledU.
The above stats are correct as of 8.49am BST
Tune in next week to see how the leaderboard has changed. In the meantime, why not log in and see if you can catch them up?
Archaeology 101
If you're new to Archaeology – or to RuneScape in general – you might like to watch this handy-dandy video we've prepared as an introduction to the skill. Welcome to Archaeology 101:
Hungry for more? All the info you could possibly want about Archaeology has been lovingly curated into one cosy post. You can read it here.
Grand Theft Cocoa
Easter is nearly upon us and you know what that means? It's time for a egg-cellent new event!
The Grand Theft Cocoa event will be running from April 8th to April 15th and is available to all players. Set your egg-timers now!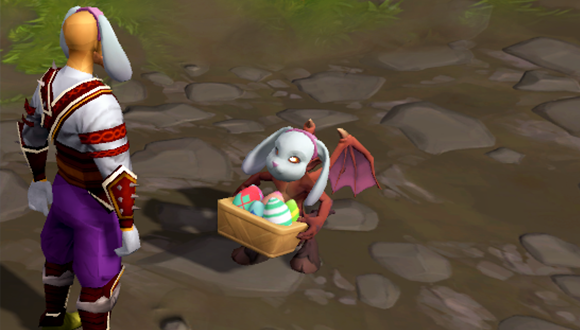 Those pesky imps are up to their old tricks, and this year they've targeted one of Gielinor's most beloved figures: the Easter Bunny! They've been stealing his eggs and trading them to black-market dealers in exchange for all sorts of shady items.
If only a brave adventurer with some imp-catching experience under their belt would step in and get those eggs back! The Easter Bunny will reward such heroes with exclusive Easter-themed cosmetics – or, if you have fewer moral scruples than you do leftover eggs, you could always trade with the black-market dealer for some mystery boxes.
Reckon you're up to the task?
Keep an eye out for those pesky imps while skilling, and retrieve those eggs. Deliver them back to the Easter Bunny South of Falador near Clan Camp and help save Easter!
Core Experience Updates
Remember all those awesome new engine features we announced back at RuneFest? Well, now you'll be able to see two of them in-game, along with one extra.
First up, we have Object Highlighting, an update which will highlight objects you can interact with when you hover over them with your mouse. Each type of object will have a different colour highlight – so you won't mistake an enemy goblin for a friendly dairy cow. It'll also allow you to see the shadow of your character when they are obscured by walls and other large objects. By default, this is toggled on. If you're on mobile, you can also switch between only highlighting objects when tapped, or highlighting objects in a radius around your character. These options can be found in the Activity Tracker menu. Alternatively, you can disable this feature completely via the Graphics Options.
Secondly, we have the long-awaited Canopy Removal update! Now you can run around the forests of Gielinor to your heart's content, without ever having the view of your character blocked by a stray piece of foliage. It's perfect for tracking down those cheeky imps! This is toggled off by default, since it doesn't play nicely with devices that can't handle 'Medium' graphics settings or above. To enable it, use the Auto Config or toggle it on in the Advanced Graphics Settings.
Last but by no means least, we have Depth of Field – no, it won't boost your Ranged skill, but it will make the world look a whole lot more alive. To get this to work, you'll need a device that can support at least 'High' graphics settings. It's toggled off by default, but you can enable it using the Auto Config or the Advanced Graphics Settings.
Patch Notes
It's time for another instalment of everyone's favourite section of the newspost: Patch Notes! Here's what we've been up to this week:
An issue which resulted in text getting cut off in the skill selection screen when redeeming lamps and stars has been fixed.
The Equuis cape from Zodiyak Track has been adjusted to use the gold metal as shown on the reward image.
We have enabled more items to work for the Contract Claws mystery (Capricorn).
Head over to this week's Patch Notes post for the full list!
Player Gallery x Razer
Don't forget, there's still time to submit your artistic creations to the Player Gallery! This time, we've teamed up with the wonderful folk at Razer and have some incredible prizes to give away, including a Razer Kraken Ultimate gaming headset – just the thing to listen to the Archaeology Soundtrack with!
Any kind of art is welcome – drawings, sculpture, cosplay, turnip carving, crochet and more! If you can call it 'art', we want to see it! The prizes are as follows:
1st & 2nd place – 1 Razer Kraken Ultimate Headset + 6 Month RS Membership each
3rd to 5th place - 3 Bonds each
Honorary Mentions – 1 Bond each
To enter, send an email to competitions@jagex.com including your entry and your RSN. You have until Sunday, April 26th, so flex those creative muscles and make something beautiful!
Terms and conditions can be found here.
Live Streams
Wednesday, April 8th – 17:00 BST (16:00 Game Time) – Let's Play Archaeology
The expedition to Archaeology continues as our JMods dig deep into the new locations introduced with the skill. Today, Mod Poerkie and Mod Iago will take a first step into the hellish Infernal Source. Want to join the fun and skill with them? Then join us on Twitch to know on which world they'll be.
The new Archaeology LootScape will be enabled.
Saturday, April 11th – 15:00 BST (14:00 Game Time) – Featured Streamer: DylPixel
This week, our featured streamer is DylPixel! He'll be taking you into Gielinor for a mix of Archaeology skilling, and some bossing!
That's right, you can receive in-game loot when you watch a RS streamer. It works exactly the same way as our official streams, just watch DylPixel's stream (his Twitch channel) and you'll receive the LootScape the following day.
The new Archaeology LootScape will be enabled.
LootScape
Our live streams are always a great opportunity to grab some awesome in-game prizes – and with the arrival of Archaeology come an extra surprise… the LootScape has some new loot!
Starting today, each and every RuneScape stream watched will give you a random drop from one of the following below.
Small (250 Archaeology XP) or Large (500 Archaeology XP) Twitching Tome
A random Archaeology consumable
View counter goes up on Orb
By the way, you won't be able to use the Twitching Tomes before completing the Archaeology tutorial. We wouldn't want any of you coming in fresh and having that thing explode in your hands because the Archaeology Guild hasn't given you the proper training. No no. And remember, all Premier Club Gold members will also get an extra drop!
Exciting isn't it?! So don't wait up - connect your RS account to your Twitch account and find out more here. Once that's done, have fun and watch our streams during the day for a guaranteed drop.
Pink Skirts Events
Pink Skirts is a dedicated P-Mod-led community, and it invites you to a range of daily activities such as PvM masses, Q&As, and other thrilling or chillin' events! Check out all the community events organized by the Pink Skirts on the in-game calendar or on their official schedule here.
---
- The RuneScape Team