Mmmf-mm! Mmmgn mmf mm – oops, sorry! Just polishing off the last of those chocolate eggs. This week there's been another Ninja Strike, this time in the heart of Shattered Worlds. In other news, we've got an update on the race to the top of the Archaeology HiScores, a special message from our CEO, and an opportunity for you to win your very own Razer Kraken Ultimate gaming headset. Let's get right into it, shall we?
Ninja Strike: Shattered Worlds
For almost three years, the creatures of the Shattered Worlds have existed in harmony, quietly plodding around the Abyss and eating the occasional knight with nary a care in the world – but everything changed when the Ninja Team attacked.
With a wham, a bam, and a flurry of shuriken, Shattered Worlds was changed for the better this week. From bosses, to rewards, to the UI, every single part of the minigame has been given a new lease of life.
New Objectives
The first thing you'll notice is that along with a bit more task variety, there are now three extra objectives you might be asked to complete in your world-hopping adventures: deal a certain amount of damage, repair the portal, and summon and kill the boss.
Bosses, you say? Glad you asked. Every fifth world will be a 'boss world', where you'll find Gielinor's most iconic baddies, including the God Wars Dungeon 1 Generals (except for Nex), the Chaos Elemental, Dagannoth Kings, and the Barrows Brothers. To summon them, you'll need to defeat a certain percentage of the monsters in that world.
Repairing the portal is also fairly straightforward. The monsters you kill will drop three pieces of a handy-dandy portal repair kit, which you can then use to fix up the portal and move on to the next world. There's no Construction required, which is probably why it fell apart in the first place.
New Rewards
Alongside these new objectives, the Abyssal Knights have provided some fancy new rewards for you to earn! The following items can be exchanged for anima in the Shattered Worlds reward store:
Slayer Masks and Spirits of Battle
The various Slayer masks available from Shattered Worlds have been reorganised into a single tab and ordered by Slayer level requirement. In addition, you can now purchase Spirits of Battle for 100 million anima each. This is the first time Spirits of Battle have been available outside of Treasure Hunter, so for those of them unfamiliar with their use: they'll reset the killcount on your Slayer mask, letting you get more benefits out of each one.
Titles
Three new titles can now be purchased from the Shattered Worlds store:
The Abyssal Knight
Animaniac
Abyss Diver
Teleport Scrolls
Tired of schlepping all the way through the swamp every time you want to slay some abyssal beasties? Then we've got the scroll for you. This helpful teleport will take you directly to Shattered Worlds, and each one costs just 250,000 anima.
Interface Changes
The Shattered Worlds UI has been completely overhauled, with more info boxes, new minimap icons, and a revamped layout that should make the minigame feel much less complicated.
To see the full extent of this week's Ninja Strike, take a gander at the Patch Notes newspost.
In celebration of the Shattered Worlds rework, you'll get 25% extra anima when you play the minigame between now and April 27th. Happy world hopping!
Archaeology
So, how are you all finding Archaeology? Do we have any Guildmasters among us?
You'll find another cache of hotfixes and other changes in the Patch Notes this week, including the following:
A popup box will now appear if you attempt to excavate with a full inventory.
The chance of receiving an imcando mattock piece now increases as your Archaeology levels up.
Players are no longer stopped from excavating after using spacebar to advance the chatbox that appears when finding an artefact.
We'd also like to congratulate 'le me', for being the first player to reach 120 Archaeology!
If you're still languishing in Kharid-et (like a certain newspost editor), you might like to watch this Archaeology starting tips video from ProtoxxGaming:
Patch Notes
Forget about the worlds, we're shattered after just reading all these Patch Notes! Let's have a round of applause for our Ninja Team, whose work has produced a whopping 71 changes for the Shattered Worlds strike alone. Here's the highlights:
Players can now use Weekly D&D tokens to reset their weekly Shattered Worlds challenges. This will reset all of your currently completed challenges, and as such can be used even when only one or two challenges are complete.
Three new objectives have been added and the original objectives now have more variety.
Players can now buy Spirits of Battle from the Slayer Mask tab of the Shattered Worlds Reward Shop. These cost 100 million anima and can be used to reset the kill count on Slayer masks.
To read all the Patch Notes from this week, take a look at the dedicated post here.
A Message from Mod Pips
Our CEO, Mod Pips, has an important message about what Jagex is doing to support our J-Mods, players, and charity partners during the COVID-19 crisis. If you're interested in finding out how you can participate in our efforts, go check out this link.
And if you are struggling with the impact of COVID-19 on your daily life, please have a read through our Wellbeing During Isolation article, written with help from our friends at CPSL Mind. Every adventurer needs a helping hand now and then, and remember - we're all in this together.
Free Early Access on Android
To enable even more players to take refuge in Gielinor in these trying times, we've opened up Mobile Early Access on Android devices to non-members. This means that everyone can now visit Gielinor wherever they are. And members both old and new can get their hands on the fantastic Mobile Founder's Pack, which includes the Steel Panther combat pet, a unique rest animation, and the dazzling Radiant Dawn Armour.
Player Gallery x Razer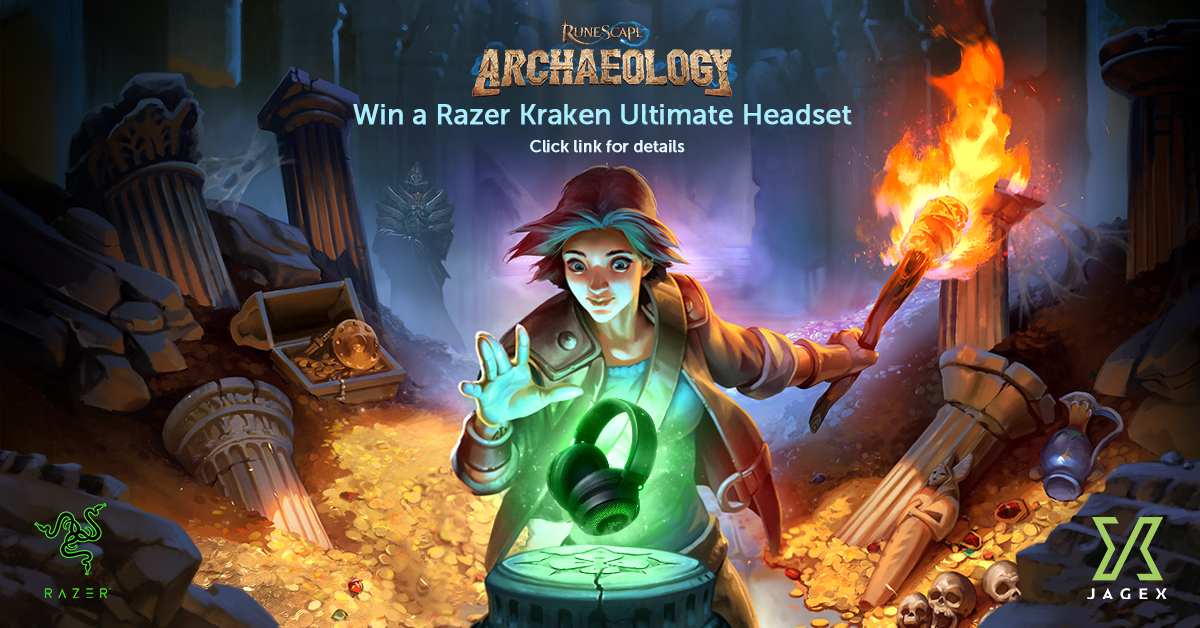 There's still time to enter our Player Gallery and be in with a chance to win a Kraken Ultimate gaming headset, courtesy of our friends at Razer. To do so, all you need to do is send us a piece of artwork inspired by Archaeology – and that can be any kind of artwork. Cosplay, sculpture, Tibetan throat singing and needlefelt are all welcome, so go ahead and throw your hat into the ring!
Send your artwork to competitions@jagex.com along with your RSN. You have until Sunday, April 26th, so flex those creative muscles and make something beautiful!
Terms and conditions can be found here.
If you'd like to unearth a Razer Kraken Ultimate Headset of your own, or any other Razer goodies, you can use this link and enter the code 'Jagex10' prior to checkout, which will grant you a 10% discount on all Razer products until April 30th!
Twitch Prime is back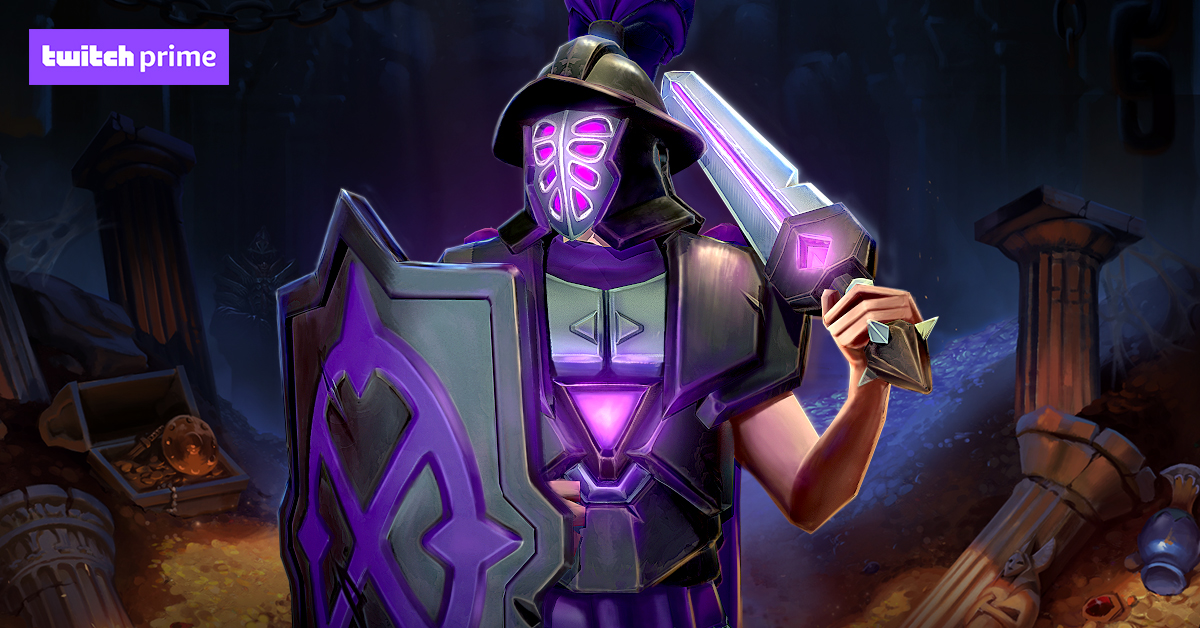 There's a whole new Twitch Prime loot available to celebrate the release of Archaeology!
From Tuesday April 14th until Tuesday May 12th, each and every Twitch Prime member will get the chance to grab a FREE Archaeology-themed Ancient Legionary Set. Exact time of launch will be announced on our social accounts, so make sure you keep an eye out and get ready to claim your loot.
What's in the Twitch Prime loot?
Directly inspired by the footsoldiers of the Zarosian Empire that now inhabit Kharid-et, the exclusive Ancient Legionary Set is a full armour forged with Third Age iron and Imperial steel, coated in the signature colours of Twitch.
This Ancient Legionary Set includes ALL of the following pieces (wardrobe overrides): Armour, Helmet, Chestplate, Greaves, Boots, Cape, Gauntlets, Sword, Shield.
How to redeem?
Make sure you're connected to a Twitch account with a Prime membership
Verify that your RuneScape and Twitch accounts are linked (here)
Go to this link: https://info.runescape.com/p/twitch-prime (Link will become live later this evening)
Claim your loot!
Need help? Check our full FAQ
Don't forget that one of the perks of Twitch Prime is a free subscription to a Twitch streamer every month. Support one of our brilliant content creators!
Phishing Emails
As Coronavirus continues to impact our lives on a daily basis, we'd like to encourage all of our community members to stay strong and to remain vigilant against scammers. Be wary of phishing emails attempting to imitate official Jagex accounts and take precautions to protect your information online and in-game.
Live Streams
Tuesday, April 14th – 17:00 BST (16:00 Game Time) – Let's Play Archaeology
The expedition to Archaeology continues as our J-Mods dig deep into the new locations introduced with the skill. Today, they'll take the first steps into the Everlight dig site. Want to join the fun and skill with them? Then join us on Twitch to find out which world you'll need to join.
The new Archaeology LootScape will be enabled.
Saturday, April 18th – 10:00 BST (9:00 Game Time) – Featured Streamer: Careful Tam
This week, our featured streamer is Careful Tam! Grab your cuppa and join him for an early morning skilling session in Gielinor – details to follow.
That's right, you can receive in-game loot when you watch a RS streamer. It works exactly the same way as our official streams, just watch Careful Tam's stream (https://www.twitch.tv/carefultam/) his Twitch channel) and you'll receive the LootScape the following day.
The new Archaeology LootScape will be enabled.
LootScape
Our live streams are always a great opportunity to grab some awesome in-game prizes. Each and every RuneScape stream watched will give you a random drop from one of the following below. Premier Club Gold members will also get an extra drop.
Small (250 Archaeology XP) Twitching Tome – tutorial needs to be completed
A random Archaeology consumable
View counter goes up on Orb
Make sure you follow ALL these steps to get the drop!
Go to your Account Settings > Linked Accounts
Link your Twitch and RuneScape accounts
Go to runescape.com/lootscape
Click "Enable Drops", wait for confirmation
Watch our stream on Twitch!
Pink Skirts Events
Pink Skirts is a dedicated P-Mod-led community, and it invites you to a range of daily activities such as PvM masses, Q&As, and other thrilling or chillin' events! Check out all the community events organized by the Pink Skirts on the in-game calendar or on their official schedule here.
---
- The RuneScape Team