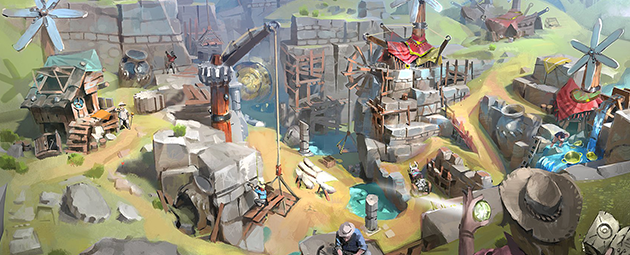 Game Update: Origins of Archaeology
Hello again, chillers and skillers! This week we've got a special surprise for you – some never-before-seen Archaeology concept art! Plus, a reminder of the Player Gallery competition, the upcoming DXP event and a truly historic livestream!
Archaeology HiScores
Good golly, that Race to 120 & 200 Million XP very nearly ended in a photo finish! Congrats again to 'le me', who edged out the competition and reached 120 Archaeology and 200 Million XP before anyone else.
And congratulations to all the other guildmasters out there who finally reached 200,000,000 XP this week: L33, Omid, Maikeru, iTrolledU, Ai, Randles, Wai, Jose Return, E, Raul, Kuzi, Roskat, Legacy of KG, Wisely Done, zmda, Enlen, Phione, Light, Airut Bot, Teps, Mr Traumatik, Its Dave, Veggie & Darckboy07!
You can view the current HiScores here. Or, if you prefer to get your info with a side of funky bar charts and epic music, Reddit user /u/Happery has put together the following video:
Art-eology!
Our talented artists worked for months to make Archaeology RuneScape's most beautiful update yet – and it really paid off! From the depths of the Infernal Source to the soaring heights of Stormguard Citadel, every dig site detail has been lovingly created from the ground up. Want to see how they did it? Check out some of their work below:
Want to peak further behind the curtain? Check out our individual JMod's ArtStation profiles for more!
And if you're something of an artist yourself, keep reading – because we've got the perfect competition for you.
Player Gallery x Razer
Time's running out to enter our Player Gallery and be in with the chance to win your very own Razer Kraken Ultimate gaming headset.
We want to see how Archaeology has inspired you to create a work of art! All mediums are acceptable: sculpture, cosplay, innovatively scored sourdough rolls, paint, digital – the list goes on!
To enter the competition, simply send your artwork (or a picture or recording of it) to competitions@jagex.com by Sunday April 26th. We're looking forward to seeing your creations!
Terms and conditions can be found here.
And remember that if you'd like to unearth a Razer Kraken Ultimate Headset of your own or any other Razer goodies, we have a special promo code that will grant you a 10% discount on all Razer products until April 30th! Use this link and enter 'Jagex10' prior to checkout.
Patch Notes
The Archaeology tweaks and fixes just keep coming, and this week is no exception. Here are the highlights:
Hotfix: Tweaked the drop rates of the Inquisitor Staff pieces and the Spear of Annihilation tip.
Additional Material Caches have been added to ensure there are at least 3 at micro sites and at least 2 at dig sites.
The contents of archaeology material storage is now viewable from the archaeology journal by using the information option.
The imp-souled tool perk will now send appropriate resources to the metal bank and archaeologists material storage.
You can read all this week's Patch Notes in the dedicated post, which can be found here.
Twitch Prime
The Ancient Legionary set is yours to take home this month, thanks to Twitch Prime! If you haven't claimed your reward yet, here's how it's done:
Step 1: Create or log into your Twitch Prime account
Step 2: Claim your monthly RuneScape loot on Twitch
Step 3: Redeem your loot by linking your RuneScape account to Twitch
Step 4: Start playing and enjoy your loot!
If you're not a Twitch Prime member yet, you can click here start your free trial today!
Duty of Care
Last week we took another big step towards our commitment to make Treasure Hunter more fun for everyone by removing "blind choice". Our Player Support team has also begun to proactively trial our new account options, which include spending limits.
To find out more about what we're doing to fulfil our promises to you, the community, check out the full blog here.
Double XP Weekend: Extended
Set your calendars! Double XP Weekend: Extended will return from May 8th to May 18th. Keep your eyes peeled for more information as we approach the date.
Livestreams
Tuesday, April 21st - 17:00 BST (16:00 Game Time) - Making of Archaeology
In this truly historic livestream, the J-Mods responsible for Archaeology will be reminiscing about how they brought RuneScape's newest skill to life. Expect some loresome revelations, inside looks at the design process, and some concept art that definitely belongs in a museum!
The new Archaeology LootScape will be enabled.
Friday April 24th - 13:00 BST (12:00 Game Time) - Featured Streamer: DarkWorldOrder
This week our featured streamer is DarkWorldOrder (https://www.twitch.tv/darkworldorder/)! He will hop on his ironman account to continue his quest for max, and will then invite viewers for group bossing sessions.
The new Archaeology LootScape will be enabled.
LootScape
Our live streams are always a great opportunity to grab some awesome in-game prizes. Each and every RuneScape stream watched will give you a random drop from one of the following below. Premier Club Gold members will also get an extra drop.
A random Archaeology consumable (Material manual, Hi-spec monocle, Tarpaulin sheet, Archaeologist's tea)
View counter goes up on Orb
Make sure you follow ALL these steps to get the drop!
Go to your Account Settings > Linked Accounts
Link your Twitch and RuneScape accounts
Go to runescape.com/lootscape
Click "Enable Drops", wait for confirmation
Watch our stream on Twitch!
Pink Skirts Events
Pink Skirts is a dedicated P-Mod-led community, and it invites you to a range of daily activities such as PvM masses, Q&As, and other thrilling or chillin' events! Check out all the community events organized by the Pink Skirts on the in-game calendar or on their official schedule here.
---
- The RuneScape Team
Back to top