This week we're answering your burning questions about Group Ironman – find out what we're planning below! Plus, we've made a few extra changes to the rest of the game, including new music tracks, login improvements and more. Let's dive in.

Group Ironman
We've been seeing a few of your excellent questions crop up multiple times, so here's a quick FAQ:
What activities remove Group Prestige?
The following activities will remove Group Prestige if tackled them with players outside your group:
Chambers of Xeric
Theatre of Blood
The Nightmare of Ashihama
The Tombs of Amascut (when it's released)
We are still considering whether Nex is part of this list - you'll know once we've decided!
Can I rename my group?
Yes, you can! Leaders can rename their group by visiting the Group Iron Tutor at The Node.
I have a group of three, but another friend wants to join later. Can I add my friend at a later date?
Yes, you can add your friend into the group later. Groups can have a maximum of five members in total; if you decide to welcome a new member, you will lose Group Prestige - but there won't be any gameplay consequences. All that will happen is that you'll lose the gold star next to your group's name.
All original members will keep their individual Prestige, which means they are free of any wealth or item restrictions. However, to prevent boosting the new member WILL have those wealth and item restrictions. Check out the Group Ironman Blog for more details on this.

Hotfixes
We've already put out a number of hotfixes to address some of the launch bugs. Fixes for the following bugs are live:
Players who attempted and failed to join an existing group were sometimes added to the HiScores incorrectly.
Groups that hadn't yet been successfully created were appearing on the HiScores.
The player-to-player trade restrictions for new players were not applying once you are part of a group.
The Prestige status for individuals was not automatically refreshing when changes take place.
Alternate Shop stocks were not updating at the Blast Furnace.
Switching between Regular and Hardcore groups using the crates on The Node was displaying incorrect chat icons.
Switching between Hardcore and Regular on the Node was displaying incorrect icons.
Groups sometimes contained a mix of Hardcore and Regular players (because HCGIM players who were on different worlds or logged out were not correctly losing their HC status when all lives were lost).
Players were losing their Prestige status and Storage access after joining groups when they shouldn't have been.
Wealth transfer limits were incorrectly applying to non-Prestige Group Ironman's own drops.
Some groups were failing to form during the launch of Group Ironman (upon further investigation (we believe this was to our system being under heavy strain - please do let us know if it continues to occur with your group and we will re-open our investigation).
Also:
Some groups were experiencing mismatching size and Prestige settings. We've corrected this for many players, but we're aware that some group sizes are still being recognised incorrectly on the HiScores. More information on how we're fixing that can be found below.
We changed some of the mapping on Tutorial Island to make room for all the new features, but a few unlucky players got caught in certain areas!
Some additional messaging now appears when trying to downgrade your Group Ironman through the Iron Tutor in Lumbridge.
Players that lost items while creating their group during launch will receive some tools, food and combat supplies the next time they log-in to The Node.
We know that some of you are still in the wrong HiScores bracket. You might be a four-player group but showing up in the five-player HiScores, or similar. This is unintended and of course we don't want you stuck competing in an incorrect category!
We believe we have fixed the underlying cause of this issue so that it is not affecting new groups, but we will be resolving it for those still struggling by using some handy tools from our lovely web team (as this problem is related to our website, we can't resolve it on the client). Once the web tool is ready (hopefully in a matter of weeks), we will be working hastily to correct each group. We'd like to thank you for your patience as we fix this.
This week we're also releasing more fixes and improvements:
There is a graphical bug with Individual Prestige preventing it from properly showing on the side panel unless refreshed. It will now display correctly at all times.
When closing the Group Storage and re-opening it, the resized pop-up was not legible. This has been corrected.
No more 2-for-1 cocktails! We've split the Wine Shop's stock for Iron modes to prevent the transfer of wine to Iron accounts.
Now, on to the most important bit: your feedback! We've received heaps of helpful insights, and while our immediate priorities will be on fixing any errors, we are keen to improve on the features that you enjoy! Here's what we're looking at right now:
Group Storage Space and Save Function
As you are probably aware, we temporarily disabled access to the Group Shared Storage over the weekend to investigate an issue. This feature has now been restored and we thank you for your patience.
There has also been a lot of demand to increase the amount of space for Group Storage as the current space feels insufficient.
Our answer? Absolutely! We would like to increase the storage capacity for you, but we haven't yet decided how this will take shape. What do you think is the best approach? For example, should increasing Storage be something that players can earn and unlock on their account? If so, what does that progression system look like? Or should it be something locked behind Achievement Diaries, or something else? Perhaps it should it just be a flat-out payment in Gold?
We're going to experiment with designs in the coming weeks and we'll update you when we have some proposals to share. In the meantime, please send us your ideas!
We also know that some players find the Save function for the Group Storage rather clunky to use. This is because it's different from the usual Banking process - Group Storage isn't part of your own saved game profile, so it must be saved to the appropriate server before another group member is able access it.
However, we think we can make some improvements here. We intend to change the 'cross' icon so that it will have a Save and Leave function, meaning that the hotkey you use to close interfaces (usually ESC) also doubles as a save hotkey when you close the Bank.
Group Chat and Group Broadcasts
Many of you have also asked us to make a private chat channel specifically for your group, and we're working on adding this in the coming weeks. It will work similarly to Clan Chat, but only for you and your group. We'd love to know what shortcuts you think would be useful for this new channel?
We're also going to implement the broadcast system that we currently use for Clans. This will mean that you can opt-in to receiving notifications when a member of the group receives significant loot or achieves a major milestone. Finally, you'll have the equivalent of the Clan Interface for your group or other groups, with lots of important info. This feature will also allow you to report any inappropriate group names that you may come across.
Shared Group Hall
We're aware there's huge demand for a shared Player Owned House for groups, or failing that, a customisable instance which can be shared, upgraded, and only accessible to the group. We'd like to explore the possibility of a Shared Group Hall, and we're investigating how we can achieve this alongside our other projects. Please keep in mind that this is no small task, and if we were to focus on this project, most of our development time would be spent on this area.
Nothing can fully replace the functionality, utility and enjoyment of sharing a customisable instance with your group. In the short term, we are considering whether we can allow players to visit Player Owned Housing without the owner needing to be at home. We hope to have a response to this popular community suggestion once we have fully scoped out the work involved.
Killerfishy's Group Ironman Comic
We're also delighted to share another Killerfishy Comic with you today! If you have not seen the first one, check it out here! This fun little project is guided by you, our players. Last week, you told us that you wanted our Heroes to focus on Questing, so this week we bring you: Dragon Slayer!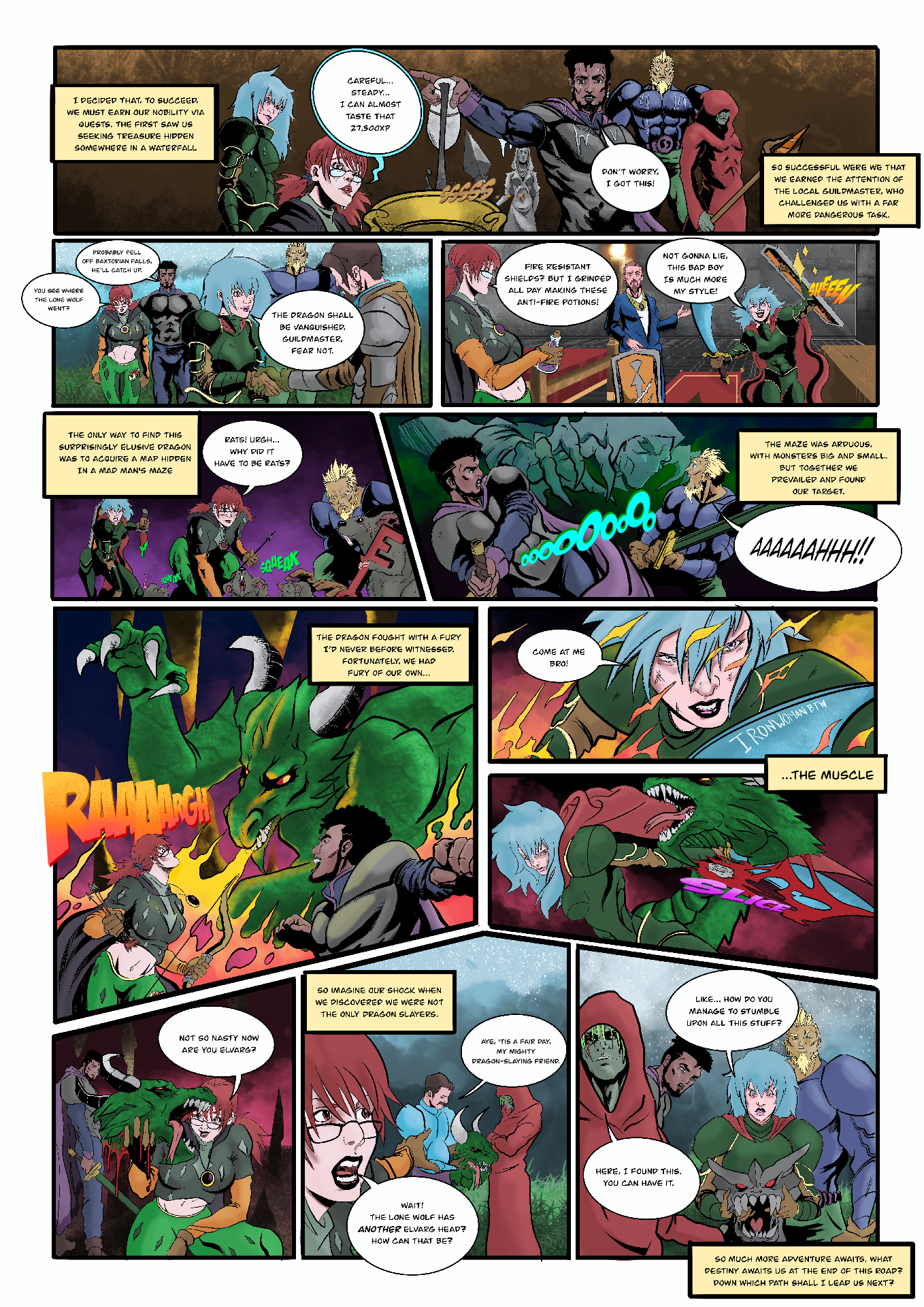 This Comic was made by Killerfishy. For the full resolution image, please click here.
We'd like you to vote on where you think they should head to next! Head over to any of our social platforms to decide whether our adventurers should go...
West to Kourend
South to Karamja
East to Morytania
North to the Wilderness
And feel free to tell us your ideas about what they could get up to when they get there!

Other Changes
Five evocative new music tracks have been added to Kourend thanks to the talented individuals within the Audio Department. The tracks are

Beyond the Meadow - Mod Arismel
The Forests of Shayzien - Mod Rainbow
Out at the Mines - Mod Jodgers
Not a Moment of Relief - Mod Jodgers
What Happens Below... - Mod Arismel



The Dark Energy Core is no longer targeted by Thralls, as some players found this unhelpful.
You can now design your character to have lavender clothes and hair once again. Fetching!
Players no longer get stuck behind Oziach's open door.
It's now easier to earn Contribution from bailing when the Fishing Trawler is very crowded.
The fake XP drops in Last Man Standing now show normal XP quantities for Group Iron players, even though Group Iron players usually get reduced XP for PvP.
We have done some work behind the scenes to make logging-in a more efficient process

PvP World Rota
The PvP rota has moved to Period B:
560 - (UK) - PvP World
579 - (US) - High-Risk PvP World
561 - (UK) - Free-to-Play PvP World
580 - (US) - LMS Competitive
World 390 (AUS) for LMS Competitive has been de-activated with this rota.

That's everything for this week's game update. We'd love to hear your feedback so please let us know what you think via our official forums, on the 2007Scape Reddit, the Steam forums or the community-led OSRS Discord in the #gameupdate channel.
Mods Arcane, Archie, Argo, Ash, Ayiza, Banjo, Boko, Brow, Bruno, Con, Curse, Daizong, Deagle, Dibber, Ditto, Dylan, Ed, Elena, Ellie, Errol, Fed, Flippy, Gecko, Grub, Halo, Havik, Husky, Jndr, John C, Kandosii, Katies, Kieren, Kirby, KT, Kurotou, Lenny, Light, Lottie, Mack, Matheus, Maylea, Markos, Meat, Morty, Nasty, Nin, Nylu, Oasis, Peppers, Regent, Redfield, Roq, Ry, Sarnie, Sigma, Skylark, Sova, Squid, Steve W, Sween, Tide, Veda, Vegard, West, Wolfy & Zuko
The Old School Team