Your Feedback, Our Response




| | |
| --- | --- |
| Issues Raised | Current Status |
| The 'payment' interface for using the Bank at the Ourania Altar (a.k.a. ZMI) will show that player as having 0 of whichever Rune is in the 4th slot of a Divine Rune Pouch, if said Pouch has had a Trouver Parchment used on it. | This will be resolved via a coldfix with next week's game update. In the meantime, the bug is purely visual and the 4th slot does work for payment |
| Some players report that their Divine Rune Pouch only holds 3 types of Rune after using a Trouver Parchment on the pouch. | We've deployed a hotfix that should fix this issue. Make sure to let us know if you run in to any other problems with the Divine Rune Pouch. |
| We saw a handful of reports that some Runes weren't being consumed while spellcasting. | We've deployed a hotfix that should fix this issue. |
The spookiest time of year is fast approaching! Read on for a sweet taste of the tricks and treats in store this Halloween…
Note: the Tombs of Amascut Drop Rates blog is being worked on and is scheduled to release later this week as its own dedicated blog, rather than as a section of this Game Update newspost.

Halloween 2022
On this haunted holiday, Varrock is full to the brim with costumed horrors. Children dressed as ghosts, civilians masquerading as beloved Shakespearean characters, stinking beasts covered head-to-toe in fur demanding your very bones… oh wait, that last one's just the Stray Dog. Oops!
But costumes aren't the only unusual sighting this Halloween. We've had reports of sweets popping out of trees, rocks and Fishing spots all over the world. Even NPCs are joining in the fun, as the Halloween spirit sweeps Gielinor.
Strange things are afoot… you'd best head to the Varrock West Bank to see what's what.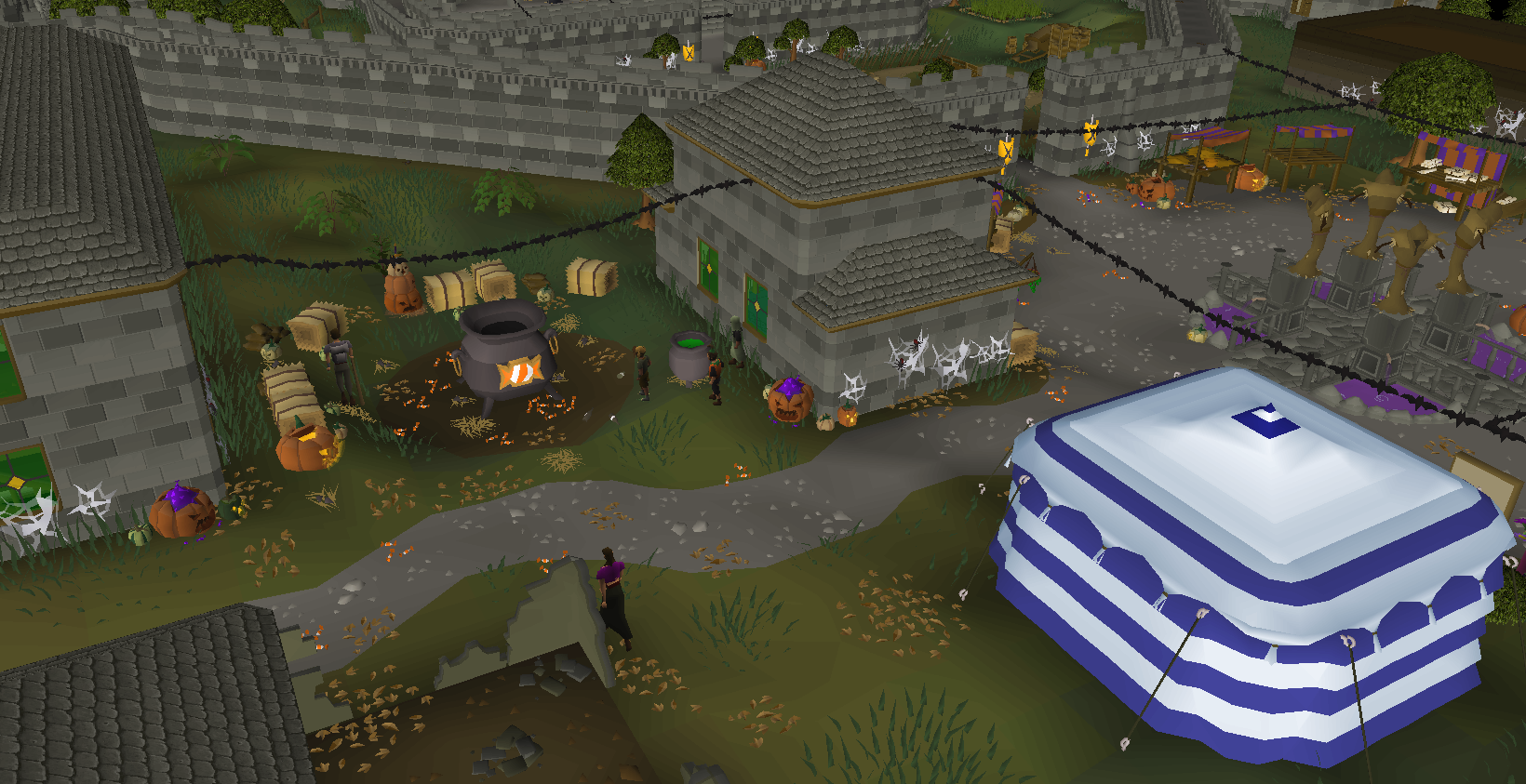 Looks like Varrock's getting into the spooky spirit this year!
This year's event is a little different from the previous ones but rest assured that you're all invited and there are absolutely no prerequisites – so everyone can join in the spooky fun!
While most of the action can be found in and around Varrock, a handful of particularly generous NPCs can be found getting into the 'spirit' of things further afield. Keep an eye out!
The only things you'll need to bring along are your best scary face and a handful of tricks to snag yourself some 'wicked' cosmetic treats!

Fresh Start Worlds
Last week saw the release of Fresh Start Worlds where thousands of players set foot in Gielinor for the first time… again!
Missed the news? Catch up with the Fresh Start Worlds blog.
To celebrate, we've also been uploading some nostalgia-focussed content to our YouTube channel.
And last but not least, if you're looking for the perfect soundtrack for your new adventure, have a listen to the second volume of our LoFi OSRS Mixtape, produced by OSRSBeatz with visuals by Hooti Tooti. It's got more bangers than bonfire night!

Quest Speedrunning and Poison Dynamite Betas
In Beta news, we've got a few bits of content we'd like you to take for a test run.
What's coarse, rough, irritating and gets everywhere (including Quest Speedrunning worlds)? If you guessed sand, you guessed correct!
Prince Ali Rescue and Beneath Cursed Sands have been added to Quest Speedrunning Worlds as open betas. Your times won't be saved, and won't count towards rewards, but your participation will be immensely valuable. Plus, you'll get a golden opportunity to formulate your speedrunning strats before the quests launch for real in two weeks' time!
But maybe sand isn't your thing. Perhaps you'd prefer something a little more explosive…
That's right, we've made some changes to Poison Dynamite based on your feedback from the current beta worlds.
Players were finding it difficult to consistently utilise Poison Dynamite as a 1x1 explosion. There are two solutions to this problem, so we'd like you to try them both and see which one you prefer!
The first option is for 'placed' Poison Dynamite to explode in a 3x3 area, rather than a 1x1. This should make it easier to get that poison ticking on larger NPCs, since it was proving difficult to land the 1x1 explosion on their 'true' tile.
The second option is to enable players to use Poison Dynamite directly on NPCs, like a sticky bomb.
In the beta worlds, both options will be functional – although we would like to pick one or the other, so do send us any feedback you have!
We've also made a handful of other tweaks to Poison Dynamite:
Poison damage increased to 6, in line with P++ weaponry.
New 'chance to hit' calculations based on the player's loadout - rolls the player's chosen combat style against the appropriate NPC's defense.
No longer poisons NPCs if the initial explosion deals 0 damage.
No longer hits multiple NPCs in multi-way combat areas.
No longer works inside the Fight Caves.

Winter Game Jam 2022
Some of you might remember April's Gielinor Gazette where we shared some of the projects from our first-ever Game Jam!
The team really enjoyed working on so many different ideas and seeing what you all thought about them. Perhaps you'll hear more in the near future about some of the things we pitched back in April…
In the meantime, though, you'll be excited to learn that we're hosting another Game Jam next week! We can't wait to see what projects the J-Mods come up with this time.
However, this does mean that there will be no Game Update on November 2nd.
Make sure to keep an eye on our social media platforms (check out the hashtag #OSRSGameJam) to see the sorts of things we're working on – and perhaps even share some ideas of your own!

Other Changes
We've got a handful of other changes this week:
Players may now use Trouver Parchments on the Divine Rune Pouch rather than having to re-obtain the Thread of Elidinis after dying in the Wilderness.
iOS users can now make use of the Bond voucher codes added with last week's update.
The Agility Skill Guide now shows the correct Ranged level required for a Bow of Faerdhinen.
The Hard Desert Diary Task requiring a player to kill a locust rider now only completes upon killing a locust rider and will not apply for other beasties killed in the general area.
Fixed a bug where wearing the Hallowed Ring meant that players could ignore all obstacles when at 1HP inside the Hallowed Sepulchre. This was hotfixed last week, but we wanted to make sure to include it here.
Fixed a bug which allowed players to skip obtaining Silverlight on Quest Speedrunning Worlds.
Fixed a bug allowing people to skip obtaining some required items for Ernest the Chicken on Quest Speedrunning Worlds.

Fan Content Policy
Back in July we published our Fan Content Policy – a document designed to give you confidence about what you can and can't create without permission.
We saw some really positive feedback about this from most of our creative communities, but for fan fiction writers, it's clear the policy limitations around word count could impact your creativity!
So, we've updated the relevant section (4.1.4) to give fandom wordsmiths a bit more freedom:
Fan Fiction - you can write stories inspired by your adventures in-game and share these on non-commercial third-party fan fiction sites like fanfiction.net or archiveofourown.org, provided you do not receive payment for them in return. If you intend to write a piece of fan fiction for a commercial site (such as Amazon, for example), for commercial publication in a physical form or as a paid-for commission for publication or commercial use, then you will need to run this by us first.
We hope this provides a clearer creative boundary that doesn't limit your personal writing projects with worries over wordcount! Thanks for all your feedback, as always.

PvP World Rota
The PvP rota has moved to Period B:
560 - (UK) - PvP World
579 - (US) - High-Risk PvP World
561 - (UK) - Free-to-Play PvP World
580 - (US) - LMS Competitive
World 390 (AUS) for LMS Competitive has been de-activated with this rota.
The PvP Arena is currently using 'Zerker' loadouts in Ranked Duels and Tournaments.
Merch Store - Halloween!
We're launching part 2 of the Varrock pin and keyring collection, this time with a spooky spin!
This range is a continuation of the Angels Scapes 'Cities of RuneScape' range on the official merch store.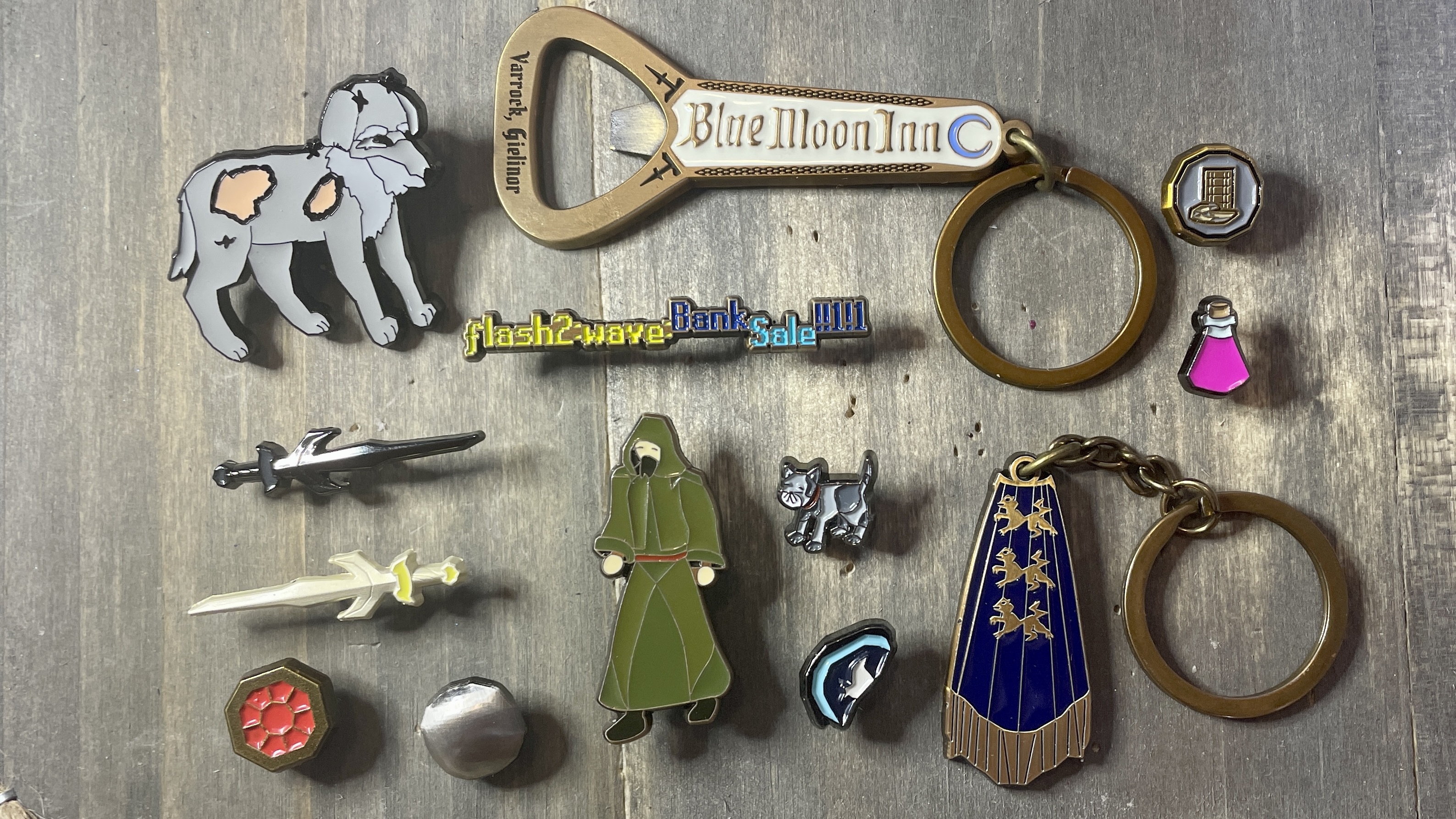 Here's a couple of the Limited Edition pins from this latest drop!
You could ward off demons with a handy Silverlight pin, or enhance it with the blood of Agrith-Naar to sport Darklight instead. Perhaps you'd like to kill some unsuspecting noobs with a spooky Dark Wizard pin, or relive the glory days of typing chat text effects out for hours on end with a bank sale pin!
Make sure to take a look and perhaps treat yourself this Halloween! No tricks, we promise!

You can also discuss this update on our official forums, on the 2007Scape subreddit, the Steam forums, or the community-led OSRS Discord in the #gameupdate channel. For more info on the above content, check out the official Old School Wiki.
Mods Arcane, Archie, Argo, Ash, Ayiza, Boko, Brow, Bruno, Chilly, Curse, Daizong, Ditto, Dylan, Ed, Elena, Errol, Fed, Gecko, Gizmo, Goblin, Grub, Halo, Havik, Hend, Hornet, Husky, Jalo, Kieren, Kirby, Kurotou, Lenny, Light, Mack, Markos, Maylea, Meat, Moogle, Morty, Nin, Nylu, Redfield, Regent, Roq, Ry, Sarnie, Shaun, Shroom, Sigma, Skylark, Soffan, Sova, Squid, Starry, Stevew, Surma, Tide, Torrance, Veda, Vegard, West & Wolfy
The Old School Team.