The improved security of a Jagex Account is now available to all players.
Upgrade today to benefit from a stronger password, improved MFA (with backup codes) and access to all your characters from a single log in.
Your Jagex Account works with the Jagex Launcher to ensure you can access your characters more easily, while offering the best protection against hijacking. You can also continue to play using the official client or RuneLite after you upgrade.
To begin the Jagex Account upgrade process, you can click here - feel free to refer to the rest of the blog if you need guidance with any of the steps!
It is the people who are trying to hijack your account who have the most to gain from you delaying your upgrade. So don't delay, don't give them the opportunity.
---
We'd like to clarify that acccount security is a major concern for players and a core focus for us! Jagex Accounts allow for increased security and stability, far superior to what is currently offered with an Old School/RuneScape Account by using modern, industry-standard technology to allow your account(s) to be safer than ever before!
Please remember: it is important to be wary of any emails sent from 'Jagex' as bad actors will try to pose as Jagex and the RuneScape team. Any emails regarding Jagex Accounts will always include your character name. However, the safest method to confirm your eligibility is to login to the official RuneScape Website and visit your account settings, rather than click any links sent via email. You can find more information below!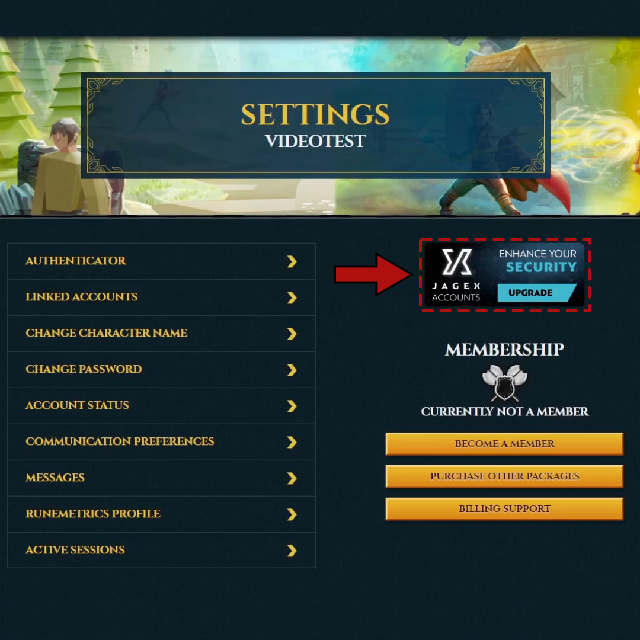 ---
In January we launched the Closed Beta for Jagex Accounts, which brings with it improved account security. Initially, we limited the Beta to Player Moderators as part of our invite-only 'phased release' approach – but we're now ready to extend the invitation to more players!
Rather than rehash what we've already said, we'll briefly explain what Jagex Accounts are and why we're using them to bring you updated account security. That said, please do revisit the original blog to learn more about Jagex Accounts in greater detail.
---
Account security is a major concern for players and a core focus for us. The current system has reached the end of the road as our security solution. The new Jagex Account system will let us provide you with increased security, stability, and sustainability using modern, industry-standard technology. We'll be able to keep bringing you more RuneScape for years to come without you worrying that your hard-earned stats and equipment will fall into the hands of hackers.
Jagex Accounts will use a different multi-factor authentication (MFA) integration to current RuneScape Accounts. When setting up MFA for your Jagex Account, you'll be provided with 10 backup codes to use as your second factor if you lose access to your authenticator device. These codes will only be shown once and can only be used once each – so be sure to record them safely and securely!
To import a character to a Jagex Account, you'll log in to that character and enter your authenticator details as usual. Once a character has been imported, the MFA for the associated RuneScape Account will no longer work – you'll need to use the MFA associated with your Jagex Account.
You can still play multiple characters at once and make progress simultaneously, assuming all those characters are linked to your Jagex Account.
In short, the Jagex Account and Launcher is how we're going to provide you with strong, modern account security – as well as an easier way to log in and manage multiple characters!
As an additional reminder make sure you always set up multi-factor authentication on your email account too. This remains a vulnerability for a number of players and is part of what makes the additional security measures offered by Jagex Accounts a necessity. It's also worth noting that while email authentication is an option for you to sign in to your Jagex Account, making use of an authenticator app is highly recommended as best practice when it comes to security.
---
How To: Upgrading To A Jagex Account
This bit of the blog is mainly for those who have been invited to upgrade to a Jagex Account. We've prepared a handy how-to video that shows you:
Upgrading to a Jagex Account
Managing your Jagex Account settings
How to import additional RuneScape characters to your Jagex Account
Infographic: How-to Jagex Accounts
That should be all you need to know! As we see more questions, feedback, and issues we'll update this blog. You can also check out the original blog for a more information, and Player Support have even put together a handy FAQ which you can visit by clicking the link here.
---
- The RuneScape Team