We're feeling fabulous this week – it's the 2023 Pride Event!

Note: We're aware that Emma and Suzie's hair salon in Varrock has gone missing with this week's update. We'll be getting this fixed with next week's game update, but you're still able to pick any of their hairstyles from the barber in Falador in the meantime!
Pride Event 2023
It's time to let your colours shine as Pride returns to Old School RuneScape!
Pride events like this are our way of supporting our LGBTQIA+ players and the wider community. A huge part of Old School RuneScape is having the freedom to play the game in your own unique way. We want our players to also have the freedom to express their identity – so wear your colours with pride as you take part in this exciting event!
Our story begins in the Blue Moon Inn in Varrock, where a group of four hopeless romantics have been cooking up some romantic letters to their respective love interests, in hopes of scoring a date to the Pride march. There's just one problem – their poems lack passion… and rhymes. Only you can save the day! Go on, show them what level 99 Rizz looks like!
Start the event by speaking to Bethan, Gregory, Tabbitha or Quinton at the Blue Moon Inn. Happy Pride, everyone!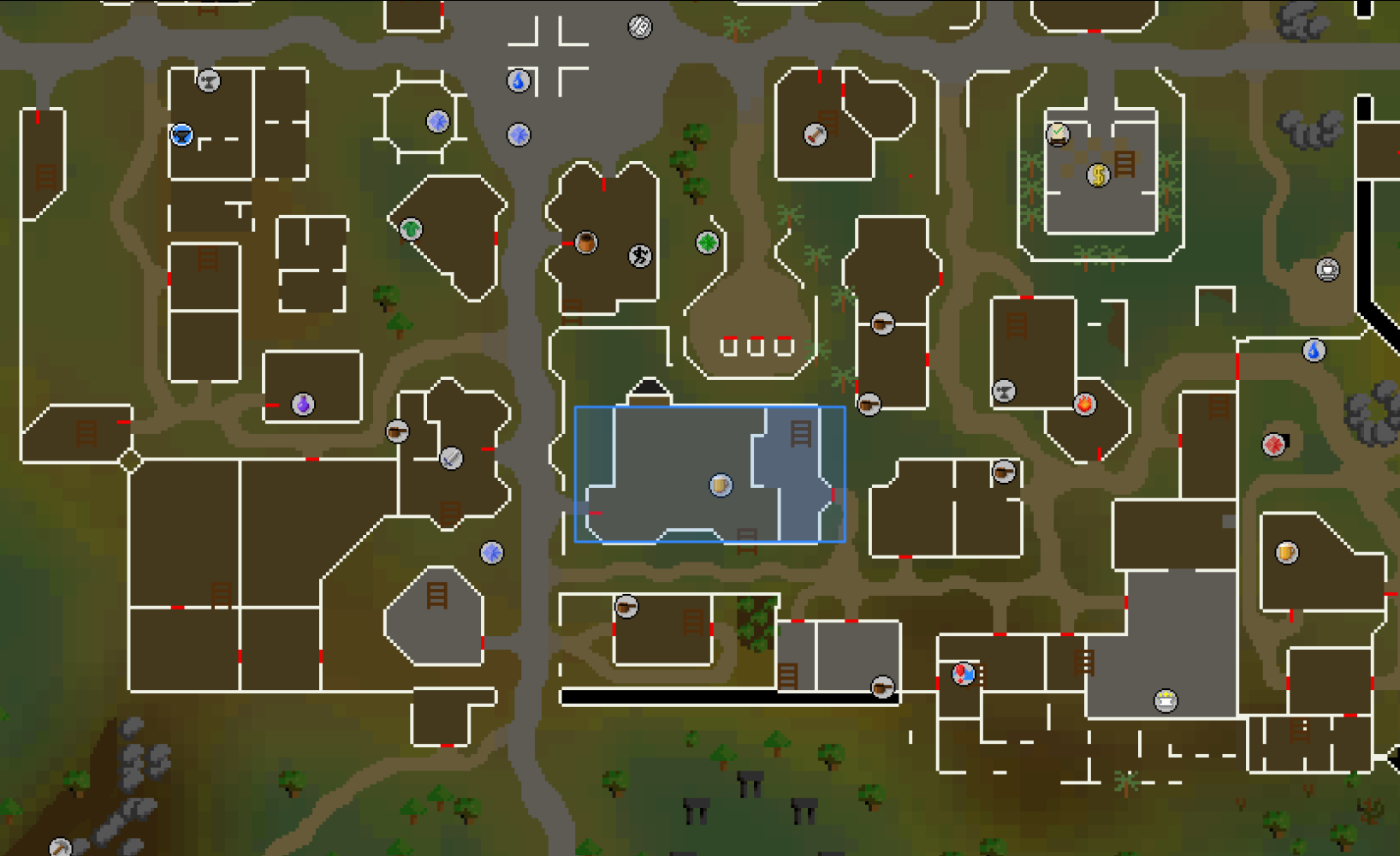 Rewards
This year's Pride event will last two full weeks, and you'll be able to get your hands on three brand-new cosmetics as well as more customisation options for the iconic Rainbow Scarf!
Love Crossbow
Get some attention from your one true love with this stylish new crossbow!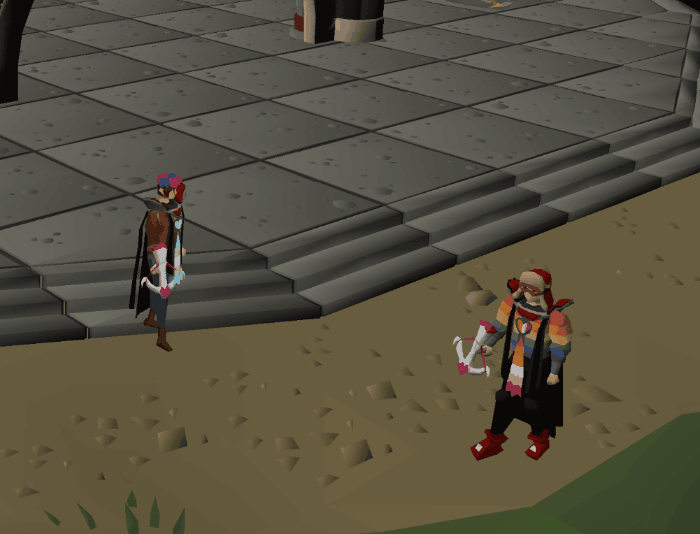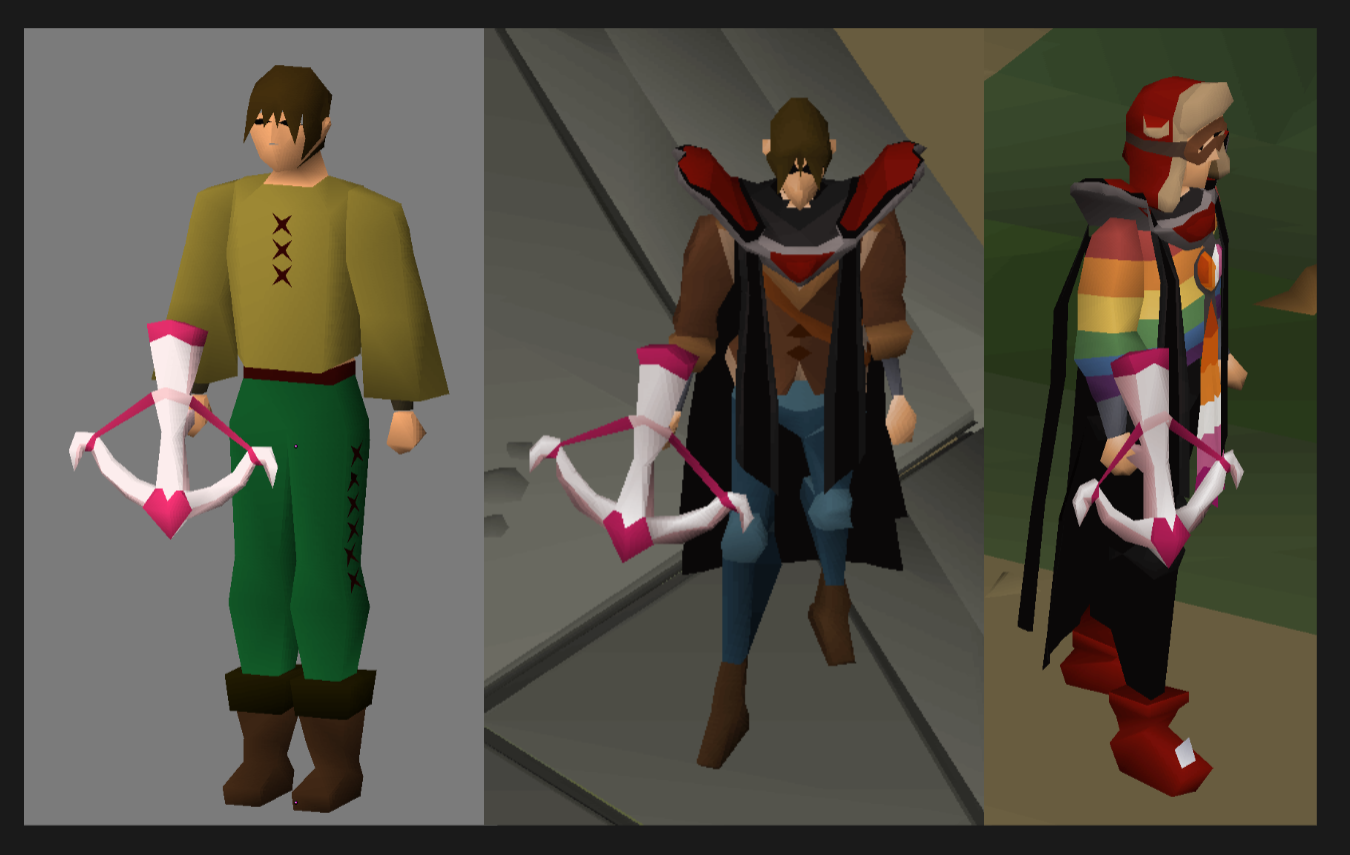 Poet's Jacket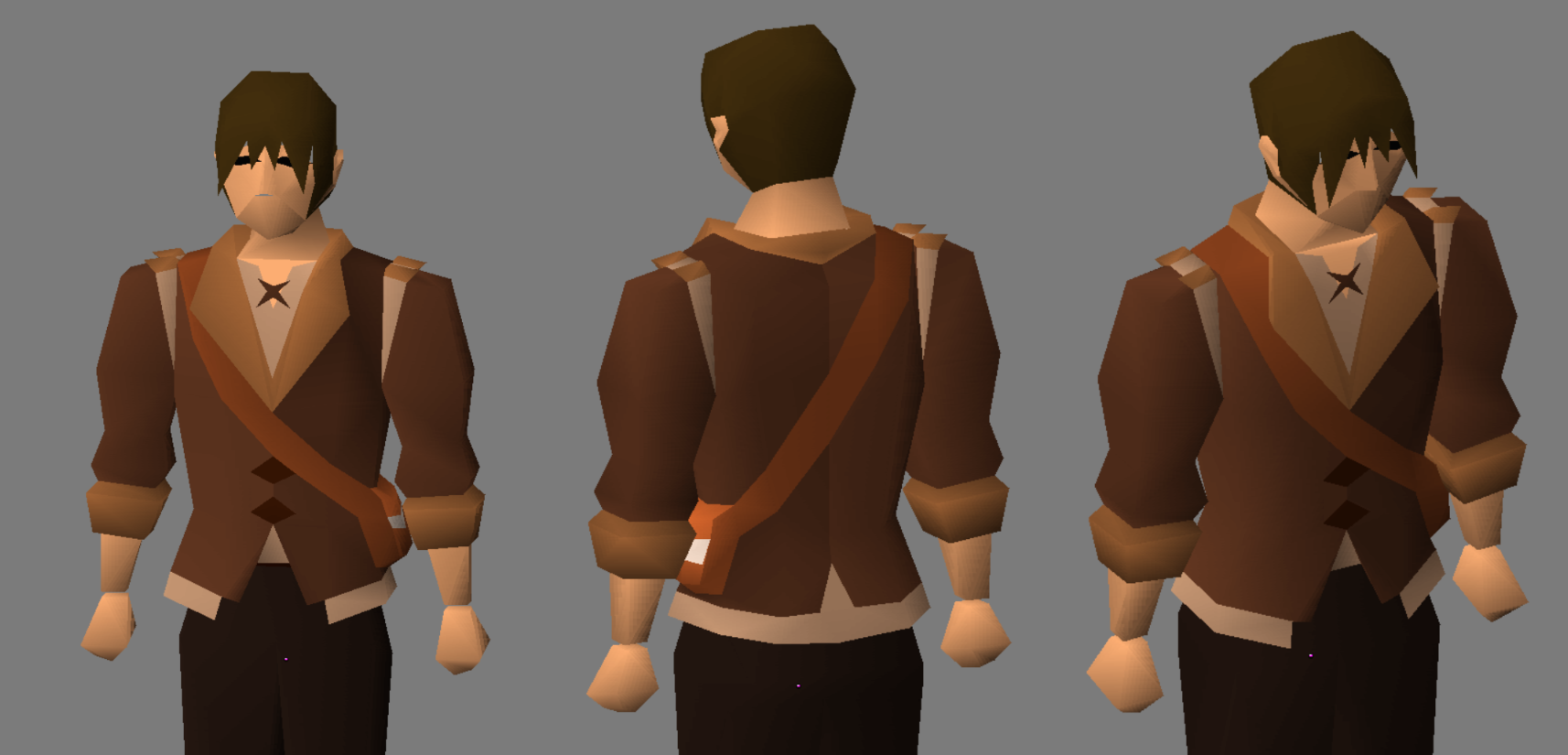 Pride Jumpers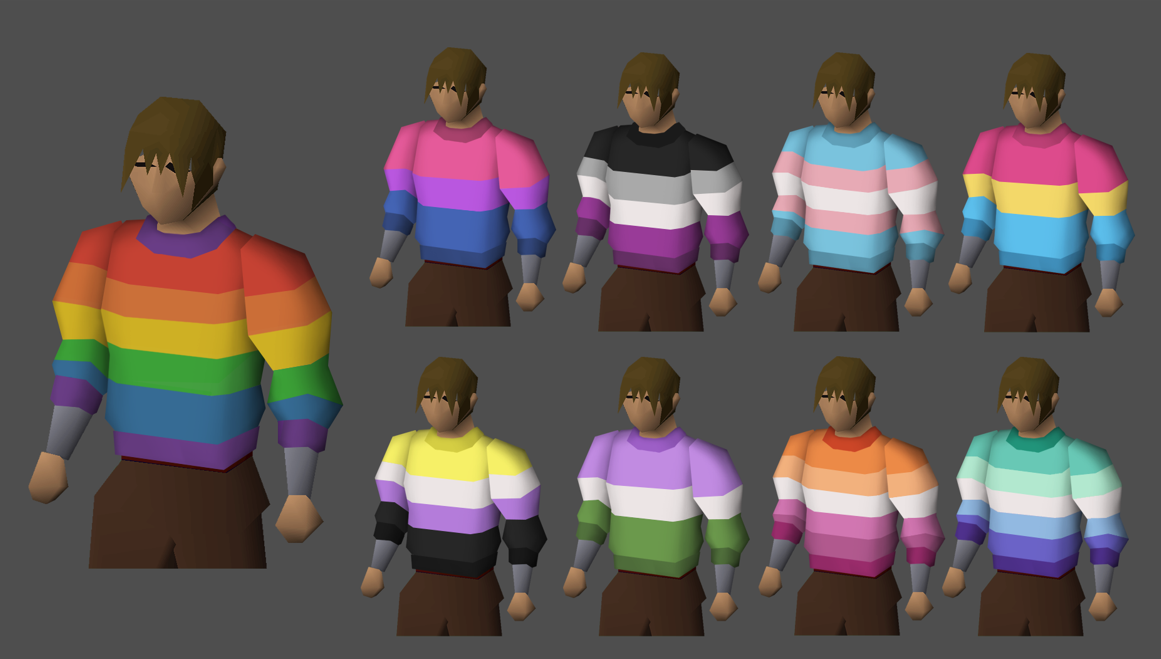 If you missed out on any of the rewards from previous years, don't panic! As with any Old School RuneScape event, you can claim your rainbow goodies from Diango in Draynor.

In-Game March with J-Mods
We know that not everyone is able to attend Pride marches in person – but you can still celebrate here in Gielinor, by taking part in our second official Old School Pride march!
Here's the deets:
Date: June 8th 2023
Time: 17:00 BST - 18:00 BST (Be sure to check out our event livestream, too! Details below.)
Worlds:
500 - UK - Livestream
427 - AU
476 - USE
435 - USW
The march will set off from Gilbert's flower patch near the bridge west of Varrock. To take part, rock up to the start point in your finest rainbow FashionScape and follow your J-Mod of choice! Make sure you have 'walk' enabled to allow everyone to keep pace.
Don't forget, there's a brand-new chat command that lets your overhead speech appear in rainbow colours! To try it out, just type 'rainbow:' before your message in the Chat Box
For more information on the march, please refer to the route map below: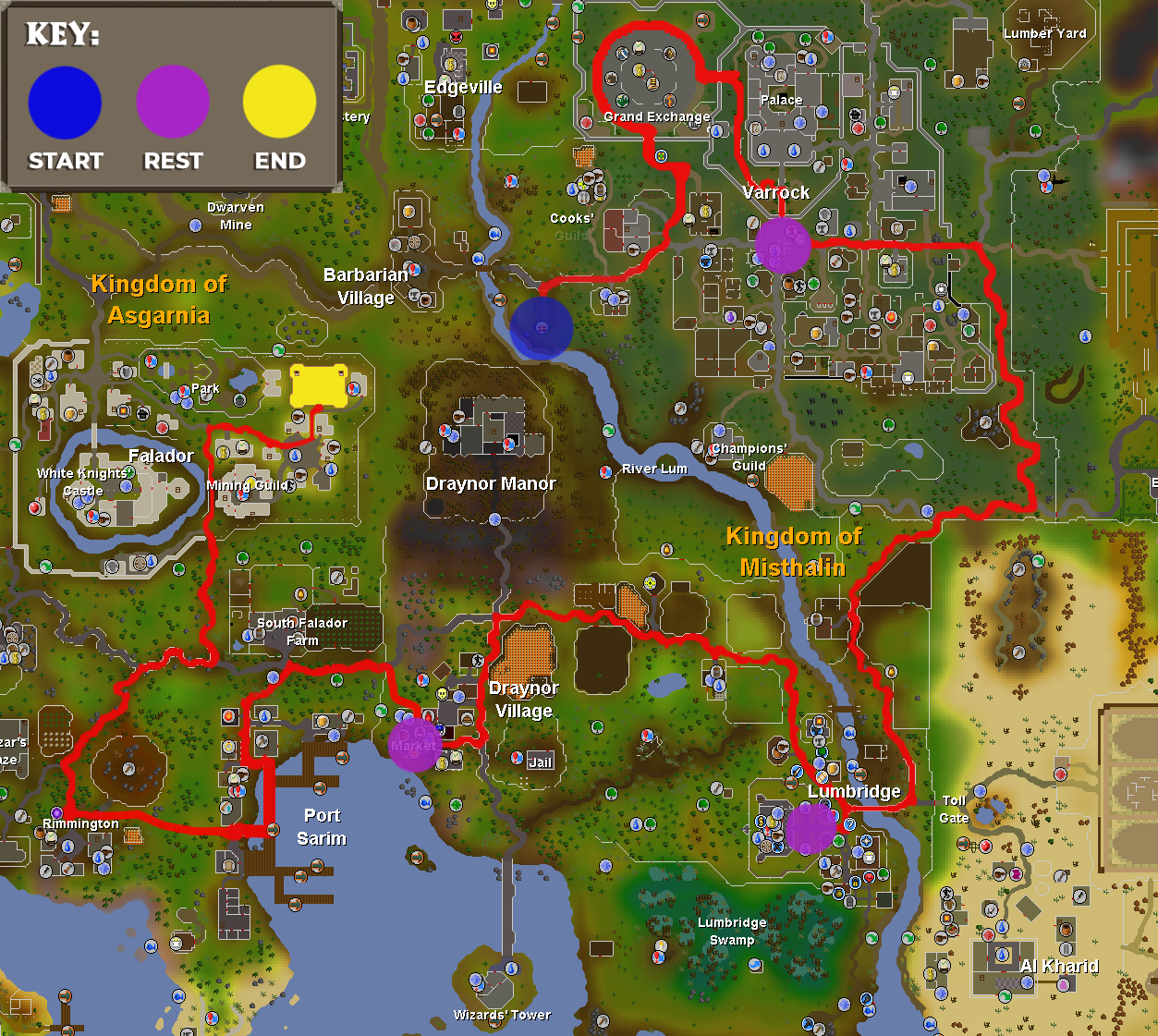 Pride Livestream (T-Shirt Giveaway!)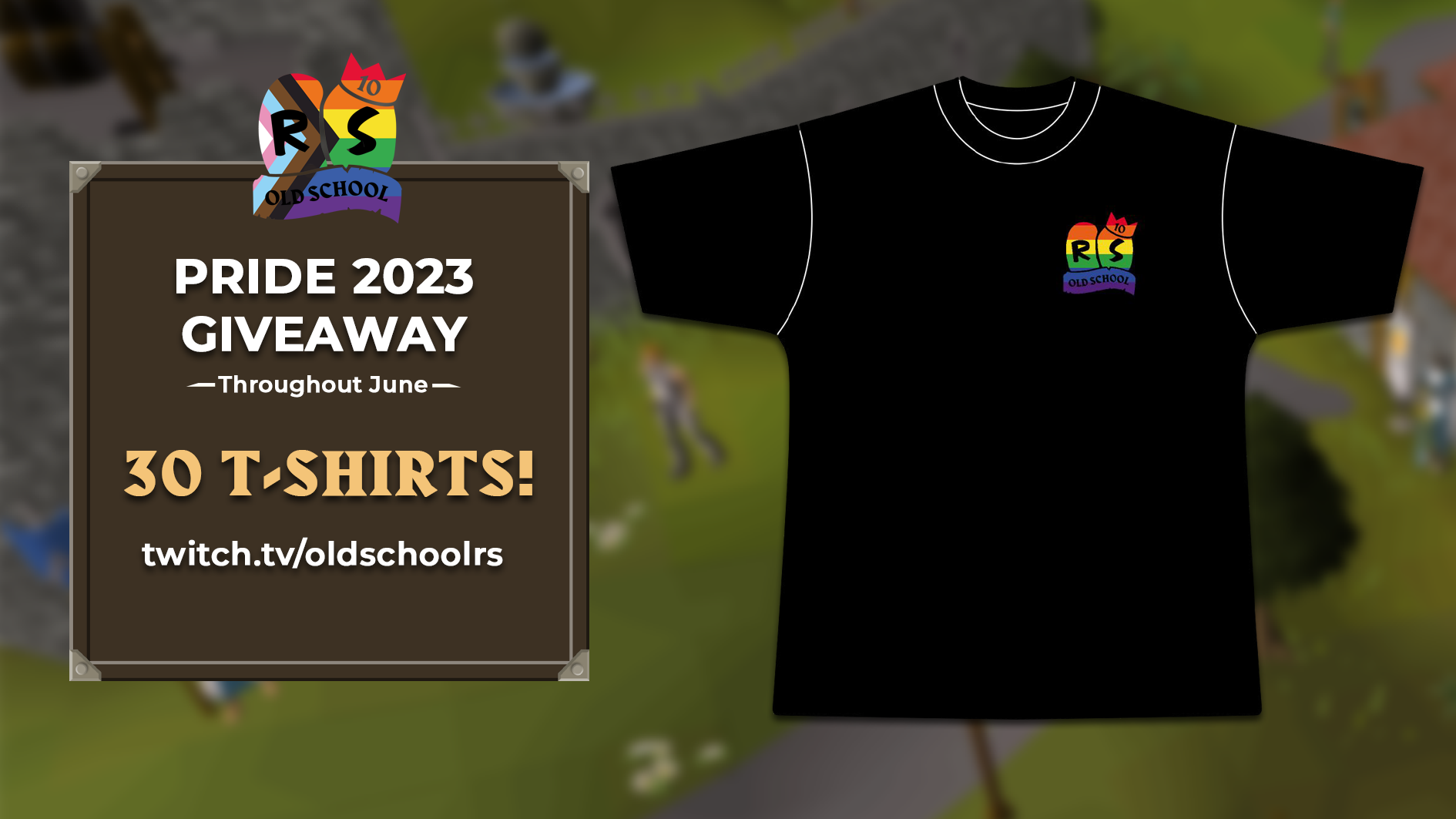 Join us in the Studio for a playthrough of the event on June 8th, followed by an in-game Pride march! You can watch all the fun on our Twitch channel!
We want everyone to feel safe and included during the event, so please note that our Player Support Teams will be on-hand to remove anyone looking to spoil the fun. This is an event to celebrate our LGBTQIA+ players, and we will not tolerate intimidation or harassment.
The livestream will begin at approximately 16:30 BST, beginning with a playthrough of the Event and ending with our In-game Pride march. Towards the end of the stream, we'll be rolling some giveaways for goodies, including a snazzy Pride t-shirt!
Whether you're LGBTQIA+ or an ally looking to show your support – let's celebrate!
Check out the terms and conditions here!

Bounty Hunter
We've made the following changes to Bounty Hunter this week:
Players will be now be able to Teleport to Target while inside the Crater if they have not been in combat within the last 12 seconds.
Players should now receive the correct warning when skipping their final target before incurring a penalty.
Players will no longer be able to leave the crater immediately after using a special attack, similar to the special attack delay present on PvP Worlds.
When a target goes into combat with their target, rogues will no longer have the priority for receiving the loot. So, if a player is in combat with their target when they die, they will be guaranteed credit for the kill, regardless of the amount of damage they deal. If the dying player was attacked by someone other than their target before they died, normal loot rules apply – the player who did the most damage takes priority.
Players are no longer able to leave the Crater while dying. This is to resolve an issue where leaving the Crater would take priority over the death.
Added a chat message upon entering/exiting the crater to let you know that you have a penalty timer if you've skipped too many targets. Similarly, you'll receive a reminder message approximately every 5 minutes.
The 'Target' dialogue with corrupted warriors will now fittingly inform player that a penalty of 30 minutes will be given after skipping 3 Skulled targets.

EP System
We initially spoke about Earning Potential way back in February. For those of you not in the know, EP is a way for players to earn extra loot while participating in an activity.
In Bounty Hunter, an EP system would mitigate the losses faced by newer PvPers and encourage them to pick themselves up and keep battling until they secure a target kill.
Unfortunately, GP generation from content like Bounty Hunter has proved… problematic in the past, and so we're being very cautious about how we handle EP. There's a delicate line between giving struggling players a helping hand and making boosting for monetary gain an appealing option.
Here's what we've changed as per our proposal:
To be eligible to earn EP, your 'risked wealth' must be above a minimum value. Currently, that value is 50,000 GP.
If you're eligible, your EP value will increase by 1% for every 30 seconds you spend in the Crater with a target assigned.
Dying to your target will increase your EP by 10%. This can only happen every 15 minutes, and you may only accumulate a maximum of 40% EP in this manner.
Successfully killing a target will cash in your EP and reward you with a Bounty Crate. Higher EP equals higher value Crates.
Obtaining a Bounty Crate will reset your EP value to 0%.
In addition:
Your EP value will not be reset on death or on leaving the Crater.
You cannot gain EP value if you don't meet the minimum risk.
You cannot gain EP value if you're currently on a matchmaking penalty.
You cannot gain EP value if you're not in the Crater itself.
You'll receive a notification in the Chat Box letting you know that you're eligible to earn EP when a target is assigned, or letting you know that you're not eligible for EP for any of the above reasons.
Bounty Crates contain a handful of Blighted supplies as well as some cold, hard cash. Again, the higher your EP value, the higher the reward will be. The table below shows the average values of different Bounty Crates:
| | |
| --- | --- |
| EP value | GP |
| 20% - 29% | 50,000 |
| 30% - 39% | 100,000 |
| 40% - 49% | 150,000 |
| 50% - 59% | 200,000 |
| 60% - 69% | 250,000 |
| 70% - 79% | 300,000 |
| 80% - 89% | 350,000 |
| 90% - 99% | 400,000 |
| 100% | 500,000 |
We've also made the following feedback changes to our proposal since we first spoke about it last week's newspost:
Players need at least 20% EP value to earn a Bounty Crate. Target kills while your EP value is below 20% will not reset your EP value.
There are now nine tiers of Crate in total.

Previous tier 2 is the new tier 1, tier 3 is the new tier 2, etc.

EP value increases by 1% every 30 seconds that you're in the Crater, where previously it was 2% for every minute.

Other Changes
The Fossil Island Bank Chest tent is now a safe area.
Soul Wars worlds are back!

Other News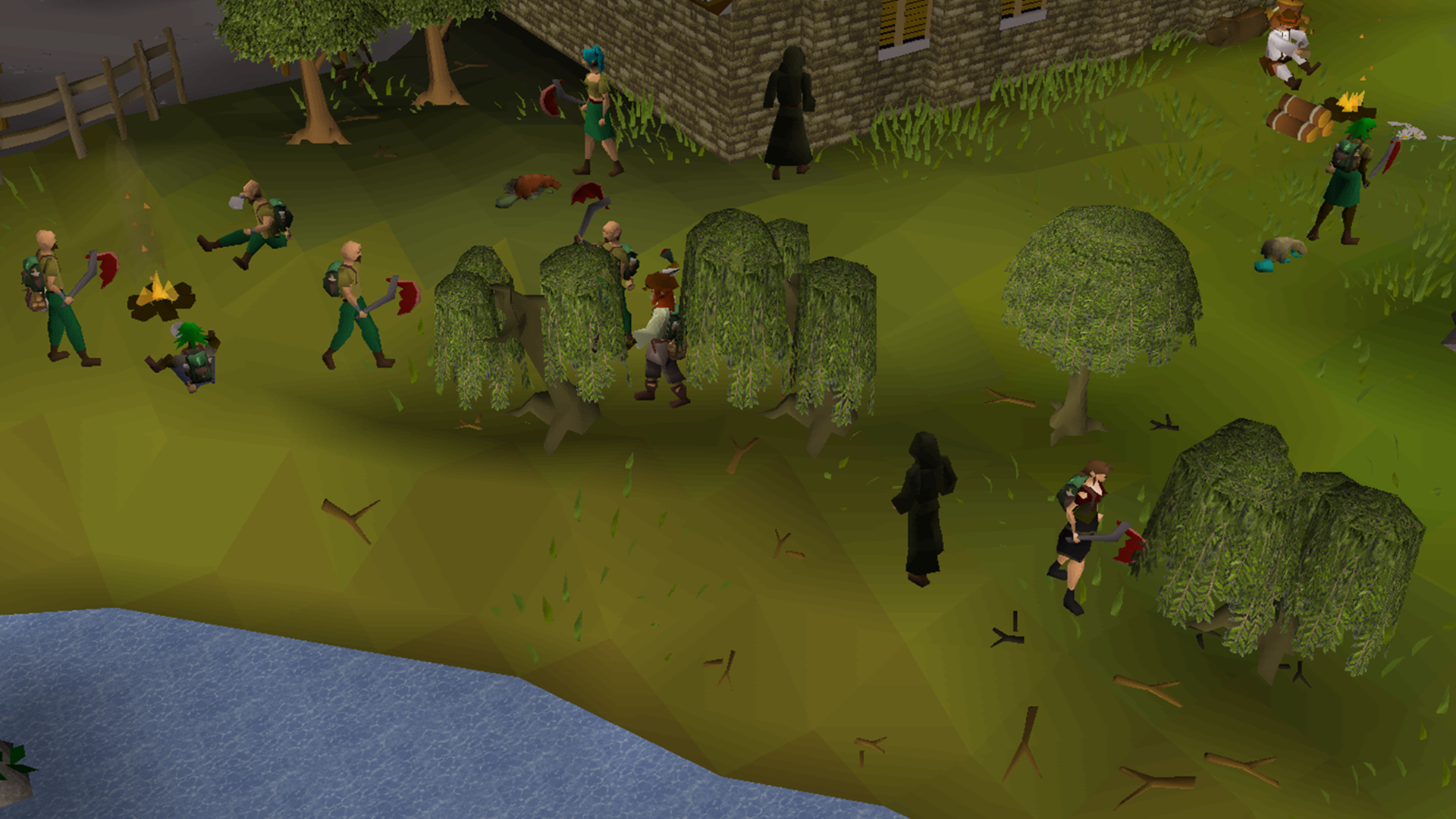 Unfortunately, the Open Beta for Forestry will be postponed indefinitely due to unforeseen technical issues.
The team are currently discussing potential ideas to give you as much insight into Forestry before its launch.
Stay tuned for an update.

Crack the Clue
Woox has provided us all with another cryptic clue this week. "They will know which step it is related to...".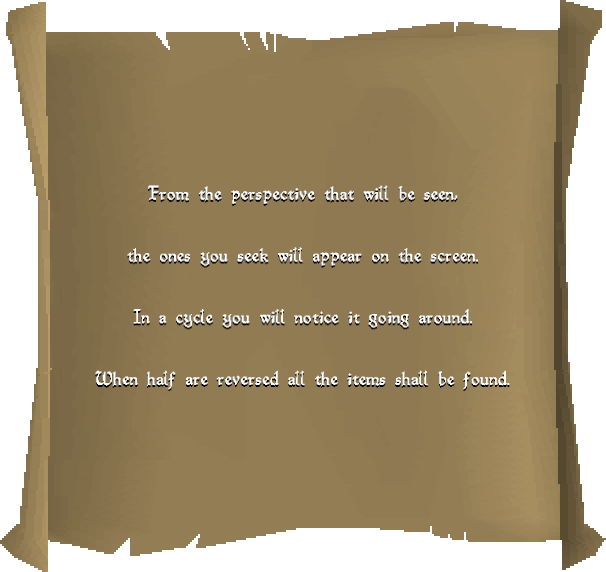 PvP Rota
The PvP rota has moved to Period A:
539 - (US) - PvP World
548 - (Germany) - High-Risk PvP World
577 - (US) - Free-to-Play PvP World
559 - (UK) - LMS Competitive
World 390 (AUS) for LMS Competitive has been activated with this rota.
The PvP Arena is using 'Max/Med' loadouts in Ranked Duels and Tournaments this week.

You can also discuss this update on our official forums, on the 2007Scape subreddit, the Steam forums, or the community-led OSRS Discord in the #gameupdate channel. For more info on the above content, check out the official Old School Wiki.
Mods Arcane, Archie, Argo, Ash, Ayiza, Boko, Bruno, Chilly, Crystal, Curse, Daizong, Dylan, Ed, Elena, Errol, Fed, Gecko, Gizmo, Goblin, Grub, Halo, Hend, Hornet, Husky, Jalo, Jerv, Keyser, Kieren, Kirby, Kurotou, Lenny, Light, Mack, Manked, Markos, Maylea, Meat, Moogle, Morty, Nin, Nylu, Other, Pumpkin, Redfield, Regent, Roq, Ry, Sarnie, Shroom, Sigma, Skylark, Sova, Squid, Starry, Stevew, Surma, Sween, Tide, Titus, Torrance, Tyran, Veda, Vegard, West & Wolfy
The Old School Team.