It's Menaphos's 1st birthday! One year ago, on June 5th 2017, we opened the gates to Menaphos, the Golden City and, to celebrate the date, we've got a Menaphos-themed update for you this week.
If you login anytime this week, you will be given a Menaphos birthday gift box. Opening this box will give you:
A Magister teleport tablet and a free untradeable key to the crossing
20 Feathers of Ma'at
A large Menaphite gift offering
In addition to receiving this gift, you'll also see that the spawn rate for both soul obelisks and corrupted scarabs will be doubled throughout the entire month of June, until July 4th.
Increased Reputation Gain Rates
We've listened to your feedback and we've increased the rate you gain reputation.
From now on you will have a 1.25x reputation boost after completing the Jack of Spades quest. This boost will further increase with every quest you complete:
Crocodile Tears 1.5x modifier
Our Man in the North – 1.75x modifier
'Phite Club – 2x modifier
Cursed Ushabti
We've also added a new item to the game – the cursed ushabti. You can create it by combining a normal ushabti with cursed Amascut sand, which has a chance of dropping from ripper demons, camel warriors, Acheron mammoths and living wyverns.
The new cursed ushabti increases the chance of catching souls by 50%, when compared to the normal ushabti.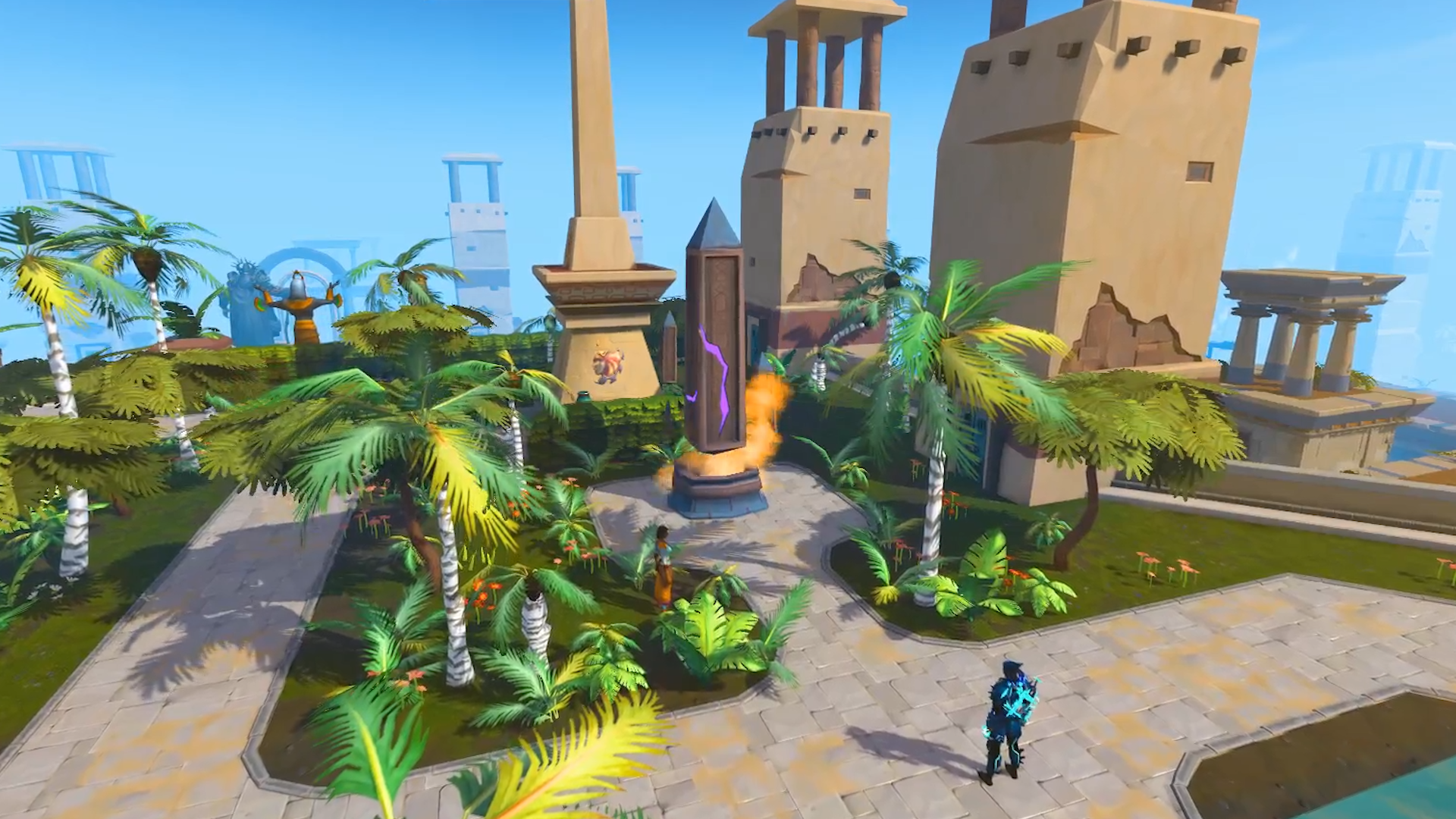 General Menaphos Improvements
We've made a bunch of quality-of-life changes based on the feedback you gave us here.
Some highlights are:
Exchange clerks have been moved to be with the bankers in the Menaphos bank
Menaphite gift offerings are now stackable in your inventory and can be deposited into your bank
Handing in pyramid tops to Simon Templeton with the elite desert achievements completed will now give 10,000 coins per top
You can read all the changes in the full list of patch notes here.
Menaphos Pays Competition
Fancy some awesome signed Menaphos concept art? Have you been planning to achieve Tier 10 Menaphos reputation?
Well, here's a competition for you: Mod Meadows has gone all around the office to try to get as many signatures as possible on some fancy A2 Menaphos concept art.
We're giving away five pieces to a random bunch of you hard workers, celebrating the new reputation gain – and Menaphos's birthday! Yippeee!
All you need is Tier 10 overall Menaphos reputation by the 25th of June, and you have a chance to win! Even if you already have it before today's rebalance, you will still be counted!
You can find out about our competition Terms and Conditions here!
You will be notified of your win, with instructions on what to do next via your ingame inbox. You have until June 25th to be counted!
Good luck Menaphites!
Price Rise
As a reminder, we will be increasing the price of membership for new members and those who've been unsubscribed for more than 14 days. The price of Bonds, Treasure Hunter keys, and RuneCoins will also be increasing, read more here
SGS Summer Sale
The summer sales are back at Solomon's General Store, with items discounted throughout the month of June. Check back every week for new bargains!
He's also adding three new playing-card outfits to his wares, including the Twisted Jester (complete with a barmy walk override), plus the Kings and Queens of Spades and Diamonds. It's time for you to up your game in your wardrobe!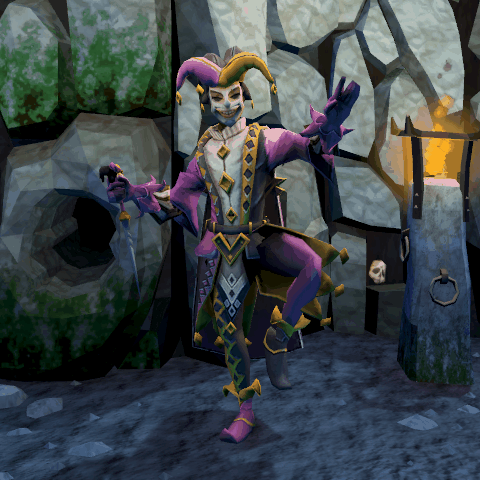 Vic the Trader Returns
Vic the Trader makes a welcome return to the game today and stays for three weeks, with the elite trapper outfit and dwarven tools being added to his store. Make sure to pay him a visit!
LootScape
Do you watch our live streams? It's a great opportunity to grab a LootScape loot chest and get yourself some awesome in-game goodies by watching our live streams every month.
Just connect your RuneScape account to your Twitch account and tune into one of our RuneScape live streams to get some free stuff!
In June, we bring back the Loots Cape! Put that extra wow factor in your wardrobe – have fun and watch the stream for a guaranteed drop!
You can connect your RS account to your Twitch account and find out more about it here.
Live Streams this Week
Each week, we live stream Q&As, in-game events and more. Watch our streams and find more information over on our Twitch channel
Check our YouTube channel, too, for recap videos of streams you may have missed!
Tuesday, June 5th – 16:00 UTC (Game Time) – June Month Ahead Q&A
Join our JMods on the sofas for a Q&A about the projects coming in June, including Menaphos Birthday Celebrations, the new In-game Calendar, the Hall of Memories and, of course, Elite Dungeons.
Watch live on Twitch and YouTube – be sure not to miss it!
LootScape will be enabled, and the Loots Cape is back as a guaranteed drop.
Friday, June 8th – 16:00 UTC (Game Time) – Patch Notes Teasers
Join Mod Shauny for the Patch Notes Teasers, a stream where he covers the main update for the next week, as well as showcases some of the patches you can look forward to in that update!
Watch live on Twitch and YouTube – be sure not to miss it!
LootScape will be enabled, and the Loots Cape is back as a guaranteed drop.
Sunday, June 10th – 18:00 UTC (Game Time) – PvM with Mod Lee
Join our resident PvM expert with another mass on Twitch this Sunday!
LootScape will be enabled, and the Loots Cape is back as a guaranteed drop.
Solak Player Gallery
We loved your art so much that we want to see some more of it for the Solak Player Gallery!
Send us your art inspired by the Guardian of the Grove for a chance to win prizes worthy of RuneScape's toughest boss.
1st place: 1 month of free membership, 3 Bonds, 400 RuneCoins, and a unique, 3D-printed, hand-painted figurine of Solak!
2nd place: 1 month of free membership, 3 Bonds, and 400 RuneCoins
3rd place: 1 month of free membership and 3 Bonds
Top 10: 1 month of free membership
Let your creativity loose! Post your artwork on Twitter, Facebook or Instagram using #SolakGallery, or send it over to us at competitions@jagex.com. Check out all details on this forum thread.
Community Events
The Pink Skirts Event team is comprised of PMods hosting community events on a weekly basis. For more information about the Pink Skirts Team, check out this thread. For more details on the events check out this thread. Here's what's on the agenda for this week:
Monday 4th June
Town Square Q&A: Europe
Helwyr Mass
Tuesday 5th June
Castle Wars
Nex: Angel of Death Mass
Wednesday 6th June
K'ril Tsutsaroth (Hardmode) Mass
Vorago Mass
Friday 8th June
Helwyr Mass
Saturday 9th June
Town Square Q&A: America
Gregorovic Mass
Corporeal Beast Mass
Vindicta & Gorvek Mass
Sunday 10th June
Town Square Q&A: Australia
Vindicta & Gorvek Mass
Vorago Mass
---
Celebrate with us and enjoy the update!
The RuneScape Team