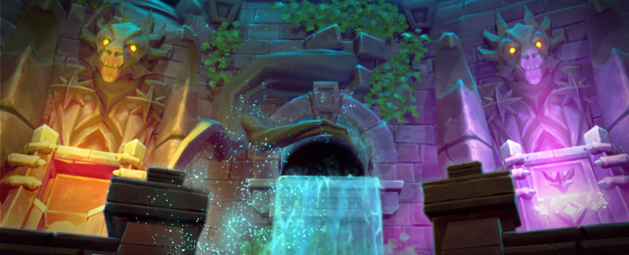 Orthen Dig Site - Coming October 19th!
It's been over a year since we established our base camp on Anachronia. How time flies when you're conducting research, chasing down the forces of evil and battling with the forces of nature, eh?
After all this time, we've discovered plenty of fascinating dragonkin objects. The Effigy Incubator, Kerapac's laboratories - we've uncovered more tech than the Varrock Museum can hold! But what other secrets might be lying just below the island's surface? It's about time we found out...
Orthen is a new dig site, based on the island of Anachronia, that aims to fill the gaps between 90-120 Archaeology.
You'll be able to visit Orthen and uncover its mysteries on October 19th but keep reading to find out more about the site, its mechanics, and of course, its rewards.
Orthen
Orthen, our mysterious sixth dig site, was once the stronghold of the dragonkin on Gielinor. From your adventures in the Elder God storyline, you already know that the island of Anachronia has hundreds of secrets hiding below its surface. Now it's time to bring those secrets into the open - and we know just the archaeologists to do it!
Unlike other dig sites, Orthen is divided into several smaller locations scattered around the island of Anachronia - and don't worry if you haven't kept up on your Agility regime, because there'll be a new, quicker way to zip about the island.
The first location you'll visit is The Crypt of Varanus, a spooky little hole-in-the-wall with a tragic story.
Throughout the dig site you'll find 10 new excavation spots of varying levels, 22 new artefacts, and 5 new materials.
Orthen is also full of mysteries to resolve - eight mysteries, to be exact! We can't go into detail because, you know, 'mysteries', but we can tell you that solving them will fill in some of the bigger gaps in your knowledge of the dragonkin.
Requirements
You'll need level 90 Archaeology to get started in Orthen, although level requirements vary between excavation spots.
You might also want to have completed Desperate Measures, which will help you out with some of the later areas.
Collector
Once you've collected some artefacts, you might want to share them with Sharrigan, a curious ilujanka who you'll remember from One of a Kind. Now that more ilujanka have been convinced to settle on Gielinor, she's keen to remind them of their roots - and discover the history of their new planet.
Relics
No dig site would be complete without Relics, and fully excavating Orthen will net you three new ones, including a flask of Soma, a dragonkin delicacy that will increase your archaeological precision... at a price.
Rumour also has it that somewhere in those ruins there's a way to increase the Monolith's power cap, which will get you access to all kinds of new and exciting Relic combinations.
Community Event
Remember that mad dash to activate the pylons in Kharid-Et? Orthen has something similar - except this time, there's DINOSAURS!
You'll get the chance to obtain Rex skeletal fragments while you're excavating in Orthen. Use these fragments to contribute to a paleontological project back at the base camp. When it's complete, all the volunteers who took part will receive an amazing XP buff, to the tune of 25% more XP in all of the following activities:
Hunter
Big Game Hunter
Anachronia Butterfly Catching
Jadinko/Grenwall/Pawya/Salamander Trapping
Golden Warbler Snaring
Archaeology
Agility
The Anachronia Agility Course
The same buff will also provide a small boost to drop rates for the following activities and items:
Big Game Hunter
Slayer
Agility Course Codices
Archaeology Materials
Rewards
New Potion Recipes
During some of the early excavations, researchers have identified the remains of what appear to be five new potion recipes! We'll know more once some keen adventurers start digging, but for now, here are their names:
Holy Aggroverload
Summoning Renewal
Archaeology Potion
Powerburst of Opportunity
Spirit Attraction Potion
Skilling Off-Hands
We know you've been clamouring for skilling off-hands for a while now and that's why the Orthen update contains not one, but two of them!
Here's what they're called:
Orthen Furnace Core
Artificer's Measure
Evocative, huh? Let the wild mass guessing begin!
Remember, you've got until October 19th to level up your Archaeology skill and prepare to take on Orthen's mysteries – so get cracking!
---
- The RuneScape Team
Back to top