'Twas the week before RuneFest and all was calm… which is a colossal lie. Not that it's not the week before RuneFest – that is very much true. But calm it is not. The Jagex office is abuzz with fervent planning, frantic scribbling, infrequent squabbling and fevered anticipation. There is much building, lots of filming and even a spot of fretting by the coffee machine. As a result it's a reasonably quiet week for you lot, but rest assured next week will very much make up for it!
It should absolutely go without saying that if you've in any way considered getting yourself down to RuneFest 2018 on October 5th-6th but have not yet got yourself a ticket then WHAT ON EARTH ARE YOU DOING? For tickets and information about all the fantastic things happening over the weekend, including RuneScape Live, head over to the official website.
QUEST POINT SHOP IMPROVEMENTS
The Lorehound's second skin (which holds a scroll on its back) will now, like the other skins, display its owner's total quest points when examined.
Quest Point armour now has the same stat reduction as other hybrid armours.
That somewhat fussy Quest Point Shop purchase button will no longer fall dead when swapping between unlocks.
The Necklace of Charos will no longer be available to those who have not unlocked it.
The Pirate Lorehound now has poly colours even when in minimum graphics mode.
ODDMENT STORE REFRESH
This week will bring with it a much-welcomed refresh for the Oddments Store! We're not going to give too much away about exactly what new items will be on offer, but let's just say that clothing, emote and pet lovers will all be catered for!
Additionally, the much request buy 'multiple option' has been added for all items in the oddment store.
BJÖRN
Everyone's new favourite lightning bear, Björn, will be available via Premier Club tokens and by redeeming a green or red pre-paid game card between October 1st-31st. This will be the final Lightning themed item available to players, following the weapons and armour.
Patch Notes
Here's a selection of the patches on the way this week:
Player Owned Farm – Fires which are lit in pens are no longer visible to all players.
Players can now reacquire a New Key from Mourning's End Part II for their keyring.
Damage from Mutated Barge will no longer persist beyond the end of a duel.
You can read the patchnotes in full here.
RUNEFEST- THE DRAGON IS AWAKENING
RuneFest is a celebration of our love of RuneScape, and we want to share that with each and everyone of you. Yes, even if you're behind your screen. This year is set to be the biggest RuneFest to date, and we don't want you to miss a second of the action!
If you plan to come, there's still time to get your tickets here. But don't worry if you can't make it, we will be here to follow this amazing day with you on our platforms: Twitch, YouTube, Facebook, Twitter and Instagram. So grab your agenda and keep on reading.
A full day of livestreams
The online fun kicks off this Saturday October 6th at 10:45AM (UK Time). Join us for a full day of celebrations LIVE from the Main Stage on Twitch: opening ceremony, cosplay show, content creators highlight, quests & lore surprises, the Golden Gnomes Awards and of course, the awaited RuneScape Reveals keynote!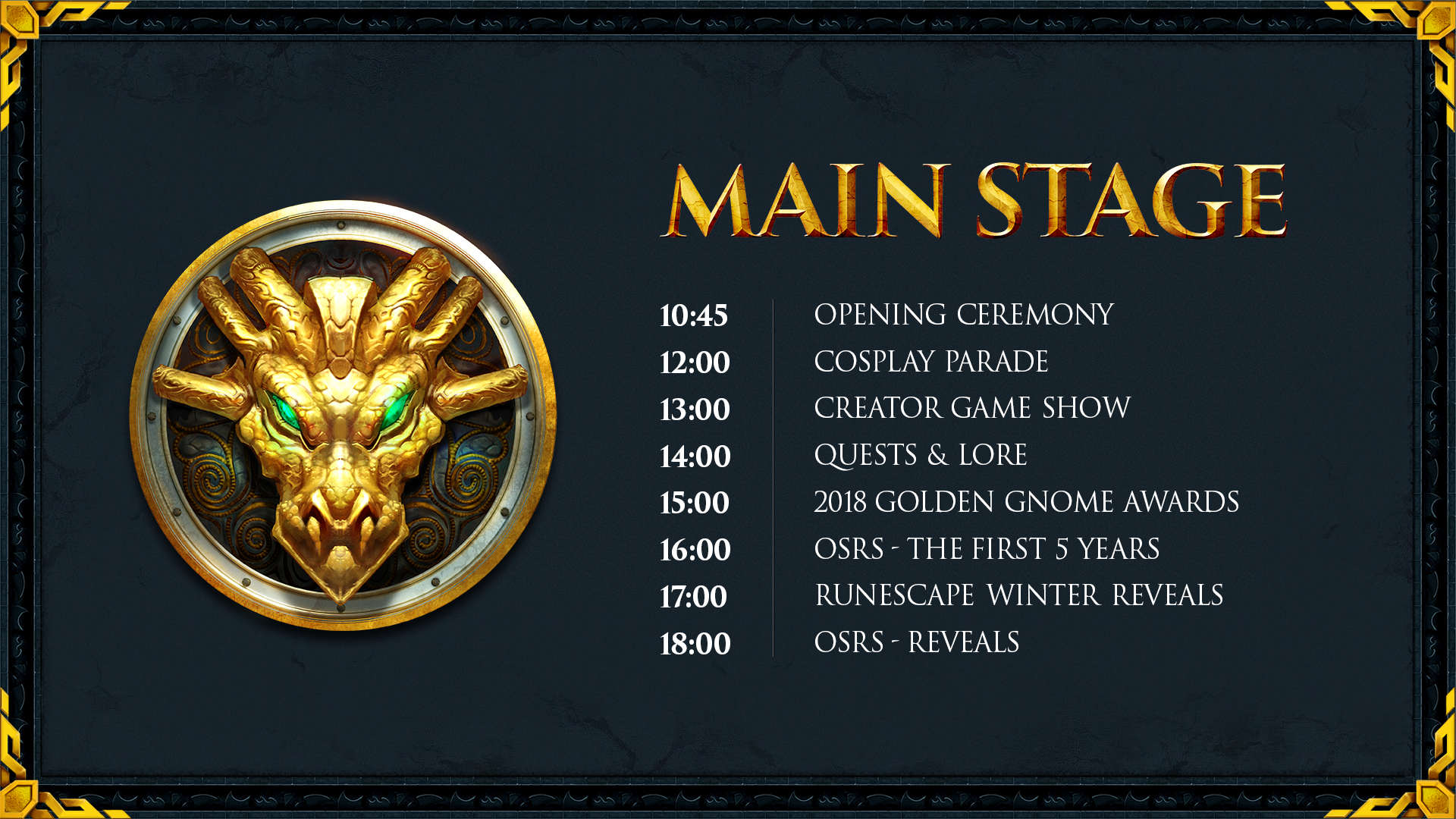 LootScape will be enabled for the duration of the whole stream, and (SURPRISE!) a special Drinking Horn will be granted to players watching the stream. See details below.
And that's not all! Our JMods will be up and running all day long to show you all the fun activities we're running on the show floor. Check out the full RuneFest schedule here and keep on reading below to have a first idea of what to expect.
Where to follow from home?
TWITCH – Don't miss the big events from the Main Stage, subscribe to our Jagex at RuneFest channel and Set a Reminder to receive a notification when the show starts!
YOUTUBE – If you don't want to miss our Cosplay Workshop, see A Day in the Life of a JMod and more, all our panels will be recorded and shared on the RuneScape YouTube channel .
FACEBOOK – From the biggest announcement to exclusive looks at our main activities, our Facebook Page and the RuneFest Event are where you should keep your eyes on.
TWITTER – Live cover of our events, reveals, backstage sneak peeks, competitions and more, follow our RuneFest or RuneScape accounts to know what's happening during RuneFest almost as if you were here! Our JMods will also be here to answer your questions, and don't forget to use #RuneFest2018 to interact with the community.
BLOG – The one and only place to find ALL the details on upcoming content we will announce and summaries of our Reveal keynote!
INSTAGRAM – If you want to see RuneFest through the eyes of our JMods, you're in for a treat. Expect a live photo coverage from all around the show floor on our official RuneFest Instagram account.
LOOTSCAPE
If you've been watching our livestreams, you must know that it's a great opportunity to grab some awesome in-game goodies. And for RuneFest, we've got something really special for you! Just connect your RuneScape and your Twitch account, then tune into one of our livestream during the day to receive this very special item:
Drinking Horn - It's now become a tradition for Mod "Og" Mark to bring a drinking horn at RuneFest, and since this year's theme is in the Viking lands of Rellekka, it's time to share. You can get your hands on your very own Horn – and no "Ironman btw" this time, the loot is for everyone!
Exciting isn't it?! So don't wait up, connect your RS account to your Twitch account and find out more about it here. Once that's done, have fun and watch our streams during the day for a guaranteed drop!
RUNESCAPE OFFICIAL SOUNDTRACK
Have you listened to our RuneScape soundtracks yet? We have partnered up with video game soundtrack specialist Laced Records to release two albums that are available to pre-order both on double deluxe vinyl and CD now – RuneScape: The Orchestral Collection and RuneScape: Original Soundtrack Classics. Both of these albums are also available digitally PLUS buying either physical version also includes a digital copy.
Pre-order here (shipping this November).
RUNESCAPE SURVEY
At Jagex, we are always looking to our players for help and guidance on the future of RuneScape games, both current and upcoming. We are running a survey to ask players what RuneScape means to you, and hear about other games and activities that you spend your time on.
Those who complete the survey will be entered into a prize draw to win one of fifty $50 Amazon vouchers (or your stated country's equivalent currency). On top of this, five lucky participants will also receive a huge 60x40 cm (23 ½"x15 ¾") print map of Gielinor!
Help us guide the future of RuneScape! Follow this link to take part in the survey.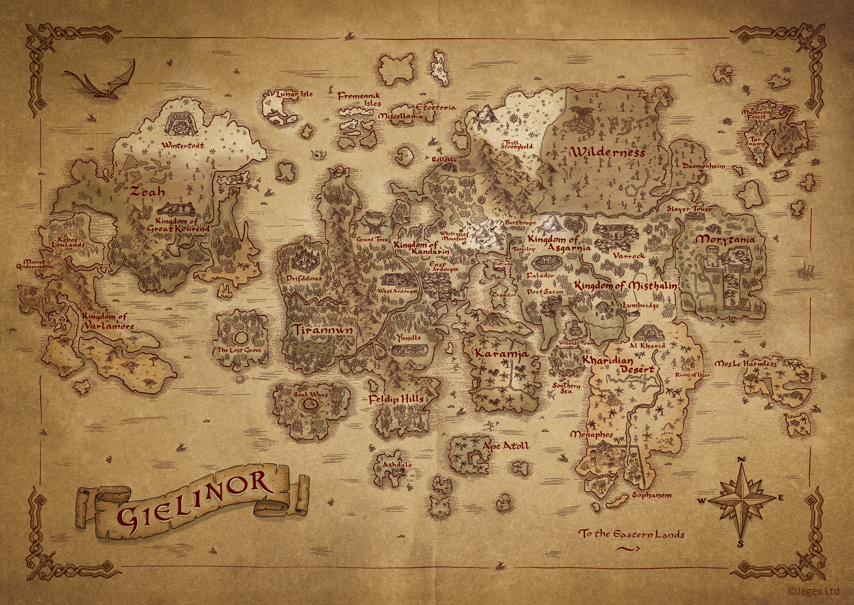 PINK SKIRTS EVENTS
Of course, adventures continue in Gielinor! If you want to follow all our announcements from our Twitch channel or networks while you're playing, well you absolutely can. Our PMods will organize a range of PvM Boss Masses, Events and Q&As throughout the week and during RuneFest. Check out all the community events organised by the Pink Skirts on their official schedule here
That's it, gang. We can't wait to catch up with many of you at RuneFest 2018, and we'll be back next week and reckon we might just have one or two things to talk about!
Take care.
---
The RuneScape Team