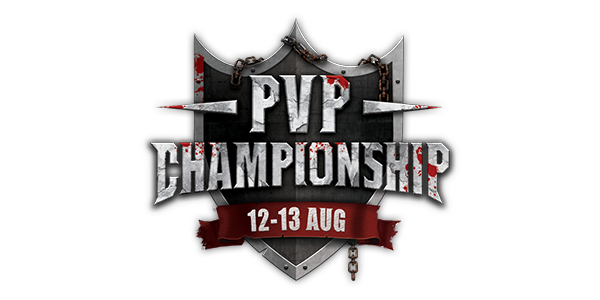 PvP Championship

The PvP Championship is our most ambitious foray into competitive combat so far. $30,000 is on offer to the best of the best. Ready your teammates and prepare yourselves to join the onslaught!

What is the PvP Championship?
The PvP Championship encompasses three bracketed tournaments:
16 individuals will compete for $10,000 in the 1v1 bracket

16 teams will compete for $10,000 in the 5v5 bracket

8 teams will compete for $10,000 in the 20v20 bracket

The tournament will run across both 12th & 13th August at the following times:
4pm UTC / 12pm EST - 10:30pm UTC / 6:30pm EST on Saturday 12th

4:45pm UTC / 12:45pm EST - 9:45pm UTC / 5:45pm EST on Sunday 13th

Over the course of the weekend we'll see a total of 256 players compete in pursuit of a total prize of $30,000 shared across three competitions. Applications are now open for teams keen to enter the 5v5 and 20v20 categories. So head to our dedicated
PvP Championship article
to learn more about the tournament, and for information on how to enter.
Join the fray on
twitch.tv/runescape
on Saturday 12th and Sunday 13th August!

Mods Archie, Ash, Ed, Ghost, Jed, John C, Kieren, Mat K, Maz, Ronan, Roq, Ry, Stone, Sween, TomH, Weath, West & Wolf
The Old School Team