This week's livestream focused on Varlamore: The Hunter Guild! Topics included:
Thanks to Mod Sarnie (Community Manager) and Mod Other (Junior Content Developer) for their insights!
DISCLAIMER: Livestreams are a glimpse into the ongoing creative process at Jagex. JMods are speaking off-the-cuff and their comments are not intended to be read in the same way as prepared updates from the company. Please keep this in mind when discussing the Q&A!
Missed the livestream? Check out the transcript below! Or, check the YouTube VOD!

Question #1
Why did you decide to remove Hunter's Bolas?
Mod Other
There's an element of working out what the players are comfortable with that's gone into it. I'm trying to put forward the idea of a hybrid weapon and finding a slot to pitch something that is going to be thematic to Varlamore.
A lot of my ideas are like, we're going to this new place, we're seeing a lot of new people, they're going to be doing new things. Because if they're doing the same old stuff, do you really want to walk around and explore and get to know them and see what they're up to? You're not gonna get anything new!
Then that sort of tempered with a hit of the fact that we don't want to introduce peak PvM equipment from Hunter necessarily on its own. So those were all my initial thoughts for something thematic. Yes, there is history there - that's kind of the big weight on the idea. But they would have fit - the things that were looking to be hunting.
I thought it would be a cool weapon that really does fit that hybrid, where you're throwing it and you need to be accurate with your range, but you need to be physically strong to really pack that punch. I toyed between bolas, spears, the idea of a weapon on a string which would be kind of cool as well. I believe things like that may be explored elsewhere in Varlamore. We've certainly had some good discussions internally about that kind of weapon and what we can look to do with it.
However, we opted to swap off of bolas, almost back to the original spear concept, just because there's probably too much history. Even though a lot of us on the team were comfortable with the fact that they were actually very different, we had taken into account a lot of the original concerns of bolas, when we looked at sort of spec cost and the power level it's going to sit out and how you have to get them. But really, it wasn't gelling - the feedback was mostly that it just wasn't quite gelling.
Therefore, we reverted to the original design, and that's okay. I think we're still gonna get something really interesting in this Hunter's equipment kind of thing. I think we lay some interesting foundations here; designs that we can then build on. We've got Game Jams coming up - a really good opportunity to explore that!
Mod Sarnie
Very true. They did fit very thematically with Hunter as a skill. And I saw a couple questions in chat, actually, about the history of bolas. It's not the history of bolas as a weapon, in IRL purposes, but bolas were, I believe, introduced previously. And there was contention about how they were used previously. As Mod Other has said, we looked at them when we were designing them.
Youtube Time Stamp

Question #2
How will the Hunter's Spear be useful without the Bola's special?
Mod Other
This may be a controversial take, but I don't think it has to be useful. It doesn't have to drop with this obvious "I'm gonna get the Hunter spear and do this exact content". I think it's a very restrictive thought that everything that we design has to have some immediate place where it is the best item you can use for it.
Because what happens is we keep them reverting to type. We think about "Can we do something new with combat? Here's an idea for a thrown weapon that scales off of your melee strength." Do we have a couple of places where actually you might be swapping between ranged and melee, and this serves as almost like an entryway into gear swapping? Yeah, I think we have room to say that this probably works as a really good entry into content where you're gear swapping. You're thinking about so many things, and maybe it just cuts it down a bit. Maybe you don't have to swap your armour anymore, because you've got a weapon that's going to hit through some creature's melee prayer.
I really want to dispel the notion that absolutely everything has to come in, and it has to be useful. Because I think we just end up in this situation where we abandon creative ideas, and potential in favour of saying, "Players would want this to only be useful" when it's not a massive investment of the dev time on this project to have a go with something like this. So that's where we're at, we're having a go.
Mod Sarnie
Yeah, and we thought; it's still there and it still works with the mixed hide set, which is what the mix hide set is based on. It is why we put in there because it emphasises the idea of a ranged weapon that can use melee strength, which is an interesting angle to explore and definitely offers or allows us to open up the reward space a little bit more by using this as a supposed kind of testing ground. But it's definitely something that could fill some gaps or niches. It'll be interesting to see if they pass, how you guys would use them.
Youtube Time Stamp

Question #3
Are rumours one and done tracks or are they more akin to Slayer tasks, where you would have to hunt a certain amount of creatures?
Mod Other
I actually played around with both ideas. The one we're going with is, you hunt, and then at some point, you will get the drop. It's a little bit RNG. The attempt will obviously be to balance it, so it doesn't feel too bad and you're not necessarily going to go there, hunt two creatures and leave.
I'm trying to get people out hunting in the world. I want to see people at different Hunter locations. I thought about a numbered base system. But for me, it didn't sit with the thematics of Varlamore, or of the guild. A lot of the design decisions, I think will make more sense when we have this full picture of Varlamore from future blogs on other content we're introducing and the stuff we get through the quests etc.
It's not specifically numbers based. I didn't want people fishing for things where the numbers are optimal. I really wanted to have a design that really dissuades people from trying to find something like "It's only worth doing like XYZ rumour, because this is going to maximise your time to rewards." That ends up feeling less rewarding for people doing certain skilling methods. Let's say you want to tick manipulate box traps to speed up times where you're using them. If it turns out that there's actually an optimal meta where you never do that, then you've got this skill and you haven't really got room to use it and express it… It's about finding that balance basically.
Mod Sarnie
It's definitely different. It is based on that same sort of premise. But I feel like Hunter rumours needed that difference rather than just being a copy-paste of Slayer task.
For those who didn't read the blog, actually, we did estimate that would take about eight to ten minutes - obviously, RNG dependent. Sometimes you might get spoon-fed a rare creature part, sometimes might have to go a little bit more just to get there, but that's the sort of average we're looking at, at the moment.
Youtube Time Stamp

Question #4
For what content do you see the Hunter's Sunlight Crossbow being used?
Mod Other
It's an interesting one. A quicker Crossbow offers something slightly different. Mostly perhaps this is my own frustration with regular Crossbow speeds where you're about to attack, you're one tick short and then you click to move because there's like a mechanic you need to dodge or you just click to move because you want to move. I do that quite a lot. I think it has a use as an alternative where you don't want to lose those ticks, because you're moving at it too early or you're doing something a tick too early. I think going forward, it opens up a lot of doors having almost an alternate progression path through Crossbows.
You have your metal Crossbows where you've got your Enchanted Bolts, and you have that progression. What I want to encourage is this development of a progression path that's like Hunter's Crossbow, Sunlight Hunter's Crossbow, and a range of bolts from like higher and higher level creatures that do interesting things.
Hunter creatures could offer so many different things. Imagine bolts giving you another way to poison creatures using some poisonous creature to make Hunter's Bolts - that was one that ended up cut from the design. The idea of applying a bleed as well is really cool - you could get like jagged bolts made out of bones that would then bleed your target. I think it just offers this alternative to "Here's a bolt proc that completely bypasses your opponent's defence." We can always do status effects with Hunter's Bolts where they wouldn't really fit as much with the Enchanted Bolt kind of system.
Mod Sarnie
Yeah, I think there's definitely room to explore new avenues for bolts, especially specifically with the Sunlight Hunter's Crossbow being used, which is definitely a cool avenue to go down.
Youtube Time Stamp

Question #5
How much of the feedback changes were due to PvP feedback?
Mod Sarnie
These changes that we've made; we don't just look at one area for feedback, even if they do contribute to making the change. So none of these changes was just because of PvP feedback, or just because of use against other players. There's multiple angles on it. Just please bear that in mind, even though it might seem like that, that's not the case!
Mod Other
I think the easiest way to put it is, we had a lot of these considerations in the design phase - or at least I did, because it's mostly my design. There's a lot of information that we can't blog, because no one's gonna read a dissertation length design. They might listen to it though, to be fair!
What we've done is; we've looked at a huge amount of aggregated feedback from the surveys from Reddit, from Twitter from everywhere that we got feedback. And we sat down and we said, "Okay, are we introducing something that is going to be unhealthy for certain areas, in a way that we can avoid on the content side?" For a lot of the changes, they're true to the design, but we've given them a little vitamin shot, so they're healthier!
I think it's really important that we do that. We do need to keep in mind that some people will just use new things to rag with and perhaps that's not going to work when we've done a lot of really good things for PvP updates, then to turn around and be like, "Here's a whole bunch of cheap stuff for raggers." We end up contradicting our own design philosophies by not making these changes. So I think some would have been due to PvP feedback and concerns, but that stuff was in design already.
Mod Sarnie
Maybe I should have been a bit clearer in the blog, like exactly what areas it was addressing and use the word ragging, because that was the problem, or at least one of the problems we saw when we were discussing feedback. So, maybe that's on my part to actually say, "Look, this is part of the reason why." It's important because that they would have been – it seems like, from all our discussions and the feedback we saw – an easy go-to. And not just an easy go-to, a very easy go-to, which we wouldn't have wanted.
Youtube Time Stamp

Question #6
Can we have a different use for Fennec Foxes than killing them? They're too cute to kill.
Mod Other
Oh, gosh, a lot of them are too cute to kill! This question speaks to quite a deep issue with Hunter as a whole, in that it's Slayer with traps rather than combat. But yeah, a lot of the things are pretty cute and perhaps killing them is not the right approach. As it stands, we're not rebuilding Hunter from the ground up. We can discuss a potential replacement to Fennec Foxes. Maybe there's something that people would be more comfortable, trapping with a giant rock falling on their head. But where we stand is that we have these creatures, they look really great, and we want to make use of them. We don't want some fantastic models and animations sat in storage, because there's no use for them. That's kind of where we're at with Fennec Foxes. But they are very cute!
Mod Sarnie
They are cute! But this is Hunter. We're here to hunt things! For me, it doesn't matter how cute something is. If it's in the Hunter skill, it is there to be hunted. And don't get me wrong. Fennec Foxes are so cute, but if it's gonna get me some XP and some goodies out of it, they're going down!
Mod Other
I mean, if we want cute things, we literally have Chinchompas that we throw and explode on people. So if the Fennec Foxes don't explode, I think we're really doing well compared to Chinchompas.
Mod Sarnie
They are literally the essence of cute, explosive creatures. So it's something that you should keep in mind when looking at the other creatures we're pitching. Chinchompas are so adorable. Maybe think about that, maybe have a moral dilemma next time you're throwing a Chinchompa at somebody or something. Think about what that little life means! All right, we'll move on to the next question before we delve down the rabbit hole of creature ethics. (laughs)
Youtube Time Stamp

Question #7
What would you think of allowing players to eat again during the Hunter meat heal over time - forfeiting any remaining healing from that meat?
Mod Other
I feel like this was one of the big discussions that we've had internally following the feedback. Some people didn't like the element of being locked out from eating again, and found that would be too disruptive.
Personally, I'm kind of 50/50. I think we introduced an interesting difference to that eating system where you don't just want to take an inventory full of Hunter meats, you want to have Hunter meats to give you the extra hit points. And then you want to have things that you can eat in an emergency, if you've already eaten something else.
I think the idea of forfeiting the healing is the right balance to allow players not to be restricted. Because then you're effectively still rewarded for risking waiting for that heal by getting it. One of the tweaks we've made is bringing some of that healing, taking it out of the upfront and increasing the delayed heal, because that is what the design is for. It's something that changes up how we eat, and adds an element of decision-making and an element of risk.
I don't really know how people are going to use these. We've had some discussions internally like, "If it's reliable, then, what about tick eating?" Well, this could be a really creative way to tick eat, depending on the implementation. I think allowing them to eat again, forfeit the heal, that's kind of fine. It forces you to make a choice, because I think that probably addresses a question we're going to have coming up later about what happens to fish when we introduce things that heal more? What happens to fish when players get the ability to stock up on Saradomin Brews and Super Restores? We need players making an active decision between the two. That is where the design has ended up.
Mod Sarnie
Yeah, and I think it's important to note as well - alongside the brew statement - that not every fish right now is there to constantly munch down and regain your health. You look at things like Karambwans and Anglerfish, for example. You wouldn't fill your inventory full of Karambwans, for example. They're there as a utility to help with healing.
These could be seen in the same light as them. Maybe you don't want to bring an inventory full of them. Maybe you want to just bring a couple that would give you that boost, when you know you're not going to be damaged again for a little while. I think it's about looking at alternatives, rather than replacements to food. Because there's so much we could do with food as a whole and healing mechanics. It's just about making sure that there's alternative options, because it's a place we haven't really explored before, but it's probably worth exploring.
Mod Other
Yeah, and I think on that exploration front, we have had a lot of internal discussions about the food economy and if it's something we want to look at tweaking and expanding on. It's something that is certainly prevalent to me. I spent some time looking at the Wintertodt damage formula for example. There's no better way to really realise the weird situation we are actually in with food, than just looking at content that does constant damage to you.
There's this massive gulf right now between fish and then brews. We have anglers - anglers are a really cool idea with the over heal. I think we should also be looking at that, and the idea of more over heals perhaps. Or things that you can use, where you can almost preemptively heal and then take the damage and you still get value. That's where you lose the value of fish. Such as, you've lost 10 health, there's a boss mechanic that could hit you for max health. You're going to waste half a shark getting up to full to avoid the mechanic. What about something that's going to give you 10 health, you take the damage, then you get some more health? Who knows? Maybe that's got use!
Youtube Time Stamp

Question #8
What other effects did you consider for Hunter meats?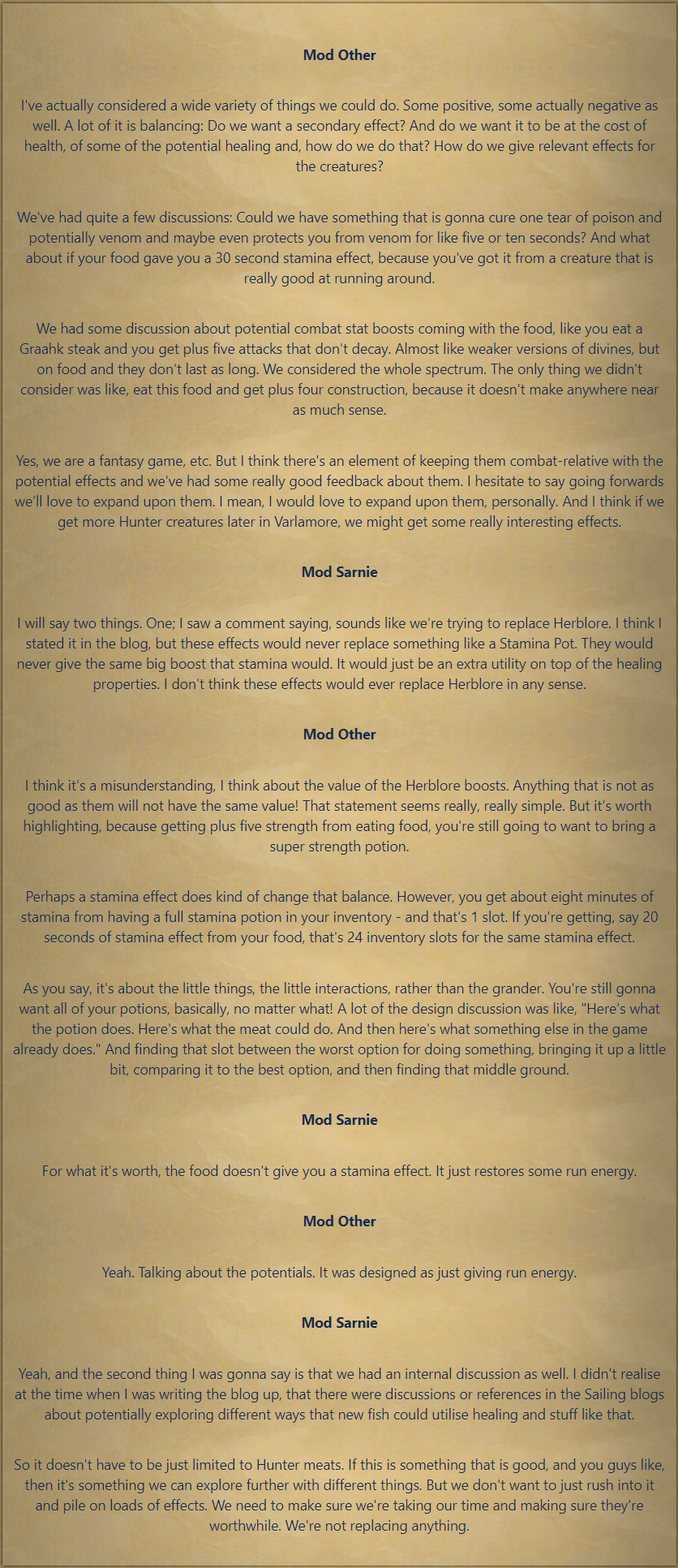 Youtube Time Stamp

Question #9
Are you wary of invalidating fish by adding Hunter meats?
Mod Other
We've sort of already discussed, but I will say we are very aware. I think we've had a lot of opinions from people weighing in, in terms of experience with the game and the level at which we play the game. We've got some absolutely fantastic PvMers on the team and PvPers, and things like that. We made sure internally to take in as much information from everyone that we could. Fish would still have their place. But probably can't sit here and be like, "You're gonna want to use them here, here and here." We want to leave things to players to work out and let players set the value.
I think the fish will be fine. If we sort of invalidate fish, then maybe we send them to therapy, but they'll get over it.
Mod Sarnie
That's not what I envisioned coming with the Sailing skill; a fish therapy centre. But who knows? (laughs)
Youtube Time Stamp

Question #10
A lot of Hunter meats aren't worth keeping or cooking because they're only mediocre foods. What would you think about allowing for skewered beast meats (and other such cooked Hunter meats) to be used with leaves to craft Forester's Rations?
Mod Other
My first reaction to reading that question is effectively the same reaction I was given on my first design for Hunter's meats: It's too much! I think you are going to have a better time with it, if it is slightly lower healing.
Don't get me wrong, I love the idea of skewers, I really wanted to go with that. But I'd say it gets really sort of picky. You end up having to do so many steps, when you could just fish for a Shark or an Anglerfish or Karambwan. The simplicity is key!
As for interacting with Forestry leaves, I considered that sort of interaction; maybe you can do some herb interactions with the meats to give them that secondary effect. But again, if it's a broader thing we're looking at here, where we've got nine or ten creatures giving you meats, it becomes too much.
I think if this were a Cooking expansion, and we were looking to do something really interesting with Cooking, we could then take the Hunter meats that we introduce and add a new way of cooking them. Maybe you can make a meat and fish skewer. Maybe you combine something with a Karambwan on a skewer and you can use that to combo eat.
I'd say a lot of it was considered in the design, a lot of it felt like too much. We'd like to keep it simpler, it's more approachable to players. It gives them more value for their time as well. Respecting that time investment and finding the balance there.
Mod Sarnie
I agree. I think that process would be too convoluted for something we're trying to introduce. We'll introduce in slow increments, and then see where we can go from there. But right now, I feel like it's in a good place, where you unlock Varlamore, you get the trust of the locals and you unlock a new Cooking method that gives you a different flavour of food, which is nice.
Youtube Time Stamp

Question #11
Are you concerned about giving the Hunter skill a 3rd pet, when some others only have 1, if any?
Mod Other
Am I concerned? No. I have been tasked with doing a Hunter guild. My concern for other skill pets right now is zero. Hunter having three? Yeah, well, why not? Hunter as a full skill, as you hunt all the creatures and maybe get a pet - you don't actually have one. You have a Chinchompa pet and you have a Herbiboar pet.
I think that's where there's disconnect, between the idea that Hunter has 3 pets, and there would be 3 pets gated behind Hunters as a skill. But this one would actually require you to be using a broader spectrum of that skill, much like other skill pets do.
It's kind of a weird one to sort of talk about, because like you look at some of the other skilling pets. I've seen people think about things like, "How's the drop rate going to be compared to the Phoenix?" The Phoenix is like half a Firemaking pet, and half a Wintertodt pet. I think the true skilling pets, this is more in line with. Because again, you're doing different things, you're not just doing the one activity to get the pet. This is obviously with the exception of people trying to speedrun getting all of the pets who will probably be doing one strategy, because it's the best drop rate for their time. But no, I'm not really concerned.
Youtube Time Stamp

Question #12
Can we get pets that we trap around the world we can keep and breed at the Hunters Guild?
Mod Other
Oh, that would be a really cool idea! It's giving me ideas for future Game Jams. I like systems where you do things and the world itself changes around you, rather than "you do something and then you have something new on your character" So the idea that you can capture creatures and have them show up in the guild - it's kind of got Monster Hunter vibes,where if you trap the creature, it shows up back at whichever base camp you're using. It really depends on the game as to whether it's a camp, or a dock, or whatever.
I like that idea. It's one that I have toyed with in the past for Hunter stuff, and I'm sure we'll have a look at it in the future. I think the Ardougne Zoo could do with a really big refresh. Maybe that's a concept we can use there, and just be like "Hey, we've actually put some new creatures in the Ardougne Zoo, because we've got new pictures from Varlamore. But you need to do a quest where you go out and capture them!" You know, it can be lightweight, it can be fun, but it can follow that idea.
Mod Sarnie
I'm seeing a lot of Pokémon and Monster Hunter references in the chat as we speak. I did see someone ask "When shiny pets?" Would you imagine how destroyed the pet hunting community would be if we introduced something like that? Insane.
Mod Other
I mean, I guess we have the golden Chinchompa at 1 in 10,000. I guess the idea of a shiny pet, that the pet drop is shiny and not like it's made shiny through interaction of some kind. Oh, the collection log would never be finished at that rate…
Mod Sarnie
Pet hunters would be going for years and years and years. I love shinies, don't get me wrong. Shinies are great in Pokémon. Old School pets? Maybe not so much.
Youtube Time Stamp

Question #13
Is there a way to make existing Hunter outfits relevant with this update?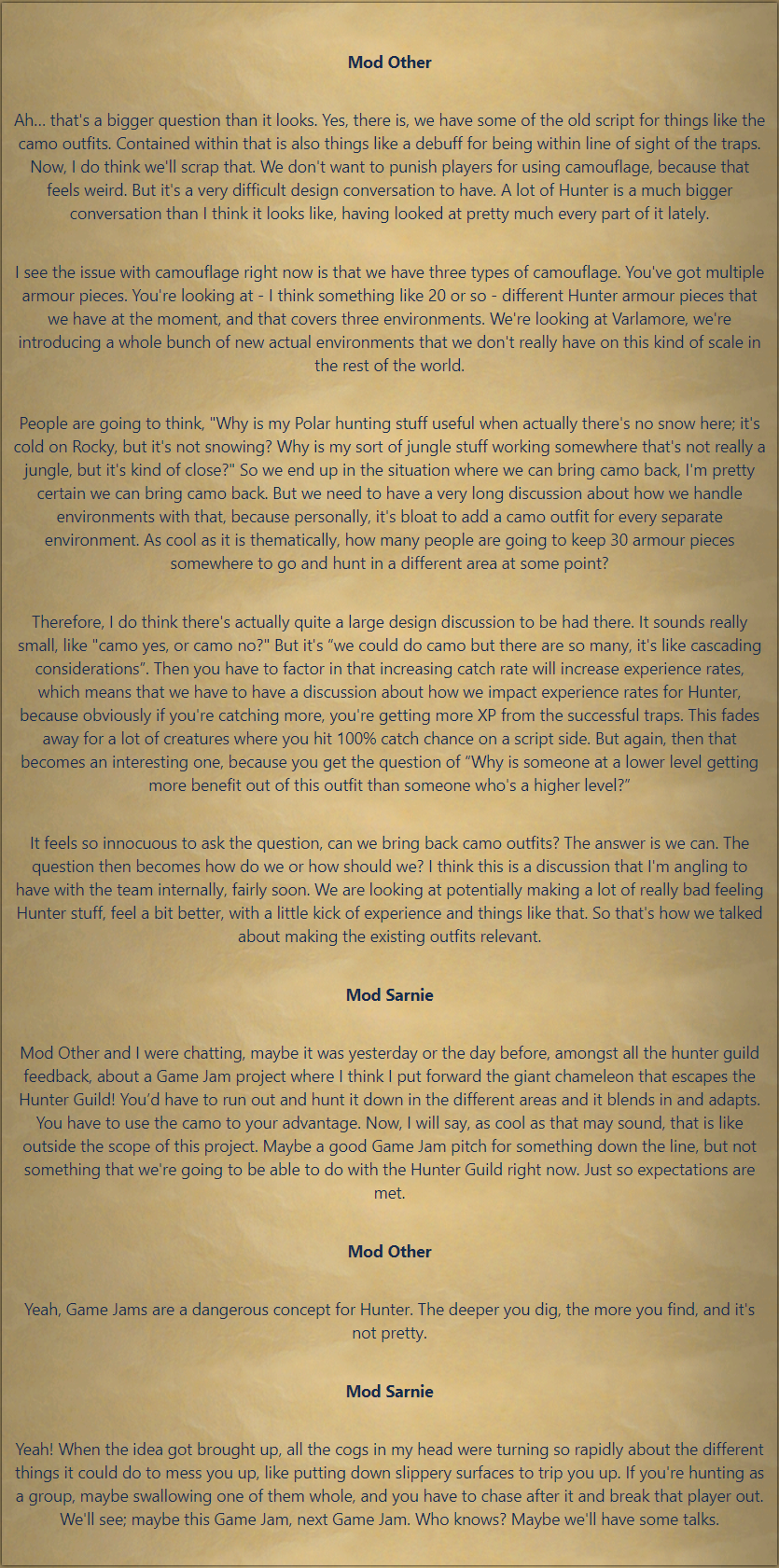 Youtube Time Stamp

Question #14
Can we please craft the Hunter outfits ourselves instead of paying to have someone else do it for us?
Mod Other
I'm working on it. It's not something that's come up in conversations because to me, it feels like such a given that I just don't talk about it very much. The intention is for anything that someone else can make for you with Hunter, you're going to have a way to make yourself. At this point, the things that the player is capable of making far, far exceed putting some hides together. So there's no reason not to give players a way to make things for themselves. That is the design, that's the starting point; players are crafting for themselves.
Youtube Time Stamp

Question #15
Could the Hunter cape have a teleport to the guild like several other skill capes do?
Mod Sarnie
Yes, we already talked about that. It's in the feedback section of the feedback blog. You will need to just use a blueprint on the cape and then you unlock that. That's the current premise.
Youtube Time Stamp

Question #16
Can we get deposit boxes near some hunting areas at the cost of gp/hunting materials? Or one time payment for access to a deposit box?
Mod Other
It's one of those things that I've considered. It did come up as a big part of this whole design: Can we start making these incremental quality of life changes to Hunter? I think what gets me with the idea is, how? I think that's the question that I have about this idea; is there just going to be a deposit box by each hunting spot? Is that almost too much convenience, because that kind of falls into the same vein as "Why don't we put a deposit box next to every mining patch?" I mean, a lot of them have very convenient ones. Shilo Village gem mine has one, Mining Guild if you need to bank all your iron.
I think it falls into that 'we go away from quality of life with something like that' to 'it really does become this element of undermining part of the skill'. Part of the skill is that travel to a new area. It's that feeling like you're in the wilderness, because some of the areas do feel like you're in the wilderness. Not the PvP wilderness, the wilderness like in the real world, I must clarify. I do not feel at risk in the polar Hunter area, like I do in the Wildy. It's sort of antithetical to the skill to introduce deposit boxes of some kind. We can look at systems for that later on, I think, if it really is such a problem.
Mod Sarnie
I feel like we're already approaching that, though.
Mod Other
We're already making steps with a meat pouch and a fur pouch. I think the difficulty is, everyone just drops that stuff now, because it hasn't got any value, it's not worth banking. So I think it remains to be seen, if we end up in a position where the Hunter outputs are all so great that everyone wants to be banking them. I think then we take a step back, and we say, "Can we add some thematic and appropriate tweaks here so that's a less disruptive activity?"
Mod Sarnie
Yeah, exactly. Like Mod Other said, the pouches do that. I think they do pretty well. So use the pouches! That'd be great.
Youtube Time Stamp

Question #17
Will the trap storage include Butterfly Jars? The Butterfly Jars are used for Hunter, so it'd be weird to include Impling Jars and Butterfly Nets, but not Butterfly Jars.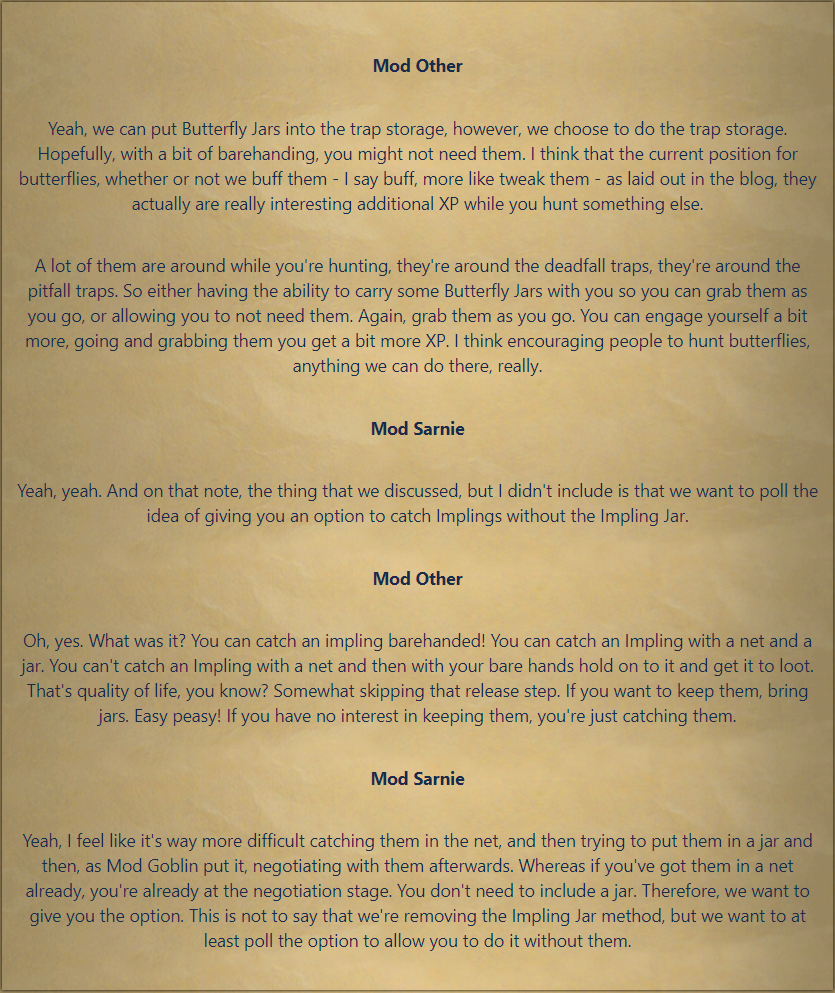 Youtube Time Stamp

Question #18
Could we use Eagles to carry out small jobs for us? For example you could send your Eagle off to the bank with a pouch of things to deposit.
Mod Other
Smells like taming to me! Last I heard we didn't vote for that. Not my skill. But I think that would be an interesting one. That kind of ties into having deposit boxes in Hunter areas. It would be kind of cool. It would also need so many balancing ideas, and it would just be complicated. Just on the idea of: Where do you have this eagle? Is it yours? Is it just around? If it's just around, why does it work for you? If it's yours, is it following you like a pet?
I think that's a really cool idea. But there are so many considerations as to how that would actually work in practice. Perhaps teleporting to a bank and getting back to the Hunter areas, just a quicker option.
Mod Sarnie
Yeah, honestly, I don't want this. It is a cool concept, but this feels too easy. Like Mod Other said, the amount of balancing that you'd have to do around it is insane.
Youtube Time Stamp

Question #19
Why would barehanded catching moths be useful since we'd still need jars? It's not like Implings where you might randomly come across one without gear.
Mod Other
What's the best way to break this down? If you bearhand them with a jar - I mean, yeah fine, you've wrapped them in a jar, maybe you're carrying like a Crystal Grail, while you've been around catching them for some entertainment. Or you've got a Leagues trophy, you want to flex while you hunt. If you abandon them without a jar though and use them to immediately buff yourself, that's got some really cool implications for content. Imagine doing some dungeon themed content, where you can - if you have the right Hunter level - catch these moths and get a little hit of prayer or a little bit of hit points, a quick little heal as you run.
Moths are kind of urban-y, so they can be kind of close to things you're doing. And why use an extra shark to make sure you're at full health, when you could actually just bare hand grab a moth on your way through to the content or like between content. It has use to the individual with barehanding - at least if you don't have jars on you.
Youtube Time Stamp

Question #20
Do Moth Jars require 'accept aid' to be on?
Mod Other
We've not actually discussed this, I would have to look at what would be consistent with the rest of the game. My guess is that it would end up being "Yes"? I'm trying to think if there's any way you could grief with them. I guess if someone's using Dharok's, you could somewhat troll them by healing them up against their will. I don't know what would be consistent. I'd need to look into it.
Mod Sarnie
Okay, well, you guys can let us know, if you want 'accept aid' on or off. That would be interesting. I suppose on that note, Mod Other, we should maybe quickly touch upon if irons would benefit from somebody else's moth/butterfly.
Mod Other
We're irons, we stand alone! That's about all I can say. There's an easy way: irons affect other irons. I won't specifically use the integrity word, because I don't think it's an integrity issue. But I don't think that there's a huge gain to making this change where it's like "Oh, actually irons are included in all of this", where a lot of the time they aren't by default, so it may come down to discussion, and finding out what we think is best as a team.
Youtube Time Stamp

Question #21
Can we get even more uses for furs? It's nice that the outfits will have some use now, and that the furs can also make pouches. But these pouches let us hold... more furs. I feel like we need something else on top for them. Why do I need to make a fur pouch? Why will I need tons of furs?
Mod Other
It's a fair question. I think we can definitely add more uses for furs, if that becomes a really dominant feedback point. If people really want us doing more with furs, other than making a new armour set, potentially, as a use for crafting your own camo. Obviously, you can take them to people to make camo (we've gone over this) and make pouches.
I don't think everything necessarily needs 101 uses. For example, what do you actually use a Dragonhide for? You tan it, and then you turn it into, for the most part, armour that you either alch or you sell. So really, what are you getting out of Dragonhides? You're getting crafting XP and a bit of gold. I think honestly, we can, at least to start with, look to put furs in that same position. You're gathering them, because they'll be worth X amount of gold in crafting XP. Or potentially just a decent amount of gold once you've crafted and alched.
The pouches also have this multi-tiered system. For me, I really like the idea that it gives value to the lower ones inherently. You can sit at the Grand Exchange, buy all of the tier two pouches and all of the furs you need to craft them into tier three. That would be great crafting XP, depending on how we balance it. But what that also gives is value to the people in the position where they can't craft the top tier pouch; they can craft the middle tier pouch, and then the same again happens for the people at the bottom. So you kind of lift everyone up with the way the furs are at the moment, which I think is really cool. You're rewarded for taking the time to craft even if you've got like 50 Crafting, then you'll get to 60 and you'll unlock the next tier and all that. Yes, you will need tons of furs if you want Crafting XP, is the current position. Maybe you want to make a whole bunch of armour and just go risk to learn content with armour that you don't care about getting that.
Youtube Time Stamp

Question #22
What would you think of adding a hunting style boss encounter?
Mod Other
We've talked about hunting style boss encounters already! In my interview for this role, I literally brought up a hunting style boss encounter. It is something that I have so many ideas for, and I really am just waiting for the right time. I think that if I was given the go ahead, then I could produce it just like that; I've got a design!
I think it would be really healthy for the skill. I think what Hunter lacks is a challenge curve. It's a gathering skill, and not every gathering skill needs a challenge curve. Hunter sits in this weird spot where you could fuse it with ideas of combat, and give it this really satisfying reward for having a higher level. That is something I want to look at. We have a gathering skill that doesn't have a production skill paired with it. We could turn it from a gathering skill into a really cool hybridised skill that sits in its own category.
So yes, boss encounters: fantastic. They offer us so much leeway as well for making things that appeal to so many different people. I really hope that going forward, I can find the time to do that. Whether for Game Jams, or other things like that. I'm fairly committed to at least getting designs in front of the team! That's why I wanted that one. It's actually very personal to me; the idea of a hunting boss encounter. So I'm very committed.
Mod Sarnie
Yeah, if we get a chance to work on the chameleon idea we put across earlier, then I am all for it. Hell yeah!
Youtube Time Stamp

You can also discuss this update on our official forums, on the 2007Scape subreddit, the Steam forums, or the community-led OSRS Discord in the #gameupdate channel. For more info on the above content, check out the official Old School Wiki.
Mods Abyss, Arcane, Archie, Argo, Ash, Ayiza, Boko, Bruno, Chilly, Crystal, Curse, Daizong, Dylan, Ed, Elena, Enigma, Errol, Fed, Gecko, Gizmo, Goblin, Grub, Halo, Harold, Hend, Hornet, Husky, Jalo, Jerv, Keyser, Kieren, Kirby, Kurotou, Lenny, Light, Mack, Manked, Markos, Maylea, Meat, Moogle, Morty, Necro, Nox, Nylu, Other, Pumpkin, Redfield, Regent, Rice, Roq, Ry, Sarnie, Shroom, Sigma, Skane, Skylark, Sova, Squid, Starry, Stevew, Surma, Sween, Tide, Titus, Torrance, Tsourorf, Tyran, Veda, Vegard, West & Wolfy
The Old School Team.