Rebuilding Edgeville
Edgeville has been partially destroyed for a while now, as a result of the events in Ritual of the Mahjarrat, and Mandrith is eager to hide the evidence of the Dragonkin's attack so people stop talking about them in fear of their return, to get started speak to him to get a list of jobs he requires you to do.
Once you've completed the list Mandrith will have a Dragonkin Lamp waiting for you, with this update anytime you use a Dragonkin Lamp you have a chance to unlock 'Effy' our ancient effigy based pet!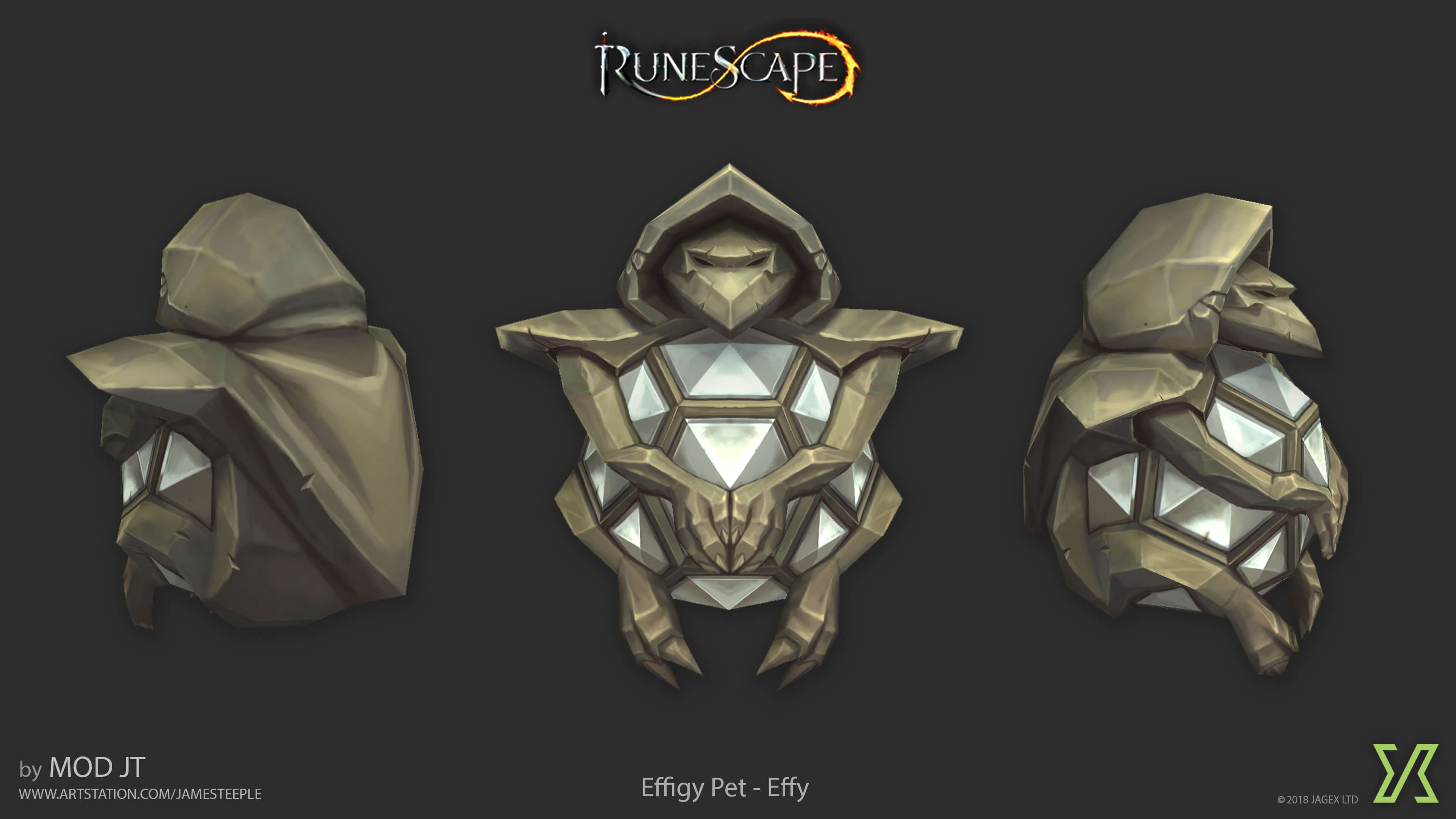 Congratulations!
As you know, we ran a competition for an NPC and Lore Book to be added to Edgeville to celebrate this update. We had so many fantastic entries, and it was a struggle to whittle it down to just one winner!
Congratulations to Bruce Willis on your entry, expect to be seeing an NPC named Bruce walking the streets of Edgeville, complaining about the tourist destination very soon.
In second place, congratulations to Froggi1223; we will be adding your lore book to the Edgeville furnace.
We won't spoil the books just yet, but expect them in the coming weeks.
Patch Notes
This weeks patch notes feature an attack range buff for the Seren Godbow, alongside some Ninja Fixes, bug fixes and more!
You can read the patch notes in full here!
LootScape
Do you watch our live streams? No? Why not? It's a great opportunity to grab a LootScape loot chest and get yourself some awesome in-game goodies by watching our live streams every month
Just connect your RuneScape account to your Twitch account and tune into one of our RuneScape live streams to get some free stuff!
And to keep that clue hunting going, the LootScape item is an additional Clue Scroll based on your level, with a small chance to upgrade any Elite Scroll received to a Master Scroll. Enjoy!
You can connect your RS account to your Twitch account and find out more about it here.
Live Streams this Week
Each week we livestream Q&As, in-game events and more. Watch our streams and find more information over on our Twitch channel.
Check our YouTube channel, too, for recap videos of streams you may have missed!
Thursday, April 12th – 15:00 UTC (Game Time) – Game Jam Idea Pitch
Join our JMods as they pitch their ideas for the upcoming Game Jam! The dev teams will give a sneak peek of the concepts they intend to develop, and any possible art or gameplay they might already have.
Watch live on Twitch and YouTube – be sure not to miss it!
LootScape will be enabled, and an additional Clue Scroll based on your level will be a guaranteed drop.
Sunday, April 15th – 18:00 UTC (Game Time) – PvM with Mod Lee
Join our resident PvM expert with another mass this Sunday!
LootScape will be enabled, and an additional Clue Scroll based on your level will be a guaranteed drop.
---
Enjoy!
The RuneScape Team