RuneFest 2018: Golden Gnome Nominations! RuneFest 2018 kicks off on the 5th October through to the 6th October and it's going to be bigger and better than any RuneFest before! Today, we'd like to announce the shortlisted nominations for the prestigious Golden Gnome Awards.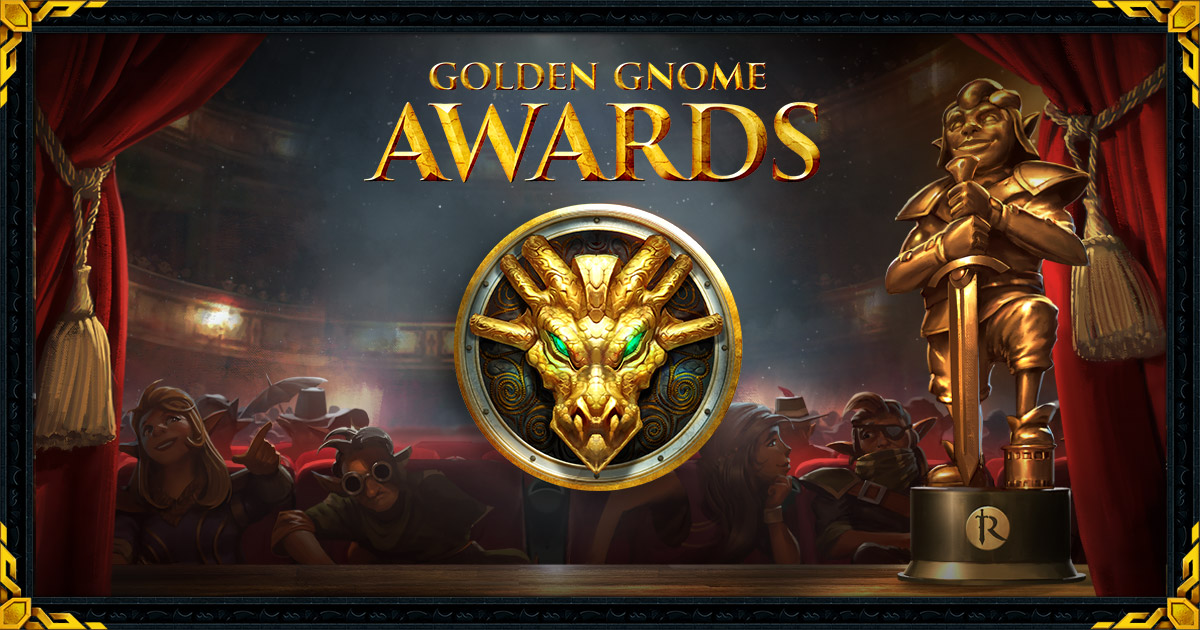 Every year we recognise the very best community talent. Listed below are this year's categories and the corresponding nominees:
VIDEO AWARDS
RuneScape Video of the Year
Maikeru RS - Solak Guide - All Phases Covered! [Runescape 3] New Hardest boss?
rswillmissit - The Completionist Heist
Taki Maki - How to get back into Runescape 3
The Realscaperz - Cowhide (Vance Joy Runescape Song Parody)
OSRS Video of the Year
Gunschilli - HCIM Episode ZERO | Gunschilli OSRS
Jakeyosaurus - Taking a Noob Bossing (Part 1)
KempQ - Reborn from the Ashes: the 19 Combat Fire Cape
TanzooRS & Virtoso - OLDSCHOOLS BIGGEST CHALLENGE ft. C Engineer, Mod Ayiza, Soup, Gunschilli, Manked, Ianspam, DVS &Jack
Best New RuneScape Video Maker
Grimm dutch
ProtoxxGaming
Ravlar RS
Taki Maki
Best New OSRS Video Maker
Caveman Only
DitterBitter
KempQ
Shaperka
Best RuneScape Video Maker
GuidesForUsAll
Maikeru RS
MrAdelaideRS
The RS Guy
Best OSRS Video Maker
Framed
Slayermusiq1
TanzooRS & Virtoso
Torvesta
STREAMING AWARDS
Best New RuneScape Streamer
Aus_Swag
Empathzy
Spidermash
Wazzy
Best New OSRS Streamer
Abyss
Lake
Purpp
Saphiro
Best RuneScape Streamer
couchy
iTrolledU
Miss_Liddles
TheRSGuy
Best OSRS Streamer
B0aty
Faux
MmorpgRS
Sick_Nerd
ART AWARDS
Best Artistic Creation
Beats by Tickle - Runestape for Best Artistic Creation (Golden Gnome Awards 2018)
HalieAtisuto - Deadman Mode
Vicky Ligt - Saradomin Godsword
Zuhaar - Nieve Literally any other piece of work
Best Artist
Dagna
Glacyte
Legend Arts
Zuhaar
Winners will be announced on the day, including additional awards for the Cosplay (Most Creative Cosplay and Best Cosplay) and Community categories, so make sure you tune into the stream if you're not attending in person this year!

If you haven't already, don't forget you can download the
RuneFest 2018 iOS or Android App
, which will include everything you need to know for the event, featuring things such as; stage and panel schedules, event floor plans (including activity/food/stage locations), merchandise ranges and pricing, social networking and personalised schedules/notifications. We wish the best of luck to everyone nominated and we can't wait to see you all at RuneFest 2018 on the 5th and 6th of October at the Farnborough International Exhibition and Convention Centre, just outside of London!
Get your tickets now from our Eventbrite ticket page!

Mods Archie, Ash, Ayiza, Bruno, Curse, Ed, Gambit, Ghost, Jed, Kieren, Lenny, Lottie, Mat K, Maz, Munro, Roq, Ry, Stone, Sween, Weath, West & Wolf
The Old School Team