How's the farming going? We're chuffed to see so many of you getting stuck into the Player Owned Farm update. It's been great hearing about players shovelling endless amounts of poo and breeding all sorts of wonderfully characterful animals (Camilla the Hen, who "longs to capture humans and selectively breed them for fun and profit", is a particular favourite)!
And rest assured – where there have been gripes we've heard you loud and clear, and we're in the process of rolling out some updates to Granny Potterington's estate. In fact we have a "shed load" of patches for your Farm this week!
In the meantime, however, we're about to get super competitive with the arrival of RuneScore charts on the HiScores page. It's time to sort the wheat from the chaff, as Granny might say.
RuneScore HiScores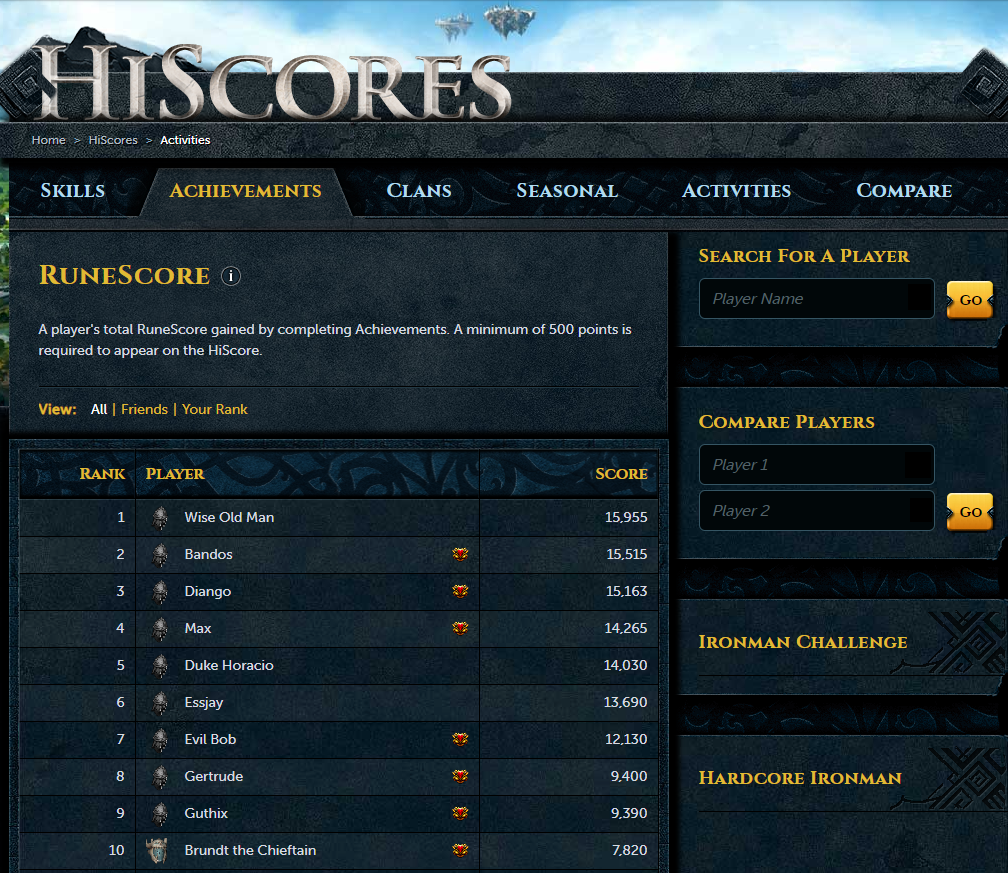 Did you know that almost every Achievement in the game will add to your RuneScore? Smaller Achievements will only add a little, but the big ones will give you a huge boost! As of right now there are 1,980 in-game achievements, representing a possible RuneScore of 21,840!
We added RuneScore to the game back on August 29th 2017. Now we're a year down the line it's time to spice it up a little, so this Monday (September 10th 2018) a RuneScore tab will be added to the HiScores page on the RuneScape website.
This means you'll not only get to see who has the highest RuneScore, but also how far ahead you are of your friends… or how much further you have to go to catch them! We're adding Achievements to the game all the time so this should give players plenty of opportunity to tussle for that top spot!
Patches
Why was the ninja's sweatshirt so small? It got shuriken in the wash.
(If it helps, we are fully aware of just how awful that joke is.)
That unforgivable crime aside, here's a few highlights of what the Ninja Team have been fixing in the Player Owned Farm update this week:
Going forward, Orlando Smith's hat is now tracked by the clue scroll log with an accompanying quick chat message.
After completing Observatory Quest, players have access to a quicker way to get back into the observatory.
Graphically improved the Earth Altar.
The servants have come back from their brief holiday - although they're not too happy about the farm that's just moved in!
Check out the rest of the patches here!
Twitch Prime
Last days to get on board with Twitch Prime, don't miss out! Until 19th September, Twitch Prime members can get a 1-month FREE RuneScape membership and all these exclusive items:
Exclusive Umbral Flame Blade cosmetic weapon override
Exclusive Umbral Armour cosmetic armour overrides
Exclusive Umbral Crassian companion pet
2 Umbral Chests (guaranteed super-rare prize)
15 Treasure Hunter Keys
200 RuneCoins
This limited-time offer can be redeemed by new RuneScape players as well as existing members (i.e. the free month stacks up at the end of your recurring membership if you already have one).
What are you waiting for? Hit that twitch.tv/prime link and claim your free loot. And don't forget that every new Twitch Prime membership comes with a 30-day free trial.
One of the perks of Twitch Prime is also a free subscription to a Twitch streamer every month. So, why not support one of our brilliant content creators? Check who's live now and show your support for them. You can find all the details on how to subscribe to a Twitch channel here.
New Angels Scapes items available in the merch store
A new range of pins and keyrings from Angels Scapes is now available on the merch store!
You can now revive the days of Rebuilding Edgeville with Effy the Effigy Pet. Other items include pin badges of draconic boss-monster Vorkath and one-hit menace Jad, along with keyrings depicting Chambers of Xeric's Great Olm and Inferno boss Zuk. There's also a restock of other keyrings - including the Armadyl and Saradomin Godswords and Infernal Max Cape keyrings - be sure to check it out before they're gone: official merch store.
LootScape
Do you watch our live streams? It's a great opportunity to grab a LootScape Loot Chest and get yourself some awesome in-game goodies! Just connect your RuneScape and your Twitch account, then tune into one of our RuneScape live streams to get some free stuff.
Tune in to our next streams to receive one random Elite skilling outfit piece, possibly the DG outfit! If you receive an already owned one, it'll be switched for a random drop of either a gp bag or bonus item.
Ironmen aren't forgotten, they will receive the Deep Sea Fishing emote.
Exciting isn't it?! So don't wait up, connect your RS account to your Twitch account and find out more about it here. Once that's done, have fun and watch the stream for a guaranteed drop!
Live Streams this Week
Each week, we host developers QAs, exclusive in-game first looks and more. And it's all live on our Twitch channel, join us!
Missed a stream? Don't worry, we keep them all on our YouTube channel. So be sure to Subscribe to it!
Tuesday, September 11th – 16:00 UTC (Game Time) – Mining & Smithing Showcase
Waiting for the Mining & Smithing rework? Well grab a pickaxe, Mod Jack, Mod Tomb & Mod Stu have been forging hard and are now ready to show you some pure gold stuff. Watch live on Twitch – be sure not to miss it!
LootScape will be enabled, a random unowned Elite skilling outfit piece will be a guaranteed drop.
Friday, September 14th – 15:00 UTC (Game Time) – Patch Notes Teasers & RuneScore HiScore
Join us for the Patch Notes Teasers, a stream where we cover the main update for next week and show some of the new content you can look forward to next Monday!
Watch live on Twitch – be sure not to miss it!
LootScape will be enabled, a random unowned Elite skilling outfit piece will be a guaranteed drop.
Sunday, September 16th – 18:00 UTC (Game Time) – PvM with Mod Lee
Join our resident PvM expert with another mass this Sunday, live on Twitch!
LootScape will be enabled, a random unowned Elite skilling outfit piece will be a guaranteed drop.
The RuneScape Team.