Issues and Hotfixes (July 15th)




| | |
| --- | --- |
| Issues Raised | Current Progress |
| (11:40 BST) We are receiving reports of the Alchemical Hydra disappearing during combat. | (13:45 BST) [FIXED] These issues have now been resolved and the intended changes that came with this week's update have now been reimplemented. We will continue to monitor the situation and share any further updates. Thank you for your patience. |
| (15:00 BST) We didn't include Dawn's stuns with Poll 75's Grotesque Guardian changes. | (15:00 BST) We apologise for this, it wasn't included in the update but after reviewing feedback it should have been. We'll look to include this as soon as possible. |
| (16:00 BST) The final phase of the Alchemical Hydra is not correctly swapping attack styles. | (16:00 BST) We have deployed a hotfix to correct this. It should be working as intended. |
| (10:00 BST, 15th July) We're aware there are still issues with the attack style of the Alchemical Hydra when moving into the final phase. | (11:33 BST, 15th July) We have deployed another hotfix which should fully rectify the issue. We will continue to monitor reports. |



Slayers rejoice, because your Poll 75 changes are here – store your tasks, rock out in a fancy helmet and more! We've also updated some of our Terms & Conditions, so please read on for everything you need to know.

Poll 75 - Slayer Drop
The Slayer Helmets have had a facelift! The following helms have been redesigned to better reflect their boss counterparts: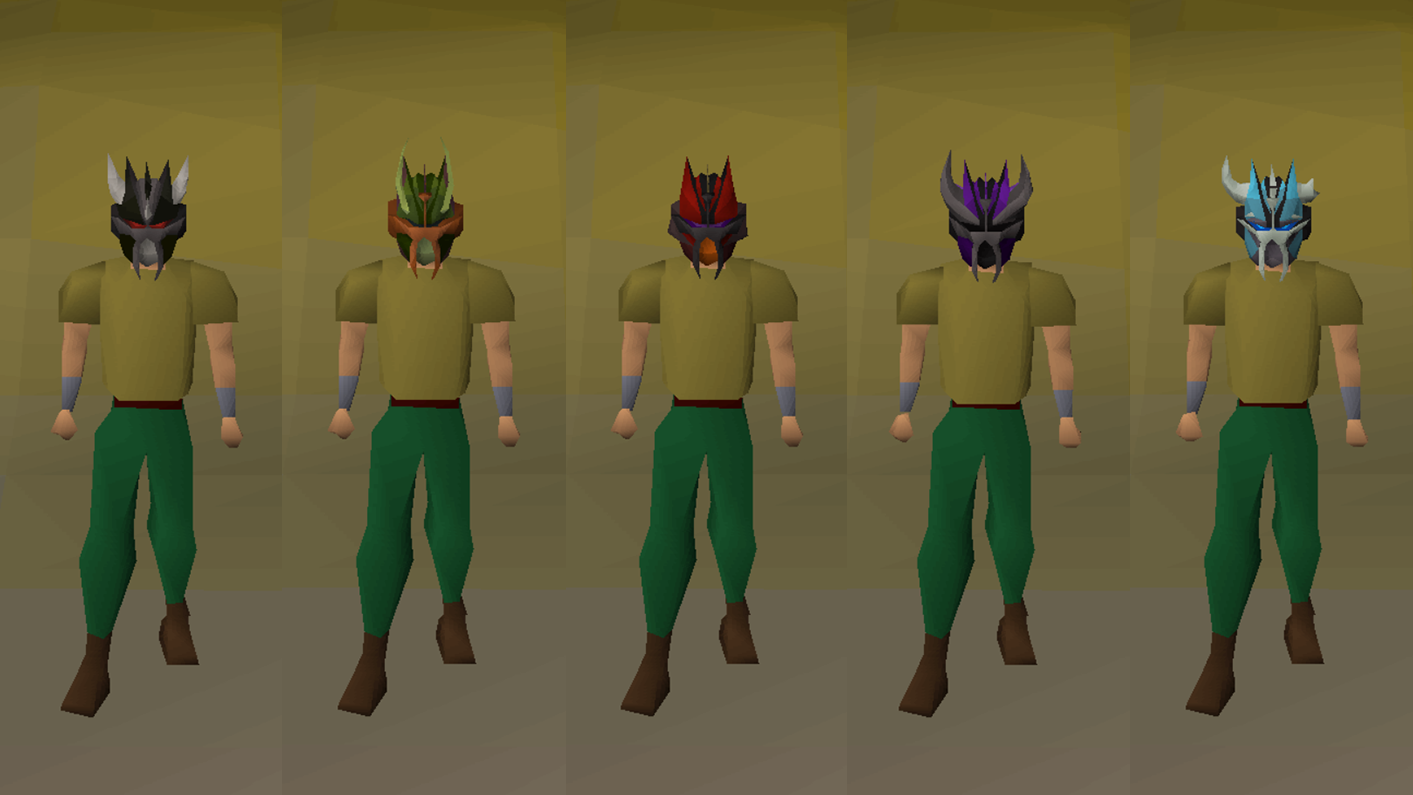 Black Slayer Helm (King Black Dragon)
Green Slayer Helm (Kalphite Queen)
Red Slayer Helm (Abyssal Demon)
Purple Slayer Helm (Skotizo)
Turquoise Slayer Helm (Vorkath)
Not feeling your to-do list? You can now store Slayer tasks for later - unlock this option for 1,000 Slayer Points within the Slayer Store! Only one task can be stored at a time, and it will cost you 50 points, but unstoring a task is completely free – just chat with a Slayer Master. Note that you cannot store Wilderness tasks.

There is now a Dust Devil task-only area within the Kharidian Desert Smoke Well.
Players can now choose to kill between 3–35 Zulrah bosses for the associated Slayer Task.
We've added a right-click option to board the Zulrah boat.
More Bloodvelds have been added to the God Wars Dungeon, allowing players to complete associated tasks without waiting for respawns.
The Alchemical Hydra has gained a new animation that signals when its attack style is changing.
Token Slayer XP is now given to players who kill Sire Respirator when fighting the Abyssal Sire. You get 50 Slayer XP for each Sire Respirator killed, with a maximum of four during one encounter.
The Kraken can now be awoken using Fishing Explosives. Rise and shine, buddy…
A shortcut has been added to the Asgarnian Ice Dungeon, taking you from the area the Hobgoblins inhabited to the Skeletal Wyverns. It requires 72 Agility to use.
Grotesque Guardian Energy spheres no longer deal damage when a player absorbs them.
In phase two of the Grotesque Guardians fight, you'll now see an indicator where rocks will land. Heads up!

PvP World Rota
The PvP rota has moved to Period A:
539 - (US) - PvP World
548 - (Germany) - High-Risk PvP World
577 - (US) - Free-to-play PvP World
559 - (UK) - LMS Competitive

Changes To Terms
We wanted to let you know about some updates to our End User License Agreement (EULA), Terms & Conditions, and Privacy Policy which are now live as of July 14th 2021. We want to make sure the changes are easy to spot so here's a short summary of the changes:
EULA:

We're future-proofing our EULA to cover the release of Space Punks, and any other games we might publish in the future.

Terms & Conditions:

Along the same theme as above, there's now fewer direct references to RuneScape or Old School, and more talk of Jagex Products.
Section 5: New content on Anti Cheat Technologies and added detail on Chat Monitors
Section 6: Recognition that games can be played via third-party platforms (such as Steam and other gaming platforms) and enhanced restrictions on the use of accounts
Section 7: Added further restrictions on the use of virtual currency
Section 10: New provisions for 'Must Nots' under our Content Standards Policy
Section 13: Reworked the 'Bonds' section
Section 15: Added a new section on third-party software

Privacy Policy:

This has been updated to reflect the new Brazilian privacy law (the 'LGPD'), and has an updated address for our Data Protection Officer.
PLEASE NOTE: The above information is provided as a quick guide only. Make sure you read the full EULA here, the full Jagex Terms & Conditions here and the full Privacy Policy here.

Other News
Clan level-up notifications are no longer broadcast for levels below 50.
Some errant trees on Tutorial Island no longer render under the coastline.
The Ornate Dragon Square Shield has been given a stat buff to match the plain version.
Castle Wars Medium Helms have been given a stat buff to match standard Medium Helms.
A minigame minimap icon has been added to the Tithe farm in Hosidius.
The animation for scattering demonic ashes is no longer disruptive to walking.
That's everything for this week's game update. We'd love to hear your feedback so please let us know what you think via our official forums, on the 2007Scape Reddit, or the community-led OSRS Discord in the #gameupdate channel.

Mods Acorn, Arcane, Archie, Argo, Ash, Ayiza, Banjo, Boko, Bonsai, Brow, Bruno, Curse, Daizong, Deagle, Dibber, Ditto, Dylan, Ed, Elena, Errol, Fed, Flippy, Gecko, Grub, Halo, Husky, Jerv, Jndr, John C, Kandosii, Katies, Kieren, Kirby, Lenny, Light, Lottie, Mack, Maylea, MikeD, Morty, Nasty, Nin, Oasis, Roq, Ry, Sarnie, Skylark, Squid, Steve W, Sween, Tide, Vegard, West, Wolfy & Zuko
The Old School Team