Even though it's no longer absolutely sweltering outside (at least where we are), this week's update is still guaranteed to give you that perfect excuse to stay indoors. If questioned, simply repeat this script:
"Sorry, can't make it to that (ten-hour hike/boring family BBQ/charity litter pick) we had planned! I'll be busy using my finely honed skills to craft RuneScape's most valuable gem, taking advantage of bonus Reaper Points, and browsing the Community Tab while I listen to the latest soundtrack release."
You're welcome! Now, let's get down to business...
Chisels at the ready, folks! This week's main update is the Alchemical Hydrix gem, a powerful material that will help you craft two game-changing new items. We've also got extra Reaper Points for all you slick slayers and some sick beats to skill to.
Alchemical Hydrix
At last! For those of you out of the loop, this week's mystery update is the Alchemical Hydrix, a ludicrously high-tier gem available to only the finest inventors and crafters.
If the name sounds familiar, that's because the Alchemical Hydrix is an upgraded version of the regular hydrix, carefully refined under strict laboratory conditions.
To get your hands on one, you'll need 117 Invention, along with the following bits and pieces:
1 Hydrix
50 Fortunate components
50 Refined components
10 Precious components
2 Rumbling components
So, why is the Alchemical Hydrix so valuable? Why, because it's the key component in not one, but TWO enormously powerful pieces of jewellery.
First up, there's the Brooch of the Gods, which will solidify your skillingů skills. This bounteous little badge will automatically scavenge Invention components from non-combat skills, double the proc rate of portable skilling stations, and store your decorated skilling urns. If that wasn't enough, it also enhances the skilling advantages from Skilling Distractions all across Gielinor. Here's a small sample of the effects we've observed so far:
+20% XP in the Artisan's Workshop
+20% chance to find bird nests
+1 multiplier for Sprite Focus and Rockertunities
+20% more rewards from Fire Spirits
And that's just what we've found so far. The Brooch of the Gods is a must-have accessory for any serious skiller, but they're not easy to come by. You'll need 97 Crafting and the following components to create your own:
1 Alchemical Hydrix
5 Elder rune bars
5 Gold leaf
The second jewellery item is the Essence of Finality, which combines the powers of the Amulet of Souls and the Reaper Necklace to turn you into one unstoppable killing machine. It'll also allow you to consume any weapon to store that weapon's special attack within the gem, and then use it at will with a new ability found in the Constitution Ability Book.
You'll need to make sure that the attack style of the consumed weapon matches the one you're using, but apart from that, there are no restrictions - and of course, you can change the stored special attack by consuming a different weapon.
The Essence of Finality will add +56 to all combat styles and has a Prayer bonus of 7.
This kind of power comes with a hefty chunk of responsibility, however. As you hack and slash your way across Gielinor, the Essence of Finality will degrade, gradually becoming useless if it is not properly maintained. You're in luck, though, because it's easily recharged with faith, trust and a little Alchemical Hydrix dust.
You can obtain ten units of dust by grinding up an Alchemical Hydrix - and if you're feeling lazy, it's tradeable, so you can always grab some on the Grand Exchange.
Crafting an Essence of Finality is another tricky task. Alongside 99 Crafting, you'll need:
1 Alchemical Hydrix
1 Amulet of Souls (100%)
1 Reaper Necklace (100%)
Oh, and one last thing - if you combine the ornament kits for the Amulet of Souls and the Reaper Necklace, you'll be left with a super stylish ornament kit for the Essence of Finality. Go on, give it a try!
Want to to hear more? Check out last week's livestream for a quick catch-up.
Bonus Reaper Points
Even the Horsemen of the Apocalypse are excited to see some Alchemical Hydrix action! From August 17th to August 31st, Death will be offering 50% more Reaper Points. It's a great opportunity to stock up on those incomplete hydrixes and start experimenting!
Loot Duels Promotion
Now for something entirely different. As you know, we've been switching up Treasure Hunter as of late. We've recently been keeping promotions around for longer, giving everyone the chance to have a go. We've also been refreshing the mechanics halfway through their run to provide an interesting new experience.
Our second Treasure Hunter promo this month is Loot Duels, where you get to pick and choose your favourite chests from promotions past. Check back next week to see what's changed!
Desperate Measures Soundtrack
It's time to rock like Thok and cha-cha like Charos with the Desperate Measures Soundtrack, available now on all major digital music retail and streaming platforms.
The album contains 11 tracks from RuneScape's newest quest, including 'Caged Guardian' and 'Dragonkind'. You can give it a listen now on Spotify.
Mobile
Improvements
Added a new setting which enabled the Multiple Items Drop interface to appear for single item drops.
To enable, navigate to the 'Loot System' menu found within the 'Item Drops' menu and check 'Always Use Loot Inventory'.
Fixes
The Prayer List and Spellbook will now be brought to the front during Tutorial Island.
Corrected an issue where a popup would fail to attach to the Lodestone Map during Tutorial Island.
Fixed an issue which caused sub-interfaces such as the Toolbelt and Boss Collection Logs to render below the primary interface.
Desperate Measures
Improvements
You must now be in the encounter to start a wave during the Dino Stampede.
Kerapac now faces the player when addressing them.
Seren will no longer appear outside the Heart after completion of Desperate Measures.
Customization
Fixes
The Pith Helmet will no longer cause certain sections of selected hairstyles to appear patchy.
Male characters will no longer appear to have a hole in their head while combining the Assassin Walk override with the Prifddinas Noble hair.
The patches at the back of female characters' Vyrewatch Legs have been filled in.
The Deathcon t-Shirt will no longer change your skin tone.
Your facial animations will now play correctly when wearing the Imperial or Sensei beards.
The Rainbow Halo and Shadow Linza's Hair will now display correctly in the Customization tab.
The Silly Jester Top will now display the correct arm texture.
Fixed a label issue with the Crystal Peacock Armour and the Revenant Walk override.
Wearing the Shadow Reef Diver Outfit with the Nautilus Torso will no longer cause small orange polygons to appear on the player character's skin.
Fixed minor stretching issues which occurred when the Soulbell Robes were equipped as a cosmetic override.
Close-cropped hair no longer clips through the Blue Beret.
The Lion Belly will no longer leave an opening in the body area.
The Shadow Dragoon Helm will now move at the same time as the player character's head.
Other
Improvements
Mandrith's chathead has been updated and the static effect has been removed.
After collecting all required ore in Doric's Quest you'll now be directed to Doric himself, not the Dwarven Mine, as the next step of the quest.
Updated the Skill Guide tool-tip for Invention charge drain reduction, to state that the reduction does not affect Invention devices.
The Inventory icon for the dormant Staff of Sliske has been rotated to better differentiate it from the complete version.
Changed wording and formatting of popup messages while attempting to enter a full world or leaving the queue to enter a full world.
The Globetrotter Outfit's set bonus can once again be used to complete emote clues with items kept in hidey-holes.
Updated the description of the magic shieldbow special attack.
Fixes
Tuska's wrath now properly deals damage to Vyrewatch.
Disguised robbers in the Heist minigame can no longer be identified by hovering the cursor over their character models.
Fixed an issue with destroying the Divine Gaze Aura.
It's no longer possible to walk into multiple rocks inside the Araxyte Hive.
It is no longer possible to duplicate clan vexillums and clan cloaks by continuously giving them to a fellow clan member already in possession of these items.
Falador's south gate's battlements are now properly attached to the tower.
Restored a missing floor tile in the Black Knights' Fortress Treasure Room.
Sammy's left eye is now displayed correctly, without stretching, after completion of the Fight Arena quest.
You will no longer float when walking over a bridge in the Troll Cave north of Burthorpe.
Players will no longer be able to keep building Big Game Hunter hotspots after dropping the required item from their Inventory.
Mistress Fara's checklist scroll no longer clips at the top of the stairs in Burthorpe.
Evil Dave's Hat is no longer glitchy.
When loading into a Sinkhole dungeon, your Action Bar will now correctly correspond to the attack style you'll be using - assuming you have your Action Bar bindings set up.
When opened, the manhole near East Ardougne will now always display the correct view.
Fixed an issue with missing bloodweed and elder seeds in the Seedicide Configuration Panel.
Players will no longer get stuck when switching to a free-to-play world in a certain part of Al Kharid and will instead be moved to the Shantay Pass.
The sewer valve near the Clocktower south of Ardougne no longer floats.
Fixed some transparency issues with the Jerrod's Cape transformation effect.
All text in Waldo's initial dialogue and the messages related to extending Aura durations is now displayed in the correct fonts.
Iron accounts can no longer interact with portable workbenches.
Fix of the week
Ducks will no longer swim through the banks of the River Lum.
Featured Streamer
Our featured streamer this week is Ravlar, who'll be going live on Friday August 21st at 10:00 Game Time for some PvM and an epic Snakes and Ladders showdown against Maikeru. Maikeru actually won the last time, so expect some high-octane dice rolling revenge!
Check out the stream here.
RuneScape Art Community Discord
We'd like to use this section to highlight some of our favourite community spaces, starting with the RuneScape Art Community! Here you can rub shoulders with RuneScape and Old School's most celebrated artists, share your own creations, and commission some artwork for your own collection. Whether you're interested in art, writing, or even music, the RuneScape Art Community has a channel for you. Everyone's welcome, regardless of game preference or skill level - so head on over and say hi!
Screenies Shutterbug
This week we're showcasing some of Elej's fantastic screenshots!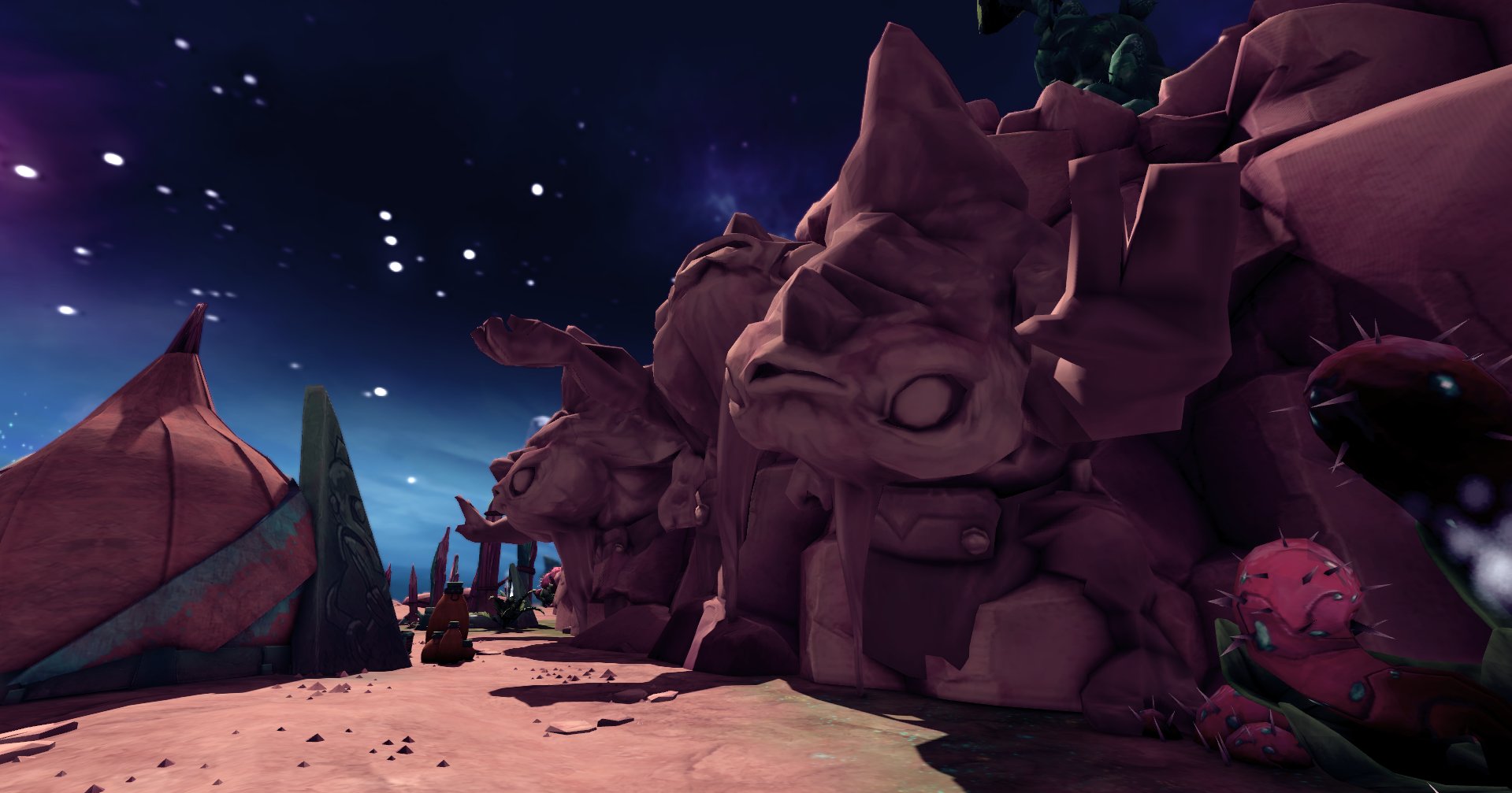 'Talk To The Hand'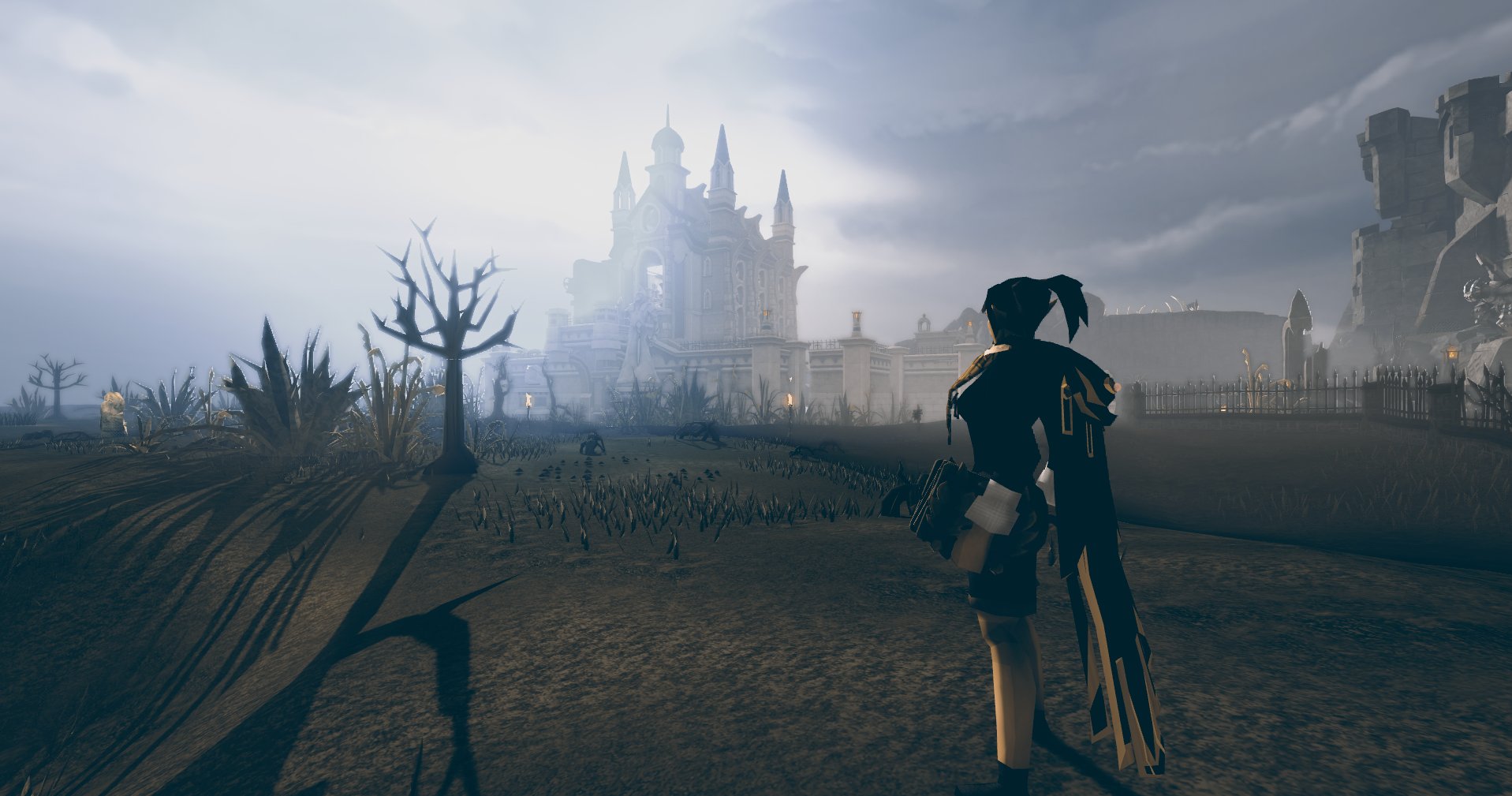 'Gryffindor'
We loved the atmosphere of these two screenshots so much, we couldn't just pick one!
If you know a place in-game that you'd like to show off, tweet your pictures to us with #RuneScapeScreenies and you might just appear in next week's Community tab!
Creative Corner
We loved Aguarela's rendering of Thok's romantic endeavours - although we feel a little bit sorry for that poor ancient zygomite!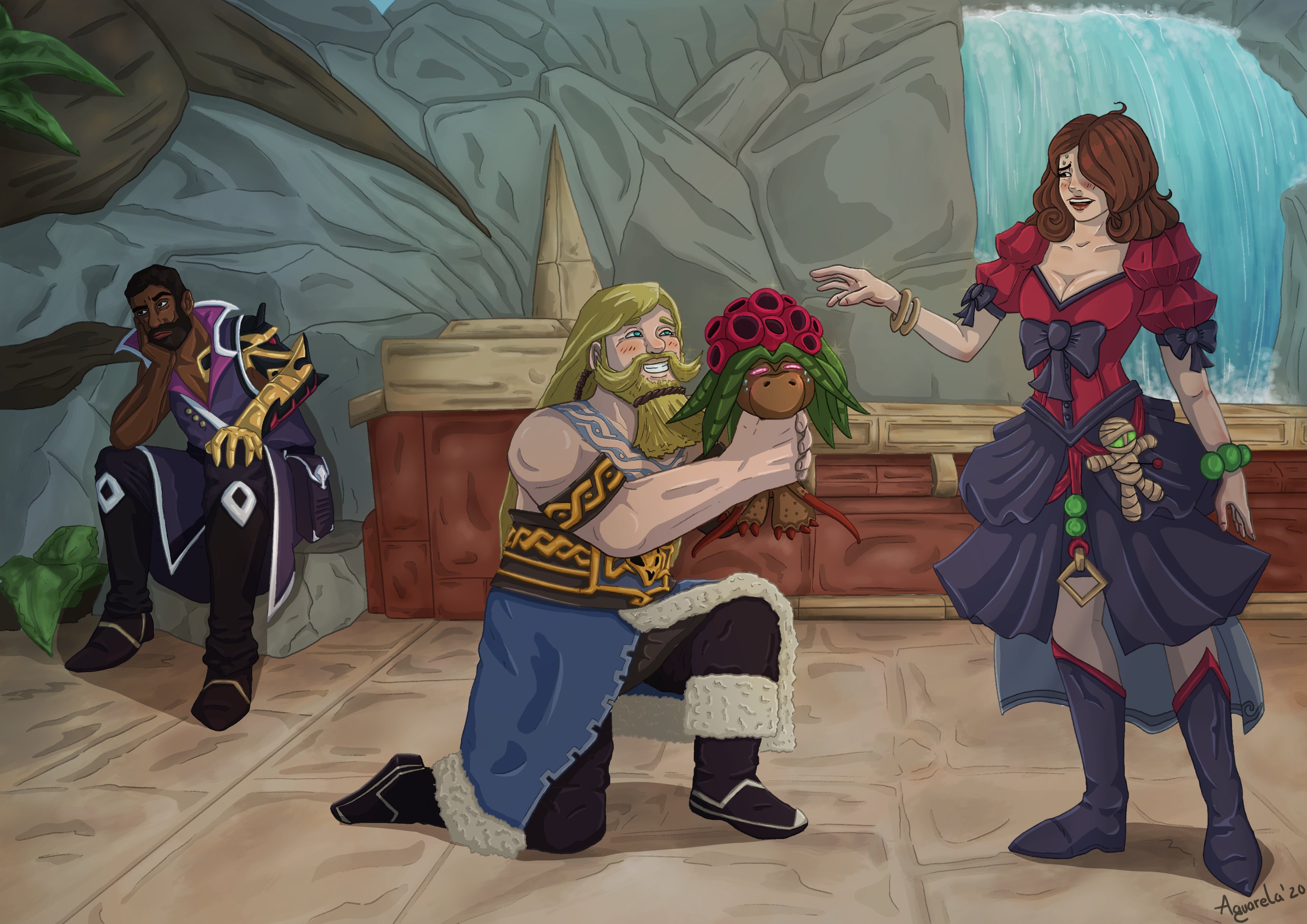 Go show her some love on Twitter, and check out her other amazing artwork while you're at it.
Forum Spotlight
This week's Forum Spotlight is coming from inside the house, as Mod Kari asks you to share your Double XP LIVE Achievements! Did you finally get the Skill Cape you've been aiming for? Then let us know in the thread!
Pink Skirts Event
Princess Rae and theáPink Skirts are getting serious this weekend with a Town Square Q&A, to be held outside the Varrock West Bank on World 3 at 23:00 Game Time on Saturday, August 22nd.
Come along and ask your burning Pink Skirts questions! For more details, check out the website.
- The RuneScape Team