Welcome to the latest edition of This Week In RuneScape! Today's update includes the final instalment of The Grand Party, the Celebration of Skilling - plus the first miniquest in our 20th Anniversary series, a long-awaited look at how we're updating the player avatar, and all sorts of changes and fixes across the game. It's also your last chance to grab the special 20th Anniversary discount price for Gold Premier Club, so there's a quick reminder of how to do that. Let's jump right in!
RS20 Mini-Quest Series: Once Upon A Time
We hope you're not all partied out just yet, because our 20th Anniversary celebrations are far from over! Throughout the year, we'll be releasing a series of miniquests that combine, megazord-like, to form 'Once Upon a Time', our 20th Anniversary story arc.
Here's even better news - members can play Foreshadowing, the first miniquest in the series, right now!
Head to the Blue Moon Inn to get started. Relomia, Sliske's former emissary, is holding an exclusive party for Gielinor's best and brightest - and no party would be complete without the World Guardian in attendance! So get ready to dance until you drop as you kick off an epic journey through RuneScape's past, present, and future.
Rewards include an extra-fabulous Party Hat override and a prismatic lamp - and of course, completing Foreshadowing will ensure you're ready when the next miniquest in the series comes along!
The Grand Party: Celebration of Skilling
The birthday celebrations continue this week with the Celebration of Skilling!
Throughout the week, you'll get 50% increased XP in all gathering skills - those being:
Archaeology
Divination
Farming
Fishing
Mining
Hunting
Woodcutting
There's a couple of things to bear in mind. Firstly, the XP bonus won't apply to Archaeology's restoration activity, but to make up for it you will get 50% extra precision while excavating. Secondly, it also won't apply to the animals on your Player Owned Farm, including those at The Ranch Out Of Time.
Lastly, Iron players will NOT get the XP buff.
Now, the eagle-eyed amongst you will notice that there's been some changes around the Lumbridge Crater. Since we won't be needing that portal after next week, our good friend Aubury has turned it into a skilling rift, which will grant both Summoning and RuneCrafting XP.
And don't forget - when the event ends next week, The Wise Old Man will no longer be able to supply you with the special edition 20th Anniversary Cape and Outfit - so have a chat with him and pick it up while you still can!
Vault of Shadows Miniquest
This miniquest will be familiar to all you keen-o archaeologists out there - it's the Vault of Shadows mystery, condensed into a more easily completable form.
Whereas previously you needed 107 Archaeology ( in order to restore the relevant Spell Scrolls) for this you only need 58 Archaeology, which will get you access to all of Kharid-Et.
To get stuck in, have a word with Dr Nabanik at the Kharid-Et dig site. He'll hand over four fully-restored Spell Scrolls for you to use and replace any you accidentally destroy.
You won't get the usual Archaeology XP for completing this miniquest. To do so, you'll have to get 107 Archaeology and hand in your own restored scrolls to Dr Nabanik, as usual. Should you have already completed the mystery, speak with Nabanik to complete the miniquest and get a well-earned 'thank you'. If you're partway through the mystery, don't panic - Dr Nabanik, in his infinite and totally human wisdom, has accounted for that too.
There's no new rewards for this miniquest, but you will unlock something that'll come in handy fairly shortly. What is it? We're not telling! Let the wild guesswork begin...
Last Chance for Discounted Premier Club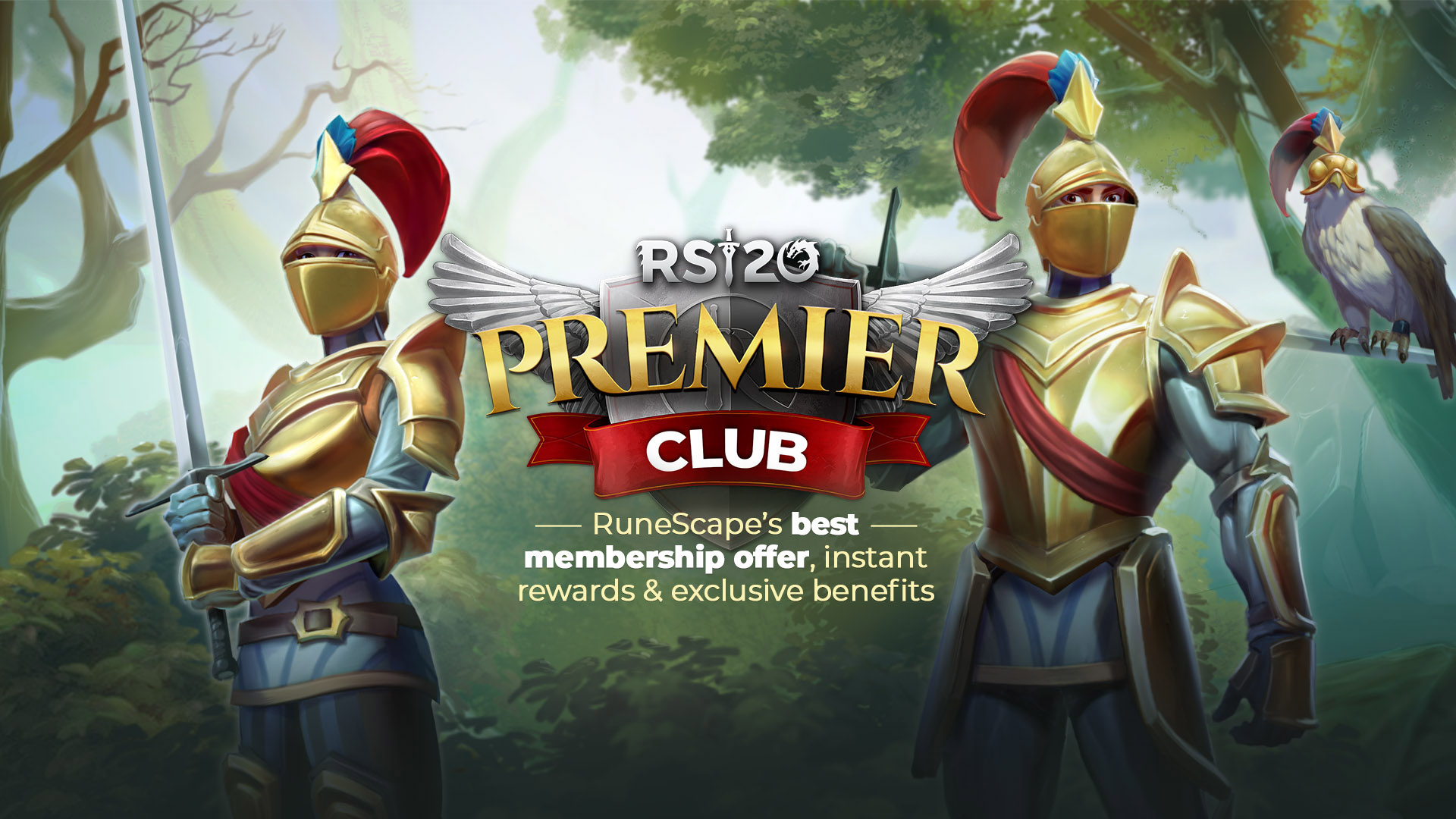 You only have until February 1st to pick up the Premier Club Gold package at a discounted price!
It's been a while, so here's a reminder of what the Gold package includes:
12 Months of RuneScape Membership
Exclusive monthly drops for the duration of Premier Club Membership
Free Premier Pass for Yak Track events for the duration of Premier Club Membership
150,000 Loyalty Points
Ozzie pet
Ceremonial Guard Armour
Extra daily Keys
3 Premier Club Reward Tokens
RuneMetrics Discount
1,000 Oddments each month
Premier Club Vault access
VIP Premier World access
1 free Boss Instance a week
100 Premier Bank spaces
In-game chat badge
And for just one more week, you can get all that for just £44.99 (or $74.99, or €64.99) - this is the very best value for money deal we offer, so if you want to enjoy the big savings, now's the time!
Free Bank Presets
All additional Bank Presets are now free! Options to purchase them have been removed from all interfaces, including Solomon's General Store.
You should automatically receive the Bank Presets you're entitled to upon log in. Members will receive 10 presets, and free-to-play players will get seven.
Now go, run free, and customise your loadouts to your hearts' desire!
Rare Item Tokens Have Been Removed
One of the projects we've been working on lately is to consolidate the various stores and remove unnecessary currencies from the game. This week, we've been looking at Rare Item Tokens.
As you know, Rare Item Tokens were a prize from Treasure Hunter, which could be used to buy various items in the Rare Token Store. However, once you've unlocked all the items, the Tokens themselves are useless - and as more and more of you do so, they become more and more devalued compared to other Treasure Hunter prizes.
As a result, we've removed Rare Item Tokens from the Treasure Hunter loot table and they are no longer claimable in-game.
Any existing Rare Item Tokens will be converted into Oddments at a rate of 10 tokens to one Oddment - so 50 Rare Item Tokens will net you five Oddments. You can convert up to 100,000 Rare Item Tokens - any Tokens above that limit will be removed.
All new rares have been moved to the Oddments Store. These include:
Bad Weather Umbrella
Octopus Backpack
Glowbug in a Jar
Oriental Fan
Springy Pet Token
Telescope
Balloon Rest Token
Polly
---
An Update On Rare Item Token Changes
Hi there 'Scapers,
As many of you already know, we released an update yesterday that converted Rare Item Tokens into Oddments, as part of a migration of the Rare Items into the Oddments Store. When we decided to implement this change, we set out with a goal of maintaining the value of Rare Item Tokens vs the cost of Rare Items in order for there to be as little impact to you as possible.
While that ratio holds true, it's clear from your feedback that we didn't meet expectations. Frankly, we misjudged the value Rare Item Tokens held by not fully considering the opportunity cost to acquire them and we're sorry for getting this wrong.
After a thorough investigation since Monday, we have unfortunately confirmed that this is something we're unable to resolve or change without entire server rollbacks – which would have even farther-reaching ramifications.
As an apology for this misstep, we'll be gifting all players 15,000 extra Oddments to spend within the Oddments store. We'll also be awarding all players 15 Treasure Hunter keys to use too. These will roll out with next Monday's Game Update and be available for players who login within 3 months of the update. (Note: Accounts created on or after January 26th 2021 will not be eligible).
Also in next Monday's update, based on your feedback, we will also be bringing the Limited and Current Rare Items into the Oddments Store to ensure you can still pick up the items you want.
Yesterday's change was just one part of a long term plan to consolidate our currencies for a better user experience. We do believe this change adds very beneficial improvements for all players moving forward, but yesterday it under-delivered on converting the value you already had.
In the future, we'll provide ample notice of any currency change before it happens and spend particular care on any currency conversion rates based on opportunity.
Thank you again for your feedback and patience.
The RuneScape Team
---
Like we said, this change is part of an ongoing initiative - so keep your eyes peeled for similar updates later on!
Forum Avatars: Fixed!
Well, this was going to be a surprise, but there's no getting anything past you forum-dwellers!
The issue where players were unable to update their avatar on the Official Forums using the Photo Booth has been fixed. Here's how you can get a snappy new photo of your own:
Equip your finest finery and head to your nearest Photo Booth
Smile! (this part is very important)
Snap a picture
Your Forum avatar should update shortly after performing these steps. If it doesn't update immediately, just wait a bit.
We can't wait to see your lovely faces again!
Treasure Hunter: Mosaic Crystals
A new Treasure Hunter promotion has arrived. In Mosaic Crystals, you'll get a grid of different-rarity crystals to pick from. Select all prizes in a line, and you'll get extra rewards - and every time you do, you'll get points on your progression track and unlock even more. Once you reach the end of the progression track, you can prestige and get even better prizes the next time!
Mosaic Crystals will run from January 26th to February 1st.
RS20
Improvements
The 20th Anniversary Invitation is no longer given to players on Tutorial Island.
Fixes
Players doing the Dragon Slayer portion of the Grand Party miniquests can now reclaim the Frying Pan from Duke Horacio if they've destroyed it.
Other
Improvements
A new miniquest called 'The Vault of Shadows' has been added, which takes you through the Vault of Shadows Archaeology mystery.

The requirement to do so is now 58 Archaeology, although you will still need 107 Archaeology to restore your own Spell Scrolls and receive XP.
If you have previously completed the mystery, speak to Dr Nabanik to complete the new miniquest.
Fixes
It took him a while, but Max has finally reclaimed his Max Cape!

... and he's now wearing it!

Max has also reclaimed his 'Master of All' title.
Fixed an issue which caused Max's skilling pets to desync sometimes.
Players will no longer crash when spying on Agent 007. You're good to go, Scaramanga.
Resolved an issue with one of the tooltips during the Prayer section of Tutorial Island.
A note from Mod Kari:
Embedded Wiki links in the patch notes will return soon!
J-Mod Livestreams
January 26th | 17:00 Game Time | Player Avatar Refresh
Join our artiest J-Mods as they walk you through the development of the new Player Avatars, from the goals behind the project to what they look like so far.
January 27th | 16:00 Game Time | Big Fat RuneScape Pub Quiz
It's back and it's bigger and better than ever! Join Mod JD at the Blue Moon Inn for an extra-chunky Pub Quiz covering 20 Years of RuneScape. There's loads of prizes on offer, so be sure to bring your a-game!
Want to get closer to the action? We'll be live from World 83, so come along and buy a round - it's only one coin!
Don't forget, you can catch all of our livestreams over on our Twitch channel, here.
Creative Corner
Awesome Art
This week we were transported to a magical land by u/xPluisje's beautifully drawn Spirit Tree. What an absolutely terrific piece of art. Look at its lovely smile! We'd love to give it a huge hug and perhaps a little peck on the lips. Glorious.
Steam Screenshots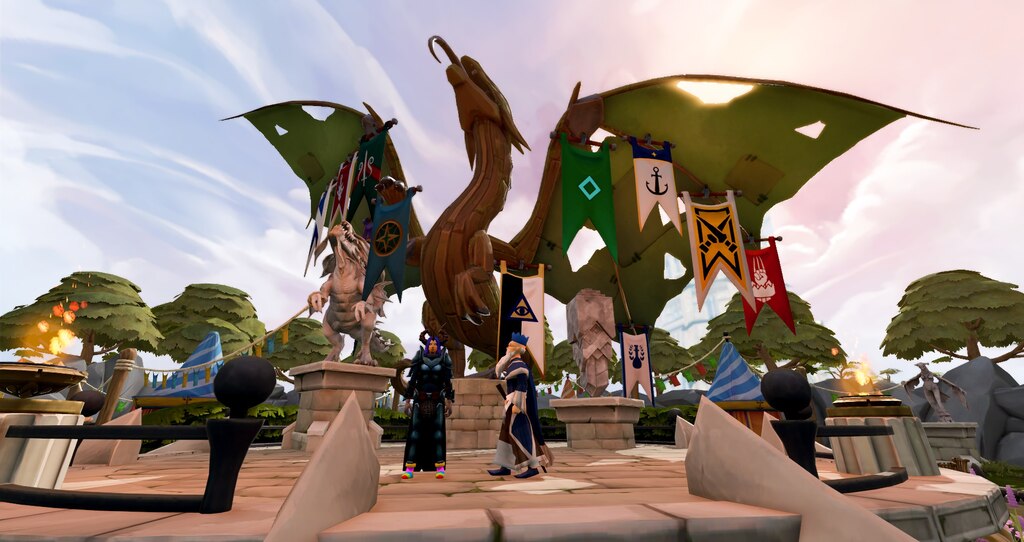 By Julia_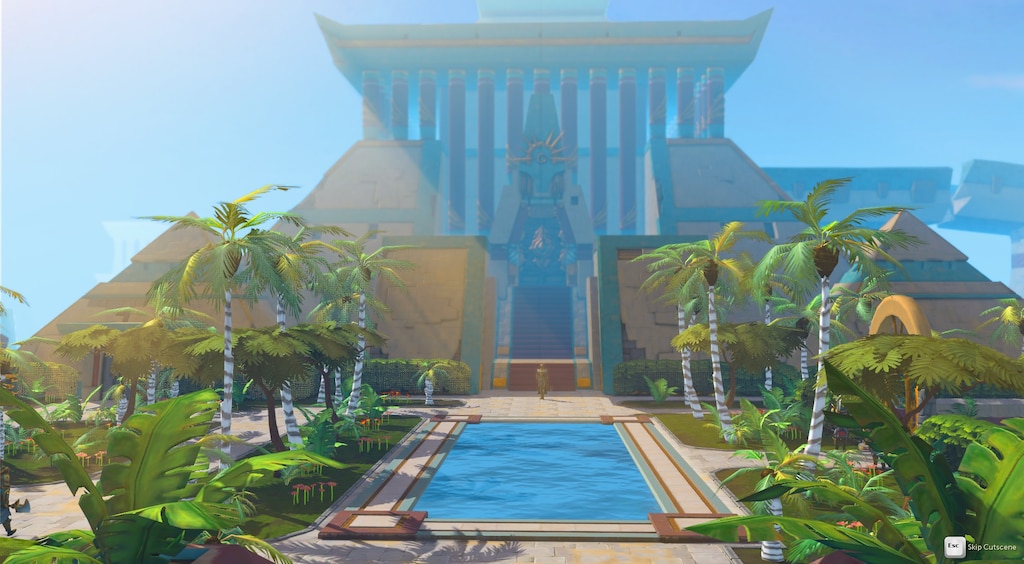 By Mtwarrior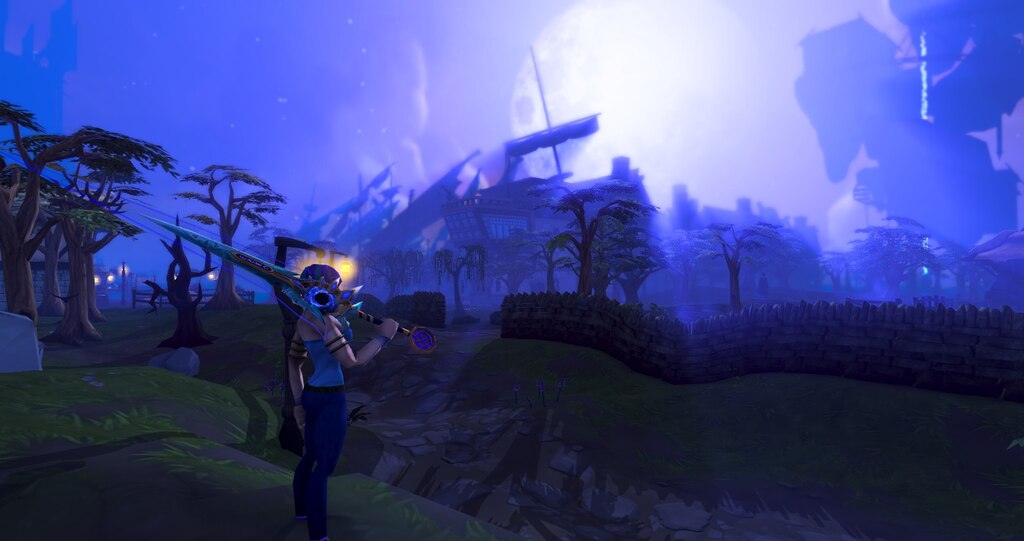 By pwnthybytes
Community Corner
Pink Skirts Event
This week's spotlighted Pink Skirts Event is a Town Square Q&A hosted by Princess Rae! Bring your burning questions to the Varrock West Bank on World 3 this Saturday, January 30th from 23:00 to 23:59 Game Time.
To see the rest of this week's Pink Skirts events, check out their page here!
Community Shout-Out
This week we'd like to shine the spotlight on the FashionScapers! This Discord is the place to be for those avatars that are just really, really good looking. Take a look at these outfits by Stephano#9928 for a sample of what this community has to offer - and if you think you can do better, come show off your looks!
You can join the community at this link.
---
The RuneScape Team