Phones at the ready - RuneScape goes live on Mobile this Thursday! Read on to see all the latest info on that, plus a look at an all-new, extra-chunky Familiar-themed Ninja Strike, the thrilling conclusion to the Battle of the Monolith, and Cubemaps! CUBEMAPS! Get ready to rumble...
RuneScape on Mobile Launches on Thursday!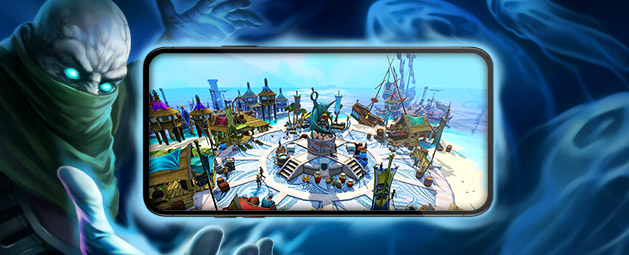 It's the moment you've been waiting for: RuneScape will go live on iOS and Android devices this Thursday, June 17th.
Get yourself hyped before the big event by joining the J-Mods on Wednesday for an all-singing, all-dancing launch stream as they count down to launch. If you're lucky, you'll be in time to watch them press the launch button!
By the way, if you haven't pre-registered yet, now's the time to do it! You'll get access to all the exclusive pre-registration rewards unlocked so far - and remember, the more registrations we get, the more rewards there'll be! C'mon, you know you'd look good in that Crux Eqal armour.
To pre-register, just make your way to either the App Store or the Google Play Store.
---
Ninja Strike #22: Familiar Intelligence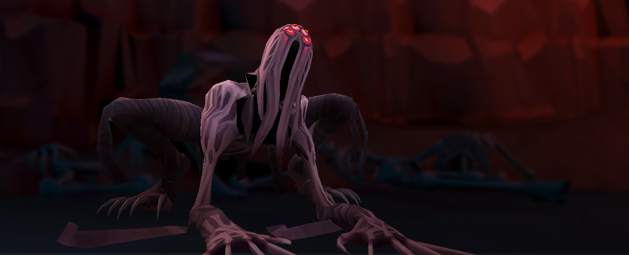 The Ninja Team are back with a bumper round of improvements! This week they've set their sights on Familiars.
First up, several core Familiar behaviours have been improved! Auto-firing scrolls is now easier than ever, and some previously pacifistic Familiars can now be ordered to viciously slaughter your enemies. It's high time those Unicorn Stallions had their revenge!
The math-enjoyers among you will also be happy to hear that all Familiar durations have been standardised along 16-minute increments, which makes them both easier to remember and a fun way to brush up on your times tables. This change has also affected the Anachronia Summoning Totem, which will now boost your Familiar's duration by a neat 16 minutes instead of the nebulous '10%' of yesteryear.
The Familiar UI is also much improved, with new settings, buttons and details for you to enjoy. You know, if that's your kind of thing.
Lastly, we've renamed various Familiar scrolls so that it's more clear which Familiars they belong to. Tooltips and other information have been updated accordingly.
If you're looking to get 'familiar' with the fine details of this update, be sure to check out the Patch Notes!
---
Battle of The Monolith
This week, the Battle of the Monolith comes to its epic conclusion. Everything you know is about to change, as old friends (ancient even) become enemies, fall prey to forces beyond their control, and change beyond your wildest imaginings. Be sure to tune in live to grab your repeatable 10% XP bonus!
Oh, and don't forget to tune in next week for the epilogue, which will set the scene for what's coming next. You might have won the battle - but can you win the war?
---
Tech Update: Improved Cubemaps
We're thrilled to announce that this week's update also includes a long-awaited update to Cubemaps!
"Cube-what-nows?"
Cubemaps are what we use to tell the textures on your character - especially the shiny, reflective bits - what the world around them looks like. Specifically, it tells them how the lighting around you should interact with your character.
Imagine the dank swamps of Morytania. It looks very different from, say, the bright open skies of Stormguard Citadel, right? With Cubemaps, the game is able to pick up on that difference and apply it to your lovely shiny armour.
To cut a long explanation short, Cubemaps mean that you'll get better looking, more natural graphics with better reflections across their surfaces. Those of you who felt that newer cosmetics looked washed out in certain environments will now notice that they look much better in almost all circumstances.
If you'd like to learn more about Cubemaps and see how this huge project actually works, check out the video below, hosted by Mod Chilly, the Cubemaps maestro!
Ninja Strike 22: Familiar Intelligence
Familiars: Behaviour
Familiars will now return to players faster when stuck against terrain.
Familiars that previously only fought in self-defence, such as Bunyips or Unicorn Stallions, can now be ordered to attack (they still won't attack by default).
A new 'Combat Mode' Summoning setting will set your Familiar to always attack your current target, attack only in self-defence, or never attack unless specifically commanded to.
The duration of all Familiars has been standardised to increments of 16 minutes - 16, 32, 48, 64 and so on.

Some outliers have been rebalanced and had their duration increased or decreased where appropriate.
Dungeoneering and Stealing Creation Familiars will all last for 64 minutes and 32 minutes respectively.

The Anachronia Totem of Summoning now increases all Familiar durations by 16 minutes instead of by 10%.
All Familiars except Spirit Pack and Prayer Pigs may now store their respective scrolls.
The following Familiars can now auto-fire their scrolls:

Spirit Spider
Macaw
Spirit Terrorbird
Ibis
Fruit Bat
Nightmare Muspah
Ghast
Spirit War Pig
Ravenous Locus

Some Familiars can no longer have their auto-fire set. Previously, these Familiars could set a rate but would never actually fire.
Legendary pets with the Beast of Burden ability can now be turned into Beasts of Burden by left-clicking or tapping the pouch.
Familiars: UI
The 'Follower Details' interface has been updated:

Various icons have been replaced with new graphics.
The familiar special points bar is now green, the same colour as its action bar variant.
Added a button to set the special attack auto-fire rate and removed the right-click option to do the same thing on the special points bar.
Added a new button to directly access Familiar Settings from the Settings interface.
Added a new button to store or take scrolls with four different options: 'store max', 'take all', 'store x' and 'take x'.
Added a new information panel which, when expanded, displays all information regarding the Familiar which could usually be found on the Pouch.
Added hover/tap tooltips to various interface components.
The indicator for scrolls remaining in the Backpack and held by the Familiar has been made more prominent.
Interface components will now auto-adjust when resizing the interface.
These changes also apply to the Beast of Burden Inventory view, where you'll find a new collapsible panel for the relevant buttons.

Added two new settings to automatically close and open the Follower Details interface when a Familiar spawns or despawns.
On Mobile, the Beast of Burden Inventory now has bigger slots for better visibility.
With few exceptions, despawning familiars will no longer automatically close open interfaces.
Follower interaction settings can now be found in the main Settings menu, under both Combat and Skilling options.
Familiars: General QoL
Tooltips for Summoning Pouches now display:

Summoning level required
Familiar duration
Type of Familiar, i.e. Beast of Burden or Skill Booster
Familiar abilities, if applicable
Relevant scroll and effect
Which Combat Mode is enabled by default
Highlighted keywording

Familiar scrolls have had a similar tooltip touch-up and now display the Familiar they belong to and how many special move points they'll consume.
Familiar scrolls are now also named after their respective Familiars. For example, 'Death from Above' is now 'Ripper Demon Scroll (Death From Above)'.
Dungeoneering and Stealing Creation Familiars have also had their scroll and Pouch information updated.

Those same Familiars can also hold their own scrolls now.
They'll also be affected by the Anachronia Summoning Totem.

Various Familiar buttons can now be dragged to the action bar, including:

Give to Beast of Burden
Take from Beast of Burden
Dismiss Familiar
Call Familiar
Use Scroll
Attack
Renew

When a Familiar despawns, any scrolls it was holding will now be sent to the Backpack. If space is not available, they will go to the Bank. If the Bank is also full, they'll be dropped.
Added info-box messages for various erroneous actions, such as casting scrolls for a Familiar when there are none available.
The term 'Summoning special points' has been changed to 'Familiar special points'.
Abyssal Familiars now use the bank note terminology rather than 'certs'.
---
Engine Improvements
Fixed an issue causing some areas to render overly dark or pitch black.
Action bar icons will now update properly when removing abilities or switching between pages.
The empty spaces in sliding block puzzles will now appear correctly.
Fixed a rare crash when placing walk markers.
Fixed a crash occurring on Snapdragon 865 devices.
Fixed a number of issues with on-screen keyboard input on iOS devices.
Item stack counts will now appear on Samsung Galaxy S20, S21 and Note 20.
Players on Intel GPUs will no longer see black or invisible textures in compatibility mode.
RuneScape is now only available on iOS versions 14.0 and above.
Improved point light brightness on mobile devices.
Improved the speed of cache validation.
Added contextual keyboards and auto-correction on keyboards for iOS.
---
Marketplace
The option to purchase 'X' amount has been re-added to the Oddments Store.
Silver members can once again upgrade their Silver Premier Club to Gold via the Bonds Store on the Marketplace.
Players are now required to enter their Bank PIN if accessing the Marketplace through the lobby.
The Marketplace now loads correctly on MacOS.
---
Other
Fixed a font spacing issue for some strings.
Removed overlapping text on the 'Report Player' interface in the Lobby.
Corrected an issue that prevented the 'Create' button from activating in the Gizmo Shell interface.
Prevented client stuttering after exiting the cutscene where Magic Stick appears.
Players can no longer receive unlimited Beans during the Manor Farm tutorial.
Reworked Cubemaps, resulting in more natural-looking cosmetics with better surface reflections.
Social tabs in the lobby of the desktop client now extend to the correct height.
Corrected the text for the Sun Shade achievement, which previously stated 14 floors instead of 25.
J-Mod Livestreams
Wednesday June 16th | 15:00 Game Time | Mobile Launch Stream
It's HAPPENING! Join the J-Mods live for a bumper livestream bonanza as they push the button that launches RuneScape on Mobile live on stream! They'll also reveal more about City of Senntisten, the final quest before the Elder God Wars kick off. Don't miss it!
---
Cracking Creations
RuneTube
Are you waiting with baited breath for RuneScape to go live on Mobile? Get yourself even more hyped with Protoxx's list of everything you should do on Mobile once it arrives. Enjoy!
Scaper's Screenshots
This week's screenshots come from InstaScape! Check 'em out here.
By Laura | @Rs_DrFloof
By Lady Vad241
By Shania | @rs.archie_
---
Community Corner
Pink Skirts Event
This week's featured Pink Skirts Event is a Town Square Q&A hosted by the wonderful Princess Rae! Bring your questions to Varrock West Bank on World 3 this Saturday, June 19th from 23:00 - 23:59 Game Time.
Community Shout-Out
Are you new to RuneScape, joining us for the mobile launch? Then you'll want to check out the official RuneScape Wiki, where you can learn everything you need to know about the best MMORPG in the universe (that's us, for reference).
---
- The RuneScape Team