The sun is shining, the birds are singing, and in Gielinor, the druids are celebrating the Spring Festival! Read on to find out all about that, plus, we've got an update on the Login Lockout situation.
Login Lockout
We're still working hard to bring affected players back into the game. For all the latest news, check out our latest post.
https://secure.runescape.com/m=news/account-returning-begins--making-things-right
In addition, please be aware that we'll be compensating all players who as a result are unable to participate in the Spring Festival event.
Spring Festival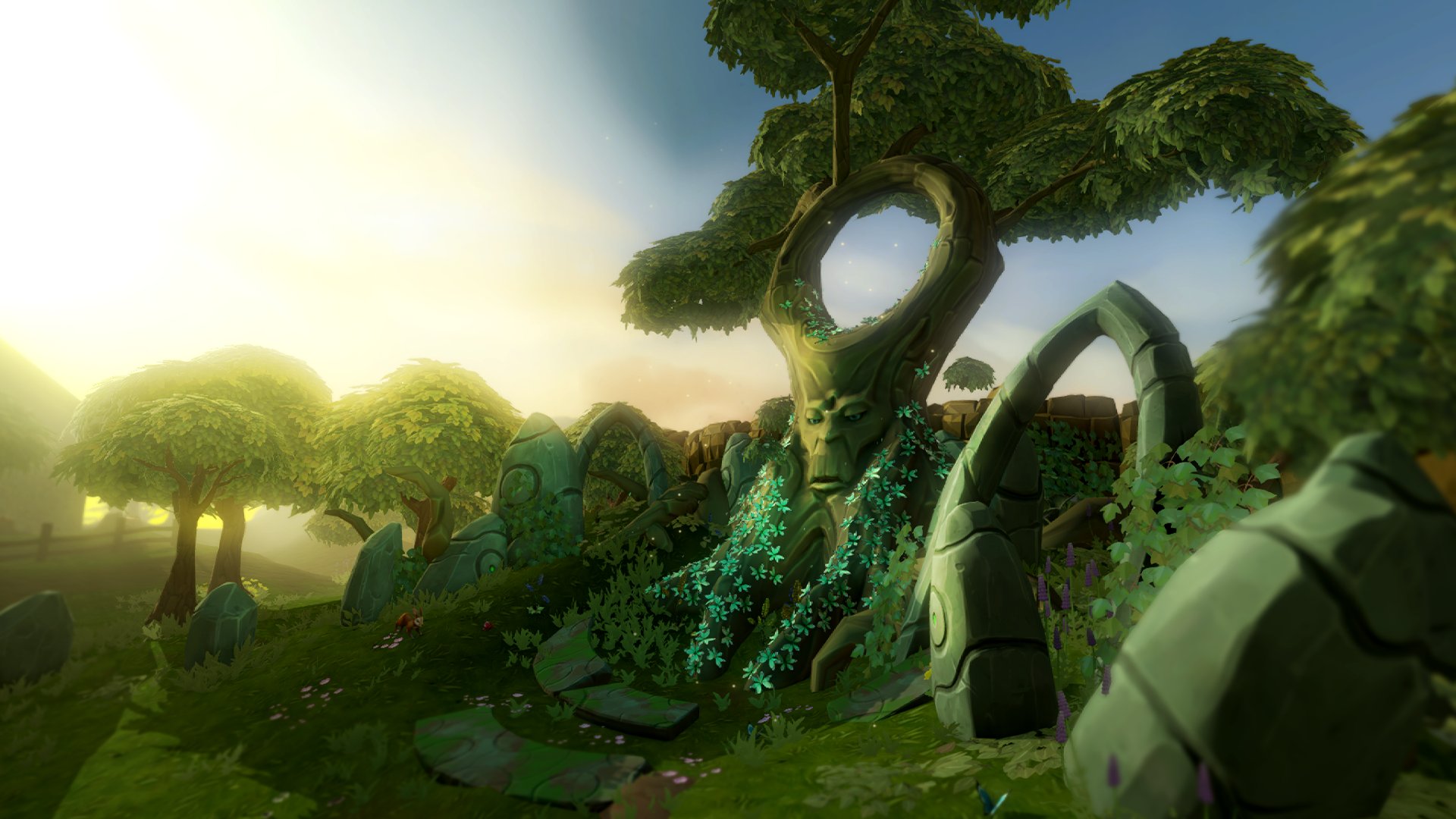 Spring has come to Gielinor, and the druids are busy celebrating the season with the Spring Festival! From March 29th to April 11th, head to the area south of the Archaeology Guild to partake in a range of springtime activities:
Guthixian Butterflies
It seems that that unusual-looking tree has attracted a special species of Guthixian Butterfly! Catching them adds to a global counter - the more butterflies you and other adventurers catch, the better your rewards!
Skilling Stations
The druids are always happy to help new seekers explore their ancient traditions - and you'll get a nice reward for helping them out, too.
There's three stations to try, and all of them award Spring Tokens and XP. Use the Activities Interface to select which skill you'd like to train, then get to work!
Please note that Ironman accounts can get rewards from these activities, but cannot benefit from unlocked multiplier buffs.
Potion Brewing
Mix up some magic and earn either Herblore or Cooking XP - mmm, smells good!
Icon Carving
Getting artsy with a tree trunk or two will earn you XP in either Fletching or Crafting.
Stone Celebration
Take a whirl around the standing stone and get XP in either Agility or Prayer!
Rewards
You can spend the Spring Tokens you earn by participating in activities in Thaerisk's Surplus Spring Supplies Shop, which is fully-stocked with seasonally appropriate rewards, including the Crux Eqal and Butterfly outfits, the Invoke Spring emote, and the 'All of a Flutter' title.
You can also pick up various consumables such as lamps, stars, and mystery boxes. Please note that Ironman accounts will be unable to purchase these consumables.
Remember: if you've been affected by the log in lockout, we'll still provide Spring Tokens or the event items themselves, depending on when you're able to re-access the game.
Oh, and one last thing - there just might be something else going on this week. Be sure to pop in on April 1st to find out more!
Pi-Mas
Pi Day is a bit behind us now, but we promised you combat updates, and we'll darn well get you them!
The appropriately named Mod Pi's hard work has resulted in improvements to the Area Loot interface and the Crackling perk, the ability to resize Debuff and Buff Bar icons, and a new unlock at War's Retreat. Check the Patch Notes for more information!
Premier Club
Premier Club members will receive their April monthly drops this week! Log in on April 1st to get:
1,000 Oddments
A variety pack
Be sure to check in next month for your next drop!
Pi-Mas Combat Changes
Improvements
The Area Loot Interface now:

No longer closes while walking around.
Periodically updates while walking around and when an NPC drops loot.
Closes itself after moving more than 10 tiles since it last updated.

Auto-retaliate is no longer disabled while the Area Loot Interface is open.
A new unlock is available from War's Retreat which will reset ability cooldowns when using the Altar of War.
Players are no longer able to use the Zaros Godsword's special attack if a different one is already active.
Revolution Combat Mode will now fire off Abilities more consistently after a channeled Ability is used, bringing it more in line with Full Manual Mode.
You can now adjust the size of Buff and Debuff Bar icons on desktop.
Dragonbreath will now prioritise your main target before performing the usual AoE.
Fixes
Ingenuity of the Human is no longer triggered by non-Ability attacks.
The Needle Strike buff will now apply to the targeted enemy and last for the correct length of time. It can no longer be reapplied by switching targets.
The time you can perform an Ability after using Snipe is now correct.
The Quick Prayer menu will now show available presets more consistently.
The 'Check charge' option in Filtered Chat during combat will no longer spam the Chatbox when pressed or held for gear that's already equipped on the Action Bar. This doesn't apply to the first message but to all further messages within a short time.
The Crackling perk now triggers on the next attack after the cooldown ends, rather than immediately.
Engine
Various improvements have been made to pointlights.
Switching app or locking your phone in certain circumstances will no longer cause freezing or crashes when on Samsung Galaxy S20 or Galaxy Note 20 devices.
New mobile app icon.
UI
The Log in Screen has reverted to its previous look.
The 'Temporarily mute this player' button no longer overlaps with the 'Cancel' button in the 'Report player' pop-up within the lobby.
Added functionality to the mobile lobby screen so that the device 'back' button will toggle the display of the side panel.
The Terms of Use screen has had a bit of a refresh on mobile.
Various small tweaks, fixes and improvements.
Added various 'close' buttons to popups in the Log in Screen.
Yak Track
Fixes
Hotfixed:The Yak to Basics splash screen and tutorial no longer pops up every time a player opens Yak Track.
Tier 22 Task A now shows the correct options for Smelting.
Other
Improvements
Premier Club monthly drops now feature new and improved messaging!
The Ironman plaque in Edgeville has been updated to include Bikk's achievement of the 'Insane Reaper' title. Congratulations!
Vannaka has left a helpful note in his previous location to point players towards his new one.
Fixes
The overlay interface that appears when entering an incorrect password on log in now has a close button, as expected.
The achievement for the Vault of Shadows miniquest has been corrected.
Fixed a typo in Padomenes' dialogue during Azzanadra's Quest.
Changing your Spellbook using a Spellbook Swap spell or otherwise is now more responsive.
J-Mod Livestreams
Tuesday March 30th | POSTPONED
Due to team capacity, this livestream has unfortunately been postponed. Please check back next week for our April showcase as well as a Leads Q&A.
Creative Corner
RuneTube
Check out the latest in the TheBookOfRS series of lore videos, looking back over Gielinor's rich and dangerous past! This latest instalment takes a deep dive into the Third Age - The God Wars themselves!
Awesome Art
This has to be the cutest Corbicula rex we've ever seen! Creator Rallis has captured the fearsome/adorable dichotomy quite perfectly. Rargh! But also, awww!
Scaper's Screenshots
This week's screenshots come courtesy of the FashionScape Discord community. Inspired by their eleganza? Join here to strut your stuff!
By Plegos
By Matthew
By Sgt_Viper000
Community Corner
Pink Skirts Event
There's a Town Square Q&A this weekend with Princess Rae, who is eagerly awaiting your questions! Find out more about the Pink Skirts, get help and chat all things RuneScape! Join the fun this Saturday April 3rd, 23:00 - 23:59 at Varrock West Bank on World 3.
For more info on this and other Pink Skirts Events, check out their page.
Community Shout-Out
Our Diversity Discord is an inclusive space where you can discuss all things RuneScape and beyond with people from all sorts of backgrounds - everyone is welcome in Gielinor!
Join the community by clicking here.
---
The RuneScape Team