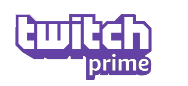 Last Summer we partnered with Twitch to deliver one free month of membership for every player with Twitch Prime, and we are absolutely delighted to announce that we'll be partnering with Twich Prime once again. Details of the partnership can be found below!
Old School RuneScape and Twitch Prime
Between Thursday 26th July - Wednesday 19th September members of Twitch Prime can claim one free month of membership and get access to the purple skin colour. Players without Twitch Prime will gain access to the skin colour once the partnership has ended.
Using Twitch Prime
Getting the membership and getting the purple skin colour can be done in just four easy steps:
Step 3: Well, you now have the free month of membership!
Step 4: Visit the Makeover Mage (found just South-West of Falador) to make yourself purple!
We're delighted to tell you that Twitch offer a 30-day free trial to Twitch Prime. Those of you without Twitch Prime - Start your free trial today!
Another benefit of Twitch Prime is a free subscription to a Twitch streamer each month. Put your free subscription to good use and support one of our fantastic Old School RuneScape content creators. Head to the Old School RuneScape stream directory to see who is live and to show some love!
If there are any other questions you might have about Twitch Prime then please do visit our very handy Twitch Prime FAQ.

Mods Archie, Ash, Ayiza, Bruno, Curse, Ed, Ghost, Jed, John C, Kieren, Lenny, Lottie, Mat K, Maz, Munro, Roq, Ry, Stone, Sween, Weath, West & Wolf
The Old School Team