It's a real shame that Pestilence isn't next up on the 'Til Death Do Us Part roster, as that would tie in nicely with the fact that half of Jagex seems to be off ill. The Big Post-RuneFest Lurgy, they call it. Other names we've heard include 'RuneFever' and 'RuneMange'. We're not sure if the marketing department will rush to embrace that branding.
As it happens, Famine is next up in 'Til Death Do Us Part, which doesn't really lend itself kindly to any jokes. Especially as the canteen we have here is so great. Seriously, if you ever visit then do try the BBQ pulled pork tacos. The good stuff.
CUSTOMER SUPPORT WEEK
Extra Keys, anyone? Imagine if you could be rewarded for doing something that benefits you. Like keeping your account safe from unwelcome visitors. Sweet deal, right?
Customer Support Week kicks off today (October 22nd). It promotes good account security etiquette by encouraging you, our dear players, to enable your bank PIN and the Authenticator. Each of these earns you a Treasure Hunter key, regardless of whether you're a member or not. Already super secure? Well done, you're on The Good List. And you won't miss out on the keys either as you'll get them automatically.
Count Check Free XP and Clue Scrolls
Count Check, while a friendly Vampyre, usually prefers the darker surroundings of the Stronghold of Security. This week, however, he's travelled to Burthorpe and is waiting to talk to you. Say hello and he'll give you a free daily clue scroll and an instant teleport to The Drop, as well as some top tips to protect your account – which if followed are rewarded with an XP lamp. You can return to him all week too! Missed a day? Count Check is not the type to hold a grudge and will happily hand over your missed scrolls.
You'll receive two prize caskets for each clue you complete, but you'll have to be fully protected to unlock the second one. If you're not a member, you'll only have access to F2P items from easy clue scroll drop tables. Members can receive rewards from easy or medium clue scroll drop tables, with rewards that scale at higher total skill levels.
The Drop
We'll also be launching a new edition of The Drop, which will be playable in-game throughout the week. We've got a fresh set of new questions with a Customer Support theme. Answer them all correctly and you'll unlock the rare title of 'The Knowledgeable'. Very flash.
NEW TEES, DESKMATS AND ANGELS SCAPES LINES ON OFFICIAL STORE
A range of goodies are now live on the Official Store.
New arrivals include:
- Plague's End and Tim 'n' Crunchie Deskmats (800x300mm)
- DFS, Zaros Godsword, Zilyana and Elvarg's First Victim tees (featuring original illustrations)
- Tim 'n' Crunchie mug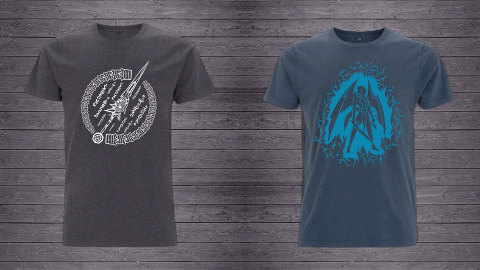 And if you didn't make it to RuneFest this year you can still celebrate this year's music and Rellekka themes with new Angels Scapes offerings including the Nezzy Helm, Music Skillcape, 3D Beerkeg and Fremennik Rings keyrings and a limited edition Dagganoth Kings pin set.
Patch Notes
Here's what you can expect this week!
Graphical
Rotated ancient elven ritual shard inventory model to give clearer distinction between the item and the Magic stone used for construction.
Missing flooring has been re-added to a house south of Granny Potterington's farm.
The ramp on the north side of Granny Potterington has now been fixed and can now be walked upon as expected.
Leather body (class 3), Bow (class 3) and Bow (class 4) no longer stretch when worn.
A gap above the scrollbar of the chatbox in Legacy interface mode has been removed.
Removed the monthly oyster's longer closing animation, to prevent the top and bottom halves of shell clipping through each other.
Skills, D&D and Minigames
Leaving 'Til Death Do Us Part event area with War's javelins equipped will now reset your combat style back to melee.
Fixed a typo in warning message you receive when clicking on pillars during Til Death Do Us Part event.
Rift particles now draw correctly when teleporting to the Halloween event from an instance.
Tweaked wobbegong fishing locations to make sure they do not deplete too soon.
The Farming skillcape perk message now correctly reflects the master farmer outfit's ability to clean herbs.
Players will now correctly return to the expected Player-owned Port portal entrance when they use the Exit function at their exit portal.
Signs of the porter will now work in conjunction with collecting clean herb from patches (via the Farming outfits) as well as collecting the Player Owned Farm honey varieties from the Apiaries.
The Crystal tool siphon will now only work on tools, as it was intended.
Quests, Challenges and Achievements
Sick-looking sheep (2) can now consistently be prodded during the Sheep Herder quest.
Fixed an issue where the Rag and Bone Man quest could not be completed under certain conditions.
Other
Block incoming share offers toggle now works correctly.
Mobile-specific options no longer appear in the options menu while in the tutorial on the desktop client.
The 'destroy plant pots' and 'destroy buckets' settings once again operate as expected.
A typo in the message given for destroying items in the settings interface has been corrected.
A typo within the settings interface in regards to sell value when interacting with vendors has been fixed.
Grammatical inconsistencies on the choice selection for a new account have been fixed.
Ninja Fixes
Recharging god books and Erethdor's grimoire can now be done using either object on the other.
Dramatically sped up Ugthanki respawn times.
Multiple woad leaves can now be bought from Wyson with a right-click option, at a slightly inflated price.
Improved the clickzone for glacors, covering a wider box that just the model itself, to allow for more leniency with it's oddly shaped model and wide sweeping anims.
Dominion mines now have buff bar timers, denoting when you can re-place your first and second mines.
It is now possible to pick up dominon mines with a full backpack if you are already carrying a stack of them.
Removed the Options tab from the Soul Reaper reward interface, as all of the option had been previously migrated into player settings.
Moved "Add to pouch" to the left click option for coins, and added a new "Add X to pouch" option.
Added a "Don't ask me again" option when confirming requests for slayer tasks from a Slayer Master that feels you're too strong for them.
Essence pouches now display degradation state in the tooltip. Those strengthened with Lunar magic may go above 100% repair.
Added a stepping stone to cross the river in Mos le Harmless.
Added remaining charges to the big book o' piracy's tooltip.
Seismic activities in the Asgarnia ice dungeon have opened an agility shortcut between the entrance and the skeletal wyvern cavern. 72 Agility is required to traverse it.
Reworked the check-items interface for signs of the porter.
It's now possible to create blurite off-hand crossbows and blurite 2h crossbows.
Mobile
Fixed an issue that was causing client dead states (black screens) when users go from a dialogue cutscene (such as the introduction dialogue to Firemaker's Curse) to a player choice and back to the cutscene.
We have improved the responsiveness of the swipe / drag / hold interactions in the app.
You should find swiping as responsive as before and notice an improvement in the game detecting if you want to drag an element around the interface (moving items and abilities is a primary example of this)
Finally opening the mini-menu (press and hold aka right click) is significantly more responsive and will open faster than before.
Updated some placeholder art in the graphics settings on mobile.
Fixed a bug that was causing an unwanted "press to continue" prompt when returning to the game after using the store on mobile.
Players utilising Legacy combat Mode on mobile will no longer experience the shortening of the inventory.
We have made further improvements to tooltips that we have re-enabled in the game (not all are enabled yet). These changes include;
Improving the draw appearance of the box.
Fixed some issues with tooltips for combat abilities not displaying correctly.
Some further optimizations to the tooltips.
Fixed an issue that mean the prayer globe border that lights up when a quick prayer selection is made was not being deactivated if the prayers were turned off individually (rather than toggling quick prayer to disable them).
Users are now able to scroll the bank interface using an empty space within their bank.
We have updated the art for the four globes - Health, Adrenaline, Prayer and Summoning.
The Adrenaline globe artwork is slightly different as it is divided into two parts, this is to indicate that at 50% you may start using thresholds.
We are aware that the prayer globe is not quite the same colour as on PC.
Fixed an issue that was causing safe areas to not be accounted for on notched devices when the user is interacting with an interface that has been made full screen (bank / powers interface / rewards shops etc..)
RUNESCAPE OFFICIAL SOUNDTRACK
Have you listened to our RuneScape soundtracks yet? We have partnered up with video game soundtrack specialist Laced Records to release two albums that are available to pre-order both on double deluxe vinyl and CD now – RuneScape: The Orchestral Collection and RuneScape: Original Soundtrack Classics. Both of these albums are also available digitally PLUS buying either physical version also includes a digital copy.
Pre-order here (shipping this November).
LOOTSCAPE
If you've been watching our livestreams, you must know that it's a great opportunity to grab some awesome in-game prizes. And for our new Hallowe'en Event - 'Til Death Do Us Part - you will receive an accordingly themed LootScape! Tune into one of our livestream during the day to receive this very special item:
100 Tainted Shard Charges – The Four Riders of the Apocalypse will need all the help they can get during this month-long mini world event. This is why the LootScape crate awarded to each and every one of you following one of our October streams will receive 100 extra charges on the Tainted Shard. And the easiest it is to defeat those monstrosities from Daemonheim, the more riches you'll get from the loot cave!
Exciting isn't it?! So don't wait up, connect your RS account to your Twitch account and find out more about it here. Once that's done, have fun and watch our streams during the day for a guaranteed drop!
LIVE STREAMS THIS WEEK
Each week, we host developers QAs, exclusive in-game first looks and more. And it's all live on our Twitch channel, join us!
Missed a stream? Don't worry, we keep them all on our YouTube channel. So be sure to Subscribe to it!
Tuesday, October 23rd – 15:00 UTC (Game Time) – Game Jam Content Showcase
Join us for a show & tell of the projects our JMods have been working on during last week's Game Jam! As always, we will be taking questions from the chat, so make sure you tune in at the right time if you've got some for us.
Watch live on Twitch – be sure not to miss it!
LootScape will be enabled (see all details above).
Sunday, October 28th – 18:00 UTC (Game Time) – PvM with Mod Lee
Join our resident PvM expert Mod Lee with another mass this Sunday, live on Twitch!
LootScape will be enabled (see all details above).
PINK SKIRTS EVENTS
Of course, adventures continue in Gielinor! If you want to follow all our announcements from our Twitch channel or networks while you're playing, well you absolutely can. Our PMods will organize a range of PvM Boss Masses, Events and Q&As throughout the week. Check out all the community events organised by the Pink Skirts on their official schedule here
---
The RuneScape Team