Do you feel lucky, punk? Well, do ya?! If yes, you're in for a treat this week, because Balthazar's Big Raffle is back! Plus, it's the fourth week of Summer Escape and we've got another bumper lot of patch notes for you to read. Go ahead – make our day.
September Raffle
Balthazar Beauregard and his spectacular circus have had a dip in funds this year, so once again they're hosting a raffle!
Find Balthazar in Burthorpe to receive a free ticket every day. Earn more free tickets by completing a daily challenge and tracking down Gilly Willikers, the travelling clown.
This year a shiny new prize is on offer: the Golden version of Linza the Disgraced's Barrows equipment! Plus, each ticket will also give you a chance to win prizes from the previous years, including:
Golden Godswords
Portable deposit boxes
Golden Warpriest armour
Deathtouched darts
Golden Barrows equipment
Golden Chaotic equipment
Protean packs
But remember – you've got to be in it to win it! If you miss a day (or several!) you'll be able to trade Balthazar a bond, and he'll hand over all the tickets you've missed so far – and as a bonus, he'll also hold on to any tickets you might miss in future.
Balthazar's Big Raffle will be available in-game from September 1st to September 30th.
Summer Escape: Anachronia
It's the 4th and final summer escape! This week, we're going on a proper island vacation to the Land Out of Time, Anachronia! You might want to swap those swim shorts for spears, though. Here are the buffs:
50% Chance for an extra Hunter mark to drop while Hunting on the island
50% More XP in Herby Werby
10% Increased chance of receiving codex pages while traversing the Agility course
10% increased Agility XP from the Anachronia course
0% Chance to fail obstacles on the Agility course
10% Increased Hunter XP while taking part in Big Game Hunter
10% Increased drop rate for rare items from Slayer creatures on Anachronia
While you're travelling around Anachronia keep an eye on those lodestones. Once every hour, certain lodestones will receive balloon drops containing Silverhawk feathers, summery snacks, and more!
Don't forget that from 12:00 on Friday to 11:59 on Monday the following boosts will also be in effect:
One free clue reroll a day
Double skill outfit fragments
Double Menaphos rep
Double thaler
Double slayer points
Half boss instance cost
Chance of mystery boxes when skilling/killing
And if that's not your thing, you'll find a variety of buffs in place on the Player Owned Farm:
10% increased chance of breeding animals
5% increased chance of shiny animals
10% happiness and health increase from feeding
Double item yield from harvested animals
10% more beans from selling animals
10% Increased drop rate of animals from combat
Honeycombs are 50% more effective when used on animals
Patch Notes
You might have noticed that things have been a bit quiet on the updates front, mainly because we're all very busy making improvements to existing game content. Have a look at the changes and improvements we've made this week.
Twitch Prime
We've once again partnered with Twitch to bring you some exclusive loot! Whilst active, Twitch Prime members can grab some free loot, including some exclusive outfit pieces!
This month, each and every one of you who's a Twitch Prime member can grab a free Premium Currency Pack (200 RuneCoins, 15 Keys, 40 Hearts of Ice). How to redeem your gains? Simple, follow the link below and make sure you follow all steps of the process.
For instructions on how to claim and redeem your loot, click here.
RuneFest 2019
RuneFest 2019 will be a blast from the very distant past as visitors take a dangerous journey into The Land Out of Time. Expect dinosaurs! And carnivorous player-eating plants! As you're travelling around a real-life slice of the island you can look forward to hands-on time with new content, talks and meetups with the JMods, loads of panels, a dedicated LAN area, an art area for meeting the creative teams and of course some very big surprise announcements on the main stage. We're also bringing back skill chips!
If you're in need of tips and suggestions on everything from travel to accommodation, you can also join our dedicated Discord channel, head to the official RuneFest forum or the community-owned Facebook Group.
Kerapac the Dragonkin will be coming alive at RuneFest 2019! We're happy to announce that we're partnered with WillowCreative who's crafting an amazing cosplay of Kerapac – that she'll unveil in full at RuneFest! Here are some words from her to mark the first step of this collaboration: "Very excited to be portraying an actual dragon soon and I can't wait to show you what else I've planned for him. Here you see a new animatronic wingframe and the aluminum stilts I already developed for a previous cosplay and Kerapac (the main reason why I wanted to build durable and multifunctional frames)".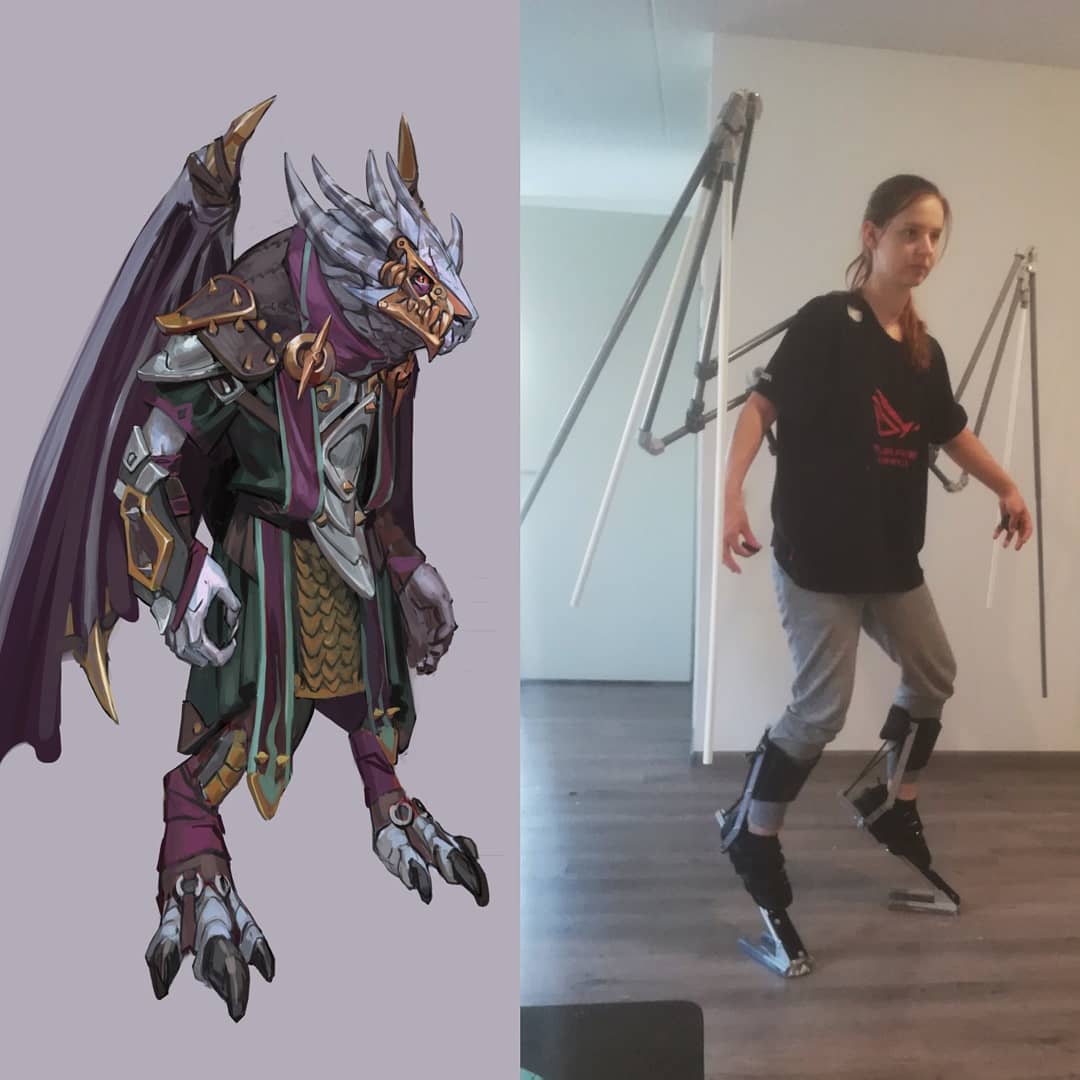 You can follow progress on her Kerapac cosplay on her Instagram profile, we'll also highlight each step of the build in our following news posts until RuneFest (Oct 4th & 5th).
Facebook Companion
Our Facebook fans can now enjoy a whole new RuneScape experience: the RS Companion! Whether you want to get the best out of the Land Out of Time with some quick info, explore helpful Guides displayed in the Grand Library, never miss future announcements around RS Mobile or RuneFest 2019, grab exclusive Membership offers (even free stuff!) or need Support, the Facebook Companion has your back!
Talk with the RuneScape Companion
The RuneScape Companion is still young and we want to make it the best experience possible with your help. How? Simple, interact with it. The more you have fun (or find bugs in the matrix), the more it will learn!
Playtest
We've been working on some super-secret projects here at Jagex HQ, and we'd like your feedback on it. In short, help us build the future of RuneScape! We will be hosting a workshop day soon and we need players to take part in it. You can apply here!
LOotScape
Our live streams are always a great opportunity to grab some awesome in-game prizes. And as our first adventurers set foot on Land Out of Time (or as we call it "LOoT"), we thought you'd like an update of the LootScape. Ok, roll the drums and behold… our LOoTScape!
This month, each and every RuneScape stream watched will give you a random drop from one of the following:
Guaranteed:
1 - 2 hunter marks
250 resources in a random Base Camp resource
Guaranteed drop from Basic Drop Table (see below)
View counter goes up on Orb
Chance based:
A random skilling outfit piece (if unowned)
Either Nature's Balance or Loots Cape (if unowned)
Basic Drop Table: Prismatic small fallen star, Prismatic medium fallen star, Prismatic small lamp, Prismatic medium lamp, Spirit Ruby, Spirit Diamond, Advanced Pulse Core, Spring, Silverhawk down, Medium DG Token Box, Small DG Token Box, Uncut Dragonstone, Large Cash Bag, Medium Cash Bag or Small Cash Bag.
Exciting isn't it?! So don't wait up - connect your RS account to your Twitch account and find out more here. Once that's done, have fun and watch our streams during the day for a guaranteed drop.
Live streams this week
Each week, we host developer Q&As, exclusive in-game first looks and more. And it's all live on our Twitch channel, join us! Missed a stream? Don't worry, we keep them all on our YouTube channel. Be sure to Subscribe to be the first to know.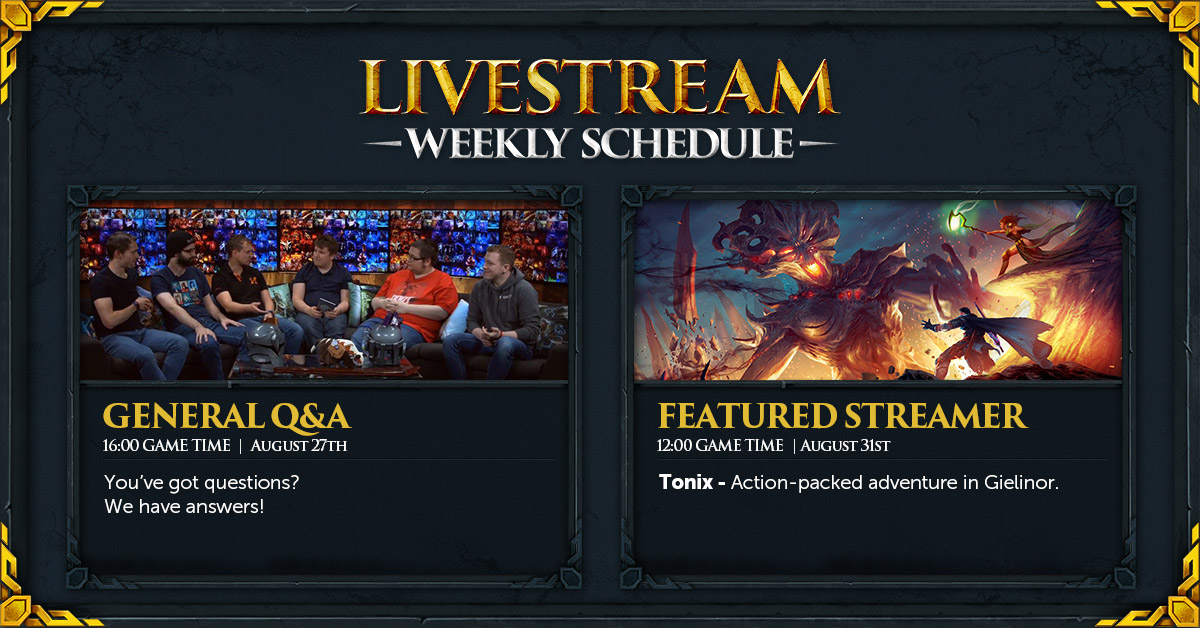 Tuesday, August 27th – 16:00 UTC (Game Time) – General Q&A
We're back on the sofas to take the time to answer all the questions you might have on pretty much any RuneScape-related topic!
Join us for a full hour of Q&A where we will cover every single questions we've received in the last days on our social channels (Reddit, Discord, Facebook, Twitter, etc) and the ones you'll ask us directly in the live Twitch chat. Got a question? Then don't miss this stream!
LootScape will be enabled (see all details above).
Saturday, August 31st – 12:00 UTC (Game Time) – Tonix Featured Stream
This week, our featured streamer is Tonix! Join him for a full action-packed live stream in Gielinor – we'll reveal all details as we get closer to the stream!
This featured stream is also an opportunity to grab a LootScape! That's right, you can now receive in-game loot when you watch a RuneScape streamer. It works exactly the same way as our official streams, just watch Tonix's stream on (him Twitch channel) and you'll receive the LootScape the following day.
LootScape will be enabled (see all details above).
Pink skirts Events
Of course, adventures continue in Gielinor even when we're too busy (PKing) creating the adventures of tomorrow. Our PMods are here to welcome you in a range of PvM Boss Masses, Events and Q&As each week. Check out all the community events organised by the Pink Skirts on their official schedule here.
---
The RuneScape Team