Your Feedback And Our Actions (November 24th)




Your Feedback
Our Response
Magic Stones were not purchasable from Keldagrim Stonemason's Shop.
This is now resolved and Magic Stones should be purchasable as normal.
The improvements we made to Chat Modes affected auto chat.
We're temporarily removing the right-click option for the newly introduced public chat mode feature and re-instating auto chat.

In the meantime, you can continue to use the /@p prefix for public chat.

When Group chat is set to only see messages from friends, you are unable to see the messages you've sent.
We're aiming to resolve this issue with a coldfix that is expected to occur around 1:40pm GMT.
A number of Group Iron players have reported that they are still receiving broadcasts messages after changing their settings.
Group Notifications settings decide what you broadcast to the group, and not what broadcasts you receive. It is currently not possible for us to have these settings determine what you see.

If you're still receiving notifications, we recommend you kindly ask your group members to update their settings too.






Exciting news - the Android Beta is ready to go! In other news, we're introducing extra Bank space and a literal Gold Sink!

Android Beta
Calling all mobile users – it's time for the Android Beta! A while back we mentioned that we're bringing some of the awesome features from our Steam Client to mobile, and we needed a few plucky testers to give us their feedback.
Only those with approved access to the Beta client can participate. Even if your app says you're in the Beta, if you've not received an Inbox message from us then unfortunately you do not have access. We will ONLY message players on this subject via their Inbox.
We're pleased to say that the testers have been selected, and between today (from 14:00 GMT) and December 8th they'll be trying a range of awesome features:
Buff Bars
Fishing Spot Indicators
HUD Improvements (NPC Information and Combat Styles)
Agility and Slayer Helpers
Chambers of Xeric Helper
Woodcutting and Ore Respawn Timers
Increased Draw Distance
Navigation Tile Indicators
Chat Improvements
And more!
If you missed out on this round, there's still a chance! We may be sending out invites to a second round of applicants at a later date. Again, if you're successful we will ONLY invite you via the in-game Inbox.
We'll be using the official OSRS Discord server for all communications throughout the Beta. Accordingly, we'll be updating the server with all the info you need to get started, including an FAQ and a list of any known issues. Beta invitees will get access to the Mobile Beta channels, which are hidden for everyone else.
If you don't see these channels right away, be patient – it may take some time for the permissions to kick in. If you still don't have access after 24 hours, let us know by sending a message to Mod Light#1353 on Discord and we'll sort it out.
Lastly, please remember that you need an Android device updated to at least 8.0 (Oreo) to participate. If you're an iOS player, stay tuned for another Beta currently aiming for early 2022.

Group Ironman Improvements
While you lot have been teaming up to take on Gielinor's toughest challenge, the J-Mods have been hard at work on some quality of life improvements for Group Ironman Mode.
Firstly, it was previously possibly for a (naughty) group leader to prolong the leaving process of group members by re-initialising their kick request, trapping them in endless 7-day grace period loops. As of this update, that can no longer happen.
On a similar note, removing a member from the group would sometimes cause the leaving message to spam the Chat Box. We've fixed this, so you can heartlessly kick your former group members to the curb in peace.
Now the fixes are out of the way, let's talk features!
Group Chat
This week's update brings a brand-new Group Chat so you can converse with your fellow group members! This new feature will replace the Trade Chat tab for Group Iron Players – although the existing functionality of this tab for trades, challenge requests, etc will remain the same. We've done this because Group Iron Players don't typically need to arrange trade requests with those outside their group!
To chat in your new and shiny channel, just prefix your message with either //// or /i.
Loot Broadcasts
This was a very popular request, and we're happy to announce that it's now available! Group Iron Players will now receive broadcasts to their group for loot, quest completion, Combat Achievement completion and level milestones!
For those of you who don't want to hear that your group member just nabbed the drop you've been running dry on for weeks, this setting can be toggled on and off in the Settings Menu.
You can also adjust the threshold at which loot is considered valuable enough to broadcast. Any loot stack valued below this threshold will not trigger a broadcast. The cap on this setting is a generous 500 million GP.
There's also an option to customise your Clan and Group Ironman broadcast colours if you wish!
Group Interface
If you liked the Clan Interface, you're going to love this, because it's essentially the same thing but for groups. This shiny new interface displays the following information:
Group status
Number of players in the group
Number of lives (HCIM only)
Group Prestige
Leader's name
Creation date
To be clear, should you downgrade from a Hardcore Group Iron Man to a regular one (deliberately or otherwise), all related information will be removed from the interface.
You can view the Group Interface as a guest – perfect for checking out a group before you join it.
With this new feature, it's also possible to report a group's name by clicking on it in the Group Interface. Panic not, group leaders – you can easily change your name in the interface, too!
Is that it for Group Ironman? Not on your Nelly! This week we'll be releasing another blog regarding the following topics:
Group Storage Expansion
Emergency Teleport Shards
Entering and Teleporting to Group Members' Houses

A (Literal) Gold Sink, Plus Extra Bank Space!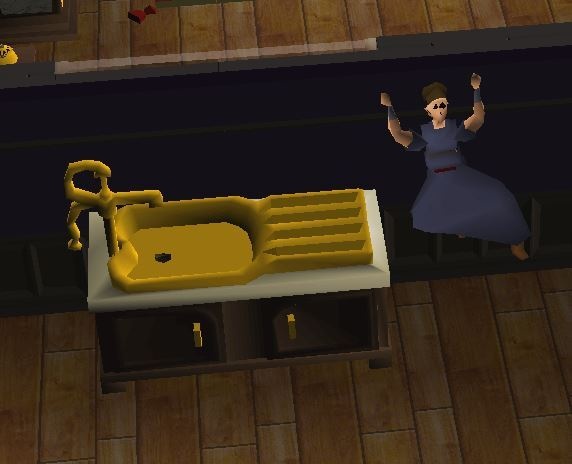 You suggested it, we implemented it – there's now an option to build a ludicrously flashy solid gold sink in your Player Owned House!
The Golden Sink requires 47 Construction to build. You'll need 10 Condensed Gold, 5 Gold Leaf and 5 Mahogany Planks to construct it.
Condensed Gold, you say? That's a new material available from the Keldagrim Stonemason Shop for the suitably extravagant price of 10 million GP… each.
We can't wait to see how many of you actually add the Golden Sink to your Player Owned House. But wait, we haven't mentioned the best part – it also functions as an actual sink, for all your hand-washing needs! Check out this animation: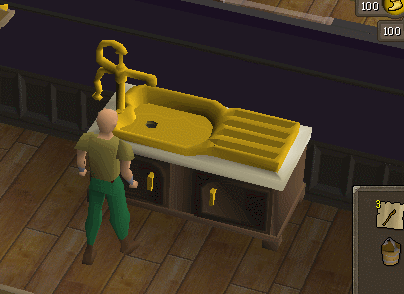 On the topic of gold sinks, you can now purchase additional Bank spaces in exchange for GP, as polled earlier this week. To do so, have a word with any Banker.
The increased Bank space is available for both free-to-play players and members. Once purchased, you'll retain access forever, even if your membership lapses.
Bank space is purchased in sets of 40, with a total of 9 sets available – that's a whopping 360 extra spaces! Each set costs more than the last, and multiple sets can be purchased in one go if you like.
As mentioned in our Economy Blog, the additional Bank spaces you get for having a PIN and Authenticator set up have increased from 8 to 20 for a grand total of 40 extra spaces when both are active!
So, the overall new max size of the Bank is 1,200 spaces. Not bad at all! Here's the rundown of the numbers:
Block
F2P Bank Space
P2P Bank Space
Cost (Coins)
1
440
840
1,000,000 GP
2
480
880
2,000,000 GP
3
520
920
5,000,000 GP
4
560
960
10,000,000 GP
5
600
1000
20,000,000 GP
6
640
1040
50,000,000 GP
7
680
1080
100,000,000 GP
8
720
1120
200,000,000 GP
9
760
1160
500,000,000 GP
Total
888,000,000 GP

Gielinor Gazette: Postbag and Player Created Content Submissions
The last Gielinor Gazette of the year is in its planning stages, and as always, we're looking for YOUR submissions to the Player Created Content and Postbag From the Hedge sections!
If you're not familiar, the Player Created Content section is where you can show off all the amazing, creative, Old School-related things you've been up to. Art, sculpture, turnip carving, fanfiction - if you've created it, we want to hear about it!
The Postbag From the Hedge, on the other hand, is your opportunity to write to any of Old School RuneScape's colourful cast of characters and ask your most pressing questions. Whether you want to know the deepest lore about the God Wars, or the Duke of Lumbridge's favourite snack (cake, obviously), this is your chance to find out!
You can submit your letters and creations in this Reddit thread. We can't wait to see what you lot come up with!

In Other News
Players with free entry to the Wilderness Resource Area are no longer asked whether they really want to enter after clicking on the door.
Corrected grammar in the Big Chompy Bird Hunting Quest Journal.
Players can now fletch in the Hallowed Sepulchre without interrupting movement.
As players can be teleported into the Lava Maze while they're unprepared to slash the web barriers around the exit, a couple of Knife spawns have been added to the Maze.
Additional Chat Mode
Speaking of, we know that remembering all those different chat modes is becoming increasingly frustrating, so we've added a new feature to make it easier. The Additional Chat Mode lets you talk in a given channel without a prefix, while still seeing game messages in the 'All' tab.
Try the following commands to see how it works:
/@f - Set mode to Friends Chat
/@c - Set mode to Clan
/@g - Set mode to Guest
/@i - Set mode to Group Chat (GIM only)
/@p - Set mode to Public
You can also change the mode by right clicking the appropriate channel and selecting 'Set Chat Mode'. If you're tired of typing commands, there's also a new setting called 'Chatbox Mode – Set Automatically' in the Chat section of the Settings Menu. When enabled, it'll automatically change your chat mode upon typing a message into that chat.
For example, typing /p, /f, /c, or /g will do the same thing as typing /@p, /@f, /@c, or /@g.

PvP World Rota
The PvP rota has moved to Period B:
560 - (UK) - PvP World
579 - (US) - High-Risk PvP World
561 - (UK) - Free-to-Play PvP World
580 - (US) - LMS Competitive
World 390 (AUS) for LMS Competitive has been de-activated with this rota.

That's everything for this week's game update. We'd love to hear your feedback so please let us know what you think via our official forums, on the 2007Scape Reddit, the Steam forums or the community-led OSRS Discord in the #gameupdate channel.
Mods Arcane, Archie, Argo, Ash, Ayiza, Banjo, Boko, Brow, Bruno, Con, Curse, Daizong, Deagle, Dibber, Ditto, Dylan, Ed, Elena, Ellie, Errol, Fed, Gecko, Grub, Halo, Havik, Hornet, Husky, Jndr, John C, Kandosii, Katies, Kieren, Kirby, KT, Kurotou, Lenny, Light, Lottie, Mack, Matheus, Maylea, Markos, Meat, Morty, Nasty, Nin, Nylu, Oasis, Peppers, Regent, Redfield, Roq, Ry, Sarnie, Sigma, Skylark, Sova, Squid, Steve W, Tide, Veda, Vegard, West, Wolfy & Zuko
The Old School Team