This week, Old School RuneScape hops on board Steam!

Old School RuneScape on Steam
Choo choo! We're going full Steam ahead this week as Old School RuneScape comes to everyone's favourite PC platform later today! So with this update, we will be opening up 6 new free-to-play worlds per region: UK, Germany, US (East), US (West) and Australia.
Our Steam release comes with 20 Achievements, 15 Trading Cards, 5 emoticons, and 6 badges to collect! We're tracking Achievements on and off Steam, so if you complete one on another client – including mobile – it'll still be checked off the list.
In addition to the above, we're delighted to tell you about something very cool the Steam C++ Client has allowed us to do. From tomorrow onwards Steam players will find UI Scaling in the game settings! If you have issues with it, let us know, we'll be quick to act on your feedback!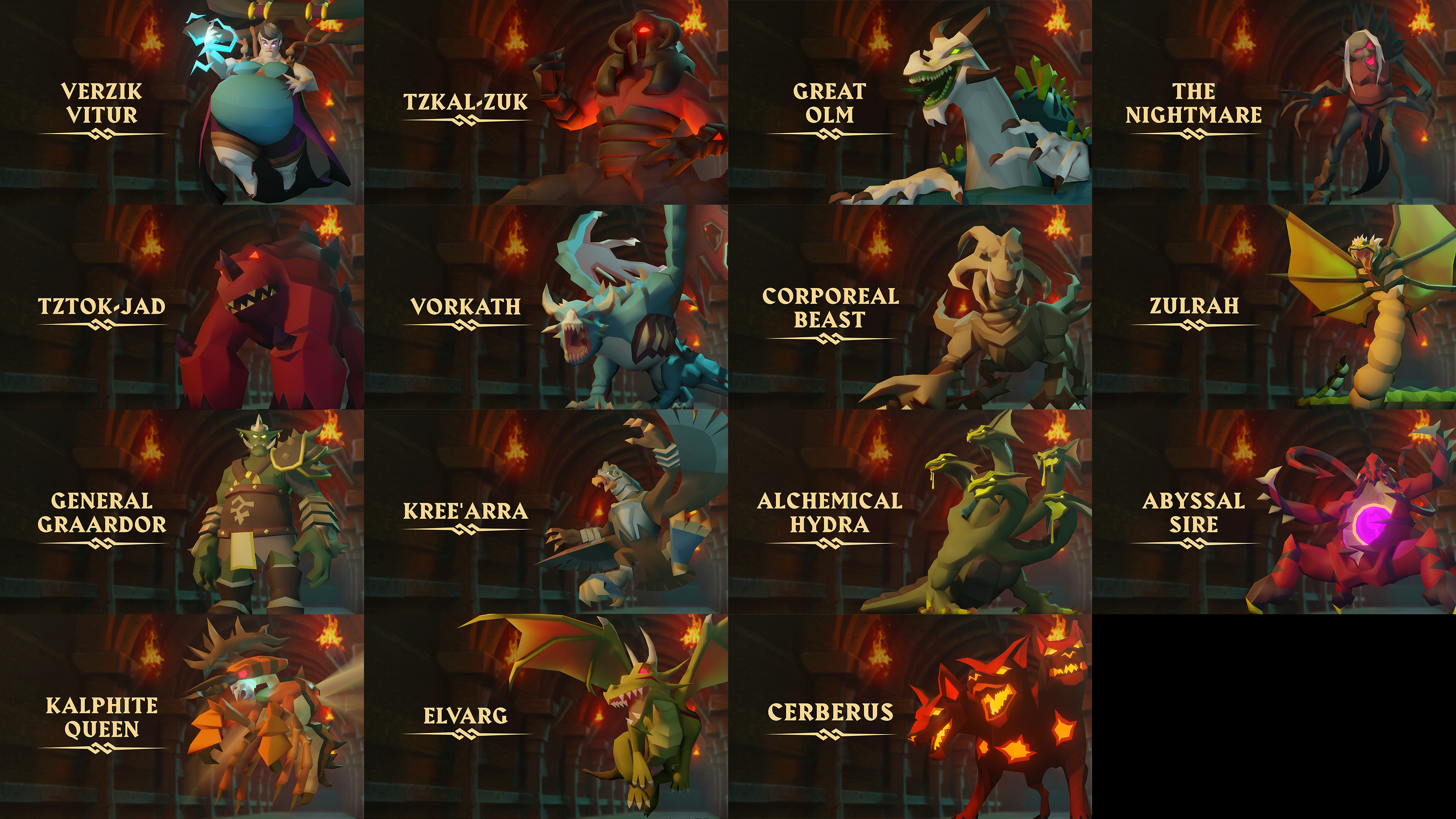 The Steam Trading Cards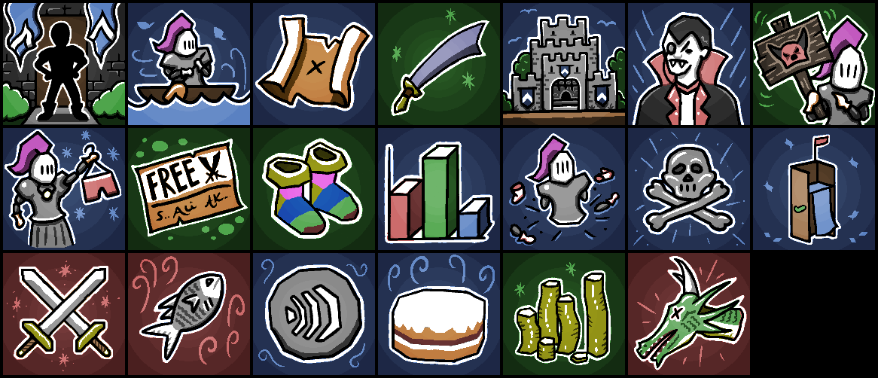 The Steam Achievement Icons
List of Achievements

| Achievement | Task |
| --- | --- |
| A Hero is Born | Complete the Tutorial |
| I Canoe Believe It! | Ride the canoe in Lumbridge |
| From Rags to Riches | Complete a Clue Scroll |
| Swashbuckler | Equip a Mithril Scimitar |
| Home Sweet Home | Use the Home Teleport Spell |
| Out for the Count | Complete the Vampyre Slayer quest |
| Demon-stration | Complete the Demon Slayer quest |
| FashionScape | Chat clothing with Thessalia in Varrock |
| Toll Dodger | Pass through the Al-Kharid/Lumbridge gate without paying |
| Get the Boot | Equip Fancy Boots or Fighting Boots from Stronghold of Security |
| Now We're Getting Somewhere | Reach a total level of 100 |
| Tis But a Scratch | Visit Death's Domain |
| Kill or Be Killed | Enter the Wilderness |
| Democracy in Action | Vote in a Poll or view Poll results |
| Unlimited Power | Reach Combat level 20 |
| Fisherman's Friend | Catch a Tuna at Musa Point |
| Breath of Fresh Air | Craft some Air Runes at the Air Altar |
| Ready Steady Cook | Complete the Cook's Assistant quest |
| Shopaholic | Visit the General Stores in Lumbridge, Falador, Varrock, Edgeville, Rimmington, Al-Kharid and Karamja |
| Mighty Slayer | Complete the Dragon Slayer quest |



You're free to either link your existing Old School RuneScape account or to start afresh with a new account especially for Steam. For more information, check out our Steam Beta Announcement newspost
Remember - we're a subscription-based game, so in the Steam store you'll be able to purchase membership and the OST through our DLC bundles:
| DLC BUNDLE 1 | DLC BUNDLE 2 | DLC BUNDLE 3 |
| --- | --- | --- |
| 3 months of membership | 6 months of membership | 12 months of membership |
| 9% discount | 16% discount | 24% discount |
| £18.99 | £34.99 | £62.99 |
But that's not all! On tonight's livestream, we'll be celebrating our Steam launch with a series of fun events, taking place from 17:00 to 19:30 GMT. Head to our Twitch Channel to catch all the action. Before then, though, here's a preview of what you can look forward to:
What is Old School RuneScape?
We'll kick things off with a quick run down of everything Old School! New to the game? Then this is the place to start..
Fishing Skill Boss Sneak Peak
Take a deep dive into the Fishing skill boss: Tempoross, Spirit of the Sea!
Combat Achievements Sneak Peek
Take an in-depth look at one of our most exciting upcoming updates: Combat Achievements!
J-Mods Play: Theatre of Blood
The J-Mods are taking on one of Old School RuneScape's toughest challenges! Will they defeat Verzik and claim their loot? Come cheer them on!
The Grand Gieli-Tour
Join the J-Mods for a gander at Gielinor as we swing by the most iconic spots around the world of Old School!
Welcome Party
Come welcome all our new players from Steam and lend a few #cutenoobs a hand!

Poll #74
Between all the excitement over Steam we've also squeezed in a few of the changes you voted for in Poll #74!
Amulet of Blood Fury
You can now charge Amulets of Blood Fury for up to 30,000 hits instead of just 10,000 – although newly created amulets will still start with 10,000 charges.
To add more, you'll need to use a blood shard on the amulet you want to charge. This will add 10,000 charges at a time.
Precise Kill Times
You now have the option to display your exact completion and kill times, based on the game cycle they were completed on.
If you prefer to keep things simple, you can still choose to round your completion and kill times to the nearest second. You can find the toggle in the Chat section of the Settings Menu.
Nightmare Parasites
The Nightmare's parasites will now heal her for a random number of hitpoints within a more consistent range.
Previously, the parasites could heal between 1 and 80 hitpoints. Now, the range is between 31 and 50. This should remove the frustration of constantly rolling high heals, without diminishing the challenge of the fight.

Last Man Standing
We've added some new items to Last Man Standing! You can now find the Volatile Nightmare Staff, the Ancestral Hat, and the full set of Dharok's gear to aid you in your battle.
In addition, you can now change the colour of the fog. The UI will also inform you if you are in danger.

Official Merch Store
Don't forget, you can still celebrate our 8th Birthday with the commemorative range from Angels Scapes! The oldest fans among you will remember Tim and Crunchy, who've been lovingly rendered in antique nickel for this stained glass pin. If you want to take them home, be sure to pre-order here!
If you're looking for some limited edition goodies, look no further than the special 8th Birthday Nieve pin and the classy matte gold Dragonfire Shield pin. Plus, the King Black Dragon keyring is here to keep watch over your lair.
Next up, bring a taste of Zanaris to your door with the limited edition Fairy Queen pin and the Framed Zanaris Picture pin – it's our first ever collab with Legends Arts! If you're feeling a bit more down to earth, the Herblore Skill Cape keyring is also in stock.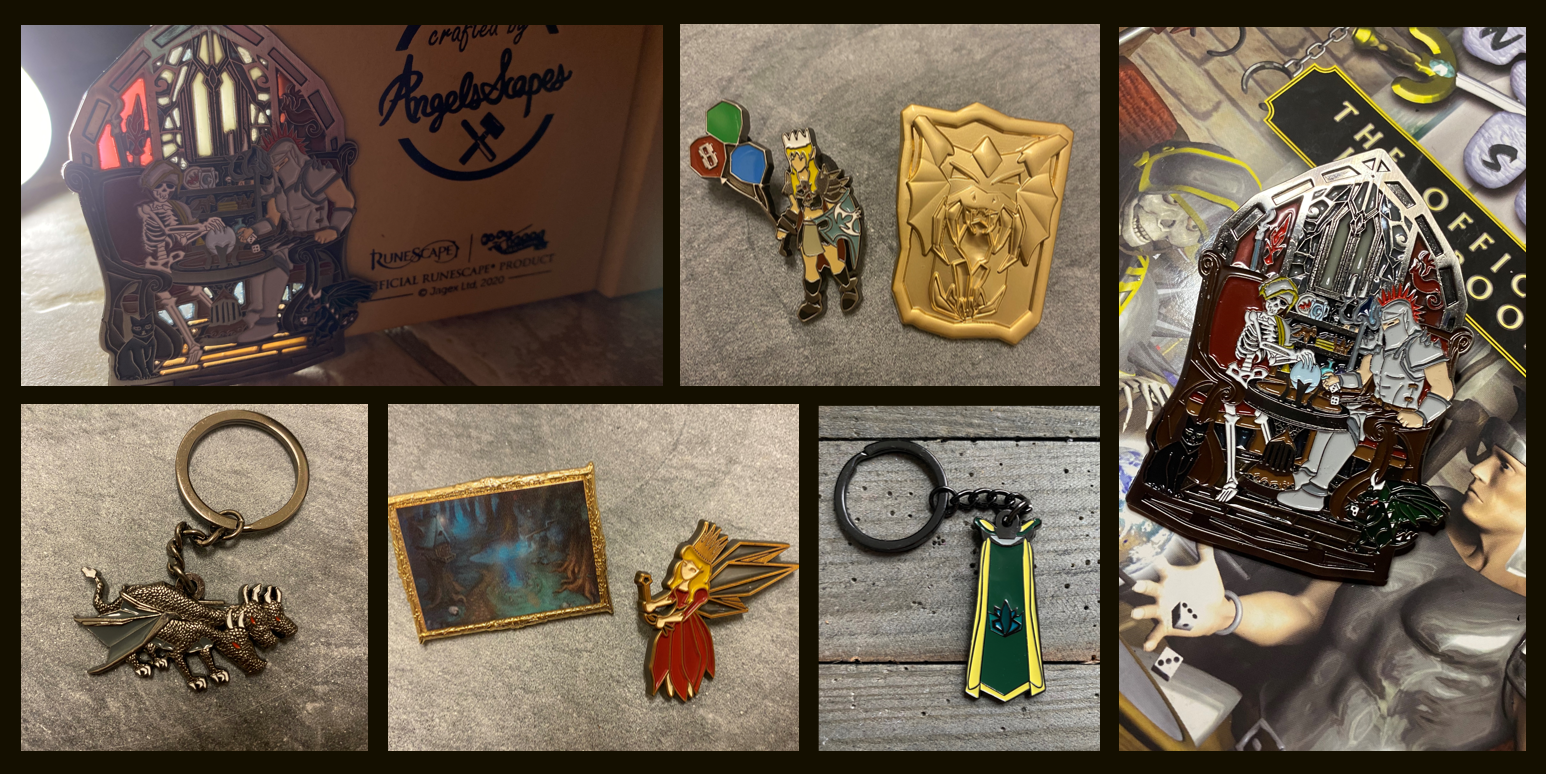 A Collection of 8th Birthday Merch!
Lastly, here's some very exciting news: a new Old School RuneScape soundtrack album is now available, featuring tracks from our very own Ian Taylor and Mod Ash!
You can listen to Old School Combat Classics right now on all leading streaming services, including Spotify, or pre-order this nostalgic 18-track album from our friends at Laced Records. All pre-orders come with a free MP3 download, so you can listen on the go!
The album is available on both 180g vinyl, in a stylish orange and red pattern, and CD! The deluxe gatefold sleeve features all-new artwork of Jad on the inside – and the front and back covers feature iconic weapons from the game and Barrows equipment arranged in the Combat Triangle.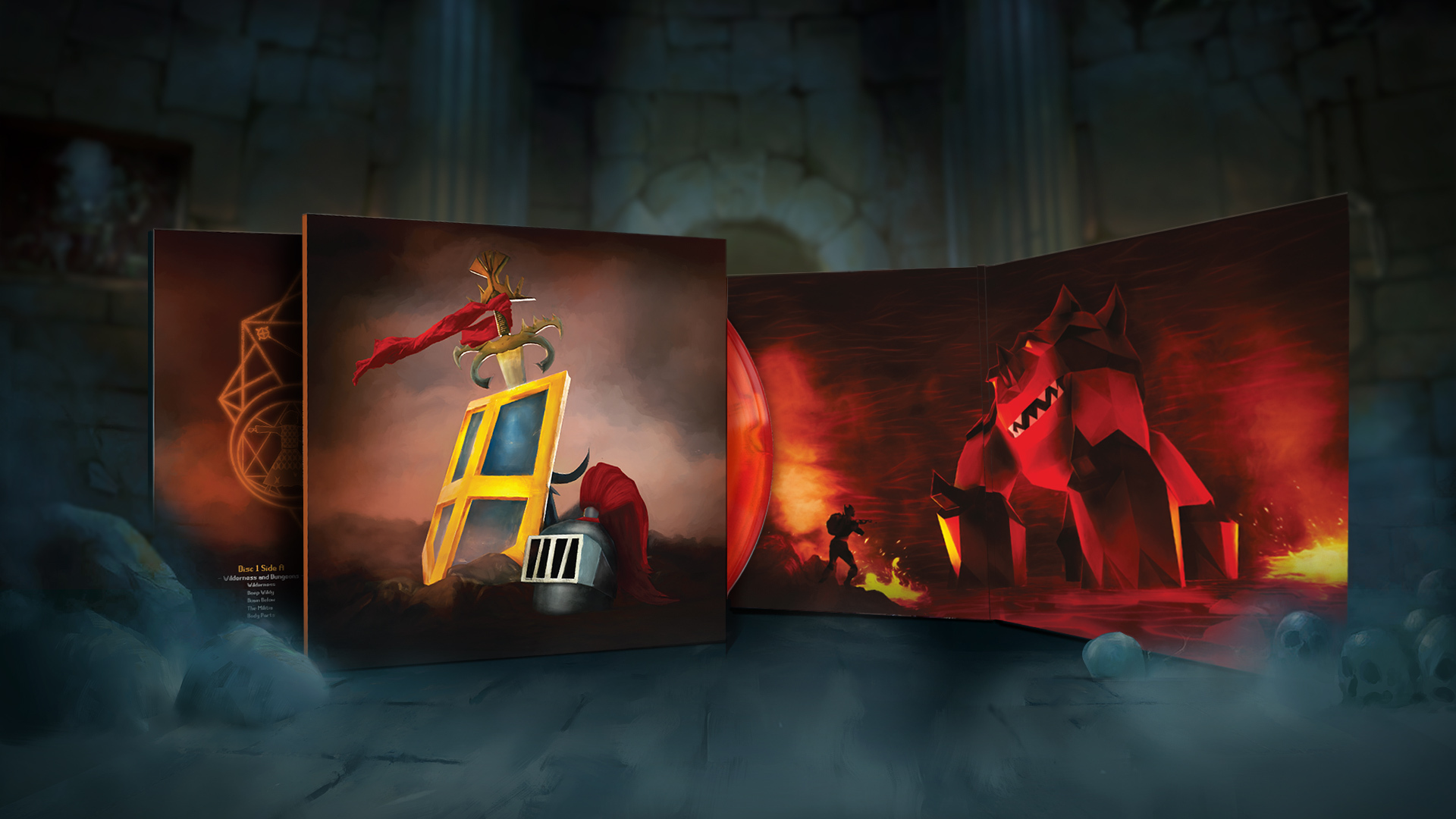 Old School RuneScape: Combat Classics - Red Vinyl Edition
For full details of where else you can purchase or stream this album digitally, check out Laced's FAQ page. Or, to see all the soundtracks we've released so far, make your way to our Spotify , where you can find a selection of playlists.
By the way, if you're a content creator, you'll be happy to know that this soundtrack release shouldn't affect your ability to use RuneScape music in streams or in YouTube videos. If you do have any issues using our music, let us know at community@jagex.com.

In Other News
Mobile users can now configure the 'Function' button via the Settings interface.
The Zealot's Robes set now gives you the chance to save ensouled heads when using Reanimation.
Shade coffins in Shades of Mort'ton have had their 'Open' and 'Remove lock' options swapped.
You'll now be able to get the Blood or Swamp Diaries from Player Owned House bookcases, provided you've already opened the books.
Players are no longer able to enter the Theatre of Blood while under attack from another player on a DMM world; this matches the restrictions at the Chambers of Xeric.
Death piles and gravestones will no longer appear on the dodgy tiles outside Kruk's boss room.
Duke Horacio (or is that Horatio?) no longer repeats his greeting to Zanik.
That's for this week's game update! We'd love to get your feedback. Based on what you tell us we'll be in a position to poll and release this content fairly soon. So please do share your feedback with us via our official forums, on the 2007Scape Reddit, or the community-led OSRS Discord in the #gameupdate channel.

Mods Acorn, Arcane, Archie, Argo, Ash, Ayiza, Banjo, Boko, Bonsai, Brow, Bruno, Curse, Daizong, Deagle, Dibber, Ditto, Dylan, Ed, Elena, Errol, Fed, Flippy, Gayns, Gecko, Gee, Grub, Halo, Husky, Jndr, John C, Kandosii, Katies, Kieren, Kirby, Lenny, Light, Lottie, Mack, Maylea, MikeD, Morty, Nasty, Nin, Oasis, Roq, Ry, Sarnie, Squid, Steve W, Sween, Tide, Vegard, West, Wolfy & Zuko
The Old School Team