In this month's Gazette, Mod Husky tells us how to make an Old School RuneScape League!

Welcome back to the Gielinor Gazette! We've had a busy month, with a veritable April shower of updates – but before we get into the details, some admin.
Remember, if you have something to submit to our monthly Community Showcase – a Postbag letter, some artwork for our Creation Station, an Achievement you're especially proud of, or even a Video Highlight – you can send it to us using the form below!

We always love seeing your work, but we must say that this month's Community Showcase is absolutely chock-a-block with fantastic art, letters, and achievements! Click the button below to check it out.

Now then, on to the April Gazette! First up, here's all the biggest news from this month…

April Highlights
Content Newsposts
April 11th: New Skill Pitches Poll Results
April 24th: Adding A New Skill: Sailing Refinement Kick-off
Game Updates
April 5th: Easter 2023
April 12th: Desert Treasure II Rewards Beta
April 18th: Makeover Improvements
Polls
April 18th: Skill Pitches Poll
Community & Communications
April 6th: Jagex Accounts - Open Beta
April 20th: Regarding Recent Allegations
Streams and Videos
April 6th: J-Mods Play the Easter Event 2023! VOD
April 13th: New Skill Pitches Poll Questions! VOD & Transcript!

Project Updates
New Skill
Unless you've been living under a chompy bird's backside, you'll know that this is a very exciting time for Old School RuneScape – we've chosen our first ever new skill! Of the three pitches we presented, Sailing took the crown, and has moved on to the all-important refinement stage. Thanks once again to everyone who voted – you're making Old School history!
We also want to reassure those of you who voted for the other two skills that your input is still very valuable to us – let's work together, and make the best skill possible!
So, now that we have a winner, what happens next?
We've been keeping our plans largely under the radar, but we're finally ready to give you a sneak peek at our refinement process.
We expect Sailing refinement to take at least two months. During this time, we'll be utilising surveys, Q&As, videos, and Discord Stages to gather your feedback and start building towards a fully-refined skill that we can show off.
We'll discuss four key topics:
Core Gameplay
Navigation and Map/Sea-Scale
Rewards
Game Integration/Lore
You'll see some tentative dates for each topic below: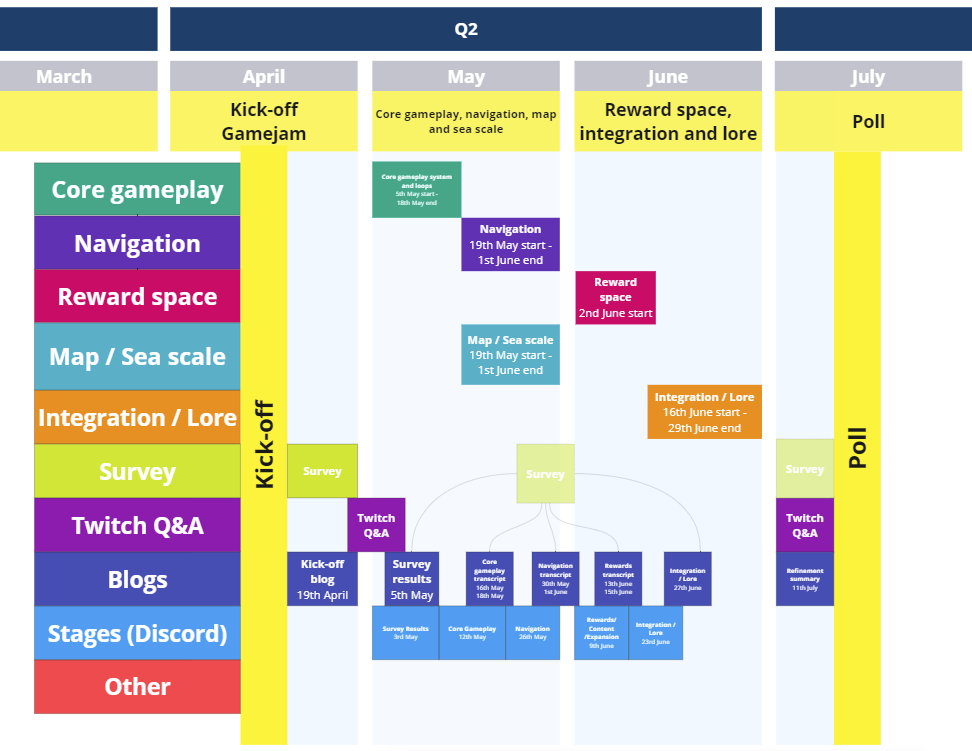 Looking forward to hearing your feedback, sailors!
Discord Stages
Some of you have already participated in our Discord Stages experiment, which we're pleased to say was a great success! We're really enjoying these podcast-style discussions, and your feedback was incredibly positive. In our first Stages call we reached over 1,000 participating Discord users! Let's try and smash that record as we move through the refinement stage of our new skill.
If you're interested in participating in new skill discussions on Discord, you can join here.
Desert Treasure II - The Fallen Empire
The Desert Treasure II Rewards Beta has closed early after just one week, thanks to the amazing feedback from our community! A big gold star to all of you!
It's clear that the rewards need a bit more work before they're ready to enter the game. Now, with Game Jam, external playtests, and a lot of bank holidays on the horizon, we're not in a position to make significant changes to the rewards just yet. Don't worry, though – we've pencilled more development time into our schedule and we reckon we'll be able to release a second Beta sometime in May, where you'll get to try the new-and-improved rewards.
We'll be taking a deeper look at the Ruinous Powers, the effects of rewards like Virtus and the upgraded Ancient Sceptres, and considering a major point of feedback that the rewards feel like a little too much all at once.
As much as we love giving you cool new weapons to swing around, we share your concerns about power creep – so we agree that these changes are necessary for the long-term health of the game. Thank you again for your respectful, thoughtful feedback!
As we continue to refine our designs for the new Prayers, we want to reiterate that, in line with our new polling process, nothing is set in stone at this point. The only polls we've run so far have been opinion polls to guide our design work – so we don't consider anything to be off the table. All options are still open and if after further iterations the Ruinous Powers still don't feel quite right, we don't have to keep moving forward with them.
So, what's next for Desert Treasure II – The Fallen Empire? Keep an eye on the blog throughout May to find out!
Bounty Hunter
The Bounty Hunter Beta has concluded, and there's a poll running right now to decide which rewards will make it into the game! Make your way to an in-game poll booth, or use the Account Settings menu, to cast your vote.
We're really not far away now from bringing this iconic PvP minigame back to Old School RuneScape!
Forestry: Way of the Forester
Our exciting new Woodcutting expansion is well on its way to launch, but today we have some smaller updates to share with you!
First up, let's see our new-and-improved events. Please note: Some of the models used in these screenshots are placeholders!
Rising Roots
Roots spawn around the tree you're chopping and periodically move around, with a chance for one to be a special version that gives more rewards. This event gives Anima Infused Bark, Woodcutting XP, and potentially Tree Roots as well!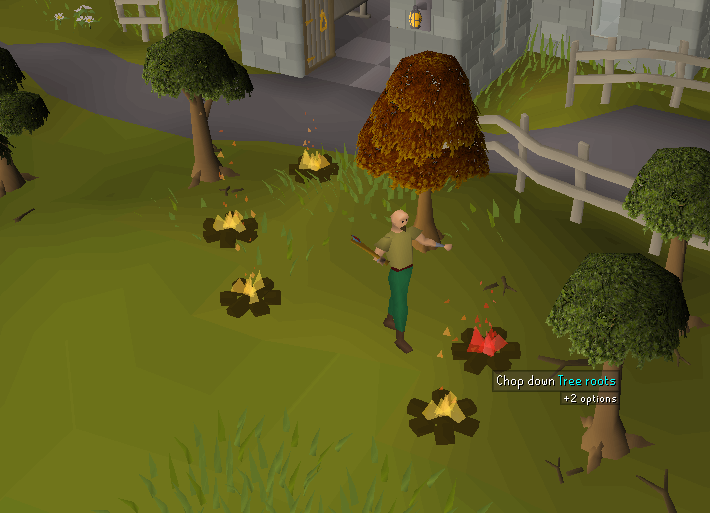 Leprechaun
A friendly Leprechaun has appeared to help transfer your items to the Bank! Normally, he'll only take Woodcutting items, but if you have a Leprechaun Charm in your Forestry Kit, you might just convince him to deposit other items, as well.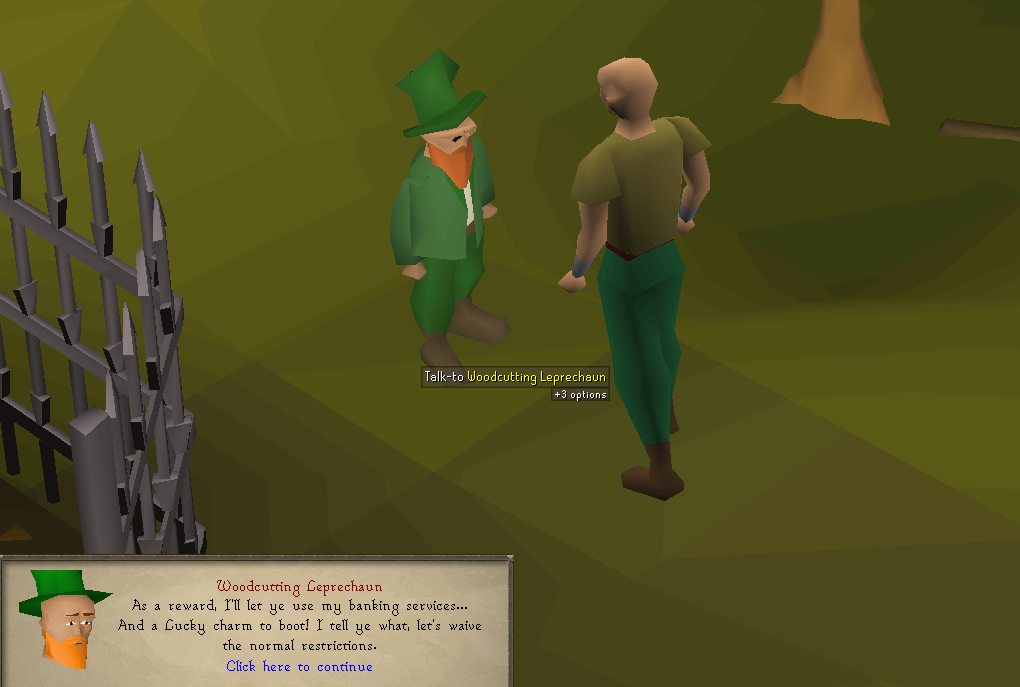 Struggling Sapling
When a tree is chopped down, it may turn into a Struggling Sapling. Foresters must create Mulch to provide the sapling with vital nutrients. Saplings are surprisingly picky though, so players must work together to discover the optimum ingredient combination to save the sapling in time! This event will reward you with Anima Infused Bark, Woodcutting XP and Leaves scaled by your Woodcutting or Farming level, whichever is higher.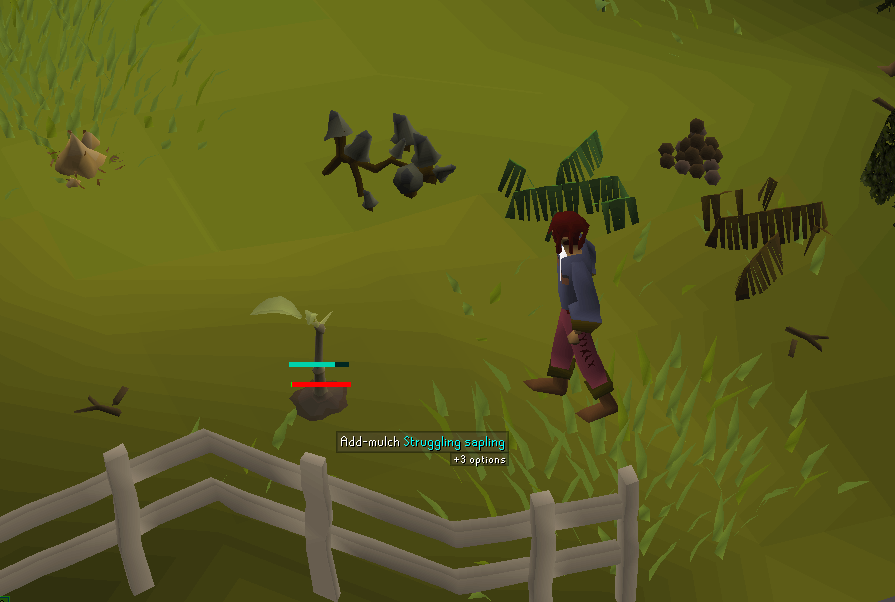 Flowering Bushes
Anyone chopping a tree with a Bee on a Stick in their Forestry Kit may be alerted to pollen-rich bushes in the area. These bushes need some help cross-pollinating so they can bear fruit. However, each bush is only compatible with the pollen from one other bush, so find the matches and spread the pollen carefully! We're thinking this event could be a source of Strange Fruit.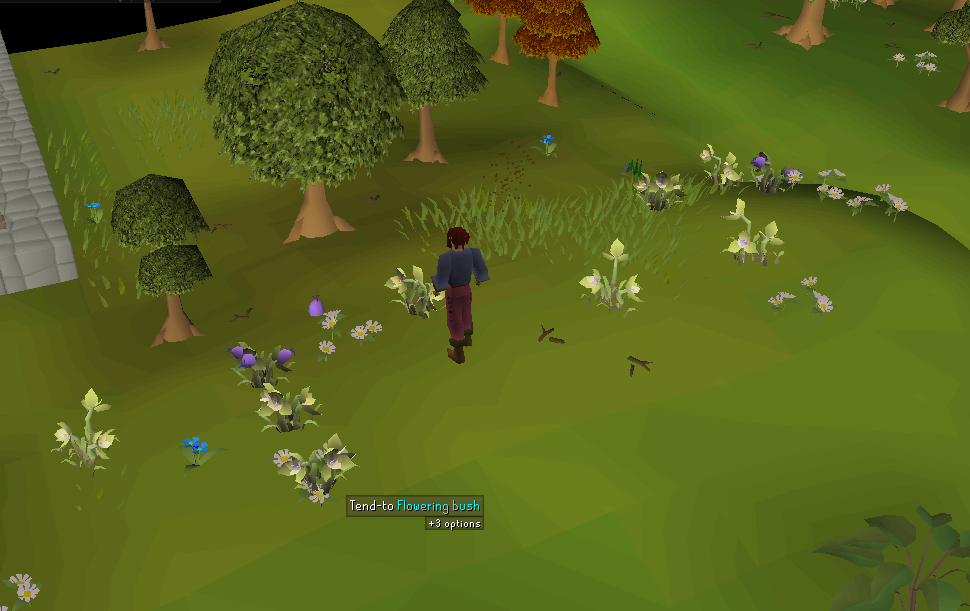 We've also been working on a new direction for Campfire and Tea buffs. Before we get started, a disclaimer: this is still in the concept phase and is subject to change!
Currently, we still plan for Campfires and Teas to boost Gathering and Production skills – but as a new twist, we'd like to include a tertiary effect! The power of this effect is based on the power property of the Leaves used. With the way we're currently distributing Leaf properties, if a player wants the largest possible boost, they'll have to take the smallest stat boost in exchange. Teas don't stack, so drinking a different Tea will only serve to replace your buffs.
Here are some of the tertiary effects we've discussed:
Increased Clue drop chance from monsters and skilling.
Chance to save Ranged ammo and Magic Runes.
Boosted minigame reward points.
Boosted Slayer Points and superior monster spawn chance.
We'd love to hear your thoughts on this topic, and hope to share more Forestry progress in the next Gazette!
Quality of Life Polls
We've made great progress on a lot of the jobs from the latest QoL Poll, including the Combat Achievement changes you've been looking forward to! You can expect those, and lots more, sometime over the next couple of months.
Enhanced Client
The next milestone for the Enhanced Client is incoming, and it's a big one! Next month, we'll drop a slew of long-awaited features, including Ground Item Highlights and Loot Tracking!
For those unfamiliar, Ground Item Highlights is a system that names which items are on the ground, so you can see exactly what's on the floor without having to right-click or zoom in for a better look. You can also set a minimum limit for loot so that only items above a certain value threshold appear. It's also possible to exclude certain items entirely, and even colour-code the loot stack by value!
The Loot Tracker, on the other hand, will keep tabs on the loot you've already picked up. You'll be able to exclude certain items from the tracker so only the stuff you really care about will show up, and you can even track things like the number of Marks of Grace received from Agility courses!
Our team has been hard at work on these features, and we can't wait to show off all we've achieved in the coming weeks.
Mobile TLI
We've been tinkering away at our Mobile Rework, and next month you can look forward to a blog that showcases our plans in greater detail!
Jagex Accounts
We've entered the Open Beta phase of Jagex Accounts, which means anyone who wants to try out our new and more secure accounts system is in luck! You can find out everything you need to know via the Jagex Accounts - Open Beta newspost.
We've seen lots of useful feedback and we're currently discussing how best to act on your suggestions. That said, we're always excited to hear your thoughts, and are working towards creating a survey to better understand what you think about the new account system. Keep an eye on this space!
April Game Jam
By the time this Gazette goes live, we'll have just wrapped up our first Game Jam of 2023! Although we can't share specifics of what we've worked on just yet, we'll be showing off most of our ideas in May. We're also thinking of new ways to showcase Game Jam projects, including a survey and a live stream, but they're not 100% confirmed just yet.
For now, you can head on over to Twitter and search the #OSRSGameJam tag for a few sneak peeks including, Capybaras, a Rat Boss, Wilderness Rejuvenation and some very P.O.G. updates!

A League of Our Own
by Mod Husky
Hey, Mod Husky here! For a while now, I've been meaning to sit down and write all about what it takes to create an Old School RuneScape League.
Today we're going to go through the entire process, from defining what a League is and ironing out the design requirements, to the challenges of actually implementing our ideas. Unfortunately we can't talk about the future of Leagues just yet, but we'll tell you all the news as soon as we have some to share!
Another disclaimer before we kick off: this entire blog is just one developer's opinion, and while I worked heavily on the first three leagues, what I have to say isn't representative of the rest of the team, and has no bearing on Leagues we plan to introduce in the future. I think the creative vision is the most important part of any project, and it's incredibly subjective! The last thing I want is for what I've written here to be seen as the standard for what another development team might implement in the future.
With that out of the way, how about we start with what a League actually is? Old School RuneScape Leagues are temporary game modes that aim to fundamentally change the experience of playing Old School RuneScape, in a short-term, faced-paced experience. Leagues take place in separate game worlds with their own saved game, letting players make progress without impacting their main save.
During a League, XP gain is boosted, and players must instead complete tasks to gain progress and compete against other players! Completing tasks earns players League Points that they can transfer to the main game to spend on tradeable cosmetic rewards that can be used to flex your League accomplishments long after the game mode ends.
As you can see, there are a lot of moving parts involved, but these are the key components of a League:
A Compelling Ruleset: A compelling and fun new way to play the game, which entices players to spend time in a temporary game mode.
Meta-Progression: A list of tasks involving common gameplay elements or areas specific to the League, that allows players to be ranked against each other for the final standings.
Powerful Buffs and Effects: Relics which allow players to become more powerful than they are in the main game.
Faster Progression: Making the game quicker to level while still allowing for meaningful progress to be made.
Rewards: A series of goodies that match the theme presented by the League and that are appealing to a wide variety of players.
Ruleset
This is undoubtedly the most important part of designing a League – without it, you're just playing regular Old School RuneScape!
The Twisted League: Our very first League where we locked players to Kourend and Kebos, Old School's newest continent.
The Trailblazer League: This is where we took the area restriction idea and dialled it up to 11, allowing players to choose which areas of the world they unlocked, forcing players to make tough tactical decisions about where they travelled next.
The Shattered Relics League: We moved away from area restrictions and instead locked the content itself, allowing players to choose which content they would like to prioritise and in which order.
This is the hardest part of the design process. After all, if the League doesn't sound 'fun', nobody will play it! We also have to be careful to design a ruleset that's technically feasible with our current game engine. Lastly, we want the ruleset to be meaningful for players, not just a cheap gimmick that gets old after a few hours of play.
To show you what I mean, here are two examples of rulesets which sound cool on the surface, but have more problems to overcome than meets the eye…
First up, the 'Reverse League', where players start at level 99 and work their way back to level 1 in all skills! While this sounds fun at first, it fundamentally breaks the core gameplay of unlocking cooler stuff as you progress. Instead, players will find themselves more and more restricted as they play. Realistically, players would just delay the de-levelling mechanic until it was the last thing they had left to complete!
A similar concept was the 'Scrambled League', in which skilling activities were randomised – so a Mining activity might give Runecraft XP, and vice versa. This sounds like a League that would be incredibly fun in the early to mid-game, as players figure out the best way to train skills and work their way through a tangled web of unlocks to start levelling up efficiently. Once you reach level 30-40, however, you'd be much less restricted than it first appears, and you'd just be picking a different repetitive activity to grind until 99. While it might sound fun to skip Runecraft, you'd eventually have to do it to level up something else anyway!
Neither of these concepts are bad ideas, they just have problems that would take a great deal of time to iron out – and I hope these examples give you some idea of the potential issues that can arise even at the proposal stage! Arguably, even Shattered Relics fell into this trap, where once all content was unlocked it felt just like playing main-game OSRS with Relics and a task system. By contrast, the Twisted and Trailblazer Leagues both felt like entirely new game modes that kept up their unique challenges all the way to endgame.
Tasks System
Now, onto the second most important part of a League: the tasks!
I think for players, the Relics seem like the most appealing and fun part of a League – but the truth is, the task system is the part that controls exactly which content is worth your time. It doesn't matter how fun a Relic looks if it awards fewer Points per hour than the competition!
Task systems became a greater focus for the design team moving from Twisted League to Trailblazer. We had a lot of early criticism about there not being enough tasks in the game, with a lot of you asking if we could reward you for training a skill past 99 or participating in long boss grinds. There was also a heavy bias towards certain skills which made them feel more rewarding to train, and a huge discrepancy in the difficulty of tasks – during Twisted League, you could get more points for Thieving a Gem Stall than finally getting a Brimstone Ring from the Alchemical Hydra!
We also overlooked how easy some of the Twisted League tasks would be with the increased power levels from the League XP bonus, which resulted in players knocking out tasks too quickly and being stuck with only a few things left to do.
Our goal in Trailblazer, therefore, was to make sure every single skill and area had a comparable number of tasks to complete, so that players could feel rewarded no matter which choices they made. I think this was a significant step-up from the Twisted League, but it wasn't as easy to coordinate as it sounds…
Firstly, all content zones are not created equally! It made sense for areas like the Kharidian Desert to be their own area, but places like Kandarin and Morytania really outshine the content on offer there – there's just more exciting stuff to do and late-game beasties to go after! Remember, this was before we introduced Tombs of Amascut or Tempoross, so it really was a desert of content. How did we solve this problem? By artificially inflating the 'points per hour' of the Desert region by moving certain tasks up a tier, so that players who enjoyed content like Sorceress's Garden or the Mage Training Arena could still unlock Relics at a decent pace.
We also didn't put as much thought as we should have into the synergy between different areas, which resulted in a higher number of total points available. Choosing the Kandarin and Fremennik areas, for example, resulted in players being able to create Dragon Kiteshields and Platebodies and complete tasks which were significantly harder for those who made different choices.
That said, some task sets were so successful that we decided to copy them across to the Shattered Relics League, while updating them to be more relevant to the new starting area. We also introduced Beginner tasks to speed up early-game progress and to identify tasks which could be completed by any account, regardless of which content they later unlocked.
Ultimately, however, this led to a very similar gameplay experience to Trailblazer League, and a bloated task system – we hadn't considered that Trailblazer was balanced around just five areas, whereas in Shattered Relics players had access to the entire map.
We've learned important lessons from every task list we've used so far, and going forward we'll have greater focus on striking the right balance between the scarce task system in Twisted and the bloated one in Shattered Relics.
Relic System
Relics are the thing players are most excited about in a new League, whether they're Old School veterans or new and returning players just trying the game out. As well as being powerful, fun ways to play the game, they also make difficult content more accessible to people who haven't necessarily experienced it before – whether it's a 1-tick Blowpipe, the ability to send resources to the Bank, or the insane dopamine hit when you smith a whole Inventory of Bars at once! With buffs this powerful on the table, how could we possibly mess it up?
Well… it's not that simple. In fact, every single League so far has had new problems with its Relic system.
In Twisted League, for example, we left some very heavy outliers, particularly in Tier 1. Infinite Run Energy was just so much more impactful than the other options that choosing anything else felt really bad in the mid to late-game. Combined with our decision to have a lot of tiers where players had to choose between Skilling and Combat options, a lot of players regretted their choice of Relics and felt that they'd ruined their League experience before they'd even really got started.
With this in mind, we made significant changes to the Relic System in Trailblazer. Most players felt there were at least two competitive choices of Relics at each tier (RIP Second Inventory), with only one major outlier that everyone agreed was the best option – shout out to the Last Recall gang! We also made sure that players couldn't min-max one single aspect of the game by grouping skilling, utility, and combat Relics together more effectively. This still resulted in some Relic regret, but nowhere near the levels we saw in Twisted League.
Another exciting Trailblazer change was having a significant tier 3 Relic that forced players to choose their dominant combat style. This synergised heavily with the area choices, as the weapons and unlocks available often determined which combat style players favoured.
Lastly, we made all 'no-brainer' choices (like Infinite Run Energy) passive effects, so that nobody felt obligated to choose them over other options.
In Shattered Relics, however, the Relic system was completely… well... shattered! With this new system we aimed to directly address Relic regret and give players access to all the power available, with few restrictions. Relics were split into Fragments, which each had their own minor effects. Players could increase the number of active Fragments by completing tasks, to a maximum of 7. Each Fragment was also assigned two different 'sets' – having enough Fragments from the same set activated additional powers. Fragments were obtained automatically while doing relevant activities, so player builds naturally gravitated towards the playstyles they enjoyed the most. You could also level up your Fragments, which increased their effects.
Needless to say, this was our most complex approach yet. It did successfully deal with the Relic regret issue (although some players still got unlucky with the initial Fragment drop), but there were still certain gameplay features that didn't go over well.
First and foremost, having to go to a Bank to change Fragments felt like a real pain, and we should have done more work to allow players to swap loadouts more easily!
Second, getting a new Fragment meant players had to pause their activities to go level it up, which felt more like an inconvenience than an exciting progression system.
Finally, players could do literally anything – and this meant that unique, well-considered builds weren't as impactful as they were in previous Leagues. For the most part, players did every piece of content in the same way.
In hindsight, it's difficult to tell which approach was better. I've personally heard tons of players prefer one or the other. My personal favourite is the Trailblazer system, as it feels more exciting to excel in some tasks and struggle with others based on the choices you made – but I'm also aware that Relic regret can really ruin the Leagues experience. Maybe there's a middle ground?
I'd be really excited to hear other people's thoughts on this, so feel free to let me know which Relic system you enjoyed most!
Rewards
Rewards are a great reason for players to participate in a League, but they're also surprisingly controversial.
The most notable rewards are the League Trophies – untradeable rewards which players can use to show off the ranking they obtained during a League. These are the current ranking thresholds for each trophy:
Top 1%: Dragon Trophy
Top 5%: Rune Trophy
Top 20%: Adamant Trophy
Top 40%: Mithril Trophy
Top 60%: Steel Trophy
Top 80%: Iron Trophy
100 points earned: Bronze Trophy
This kind of reward system compels players to engage with the League and push past the competition, but it can also requires intensive, consistent gameplay in order to compete for the top ranks. The pros of this percentage system are that it allows the competition to stay active throughout the League, and adds a certain prestige to the highest-rank Trophies. It also prevents us from setting thresholds that turn out to be too easy to hit, making rewards less prestigious than they should be.
However, a big 'con' with this system is how redundant most of it is. Leagues end up having a lot of players that log in for a week or two just to try the game mode, and then go back to their main account. This means that it's actually quite easy to get into the top 40-60%! To visualise this, here's how many points players required to get each Trophy in the last three Leagues: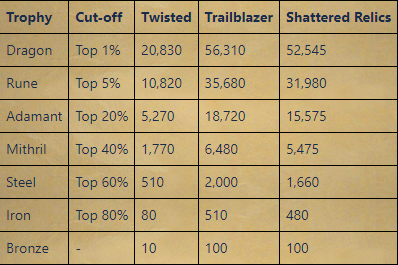 I've given this a lot of thought since the last League and I think we should probably go for more of a bell-curve approach, where we have more meaningful brackets for players to aim for at the top-end of the scale, instead of there being massive gaps between Mithril, Adamant and Rune.
As we can see, the difference in points awarded from League to League varies wildly. There's a big step up from Twisted to Trailblazer, largely due to the increase in points available through tasks, but it's more consistent between Trailblazer and Shattered Relics. Assuming we add the same number of tasks next League, we could comfortably set static thresholds for players to make the points for each Trophy more transparent, while maintaining their prestige:
50,000 Points: Dragon Trophy
35,000 Points: Rune Trophy
25,000 Points: Adamant Trophy
15,000 Points: Mithril Trophy
5,000 Points: Steel Trophy
3,000 Points: Iron Trophy
100 Points: Bronze Trophy
If we were still uncertain to committing to exact point values at the start of the League, I'm fairly confident that the community would be fine with us releasing them at the halfway point, when we have a more accurate indication of where each tier will sit points-wise. Feel free to let me know otherwise!
League Duration
While Leagues are incredibly fun and exciting, all good things must come to an end. During a League, players may play for longer hours, achieving loads of goals in a short amount of time, only to eventually return to the main game where progress is slower and finding that they're burned out.
I feel like this is in part due to the pressure to keep up your points in order to compete for the higher Trophy tiers. As I've mentioned above, having static goals could be the answer, but I do think that the length of Leagues is also part of the problem.
Currently, Leagues have run from anywhere from 8-10 weeks – that's 2-3 months of time investment, which is a lot to dedicate to any game, let alone a temporary game mode.
Also, the endgame of a League often becomes stale. Tasks take longer and tend to be less exciting, such as grinding for a rare drop or boss KC, or reaching a high skill threshold. It's just not as fun as the start of the League!
My proposal is to instead split the League into two competitive and non-competitive periods. The competitive period would last between four and five weeks, and would determine the Trophy rankings. Then, we'd move into the non-competitive period, which could in theory last indefinitely. This would let players play to their heart's content without forcing them to rush towards the goals, and they'd still be able to earn points to spend on rewards.
I feel this change would appeal to both casual and competitive players. The downside is that League worlds would probably feel a little empty after the competitive period ends! As I mentioned at the start, everything in this blog is just my opinion, and I would love to hear your thoughts on the matter.
Code and Infrastructure
Now, let's go behind the scenes and see some tech stuff! None of this will be new to those astute players who are clued into the specifics of the game, but for the rest of you I hope this bit provides some insight into the technical limitations we have to work with!
By far the biggest limitation for the Leagues is that all our game worlds can only have one copy of the game's server script at any one time. This means that the code running on normal worlds is the exact same code that's running on the League worlds – the only difference is that there are lots and lots of checks in the code that tells it which world you're on. Leagues inherently have risks, as changes in the logic can have side-effects on non-League worlds, too.
For example, in Trailblazer, we let players produce an entire inventory of resources at once. This required changes to the smelting script, which previously worked on an ore-by-ore basis. Instead, we decided to route all smelting through the same script. Unfortunately, in doing so, we made it so that players couldn't smelt perfect Gold Ore into a perfect Gold Bar for the first six hours of the League! Fortunately, it only affected a small number of players doing that specific quest, but it just goes to show how careful we need to be when making changes.
In the not-too-distant future, we'd like to get proper beta-world support, which would let us run different versions of the code for different game worlds. Until then, we have to work within the limits we have.
This also means that it's actually not at all simple to spin-up a previous League and let players have a go at it! While we could easily pull up a backup of the game from when the League was run, we'd have to run it as a separate copy of the code alongside the main game. Even if we managed that, we'd still have to answer some big questions:
Is a re-run counted as a new League in terms of rewards? If so, we'd need to add the infrastructure to remember your points in the 4th League on your main save instead of adding them to an old one.
How does it work with new content? If players expect the re-run to include newly released content we'd need to do some amount of merging between the two copies of the game.
Should we make any changes to tasks and Relics to re-balance the League? We know now that some Leagues could have been balanced better, but we'd have to think carefully about adjusting the content for a re-run.
Will it be as fun as the original League? A big part of any League is figuring out the meta-strategies for the ruleset. Re-running a League could cause players to come away feeling disappointed, as there's nothing new to figure out.
In short, it's not as easy as some players think it is!
To try and mitigate these issues, we've at least made the League code modular, so it's capable of executing differently by identifying which League we're playing.
Finally, while there are risks to rewriting the code to work for Leagues, it has brought significant benefits to the main game. It's always a good idea to tidy up code when we can – sometimes we just need a good excuse...
Closing thoughts
If you're still reading, I'd like to say thank you! I really appreciate you taking the time. If you scrolled down just to get a TL;DR, you should have known I don't really do things shorthand, so I'm afraid you'll have to go back and read the whole thing. Sorry.
Leagues really are a passion project of mine and something that I hope to be a part of in the future. They do have their downsides, and I definitely wouldn't want to work on every single one – I'd like to introduce permanent content, too! – but the League community has always been wonderful to engage with. Trailblazer in particular remains a highlight of my time at Jagex so far!
Until next time,
Mod Husky

You can also discuss this update on our official forums, on the 2007Scape subreddit, the Steam forums, or the community-led OSRS Discord in the #gameupdate channel. For more info on the above content, check out the official Old School Wiki.
Mods Arcane, Archie, Argo, Ash, Ayiza, Boko, Bruno, Chilly, Crystal, Curse, Daizong, Dylan, Ed, Elena, Errol, Fed, Gecko, Gizmo, Goblin, Grub, Halo, Hend, Hornet, Husky, Jalo, Jerv, Keyser, Kieren, Kirby, Kurotou, Lenny, Light, Mack, Manked, Markos, Maylea, Meat, Moogle, Morty, Nin, Nylu, Other, Pumpkin, Redfield, Regent, Roq, Ry, Sarnie, Shroom, Sigma, Skylark, Sova, Squid, Starry, Stevew, Surma, Sween, Tide, Titus, Torrance, Tyran, Veda, Vegard, West & Wolfy
The Old School Team.