15 years ago, you faced the Dagannoth Kings, a terrifying trio of respawnable bosses dead-set on having you for lunch. Since then, your combat skills have come a long way - but there's a new Combat Challenge in town, and this time, it's even bigger.
Warriors of Gielinor: are you tough enough to take down the Rex Matriarchs?
Rex Matriarchs
The Rex Matriarchs are three monstrous dino dames that can be fought all at once, individually, or in whatever combination you fancy. They're all respawnable, so you can keep fighting for as long as you've got the supplies - and each time you take a Rex Matriarch down, you'll get the chance to receive a unique reward.
So, who's behind door number one?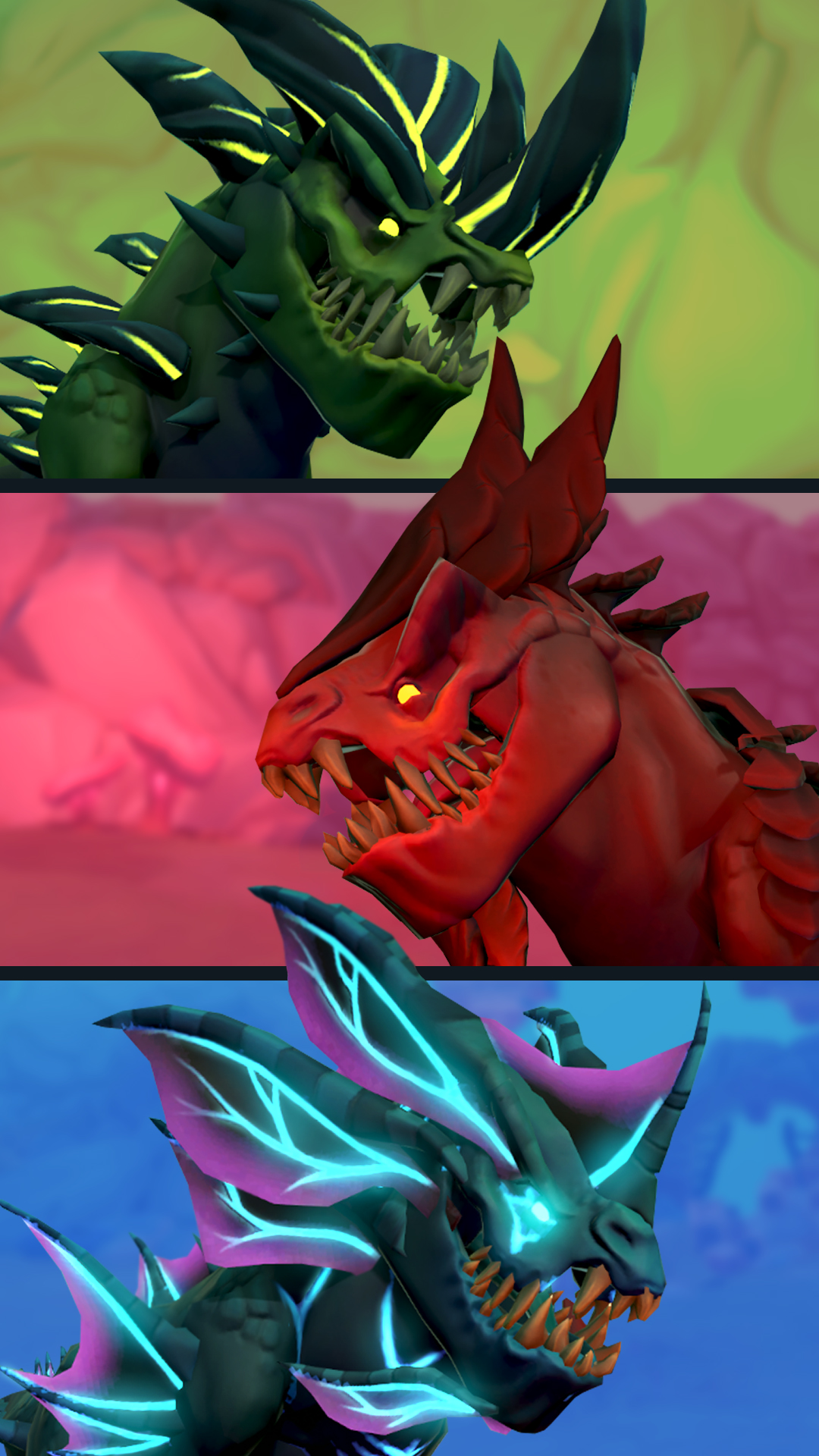 Orikalka
Orikalka is the Bagrada Rex Matriarch. Her thick hide makes her especially suited to melee combat, but don't brush her off as all brawn, no brains - she's still got a few tricks up her sleeve.
Pthentraken
Bless you! Oh, that's her name? Pthentraken is the Pavosaurus Rex Matriarch, and she uses Magic to electrocute her enemies. Shocking!
Rathis
You'll want to keep your distance from this gal - she's toxic! Her ghoulishly green Ranged attacks will send you packing if you aren't prepared, so stock up on those Anti-poisons before you step into the ring.
Rewards
Alright, enough with the introductions - let's see the rewards! Should you defeat the Rex Matriarchs, you could walk away with the following:
Hearts
The Rex Matriarchs guard rare and beautiful gemstones, known as hearts. Combine them with your existing jewellery to create powerful new effects!
Heart of the Archer
The Heart of the Archer can be combined with 10 Archers' Rings to create a Stalker's ring, with the following stats:
+30 Ranged strength
+5 Prayer bonus
Grants 3% critical strike chance when using a bow
Heart of the Seer
Combine the Heart of the Seer with 10 Seers' Rings, and you'll get a Channeller's ring, which has the following effects:
+30 Magic strength
+5 Prayer bonus
Grants a 4% stacking critical strike chance per hit during magic channelled abilities
Heart of the Warrior
When combined with 10 Warrior Rings, the Heart of the Warrior will create the Champion's ring, which has the following effects:
+30 Melee strength
+5 Prayer bonus
Grants 3% critical strike chance against bleeding targets
Heart of the Berserker
Lastly, the Heart of the Berserker can be combined with 10 Berserker Rings to create a Reaver's ring, a terrifyingly powerful item with the following effects:
+27 all stats
+5 Prayer bonus
+25 armour bonus
Grants +5% critical strike chance & -5% accuracy
Laniakea's Spear
We're not sure exactly what went down when Laniakea took on the Rex Matriarchs, but one thing is for sure - that spear of hers took a real beating! If you want to claim it back, she won't mind, but you'll need to gather up all four pieces and ask Laniakea nicely to help you put it back together.
Here's what you're looking for:
Savage spear shaft
Savage spear tip
Savage spear cap
Savage plume
Once you've got those, you can combine them to repair this iconic, augmentable weapon - a Tier 82 spear with Tier 90 Damage, but at the tradeoff of Tier 75 Accuracy. This makes the spear a great lower accuracy alternative to the Noxious Scythe, while also coming packed with a couple of special effects:
+5% increased poison damage
Additional 5% chance to apply weapon poison if you have it active
Boss Pets
Fancy taking home your own baby dinosaur? Then you're in luck, because the Rex Matriarchs drop not one, not two, but three adorable boss pets: Corbi, Pavo, and Bagra. Be sure to take good care of them!
Prepare to Fight
You'll need access to Anachronia in order to find the Rex Matriarchs' lair. Other than that, there are no hard requirements for this content, but we recommend having at least 70 in each Combat skill, plus tier 70 gear. You can see some examples of appropriate armour and weapons on the wiki!
The Rex Matriarchs will enter the game on March 8th - so you've got just under a week to prepare! Sharpen those weapons, brush up on those spells, and twang those bow strings, 'cause this is one challenge you can't underestimate.
- The RuneScape Team