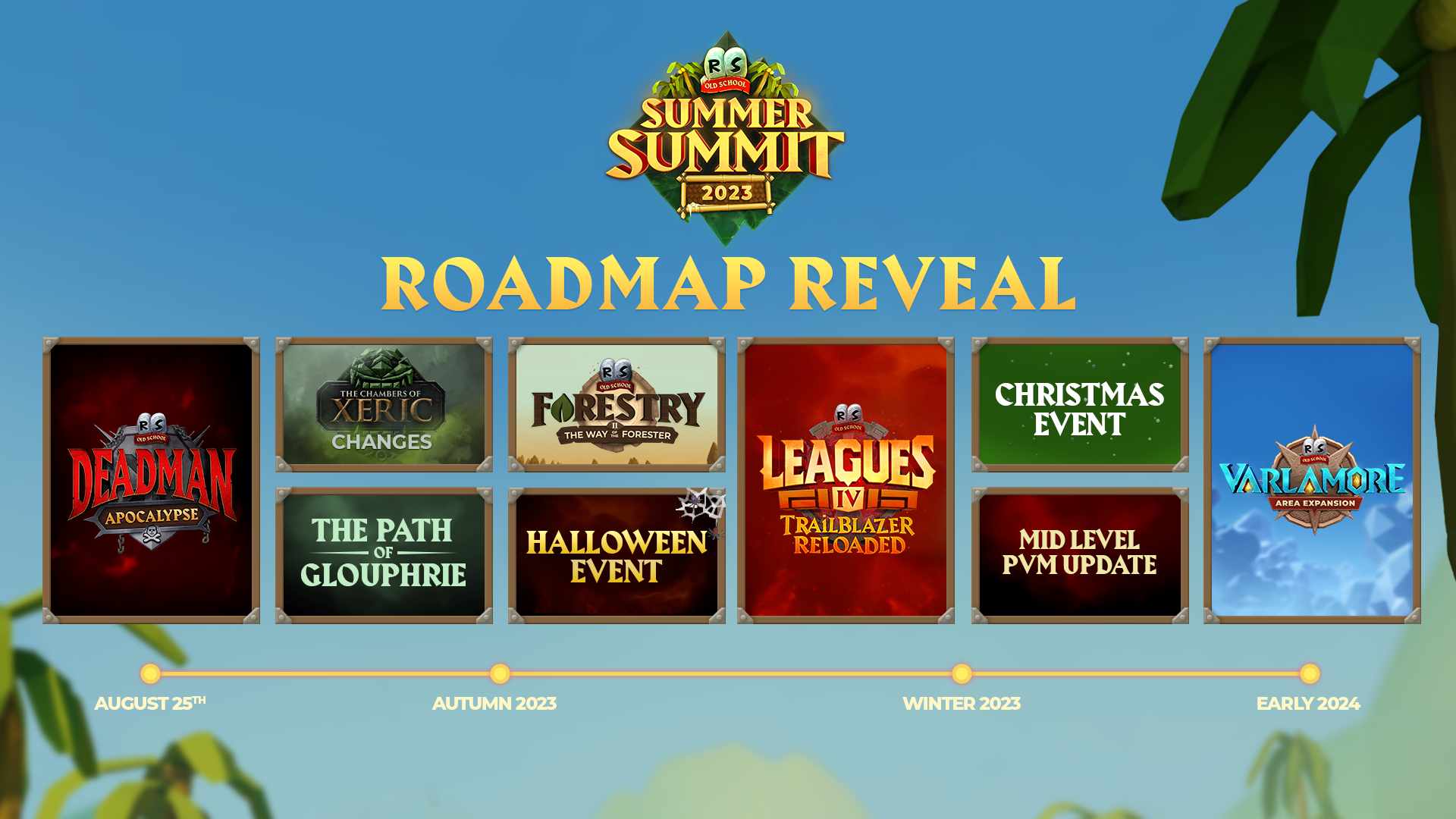 Upcoming
Description
Deadman: Apocalypse
Old School's most brutal game mode is set to return on Friday, August 25th at 17:00 BST! Step into Deadman once more to level, loot and do battle with bosses, players and a threat on a scale that Gielinor has never seen before.

Deadman: Apocalypse ends on Saturday, September 16th!
Chambers of Xeric Changes
Coming in Autumn 2023, alongside some balancing and Quality-of-Life changes for Chambers of Xeric, we'll be offering you a way to scout favourable layouts, and even 'scale' a Raid entirely by yourselves.
Path of Glouphrie
Coming in Autumn 2023, Path of Glouphrie, an Experienced-level Quest in the Gnome storyline. Originally released in September 2007, just weeks after the August back-up on which Old School RuneScape is based, we are proposing that we release Path of Glouphrie with some Old School polish.
Forestry: Part Two
Coming in Autumn 2023, Forestry: Part Two. This final Forestry release brings with it more events, a very pheasant outfit, as well as campfires to train Firemaking.
Leagues IV: Trailblazer Reloaded
Coming in Winter 2023, Leagues IV: Trailblazer Reloaded. It's the one you've been waiting for: Leagues is back! For those unaware, Leagues is Old School's time limited event that has a fresh beginning. With boosted xp and drop rates, a custom task list, and lots of powerful relics to unlock.
Mid-Level PvM Update
With Varlamore comes the Fortis Colosseum, a new wave-based PvM minigame. But what about the players who might not be so proficient in combat. The ones unfamiliar with advanced mechanics, who don't know a flick from a tick let alone a switch? So, in Winter 2023 we'd like to develop an encounter that helps introduce players to the fundamentals of combat.
Varlamore
South of Mount Quidamortem, beyond the Stranglewood, lies a land filled with adventure and excitement. A region filled with new quests, new gameplay, and new places to explore. A shining kingdom formed by refugees fleeing Xeric's age of strife over 1,000 years ago… Old School's next area expansion will take you to the Shining Kingdom of Varlamore, and open up a new region south of Kourend and Kebos. Whether you're a lorehound, an avid PvMer, or a super skiller, Varlamore has something for you.
Everything here is as accurate as we can hope to be at the time of updating this page. We need to balance our desire to keep you as informed as possible with the reality that game development is quite tricky sometimes! Timings can change for a variety of reasons. If a date changes, we did not set out to mislead you (we're likely as inconvenienced as you are!). Whenever a change does occur, we will endeavor to update you as quickly as possible and explain why.
The Old School Team