Are you ready for some fun in the sun? We hope so, because this week The Beach is coming back to Gielinor! For those of you who'd prefer to stay in the shade, we've got details about our newest quest and some important changes to account security.
The Beach
Sunnies? Check. Flip flops? Check. Sandboards? You betcha! It's time to hit The Beach!
From July 20th to August 10th the Lumbridge Crater will be transformed into a scorching hot island paradise filled with fun and rewarding activities – including everyone's favourite Dungeoneering hole.
The rewards this year include the stylish Selfie! emote and the awesome Crustacea armour set.
See all the details in the dedicated Beach newspost, which you can find here.
Desperate Measures
You know what they say, right? 'Desperate Times' call for 'Desperate Measures'!
When it hits Gielinor next week, RuneScape's newest quest will see you scouring the shores of Anachronia in search of Kerapac's lair, unearthing long-buried secrets and defending against droves of dinosaurs.
To get started, you'll need level 75 Combat and level 50 Archaeology and Agility. You'll also need to have completed 'Desperate Times', the thrilling first instalment in the Elder Gods storyline.
You can catch up on the story so far right here in the dedicated newspost.
Account Security Changes
We're making playing on the move a little easier.
When playing on mobile, you'll no longer be asked to enter a Jagex authenticator code if you're logging in with either a Google or an Apple account, or when using the 'Play Now' button to start the game.
The reason for this is simple: when you sign in with these products your account is already being authenticated, so the Jagex authenticator is an unnecessary step. This change lets the mobile client handle third-party log-ins the same way the website does.
If you currently use Google Login or Apple ID Sign-In, we recommend enabling their respective authenticators.
These changes will not prevent you from using your authenticator as a Bank PIN.
We're of course still working on other changes that will improve account security across the board, and will update you when we have more specific information to share.
Cerberus Rush
We hope you've brought triple the treats this week because everyone's favourite three-headed hound is back!
From July 23rd to Monday 27th you'll have the chance to win some hellishly cool prizes – including Cerberus himself, now available in adorable, dribbly pet form.
Click and drag to rotate the model! Additionally you can scroll to zoom!
Twitch Prime
This month's Twitch Prime reward is a whopping four free Umbral Chests, each with a super-rare prize inside. There's all sorts of goodies you can win, including some super snazzy cosmetics!
To claim, all you have to do is link your RuneScape and Twitch Prime accounts. Click here to see all the details.
This week's update includes changes and fixes to all kinds of stuff, including potions, skill guides and the Globetrotter Shorts. Let's take a look!
Ninja Team
A new completionist achievement 'Second Wind' has been added for unlocking the adrenaline cooldown refresh from War's Retreat. This achievement gives 30 Runescore.
Some of the other achievements from War's Retreat have been shifted around and had various adjustments to their Runescore, but the total amount of Runescore obtained from all of these achievement remains the same.
Powerburst cooldowns now have a unique Debuff Bar icon.
Players can no longer drink Adrenaline Renewal potions when already at 100% Adrenaline.
Wearing the Globetrotter Shorts while completing a Master clue with a costume-skipping ticket will no longer use up extra tickets.
Improvements
Provoke should now work consistently with 10 players or more.
Removing items or effects which increase your Lifepoints whilst under the effects of a Vitality Powerburst potion will no longer set your Lifepoints to 0.
Lifepoints are now capped at 32,000.
The Transmute Onyx ability has been added to the Divination skill guide.
Empty light orb has added to the Crafting skillguide.
Hard leather gloves now appear in the Crafting skillguide.
You will no longer be able to drink Stamina potions while the saltwater effect is active.
Ice Dye has been added to the items obtained from Elite Clue Scrolls option on Quickchat.
The examine text for the Demonic Skull now includes a reference to Agility.
Fixes
Hotfixed: Umbral Chests will now contain the expected number of protean items.
Players are no longer able to obtain multiple Zombie Champion scrolls from the Shadow Reef Elite Dungeon when they've completed the appropriate Champion Challenge.
The Storm Shards debuff icon will now appear on the enemy player's Target Bar during PVP.
Setting Eugene the Brain as a pet or familiar override no longer causes him to stretch when using a special attack.
The Pets tab in the Oddments Store is now accessible on mobile devices.
Runemetrics no longer displays the 'Underground Pass' quest as completed when it was neither started nor in-progress.
The Clan System will no longer broadcast if a player on a clan's banned list is trying to guest the clan chat on log-in.
Mining a specific coal rock south of the Legends' Guild no longer pushes the player character under certain circumstances.
The interface now shows the option to return to Port Sarim from any uncharted isle.
Using an emote during Nex: Angel of Death's icicle attack no longer negates typeless damage.
Getting into the Penguin Suit will no longer make your character invisible until you move.
Equipping the Masquerade Mask will no longer remove the top parts of hairstyles.
After collecting the needed ore, you'll be directed to Doric instead of the Dwarven Mine as the next step in a particular quest.
NPCs in the Champions' Guild now won't appear to talk in chat when they were not in the building.
Tarddiad is now considered a Slayer area for the purpose of co-op Slayer effects.
Profound equipment can now be banked from the Equipped menu without issues.
All shields are now correctly filtered when navigating specific off-hand filters on the Customisations screen.
Fixed Winelda's patchy skin.
The guards in Movario's Base during 'While Guthix Sleeps' no longer share Turael's model.
Weaving ancestral energy while having memory shards will no longer open the Memory Shard Interface.
Fixed a minor clipping issue in a wall in Catherby.
The 'It's Curtains For You' achievement no longer triggers when making beds in the Player Owned House.
Corrected a typo in the Easy Tirannwn achievement set listing.
You can no longer cut down the oak tree from the wrong side of the fence in the Lumbridge cow field.
King Narnode's second set of orders are now typo-free.
Fixed a small gap in the mid-section of the character when wearing the Golden Mining Top.
Graphical issues with the Tyrannoleather Body have been fixed.
Fixed an issue where particular tiles north of Lumbridge would force players to walk.
Welcome back to another Community Showcase! This week you'll get to dive deep into the story of 'Desperate Times', post some of your favourite RuneScape parodies and join the Pink Skirts for another bossing adventure. Let's take a look!
J-Mod Livestreams
Tuesday July 21st | 15.00 Game Time | Desperate Times Playthrough and Lore Discussion
Refresh your RuneScape knowledge ahead of 'Desperate Measures' with a bumper edition of the weekly livestream featuring all the most lore-some J-Mods.
Thursday July 23rd | 16.00 Game Time | Skill 'n' Chill with Mod Hooli
Join Mod Hooli for some casual skilling! Hop into World 25 to join the fun!
Did you miss last week's Quest Drawing livestream? No worries! You can catch it right here. Enjoy!
Featured Streamer
Our Featured Streamer this week is Daniii, who'll be trying to polish off the Insane Final Boss achievement. Go cheer her on this Saturday July 25th at 12:00 Game Time.
Check out her channel here!
Video of The Week
New feature alert! Every week, we'll be selecting our favourite videos from the community and showing them off here.
This week's highlight is ClareBear_CB's Road to Max videos. The race to reach max level is always exciting, but this creator's grounded and informative commentary makes this one extra-helpful!
Check out the full series here, along with Clare's excellent quest walkthroughs. Here's one for Goblin Diplomacy!
Artists' Corner
This week we want to showcase this awesome animation from enkodraws, featuring a villainous-looking Kerapac about to tap into the power of the Needle!
Are you getting hyped for Desperate Measures? We sure are! Share your art with us on Twitter, Reddit, Discord or on our Forums and it might just appear here next week!
By the way – do you remember Runegisel's adorable goebie painting from our Forum Spotlight a few weeks back? Then you'll be happy to hear that the little guy is finished, and looking cuter than ever! Great job, Runegisel!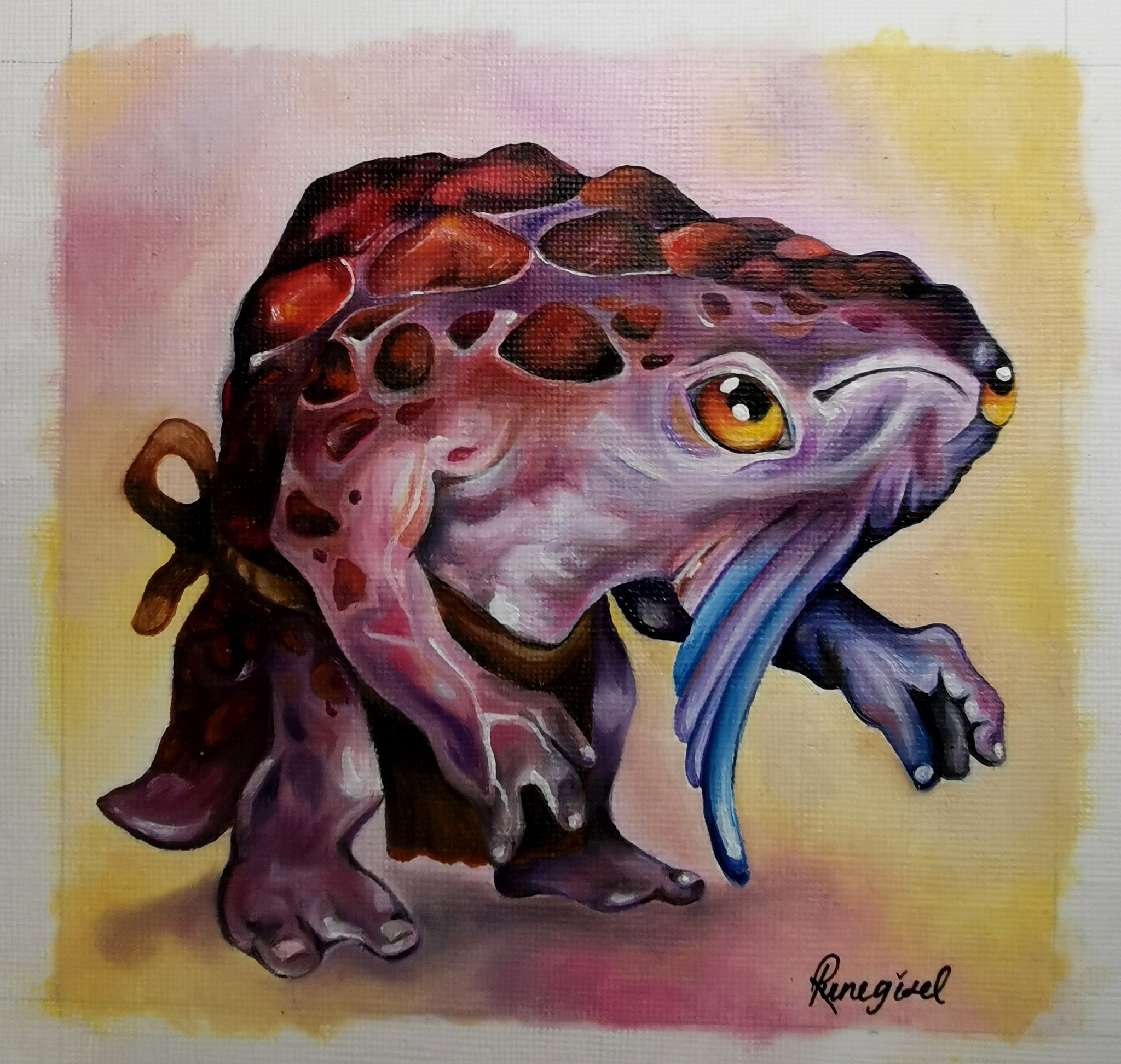 RuneScape on TikTok
What's up, hoopy froods? That's what the young'uns say, right? Just a friendly reminder that you can find a whole bunch of seriously tubular behind-the-scenes content over on our TikTok! It's the bee's knees, the cat's pyjamas, the dog's – well, you get the picture. Catch you on the flip-side!
Forum Spotlight
I see a little silhouette-o of a thread… it's RuneScapian Rhapsody, this week's Forum Spotlight! The master of ceremonies, Trewavas, wants to hear your best RuneScape-themed musical parodies.
If you've got a tune or two up your sleeve, go and post them here. We can't wait to listen in!
Pink Skirts Event
This week the Pink Skirts, under the watchful eyes of Umami, Ideal Gamer and the Norge clan, will be leading the charge against Vindicta in The Heart of Gielinor. If you want to get in on the action, simply show up at The Heart on World 5 at 16:00 Game Time on Friday July 24th.
For more information, add Umami to your Friends' Chat, or see all the details here.
---
- The RuneScape Team