We're off to the island this week with 'Desperate Measures', RuneScape's newest quest! In other news, the World Cup of Quests has concluded, the Ninja Dojo is undergoing some renovations and there's a dragon-sized list of Patch Notes for you to peruse. On with the show!
This week's news includes a helping of Ninja intel, a Merch Store update and some last-minute reminders. Oh, and one more thing - there's a brand-new quest for you to play!
New Quest: Desperate Measures
When we last joined our heroes, all seemed lost. The World Guardian was betrayed. The Needle was stolen. And Seren's Council were no closer to placating the Elder Gods.
One year later, Thok and Charos have tracked down Kerapac in Anachronia. Now they need your help to uncover his base of operations and foil his plans. The world is literally at stake!
So, are you ready to take 'Desperate Measures'?
How to Start
To start 'Desperate Measures', you'll need to meet the following requirements:
Completion of 'Desperate Times'
Level 50 Archaeology
Level 50 Agility
RuneScape Membership
Level 75 Combat is recommended
To begin the quest, head to Seren's Council North of Burthorpe Lodestone.
Completing 'Desperate Measures' will get you a cache of rewards, including a special something that'll give hefty boost to your Archaeology research and an item no true Thok fan could do without.
Need a quick plot recap? Have a read through the Story So Far blog to learn everything you need to know to enjoy the story of 'Desperate Measures'.
We'd love to hear what you think about this new quest, so once you've tried it out, hit that DISCUSS button at the bottom of this page and tell us your thoughts!
Anachronia Totems - Ninja Task
Remember when we talked about that top-secret update in the PAG strike blog? Well, it's now time to spill the beans!
A new totem has been added to the Anachronia Base Camp which will allow you to recharge your other totems.
But to build it, you'll need to collect all the parts. To get you started, you'll get one of them as a reward from 'Desperate Measures'.
Ninja Dojo - Temporary Closure
Even Ninjas need a holiday sometimes, and our team will be spending theirs having a good think about where they're going to strike next. In between all the ninjutsu training and kunai polishing, of course.
The team has received a whopping 9,861 challenges in the few months since the Dojo opened, and at the time of writing they've already accepted a quarter of them. Less than 1% of the submissions they've received are spam, so they've got an awful lot of paperwork to do!
From this Friday, July 31st, the Dojo will be temporarily closed while the Ninjas enter a deep meditative state in order to process the remaining requests. The Dojo itself will also be getting a fresh coat of paint, so be sure to check back in when the Ninjas return.
You can keep issuing challenges right up until the Dojo closes its doors on Friday. Head to http://rs.game/ninja for more.
The Beach
Don't forget to don your snazziest swimsuit and hit The Beach this summer! The event ends on August 10th, but you've still got time to maximise your skilling gains, and grab some summery gear while you're at it.
Unlike holiday travel in real life, getting to the Beach is as easy as can be - just head on over to the Lumbridge Crater!
Fancy marching around Gielinor in your very own Crustacea Armour? How about cooking up a storm with a funky apron or three? All these rewards and more can be yours when you show up for some fun in the sun!
And if you're looking for something EXTREME to try, get yourself a free surfboard from Flo's New Item Shop!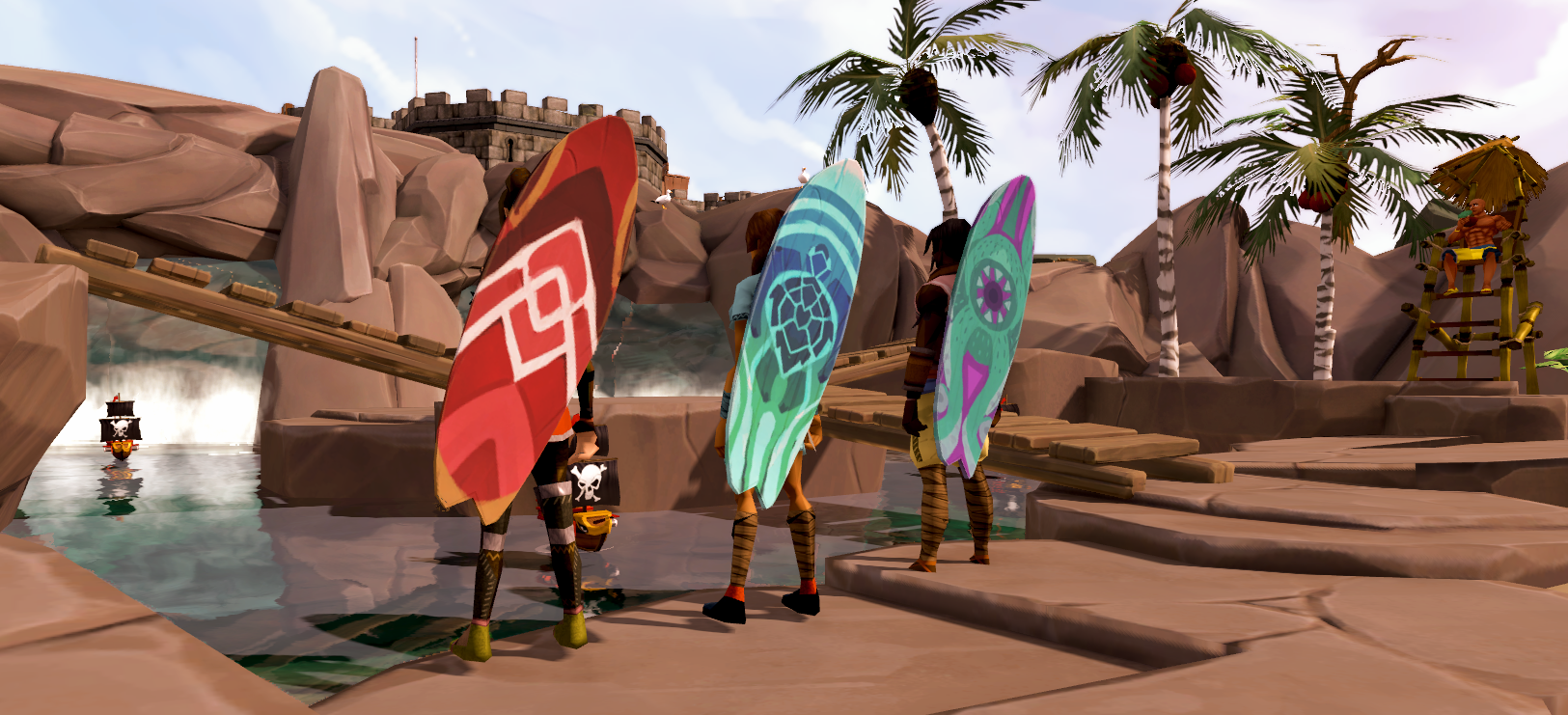 See all the rewards and learn more about this summer's hottest skilling event right here in the dedicated blog post.
Tweet your screenshots to us on Twitter by tagging the @RuneScape official account and using the #SummerInGielinor hashtag. Your summer screenies could win you some free Bonds, so start exercising those tweeting muscles today!
Yak to the Shadows
The latest Yak Track will close to visitors this Sunday August 2nd. Better push on with those tasks if you want to unlock the coveted Herald of Fate set, which unlocks at the 50th Tier.
If you haven't even started yet, don't panic! The very first task will net you the Shadow Magus robe set, the perfect look for when you want to utilise those Ancient spells.
Just speak to Moorrissey the yak in Burthorpe to get started. Don't miss out!
'E-I-E-DI-NO' Achievement Grace Period
Here's some good news to any achievement hunters out there - we're extending the grace period for the 'E-I-E-DI-NO' achievement by 3 months.
We know that getting this achievement can be tricky, because it's both time-gated and relies on a few random elements. If we didn't extend this period many of you might have lost your Trimmed Completionist Capes, which we felt was unfair. Extending the grace period will help address this issue.
Merch Store Update
So, who here has reached 99 Archaeology in-game already? If that's you, you'll be delighted to hear that the Archaeology Skill Cape is now available in keyring form.

This week also marks your last chance to pre-order the RuneScape Gods Exposed collaboration pins from Angels Scapes and TehNoobWorld. The set includes all your favourite characters from the iconic video series, including Guthix, Saradomin, Zamorak, and Gonthorian. Orders close at midnight on August 2nd – so act fast!
You can find these new ranges and much much more on the Official Merch Store. Go on, treat yourself!
Our team has been working hard this week to dig up some changes, improvements, and fixes from all across the game. Shall we dive in?
Improvements
On mobile the chat window has been updated to have 3 new icons, giving more clarity on the current state of your chat box (whether it's closed, reduced or expanded).
On mobile the chat window will now fade in and out after messages have been received. In reduced mode it will now fade out after 5 seconds of not receiving a message.
Entrana's customs agents have wised up and will now reiterate the rules about auras while entering Entrana via balloon.
Penguins can now be caught using protean traps.
The tooltip for Tier 1 Boots of Trials will now display the set effects.
There is now an achievement for getting halfway to 120 Slayer.
Burying Zogre bones will now count towards your daily Prayer task.
You can no longer use Escape or Surge while transformed into a goblin.
The Emote icon in the Community dropdown will now display as greyed-out when the Emotes interface is open.
The Inventory icon for Splitbark Boots is now centred.
The Protect Item prayer will now appear on the Buff Bar when activated via Quick Prayer.
The information clerk at the Varrock Museum now displays the remaining Kudos you have yet to receive, rather than hiding it away in the Chat Log.
Casting any type of Vengeance spell will now add a cooldown timer to the Debuff Bar. Previously only the original Vengeance spell would do this.
Fixes
The description for the off hand daggers in Urbi's store has been updated.
Using the Magic Carpet to travel will no longer interrupt scan or compass clues.
The description of the Globetrotter Armbands in Zaida's shop has been updated for their new functionality.
Members' items in reward shops across Gielinor will now correctly display as 'owned' on free-to-play worlds – provided that they've been unlocked, of course.
Fixed some dialogue in one of the Penguin quests.
Corrected some capitalisation errors in the text surrounding fishbowls.
Acadia logs will no longer transform into magic logs when burning.
The outline of the enemy's Health panel will no longer persist if it's moved upon enemy death.
The Ninja button has been deleted from the community 'Vote Now' interface.
Fixed a typo in Evil Dave's Spellbook.
Rat Burgiss' task reward dialogue about Scepter charges has been corrected.
Fixed a typo at the end of the 'Shades of Mort'ton' quest.
Updated some dialogue in 'Fate of the Gods' to match the voiceover.
The Observatory Professor will no longer welcome you back on your first visit.
Fixed an issue where 'Perils of Ice Mountain' was incorrectly shown as complete in the Quest List.
A typo in the warning message that appears when selecting 'Reset Tab Order' in the Bank has been fixed.
Fixed a typo in the Book of H.A.M. seen in 'Zogre Flesh Eaters'.
A typo in a warning message during the 'Salt in the Wound' quest has been corrected.
Fixed a typo in the 'Party Pete vs His Neighbor' court case report text.
Fixed a typo in the examine text of the Pyro-matic.
Fixed typos in Lubufu's dialogue during 'Tai Bwo Wannai Trio'.
Our archaeologists have painstakingly corrected a typo in the Battered Letter found during 'Temple of Senntisten'.
Fixed a typo in the Defence skill guide.
Magic notepaper now works on grapes.
The player model will no longer stretch while clicking the Goebie Mask in the Shipyard interface in Player Owned Ports.
The codes in the Fairy Dossier during 'Fairy Tale III' are now displayed correctly.
Fixed an issue that made the Dress to Impress achievement trigger incorrectly.
Explorer Jack will no longer dispense unlimited magic staves.
Items in the Flash Factory Reward Shop are now priced correctly.
Niles will now tell you the correct location of the Bank Note button in the Bank interface.
The Ladder leading to the Heist mini-game is now capitalised.
The Progress Bar now displays correctly when transmuting charms.
Fixed a bug that prevented the player from being able to note unenchanted jewellery with Magic Notepaper.
The Giant Oyster will no longer claim that it can be opened "tomorrow" two days in a row.
The text on the Barbarian Teleport spell is no longer cut off.
Tooltips for potions that restore health now display the correct stats in Legacy Combat Mode.
Fixed an issue where the Quest Point Cape would not respond correctly to the options checked in the Retro Skillcapes menu.
Defeating any of the bosses in 'The World Wakes' with Lootshare active will now correctly advance you to the appropriate quest state.
Fixed an issue where the Large Shell could stall a player in PvP zones.
Last Week's Hotfixes
Here's a selection of hotfixes that made it into the game over the last week!
The Dungeoneering Hole can now be accessed during Happy Hour even with a full temperature gauge.
Sandy Caskets can now be opened whilst the temperature gauge is at capacity.
The chance of receiving a task skip token from training on The Beach has been reduced.
Sun Cream and Cocktail buffs gained from the Beach should now boost your skills appropriately.
Farming and Dungeoneering experience gained on the Beach will no longer scale down when you're levelling past 99.
We hope you've been brushing up on your trivia, because this week Mod JD will be hosting another Pub Quiz! This week's Community bulletin also features some rune-tastic birthdays and the thrilling results of The World Cup of Quests.
J-Mod Livestreams
Tuesday July 28th | 16.00 Game Time | The Making of Desperate Measures
Now that you've played through our latest quest, why not watch this exclusive making-of livestream? You'll find out all kinds of behind-the-scenes tidbits, and you'll even get to listen to some of the audio team's early concept tapes!
Thursday July 30th | 16.00 Game Time | Blue Moon Pub Quiz with Mod JD
It's that time again! This Thursday, join Mod JD for another round of quirky quizzing, live from the Blue Moon Inn! If you're a proper geek-a-chu, you'll love this month's specialist round! Even if you're a few dugs short of a trio, don't worry – we Bayleef in you!
Featured Streamer
In this week's featured stream, James Rakei will be taking us back to those halcyon days of after-school PvP with some legacy only mode Castle Wars! He'll also be taking on Solak and helping a few lurking viewers score their first kill. Best of luck, everyone!
Tune in on Friday 31st of July at 22.00 Game Time for this 12 hour stream extravaganza!
Catch all the action over on his channel here.
Community Showcase
We'd like to wish a Happy (belated) Birthday to /u/johnnyreedit, whose girlfriend obviously has 99 Cooking because she's made them these mouth-wateringly magical cupcakes. Save one for us!
We'd also like to wish a very Happy Birthday to /u/ChanPieSenpai's partner, who received these fabulous themed party decorations! Don't spend all that gold at once, pal.
Artists' Corner
This week we'd like to showcase this super-cute piece of artwork from Gumleet, which perfectly captures the joy of finding an awesome new artefact.
This piece was shared with us on the RuneScape Art Discord, which is chock-full of talented artists of all stripes. Hey, if you're good with a pencil and paints (or any other medium!) why not join the fun?
Forum Spotlight
In this week's Forum Spotlight, expert economist Shn has created this informative report on RuneScape's rare item market. If you've got a spare Hallowe'en Mask or two waiting in the Bank, go check out his advice and grab yourself a deal!
It's great to see long-term players like Shn helping out those with less experience. Hey, here's an idea – if you've got specialist in-game knowledge, why not make your own guide and share it on the forums? You never know who you might help out!
The World Cup of Quests
For the last few months our Twitter followers have been pitting quest against quest in an epic battle to determine the community's favourite.
Well folks, the results are in, and the winner is…
'While Guthix Sleeps'!
Thank you to everyone who took part – this valuable knowledge will no doubt be helpful when it comes to shaping future content. Why, we think we can hear Mod Raven cackling madly even as we speak.
Here's the full bracket: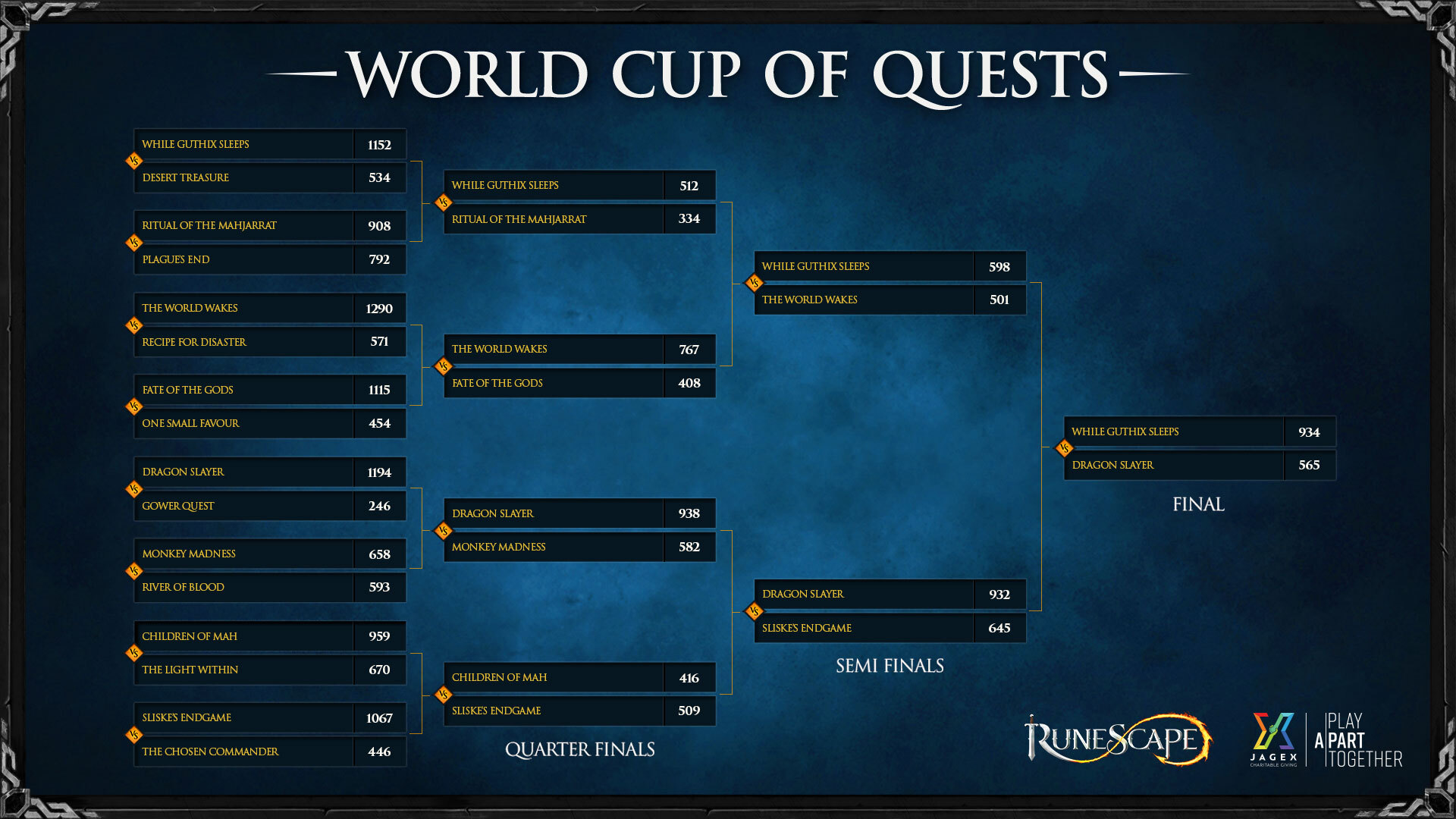 Oh, and one more thing: the winner of the World Cup of Quests sweepstakes is TomTesoro! They correctly guessed that 'While Guthix Sleeps' would outstrip the competition, and so a prize of 3 Bonds will be coming their way soon.
So, what do we think? Did 'While Guthix Sleeps' deserve the crown? Let us know using the DISCUSS button at the bottom of this page!
Pink Skirts Event
This week the Pink Skirts, lead by Saint Cannon, Geneawac, and Achievement Help will be taking on the King Black Dragon!
Gear up and join them at the Edgeville Artefact this Thursday July 30th from 13:00 on World 68. Don't forget your Dragonfire Shield!
For more details, add AHelp to your Friends' Chat, or check out the Pink Skirts webpage here.
---
- The RuneScape Team