Gielinor is packing up its Halloween decorations and starting to wrap up warm for the colder months. Read on for changes from Poll 77, a chilly summit, and more!

Poll 77 Changes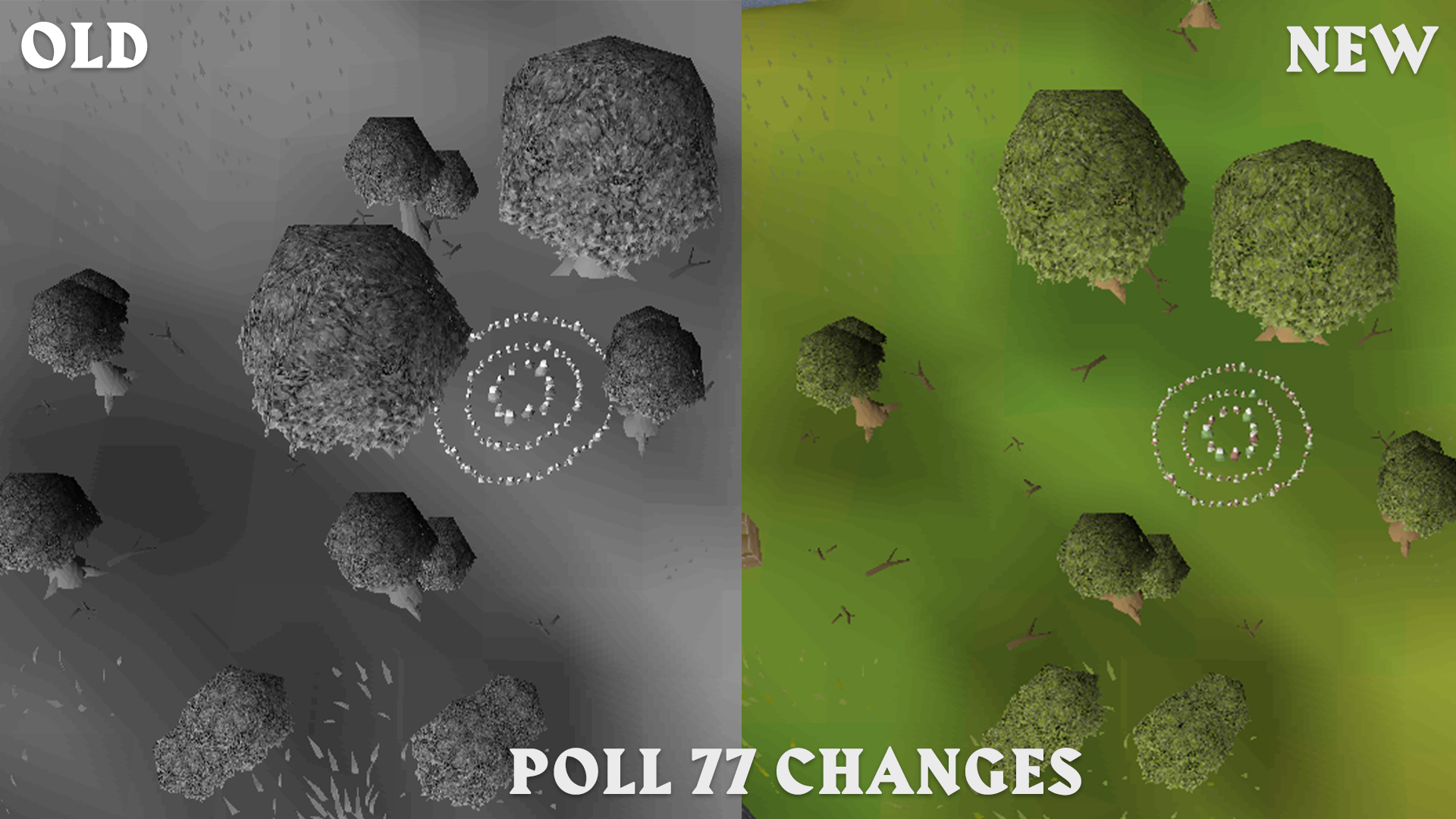 Last month, you voted on our latest QoL Poll, 77th of its name, destroyer of inconveniences and protector of the realm.
If it somehow passed you by, you can find the Poll Blog here, or check out the results here.
Let's see the first batch of changes!
Demon hunters will be pleased to see that the drop rate on the Jar of Darkness has been drastically improved from 1/2,500 to a 1/200. Those of you looking to flex your Skotizo slaying prowess should find the grind a little more reasonable than before.
In other loot news, we hear the Sandwich Lady's food safety rating is dropping fast. While she'll still offer predominantly fresh, home-made sandwiches (and chocolate bars?) she now has a 1/64 chance of giving you a Stale Baguette whenever she offers you a Baguette. While this is a concerning development for foodies, it should be a win for all the Collection Loggers out there!
Ever wanted to make an Anti-venom+ but accidentally had Zahur turn your huge stack of Torstol into unfinished Torstol Potions? Listen, it happened to a friend of ours! Thankfully, that friend will now be able to use those Torstol Potion (unf)s to make Anti-venom+ Potions. And of course, they can still use plain ol' Torstol to do the same.
Picture this: you've just unlocked your Ardougne Cloak 1. You're excited to use your handy new teleport for rapid access to a Fairy Ring to aid you in your adventures. Unfortunately, whichever fairies put the Ring there in the first place failed to account for the most complained-about tree in Old School's history.
We've set those layabouts outside the Tower of Life to work, and they've made themselves useful by moving and removing some of the trees around the nearby Fairy Ring, meaning you'll now be able to access your favourite teleportation methods without all those (literal) extra steps. Handy! We've done some similar foliage rearranging around the Legends' Guild Fairy Ring too.
We've got a couple of additions to your Player Owned House storage options up next.
First off, you can now store your Mining Gloves in your Armour Case. Got all three types of glove? No problem - the case has space to take all of them at once, saving you up to three Bank spaces.
Secondly, the Fish Sack Barrel is now storable in your Magic Wardrobe. No longer will space-saving players need to choose between storing their Fish Sack or upgrading it to a Fish Sack Barrel - it's the best of both worlds!
That about wraps up this week's Poll 77 changes. We hope to have the rest of them sorted by late December, so keep an eye out for more in the coming weeks!

Quest Speedrunning Competition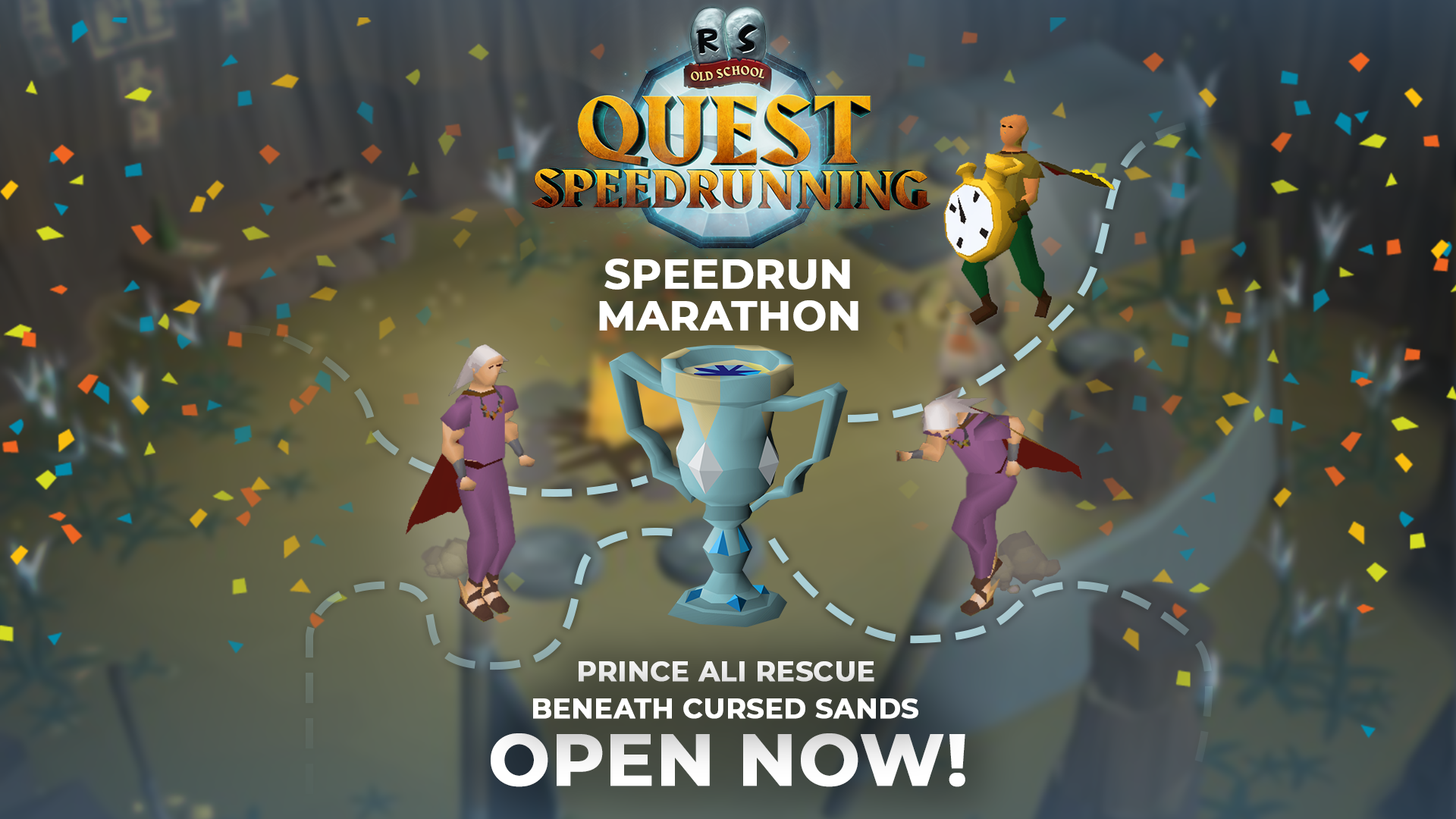 We're excited to announce a brand new competition for Quest Speedrunning enthusiasts!
Do you have what it takes to achieve the best global times for Prince Ali Rescue & Beneath Cursed Sands within Quest Speedrunning?
We'll award 30 glorious days of membership to the top two global times that have been achieved by 11:00 GMT on November 23rd!
Membership will be automatically applied after the closing date, and winners will be contacted via their in-game inboxes.
Best of luck! The full T&C's can be found here.
Halloween 2022 Wrap-up
After a couple of sugar-filled weeks of trick-or-treating, we're taking this year's spooky Halloween decorations down and putting them in a suitably spider-infested corner of the attic until next year.
Unfortunately, it looks like our cleaning efforts haven't been completely thorough and those meddling, costume-wearing kids left a small cauldron full of their leftover items.
If for any reason you're looking to re-assemble a Terrifying Charm, check behind 'Zaff's Superior Staffs!' and rummage around in the smelly socks and rotten food until you find whatever it is you're looking for...

Annual Survey Prize Draw
A couple of weeks ago we sent round our Annual Survey!
These surveys include a whole bunch of questions about what you enjoy doing in Old School RuneScape, what you'd like to see us do, and how you feel about some of the things we've been thinking about for the future of Old School.
As a treat for filling out the survey, respondents were entered in to a big ol' prize draw. The winners have been selected:
Me is tomg
huynhwaynec
W00lfeh
Strapplebees
Otis Macabre
I AM 1RONMAN
Kill the king
Salted nut
noname3344
Nateforce
TONY
Jharrak
Metites
Darealrob1
noormees
Puregrind101
Valanyr
Looseleave
EnrikaFox
Itsleviosaar
Real players
kayR O_O
Scrumblor
nezware
Setvilioux
Lockdownman
Barrbarian
Xuvi
Code cse
zComaa
GIM Acadiel
leggie
Duke Appox
Shelroda
tankking
Slime Dingus
Reisclef
Mr Spoof
None Feared
Congratulations to all the winners, and thanks again to everyone who filled out this year's survey!

In Case You Missed It
This is a section we don't often include, but there's been a lot going on lately and we want to make sure you're all kept in the loop!
We recently polled a mysterious new quest, which you overwhelmingly voted to put into the game.
As part of the poll, you voted for a repeatable, soloable boss for players to tackle after the quest. Naturally, you'd like to know a little more about the loot on offer for any bossing you might end up doing. Lucky for you, there's a poll blog out now outlining the rewards on offer.
We've also added a small section to the top of the poll blog discussing the Revenant weapons, so make sure you take a look!
Now, you know what's not a mystery? The date and time of our first ever Winter Summit!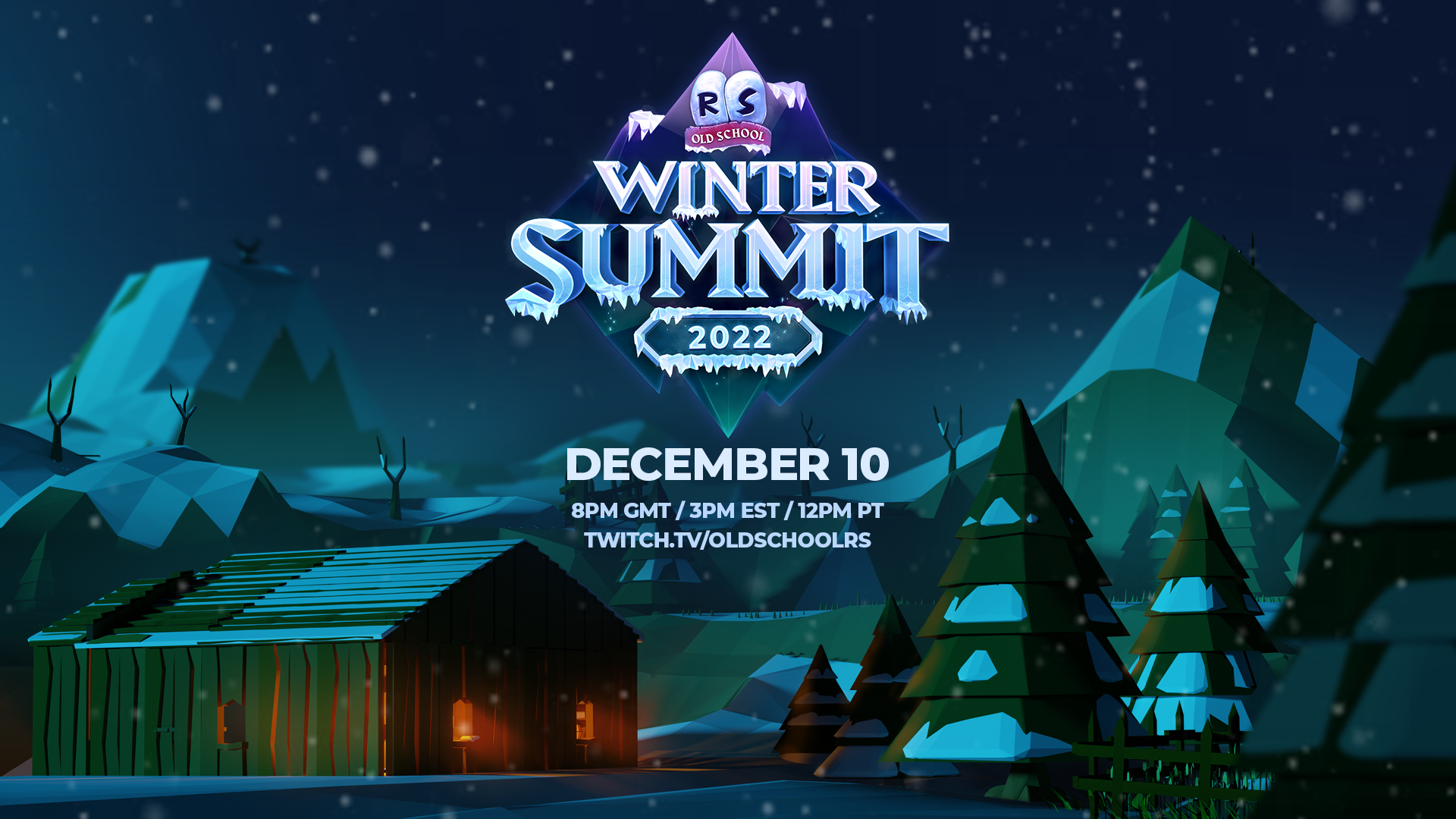 We've run Summer Summits in the past, where we all talk through some of the bigger content releases for the coming months. This one's no different, it's just a little colder. Make sure you tune in to hear all about… er… actually, that is a mystery.
Finally, some of you reading might be familiar with EVScape's Battle Royale. The Battle Royale is an event that pits your favourite content creators against each other in an all-out showdown!
This year, for the first time ever, we're officially sponsoring the event! You can check out our initial teaser here and keep your eyes peeled for an epic cinematic trailer on our YouTube channel in the coming days, made by 2021's Best OSRS Artist Golden Gnome winner Hooti Tooti!
So, make sure to mark your calendars for December 10th, and settle in for an epic battle before tuning in to the Winter Summit.

Other Changes
Outside of Poll 77 there are a few smaller changes this week:
Up to a spot of Barbarian Fishing? You can now use a knife on any type of fish to slowly cut all your fish automatically. You'll still be able to cut the fish at will, similar to cleaning herbs. This shouldn't impact any skilling methods, but if you notice any unusual behaviour, please do let us know!
The combat levels in the Ogre Shaman vs Blue Dragon cutscene during Watchtower Quest have been updated in-line with the out-of-cutscene equivalents. Well spotted!
The Makeover Voucher previously given to players who completed Recruitment Drive is a 'null' item, but a few of you have been left with them lurking in your Banks. This week's update has cleaned them out for you!

Merch Update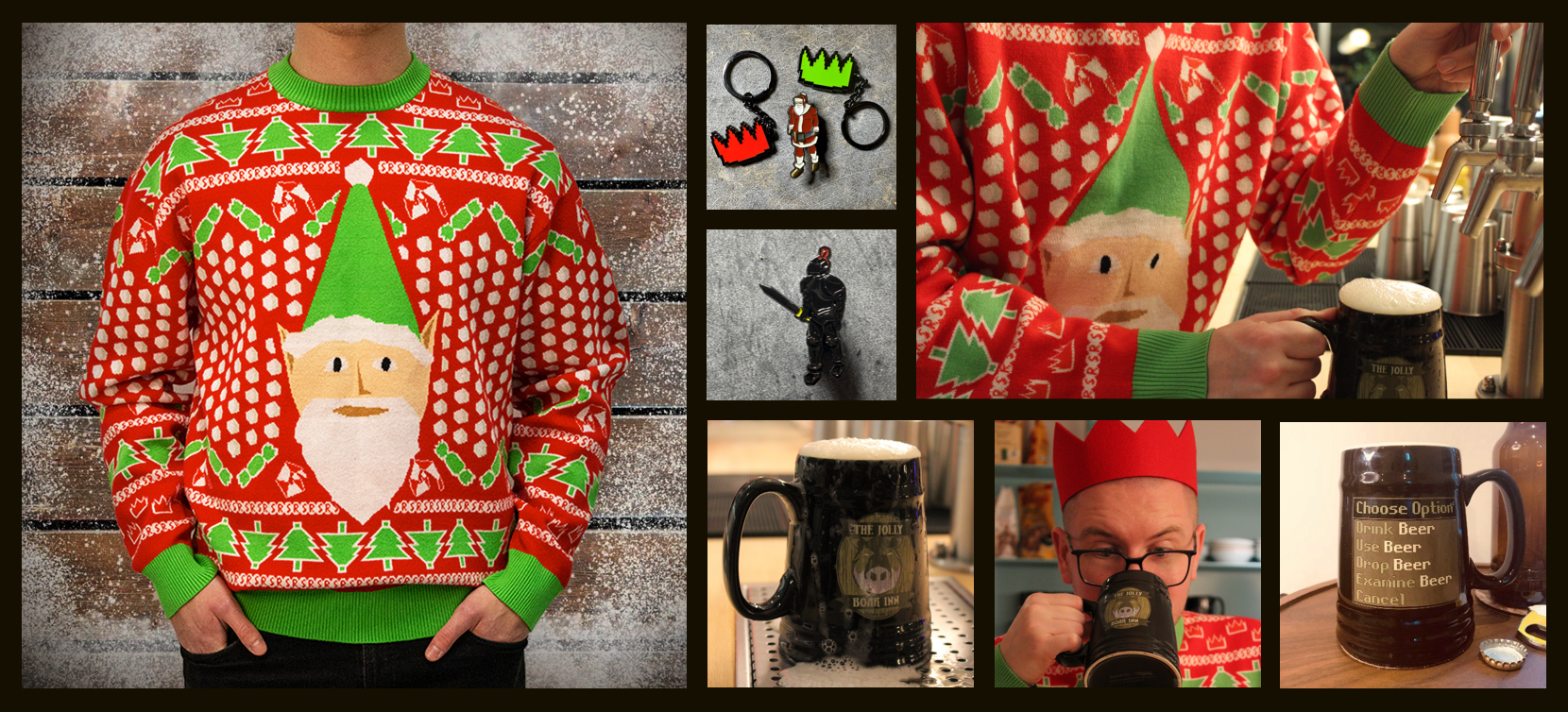 Looking to wrap up warm ahead of the Winter Summit extravaganza? Why not treat yourself to some new merch offerings – or add them to your gift list?
First up is our Father Gnome Child Xmas Jumper! A festive gnome child takes centre stage in our 2022 Xmas Jumper, complete with a colourful pattern of Party Hats, Crackers, Snowballs, Scarves and Xmas Trees. Ho, Ho, Ho!
Perhaps you're somewhere a little warmer this festive season? Don't worry, we've also got some new tees showing off some of Gielinor's most popular tourist destinations. Take a nostalgic trip to Lumbridge, scare yourself silly at Draynor Manor, soak in the sun on Karamja or wrap up warm (and fight for your life) on White Wolf Mountain.
And if you fancy warming up with a lovely cuppa tea (or a more grown-up beverage), we've also got ceramic tankards bearing the Jolly Boar Inn's logo!
Finishing up we've got some Limited Edition Santa Pins and Party Hat Keyrings for those feeling festive, and a Limited Edition Black Knight Pin, all from the fantastically talented Angels Scapes. As an extra special Black Friday Offer, anybody spending £40/$48/€46 in the store will receive a Black Party Hat Keyring for free (while stocks last!)
If you're looking for an early present or perhaps a stocking filler or two, make sure to head on over to the store to find out more about all of the above and a bunch of other lines we've restocked.

PvP World Rota
The PvP rota has moved to Period B:
560 - (UK) - PvP World
579 - (US) - High-Risk PvP World
561 - (UK) - Free-to-Play PvP World
580 - (US) - LMS Competitive
World 390 (AUS) for LMS Competitive has been de-activated with this rota.
The PvP Arena is using 'Zerk' loadouts in Ranked Duels and Tournaments this week.

You can also discuss this update on our official forums, on the 2007Scape subreddit, the Steam forums, or the community-led OSRS Discord in the #gameupdate channel. For more info on the above content, check out the official Old School Wiki.
Mods Arcane, Archie, Argo, Ash, Ayiza, Boko, Bruno, Chilly, Crystal, Curse, Daizong, Dylan, Ed, Elena, Errol, Fed, Gecko, Gizmo, Goblin, Grub, Halo, Havik, Hend, Hornet, Husky, Jalo, Kieren, Kirby, Kurotou, Lenny, Light, Mack, Markos, Maylea, Meat, Moogle, Morty, Nin, Nylu, Redfield, Regent, Roq, Ry, Sarnie, Shaun, Shroom, Sigma, Skylark, Soffan, Sova, Squid, Starry, Stevew, Surma, Tide, Torrance, Veda, Vegard, West & Wolfy
The Old School Team.