We're letting off some Steam this week and clearly, so are the Ninja Team - 'cause there's been another Ninja Strike! Get clued into that in the Game News tab. Elsewhere, we've got pop art, a nice pile of Patch Notes to sort through and another player-run community event for you to enjoy.
This week's update is all about Clue Scrolls! We've also got a reminder about RuneScape on Steam, some exciting freebies and some great news about Interface Scaling. So, grab your magnifying glass, and let's take a look!
RuneScape on Steam
Wishlists at the ready, folks. You'll be able to play RuneScape via Steam this Wednesday, October 14th. Exciting stuff!
To celebrate the launch, we're giving experienced players a special goody bag! If you've completed the Burthorpe Path and got yourself a total level of 100 or more, simply log in on any platform between October 14th and November 14th to claim the Steam Valve, filled with all sorts of surprises to mark this historic moment - including a Commemorative Steam Valve of your very own!
You can find our shiny Steam page right here. Add RuneScape to your Wishlist and you'll be among the first to know when we go live. See you there, adventurers!
Ninja Strike 12: Clue Scrolls
This week the Ninjas have donned their deerstalker hats, teamed up with Mod Daze and set to work on one of RuneScape's greatest mysteries - Clue Scrolls!
Titles
Firstly, the Ninjas have dug up five new titles for intrepid treasure hunters to enjoy. You can unlock them for yourself by obtaining various drops from each tier of the Treasure Trails Collection Log - and there are even a few hidden gold titles for those super-sleuths who go above and beyond. Big thanks to Mod Daze for this one!
Against all odds, somebody has already earned the hard tier collection title! Congratulations, John Skynyrd!
Dorgesh-Kaan Spheres
Friends of the cave goblins will be plenty familiar with these funny little inventions, although they might not be so impressed with the way they drop you off in random bits of Dorgesh-Kaan. Well, this week the Ninjas paid a visit to Oldak and straightened out a few kinks in the blueprints - so from now on they'll be a lot more reliable.
You're now be able to choose where you teleport to in Dorgesh-Kaan instead of having your destination chosen randomly. Much better!
Meerkats
The monks in Entrana have recently been embroiled in a mighty philosophical quandary. According to their ancient laws, Summoning familiars are classed as deadly weapons, and that includes... meerkats.
Yes, those squeaky lil' fellas have been banned from Entrana's shores since their introduction to the game, but thanks to the Ninja Team's intervention, they are now allowed on the island to sniff out clues to their hearts' content, along with all other Summoning familiars, pouches, and other paraphernalia. No word yet on how many innocent monks have been mauled to death in the process.
Shop Rewards
Ah, here we go! Zaida's Treasure Trail Reward Shop has just received a cache of new and exciting goodies. These include the Clue Capacity Upgrade, which will let you hold 50 clues of each tier instead of 25. You can also unlock the Way of the Foot Shaped Key, a leg-end-ary technique used by the Ninjas to open drawers and chests without a key. Now, for just 500 Treasure Trail points, you too can learn this ancient art!
Action Bars
Here's a little surprise for you all! From October 26th, we'll be making the four additional Action Bars previously purchasable through Solomon's General Store free, forever, for both RuneScape members and free to play players!
We've seen how helpful it is to have a wide variety of preset Action Bars available, and we hope providing this expanded range of customisation for free will be a simple but effective quality of life boost that's now available to everyone.
This is also just a small part of our ongoing commitment to examine our premium offerings in RuneScape across the board to make sure we're providing great value in the right places. The full changeover is going to take a little while to implement, so we wanted to give you a heads up as soon as possible on this impending change.
Please note that the Action Bars will remain available in Solomon's General Store until the changeover on October 26th.
Interface Scaling
As part of our goals of improving the accessibility and readability of RuneScape, we've been building on the existing interface work you heard about earlier to make even more improvements!
First up is in-game UI scaling, which will increase the usability of interfaces throughout the game to suit your setup. In the future, based on your feedback from the Beta, we also are looking to update this feature to scale the UI downwards too!
Additionally, we've also added the option to boost or reduce the games' render scale. Lowering it will reduce visual quality to improve performance and raising it will do the opposite.
Prime Gaming
It's your last chance to claim your Prime Gaming reward from last month. In case you've forgotten, that's a whole seven days of free membership you're missing out on!
This also means that tomorrow, on October 13th, there'll be an exciting new reward up for grabs. This time, you can get a Currency Pack and 2 Umbral Chests, each with a super-rare or better prize inside!
To get yours, follow the instructions on this page.
Orthen
We know you're itching to learn more about Archaeology's latest dig site - that's why we're running another livestream this Tuesday, October 13th, that promises to dig even further into Orthen's mysteries!
Don't forget to catch up on the Orthen announcement blog!
Ah, so you've come for the ancient scrolls? The dark tomes of knowledge guarded for eons by generations of Ninja Teams... the 'Patch Notes'.
Yes, if you're looking for all the nitty-gritty details from this week's Ninja Strike, then you've come to the right place!
Ninja Strike 12
Clue Titles
Added five new titles for obtaining various drops in each tier of the Treasure Trails Collection Log.

Completing each tier of clue rewards will reward a unique title for that tier.

Hard, Elite, and Master clues also have hidden gold titles for those who go the extra mile.
Each title comes with an accompanying feat achievement and broadcast. Gold titles include a first-time broadcast for regular, Iron, and Hardcore Iron accounts.
The unlock requirements can be found below:
| Tier | Title | Unlock Requirement | Gold Title Unlock Requirement |
| --- | --- | --- | --- |
| Easy | the Gold Digger | All items | N/A |
| Medium | Clueless | All items | N/A |
| Hard | Double Agent | Any cape slot item + any piece of Third-Age Equipment + one of either the Barrows or Shadow dyes + all other uniques (including all masks) | All items |
| Elite | the Clue Chaser | Any cape slot item + any piece of Third-Age Druidic Equipment + any dye + all other uniques (including all masks and God Bows) | All items |
| Master | Master of Clues | Any cape slot item + any piece of Second-Age Equipment + every type of dye + all other uniques (including all masks and glasses) | All capes + 1 piece of each Second-Age style (Melee, Magic, and Ranged) + Orlando Smith's Hat + all other uniques (including all masks and glasses) |
Scrolls, Caskets and Shop Rewards
Zaida now sells a 'Clue Capacity Upgrade' which increases the cap on stored clues per tier from 25 to 50 (this costs 750 Treasure Trail Points).
You can also purchase the 'Way of the Foot-Shaped Key', an ancient technique that will allow you to complete medium clue steps that normally require a key without one (this costs 500 Treasure Trail Points).
There is no longer a cap on how many master clues you can obtain and hold at any one time. This also applies to elite clues that upgrade to master clues.
Scrolls and caskets obtained from various places will go directly to Charos' Clue Carrier, regardless of whether your Backpack is full.
Caskets can no longer be opened with fewer than nine combined free spaces in the Bank and Backpack.
Clue Scroll Steps
Clues and caskets hidden in drawers, chests and cupboards will now be opened and searched in one action.
Puzzle-skipping tickets (now known as puzzle box skipping tickets) will now completely finish a sliding puzzle instead of leaving the final tile incomplete.
The dialogue that plays when speaking to NPCs during challenge scrolls has been removed (the dialogue will still play the first time you speak to an NPC during a challenge scroll).
Moving-over-distance spheres will now teleport you to a fixed location rather than random locations within an area.

The Dorgesh-Kaan Sphere has four options to select from when used, taking you to either North, South, East or West Dorgesh-Kaan.

Compacted versions of the Amulet of Glory and the Ring of Duelling can now be placed in their respective hidey-holes and used to complete clue steps.
The Combat Training Camp hidey-hole has been moved closer to the entrance of the ogre pen.
The Catherby Archery Store hidey-hole has been moved inside the shop.
The Menaphos Grand Library master clue step and hidey-hole has been moved just outside the main door to avoid an issue where double agents could spawn in an un-attackable state.
Ellis and Trader Stan's left click options are now context-dependent on whether you're holding their respective clue scrolls.
To prevent cases of Uri spawning outside of his acceptable range, he will now appear on the same spot as the double agent was killed.
Fixed an issue where Uri would spawn beneath the player while on the bridge to the Wizard's Tower.
Stepping stone shortcuts in the Lumbridge Swamp Caves no longer force you to approach at walk speed.
Two new right-click/long press options which skip the dialogue box and immediately take the player to Zanaris or into the shed have been added to the door of the shed in Lumbridge Swamp.
Gnormadium Avlafrim, the pilot in the Feldip Hills, now has 'Glider' as his first interact option, just like other glider pilots around the world.
Digging at any tile on the edge of the Pollivneach Well will now advance the clue step.
The key which is required for the Varrock Dig Site Exam Centre chest for medium clues can now be dropped by both male and female barbarians.
Using a Sextant either directly or through a clue scroll will now give a coordinate reading with no delay.
General Quality of Life Changes
Familiars, Summoning pouches and Summoning scrolls can now be taken to Entrana, so you'll no longer dismiss your meerkats when solving Treasure Trails there.
Charos' Clue Carrier can now be filled from the Bank while in the interface.
Adding Teleport Scrolls to Globetrotter Arm Guards now gives you the option to add 'all'.
Easy and medium re-roll tokens now match the identifying tier colours of clues and reward caskets.
The volume of the 'heartbeat' audio for scan clues has been increased, so as to make it more noticeable.
Dialogue and Text
The dialogue for creating Dorgesh-Kaan Spheres with Oldak's right-click option has been significantly cut down.
The luck message that appears when receiving a fortunate component from a reward casket will now appear for easy, medium and hard clue caskets.
The message that appears to notify the player that their clue rewards have been sent to the Bank now has a delay in frequency.
Attempting to open clue caskets while resting will now play an error message and interrupt the resting animation to prevent the Reward interface from closing instantly.
Tweaked the wording of a clue that pointed to Varrock's East Bank.
The description of the Burthorpe Games Room easy clue now specifies the specific area the player must stand in.
The description of the Port Sarim/Rimmington Church medium clue no longer references a window that cannot be seen when 'remove roofs' is turned on.
Puzzle-skipping tickets have been renamed to 'Puzzle box skipping tickets'.
The hyphen has been removed from 'clue-skipping tickets'.
Interface Scaling
Added functionality to allow UI scaling
Added functionality to support boosting or reducing the games' render scale.
Note: There is a known issue at high scale percentages where the 3D game world is also scaling, and when scaling down, there is a brief but noticeable graphical error. We'll be working to iron out these problems and add more features over the next few months.
Other
Improvements
You can now display your client's FPS on mobile.
Fixes
Players will no longer receive the Music Maestro and Completionist achievements every time they log in.
Fixed an issue where too many keepsake keys were being refunded when removing Completionist Capes from the Keepsake Box.
Ran log-in check to clean up any remaining older flies and consolidate them into the newer stackable version.
The Crystal Chisel will no longer overlap with off-hand weapons when held in the off-hand slot.
Crystal skillchompas can now be held without stretching.
Fixed an issue that prevented familiars from following players through one entrance into Varrock Palace during Defender of Varrock.
The volume of various Lunar Spell sound effects has been reduced.
The volume of the Heal Group sound effects has been reduced.
In this week's community tab, we're digging even deeper into Orthen, celebrating our Steam launch, and getting into the party spirit with a player-run community event!
J-Mod Livestreams
Tuesday October 13th | 16:00 Game Time | Digging Deeper into Orthen
To fully understand the mysteries of the lost city of the dragonkin, we have to go deeper... so that's just what we're going to do in this very special preview livestream!
Wednesday October 14th | 14:00 Game Time | Steam Launch Party!
It's HAPPENING! For the first time ever we'll be streaming live on Steam to introduce our new adventurers to the world of RuneScape. Come join in the fun and give them a big RuneScape welcome!
Want to come join in the fun and give our new adventurers a big RuneScape welcome in person? We'll be hosting J-Mod Hangouts at 15:00 Game Time at Taverley Docks on members' worlds 86 and 56 and free-to-play worlds 11, 135, 120 and 136.
You can catch all our livestreams over at https://www.twitch.tv/runescape
Featured Streamer
Our featured streamer this week is WeeklyKiwi, who'll be engaging in some solo bossing followed by some group PvM! Depending the whims of you, the audience, might also get around to some beginner PvM runs - so if that sounds like your thing, be sure to join in the action on Monday 12th at 23.00 Game Time on WeeklyKiwi's Twitch channel.
Creative Corner
Seren
Andy Warhol's got nothin' on this fabulous pop-art piece from Discord user ACPL. We love how you've captured Seren's expression (those are eyes, right?) and, of course, we LOVE the colours!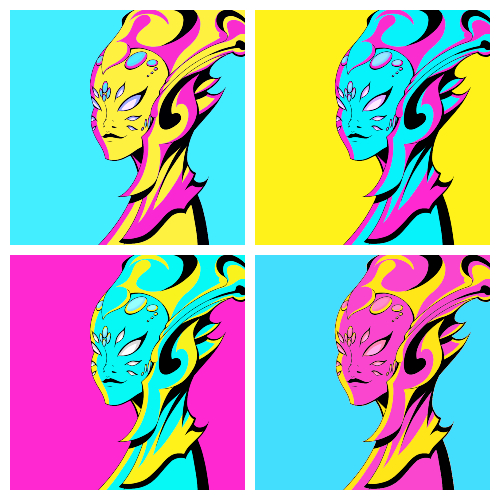 Why You Should Play Runescape - A New Game For Steam
Now, we hope that we've convinced you already, but if you're still on the fence, Laser Shark's latest video is all about why you should give RuneScape a go on Steam! He's stretching the definition of 'easiest quest' quite a bit, but the facts are solid, and it's great to see our community welcoming new players to the game.
Community
Spirit Day
Back in July we encouraged everyone with an idea for a community-run event to come forward, and this week, we're rallying for Spirit Day! For those of you who are unaware, Spirit Day is a holiday by GLAAD, and it's all about uniting to stand up against bullying. You can read more about it (and wing a donation their way) right here!
The Diversity RS Discord and ScardyGinge are hosting an in-game event to celebrate, and if you want to join in the fun, don your most purple-y fashionscape at the Well of Goodwill on W25 at 19:00 Game Time this Thursday, October 15th. There'll be skillin', there'll be chillin', and most importantly of all, there'll be lots of opportunities to make new friends.
If you'd like to participate but can't make in person, ScardyGinge's stream is the place to go to see the whole event live. There might even be a few surprises!
LootScape will be enabled for this special community-driven stream!
Pink Skirts Event
This week's Pink Skirts event is a Town Square Q&A, hosted by Princess Rae. Curious to know more about the Pink Skirts and what they do? Then this is the event for you! If you've got questions, or just want to hear some answers, roll on up to Varrock West Bank on World 3 at 23:00 Game Time this Saturday, October 17th.
For more details, check out the Pink Skirts page here.
---
- The RuneScape Team